One of the worst hotel stays I've ever had was at the Westin Seattle. Considering that Westin is an upscale brand, this stay failed on every single point, including facilities and service.
Booking the Westin Seattle
The Westin Seattle has been on my radar for a while now. My past stays at Westin properties have been great, which gave me hope for this seemingly nice property with a convenient, central location. The cash rate at the property also wasn't too bad, especially when compared to other hotels around the city. That's why I ended up booking with them for our final two nights in the Pacific Northwest using cash.
Check-In Experience
Knowing that we'd be leaving the Portland Marriott Downtown Waterfront at standard check-out time, I checked in at the Westin Seattle online with a 2 pm arrival time. We got to the hotel at about 2 pm, accounting for the time it takes to get down from their cramped parking structure and back up to the lobby. When we did get there, I stood in the Elite check-in line, where a very unfriendly associate helped me after moving mountains to help the family ahead of me – even offering them an upgrade and sending them to their room. He told me that our room wasn't ready and that they'd call me when it was, promising that something would be ready by 4 pm.
Unfortunately, 4 pm rolled around, and we didn't receive a call. I stood back in the Elite line to check on the status of our room. It's worth noting that the lines at this hotel are insane, and I ended up waiting A WHILE. That same associate was there but walked off when I was next up. Instead, an associate named Jolista called me over from the regular line. While the previous associate didn't acknowledge my SNA, Jolista offered to upgrade us to our requested room type, though we'd have to wait longer. Being that we needed to go somewhere, I asked for a room that'd be available now. She was able to find one, but we had to take a massive downgrade – and I wasn't going to get my SNA back.
Westin Seattle City View Room
For this stay, we were assigned from 3934 – a City View room on the 34th floor. Despite there being four elevators per bank, we ended up waiting 10 minutes for a ride up. The elevators are painfully slow, and on the small side, so they're always busy. When we did get up to our floor, we were greeted by a narrow, dimly lit, circular corridor. Entering our room, we were greeted by a dated, worn room that was missing the fire escape map from the door.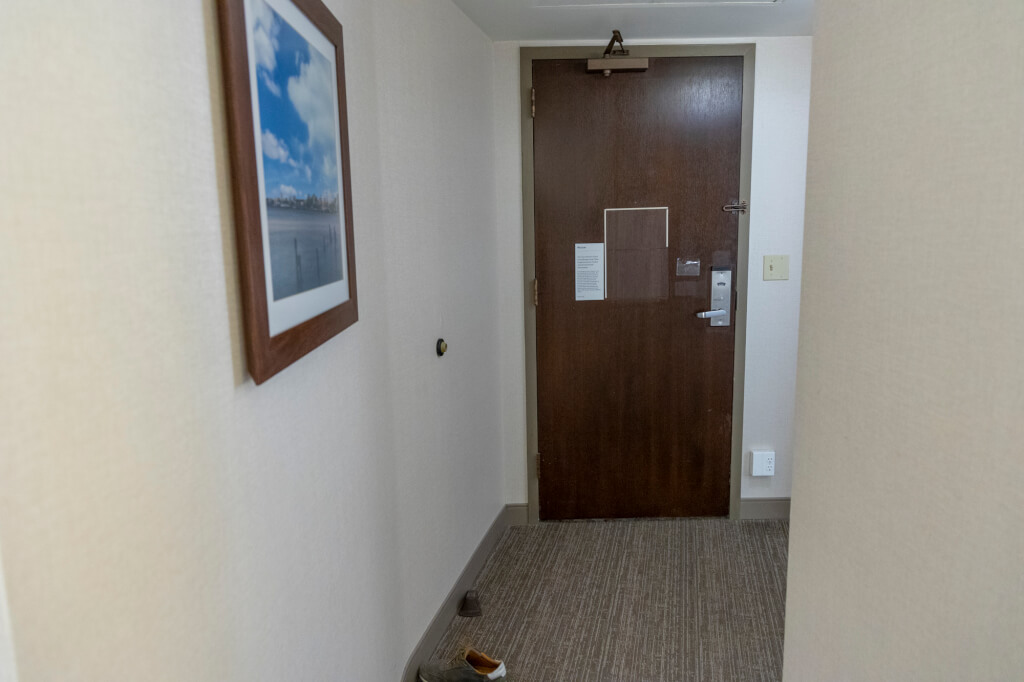 Immediately to the left of the entry door were the closet and the bathroom. The closet contained a good size safe, a couple of drawers, an iron, and an ironing board. To be sure, it's a good size closet, which is more than I can say about the bathroom.
The bathrooms at the Westin Seattle are on the small side. As you can see in the below photos, the toilet is very close to both the vanity and the shower/tub combo. To make things better, the bathroom smelled like old, wet rags, kind of reminiscent of a dirty locker room.
The rest of the room has an interesting layout thanks to the circular construction of the two towers that make up the Westin Seattle. The bed is against the inner wall, which is the narrowest part of the room, while the windows along the exterior are the widest section. Along the window side of the room were a cabinet with a small TV, a wide work desk with a chair and a desk lamp, and a seating area with a chair and loveseat. The bed itself is flanked by two nightstands with two table lamps, a corded phone, and a charging hub.
If you're staying at the Westin Seattle, know that there is a serious lack of outlets. There's a panel on the work desk with standard ac outlets and USB ports, along with a couple of USB ports on one of the nightstands. However, the other nightstand doesn't have any power points; neither does the seating area.
City View Room View
The view from our City View room was nowhere near as nice as the Lake Union view we had from the Hyatt Regency Seattle. Ironically, we could see that hotel right out of our room. What a tease! I would've rather stayed there again.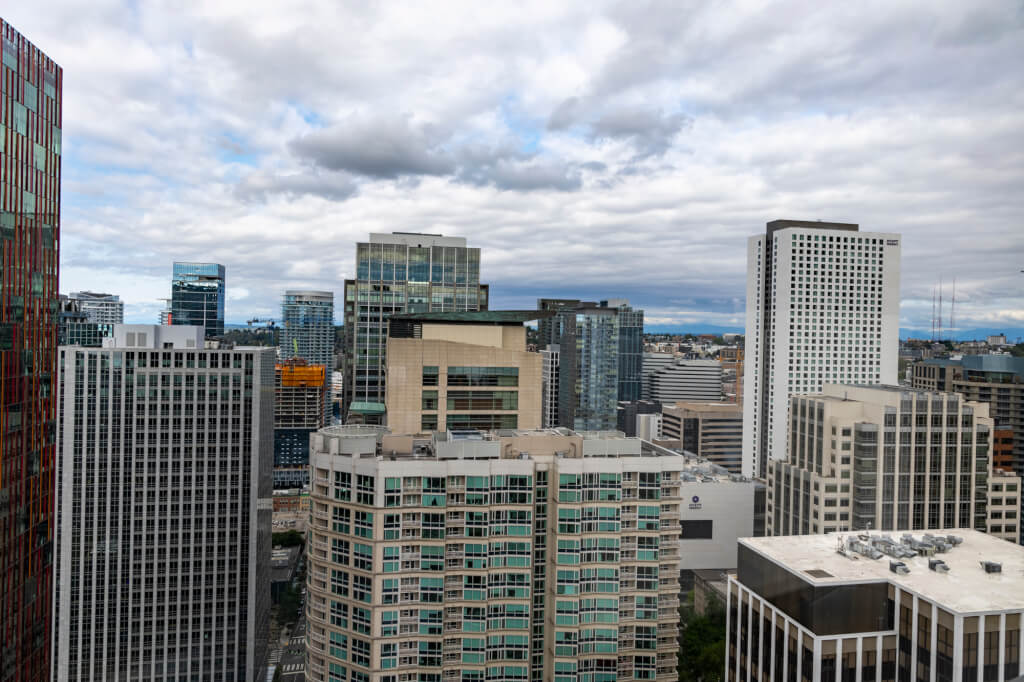 Westin Seattle Comfort
The HVAC in our room was nice and quiet. It worked very well during our first night, though during our second night, it kept flip-flopping between hot and cold. Street noise wasn't much of an issue in our room, but the noise from the corridor and other rooms sure was. We could clearly hear crying babies from a room a few doors down from us, even though their door and our door were closed. That shouldn't have been surprising, given how clearly you can hear people walking by.
There's no mini-fridge in the rooms here, as the only fridge is a mini-bar. Unsurprisingly, everything in it was really expensive, though there was free coffee and tea.
The water pressure and temperature in our room were reasonably good, which was probably the only redeeming quality of this property.
Westin Seattle Service
Service at this hotel is next-level bad. Aside from Jolista, who was a joy to talk to the two times I did, everyone else here was indifferent or flat-out rude. But that's not all. There's little attempt to do things right. For example, I requested extra foam pillows but received two feather pillows. Then, on check-out day, I requested bell assistance at 8 am. I did this way ahead of time. Yet, at 8:15 am, no one showed up. Needing to get to the airport, I canceled the request and lugged our bags and boxes down on our own. No one offered to help us as we made our way down, not even the employees out front.
Seriously. I know there are major worker shortages across the country, but I've never received such poor service from a hotel before. Good service can balance out a poorly maintained property, though that wasn't the case here.
Final Thoughts
Mostly awful service; tired, worn, smelly rooms; and an inability to fulfill Marriott Bonvoy Elite benefits. This property hits the trifecta! If this is the kind of hotel most Marriott haters are complaining about, then I get the hate. Sure, our stay cost me $814 for two nights, inclusive of parking and taxes, which isn't bad for Seattle, but given how things went, I'd say that price (or any price) isn't worth it here. Stay away. Seriously. There are better properties out there. The Hyatt Regency Seattle is one of them. Or, maybe, give the Astra Hotel a try?
Labor Day 2022 PNW Adventure