The past few years have seen more and more airlines begin service to the Daniel K. Inouye International Airport.  And now there are reports that a Singapore Airlines subsidiary plans Hawaii service by the end of 2017.
AirAisa X to Serve Daniel K. Inouye International Airport
Recent years have seen a handful of new airlines begin service to Hawaii.  The latest of these new entrants will be Malaysia-based AirAsia X, which will begin service to Honolulu at the end of June.  The service will operate four times a week as follows:
D7001: KUL – KIX; departes 2:00 pm; arrives 9:25 pm; operates Mon,. Wed., Fri., Sat.
D7001: KIX – HNL; departes 11:25 pm; arrives 12:30 pm; operates Mon., Wed., Fri., Sat.
D7002: HNL – KIX; departes 4:00 pm; arrives 8:25 pm; operates Mon., Wed., Fri., Sat.
D7002: KIX – KUL; departes 10:00 pm; arrive 4:00 am; operates Tues., Thurs., Sat., Sun.
That above schedule may seem a bit rough, especially flying into Kuala Lumpur, but the airline represents a great value.  Flights are currently priced as low as 599MYR each way between Kuala Lumpur and Honolulu, which is just under $140 at today's exchange rates.  That's REALLY cheap!  Whether prices will remain that low remains to be seen as AirAsia X is the first Southeast Asian carrier to begin service to Honolulu.  The Airline will operate the Airbus A330-300 on this route.
Scoot to Join AirAsia X by the end of 2017
According to The Straits Times, Scoot is seeking to join the Southeast Asia to Honolulu market by the end of 2017.  The low-cost subsidiary of Singapore Airlines is considering a route from Singapore Changi Airport to the Daniel K. Inouye International Airport via the Kansai International Airport in Osaka, Japan.  Details regarding frequency and pricing have yet to be announced, and the route is still pending regulatory approval in the US.
It's worth noting, however, that Scoot does operate an all Boeing 787 fleet.  The aircraft are equipped with between 21 and 35 business class, and 314 to 240 economy class seats on the 788 and 789 respectively.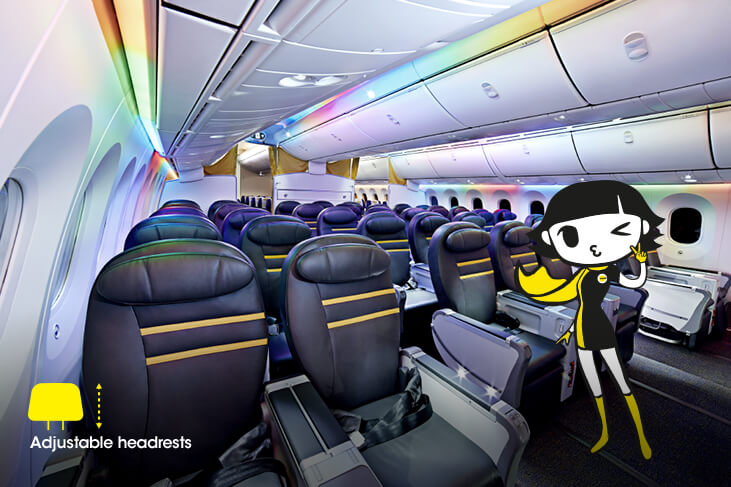 Business class seats are domestic first recliner-style seats with 38″ of pitch.  These seats offer enhanced amenities such as 60lb checked-bag limit; 30lb cabin bag limit; complimentary meals, drinks and entertainment; priority boarding and disembarkation; etc.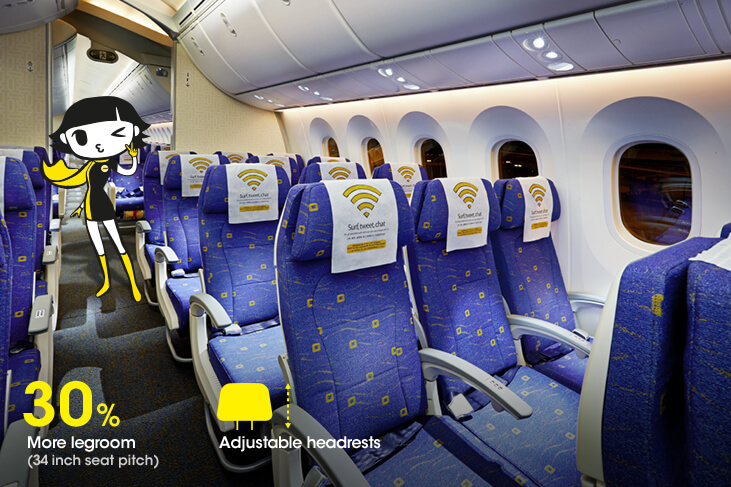 Super is the carrier's extra-space product.  Aside from featuring 34″ of pitch, an adjustable headrest, and the option to select your seat without an extra fee, the service is identical to standard economy.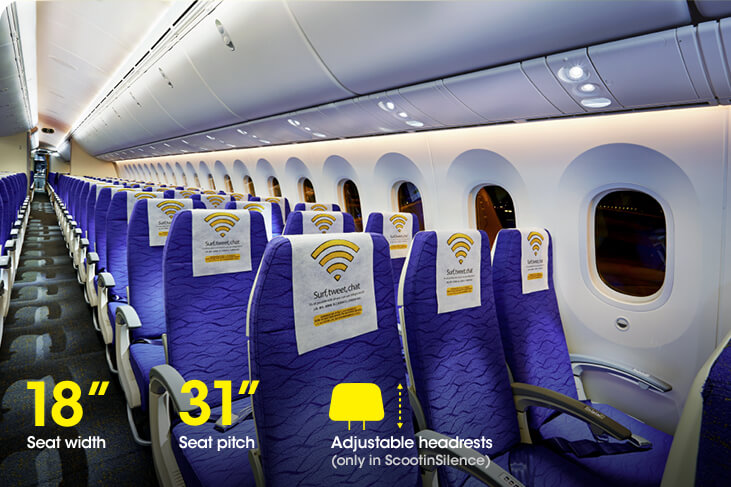 Scoot's standard economy product looks pretty awful.  Those are very thin, hard looking slimline seats.  And there are no adjustable headrests unless you buy up to the mini economy cabin behind business class called ScootinSilence.  Ironically, though, Scoot's economy will feature greater pitch at 31″ than some of American's newer domestic aircraft (29″ to 30″).
Bags, meals, drinks, entertainment, and even selecting your seat all carry an additional fee or may be purchased as a bundle.  This isn't surprising, as Scoot is a low-cost carrier.  Satellite-based WiFi is available for purchase as well, and the $22 24-hour unlimited pass appears to be a good value.  Oh, and Scoot also participates in Singapore Air's KrisFlyer program too.
How AirAsia X and Scoot Compare
I haven't flown either of these airlines and do not have plans to do so anytime soon.  That being said, while similar, both airlines are fairly different.  Economy class fliers on both airlines will have to pay for every amenity they choose to use.  Checked bag and cabin bag limits appear to be the same too.  With AirAsia X, however, passengers will enjoy leather upholstered seats with headrests throughout the cabin.  These seats look far better to me than those Scoot offers.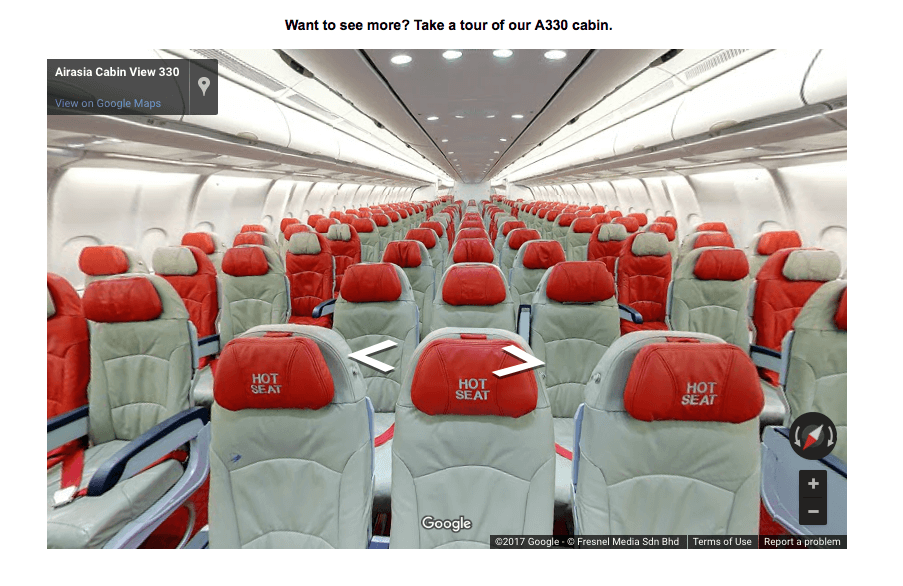 Business class seats are better on AirAsia X too, as they are angled lie-flat seats.

I imagine, however, that business class on AirAsia X may cost a bit more than on Scoot.  And with only 301 economy seats on their A330 aircraft, ticket prices in general could be higher with AirAsia X.  But that's just speculation, as Scoot has yet to release pricing for its Hawaii service.
That being said, AirAsia X doesn't appear to offer WiFi on its flights like Scoot does.  AirAsia X also has its own loyalty program, which doesn't appear to partner with any other airline.  Scoot, on the other hand, participates in Singapore Air's KrisFlyer.  And while it doesn't appear you'll be able to credit Scoot flights to KrisFlyer partners, you can at least earn KrisFlyer miles and redeem them on Star Alliance partner flights.
Singapore Airlines Subsidiary Hawaii Service Bottom Line
More options are always better.  And at the end of the day, both of these airlines are low-cost carriers and serve a certain type of traveler.  For what its worth, I believe most passengers originating in Hawaii will end their journey in Osaka rather than connecting on to Kuala Lumpur or Changi.  So ultimately, these routes will have to compete on the pricing of those legs, especially since neither airline partners with any airline that would feed passengers to them at HNL.  Could this happen in the future?  Sure, but it seems unlikely judging by the way they're currently doing business.
Me?  If I ever chose to fly one of these, I'd likely go with AirAsia X.  The in-flight experience with AirAsia X just seems a lot better than Scoot.  And yes, its hard to judge seat comfort by simply looking at pictures, but AirAsia X's seats do look a lot more comfortable than Scoot's.  But if the price does end up being drastically different, who knows.  At any rate, we'll just have to wait and see what happens.  All we know for sure right now is that AirAsia X will begin its Honolulu service in about a month and a half!