For this episode of Flashback Friday, I am revisiting French Polynesia.
Jeff made several posts on our first anniversary trip to French Polynesia. We stayed two nights in Tahiti and one week on Moorea. This post covers our stay on both islands.
To show Jeff that not all of my pictures are dumpster fires, here is a delightful photo of Jeff preparing for a sunset photo: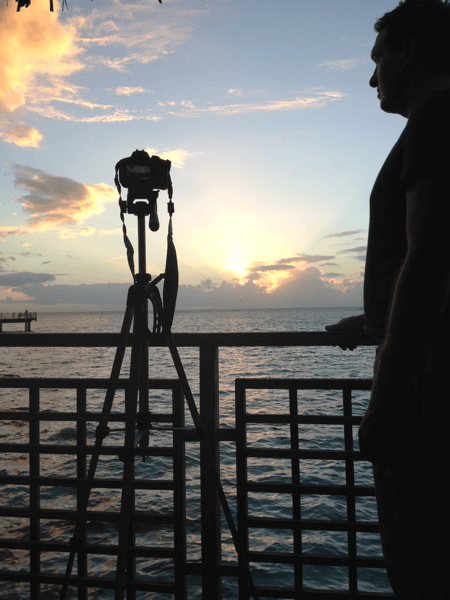 Le Meridian – Tahiti
Jeff has already posted a video review of the Le Meridian in Tahiti.
I booked the standard rooms for 12,000 Starwood points per night. Not too bad for someone who does not pay attention to Jeff's points redemption lectures followed by the "Amanda you have to contribute to our points earning" lectures.
Even though I didn't listen to Jeff's advice, I still managed to talk my way into an overwater bungalow. Take that Jeff! How did that happen? I called the hotel to see if they could upgrade us, since we were visiting for our first anniversary. The hotel said that they would see what they could do for a loyal SPG Gold elite.
The hotel was able to upgrade us for one night. I thought maybe they would upgrade us to an ocean view or a junior sweet. Surprise, you get an overwater bungalow for one night. Whoop whoop! Sometimes it pays to ask nicely.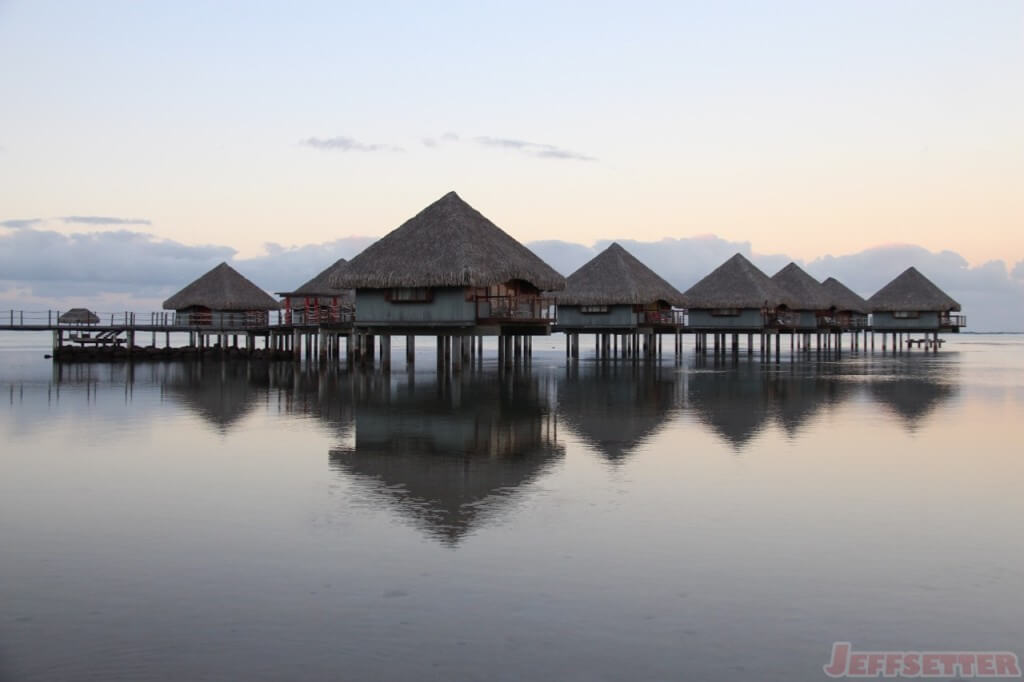 One of my favorite moments of the trip, was laying in the lounge chairs of our bungalow deck and looking at the stars. The only constellation we knew was the Southern Cross (ya I know! stars are different in the southern hemisphere), so we downloaded an app which allowed us to hold the iPhone up and told us what constellations, planets and stars were in our visual target.
I was obsessed with the sign for the men's bathroom.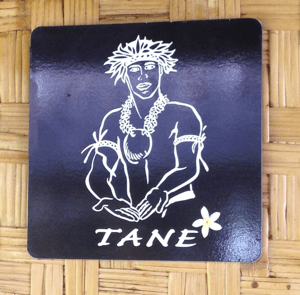 Every time I saw a sign, I thought "Now, Tayne I could get into." You will need to watch the whole video on the link to get this. Even then you may not think it is funny. But you would be wrong, because it is hilarious.
After a morning of lounging and breakfast we took the ferry to Moorea. (Note, I got seasick.)
Hilton – Moorea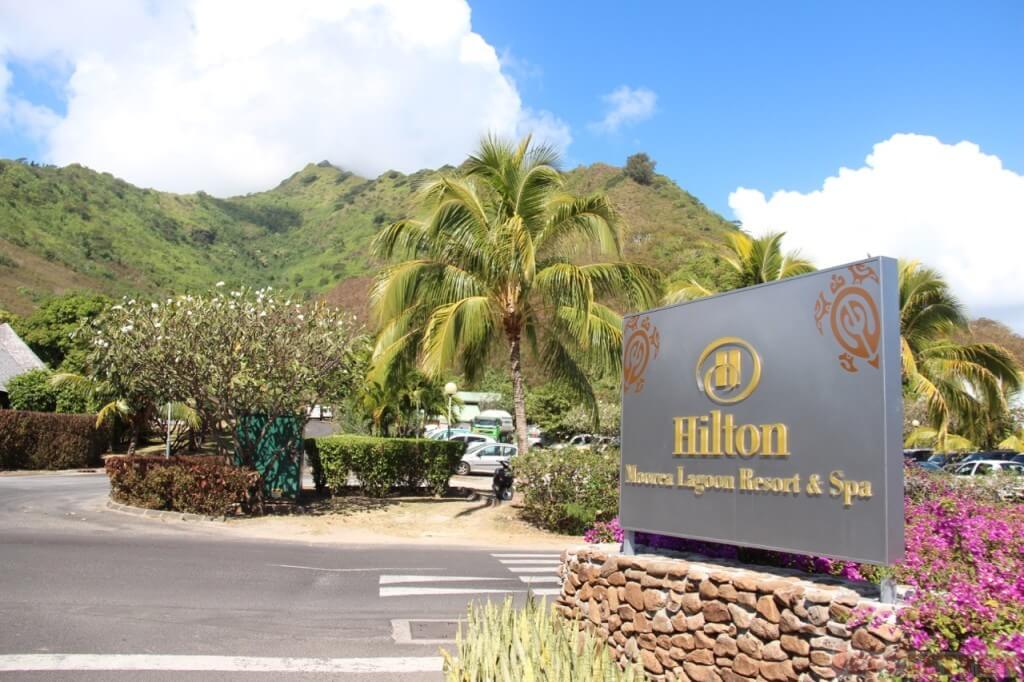 Jeff booked us an overwater bungalow at the Hilton for our whole stay. In his Moorea video blog, he talks about snorkeling. The snorkeling was amazing. I cannot recall the last time I saw a larger variety of fish and sea creatures in a single place. All from the lagoon surrounding our overwater bungalow.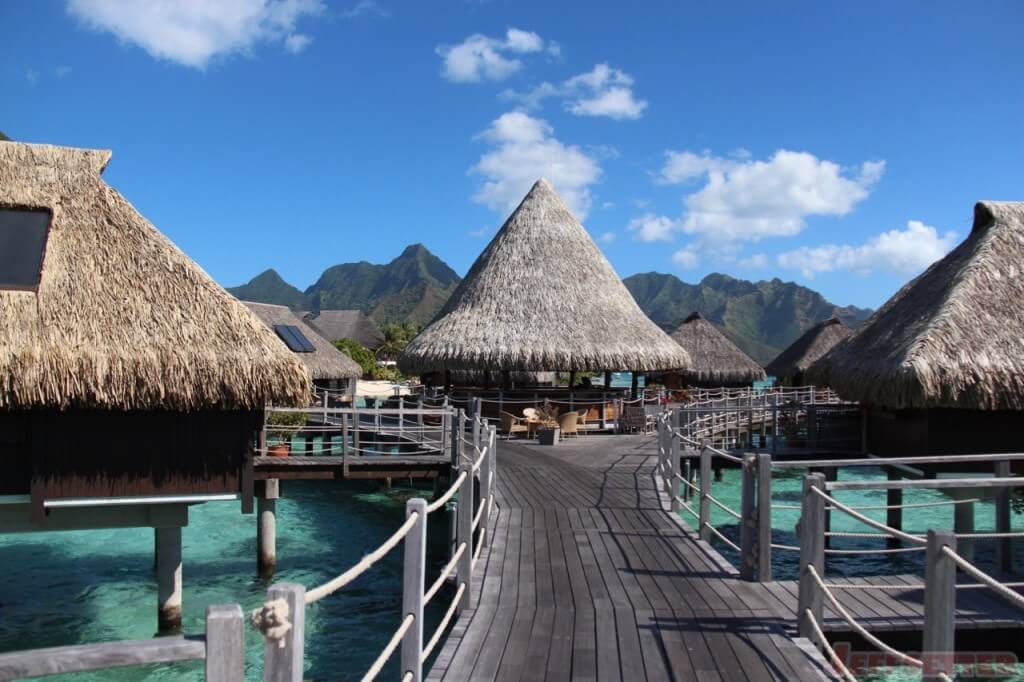 I think most of our time we spent snorkeling or reading. I read two Game of Thrones books on this trip. (Awesome nerd alert)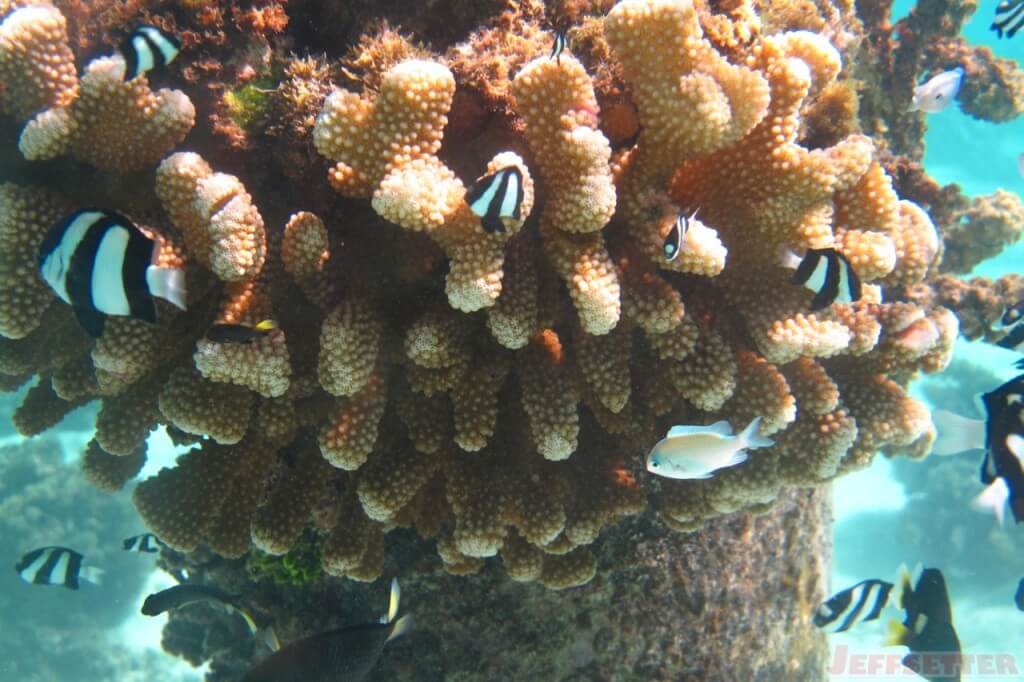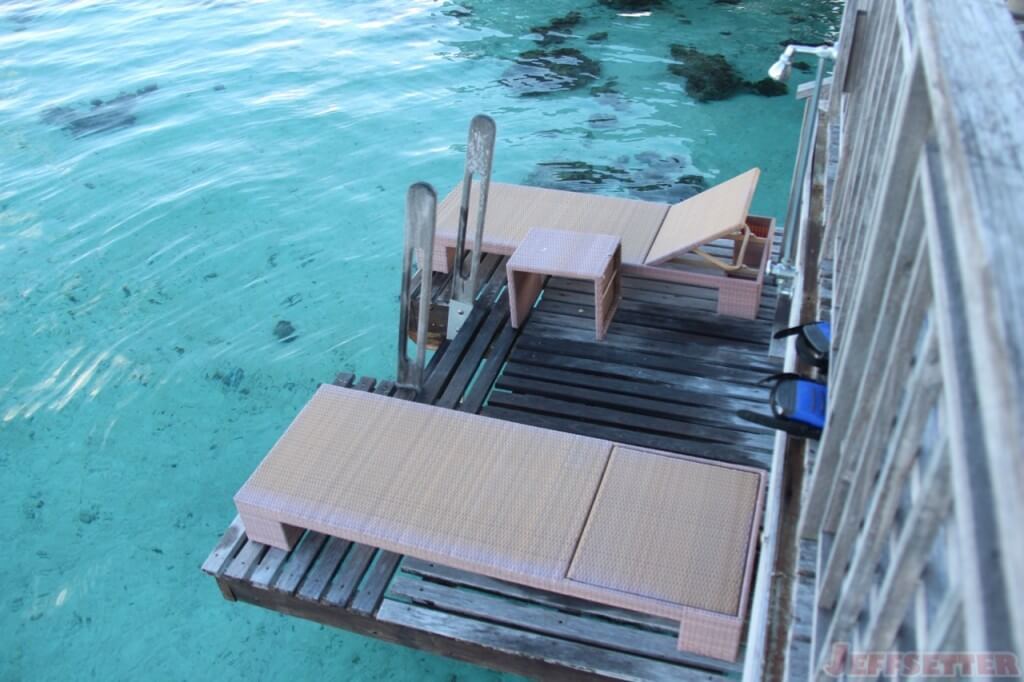 We also played tennis and took out one of the sea kayaks – all free amenities provided by the Hilton Moorea.
I also took a day to go scuba diving. This was my first time diving with reef and lemon sharks (I think lemon is the translation) and it was amazing.
There's nothing like jumping into the middle of a school of circling sharks to get the day started. I also saw a lion fish, fed a black sponge to a sea turtle, and caught a glimpse of a giant barracuda. Unfortunately, I did not have camera that could withstand the pressure at the time, so no pictures. I will have the GoPro with underwater housing for our next trip – super excited to try it out!
I went with the resort shop at the Intercontinental Moorea on this trip. If you have been to French Polynesia and have recommendations for dive shops, please let me know. We will be back again in August.
After a great day of diving, I came back to this:

And enjoyed this: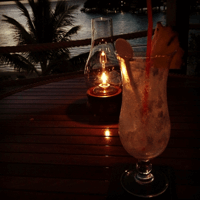 Jeff: "Yes the picture is fine, but why is the glass empty."
Amanda: "Because the photo is titled Satisfied, and if the glass was full I would not have been satisfied."
Jeff: "But that is not the title you put."
Amanda: "I didn't put a title, I put a caption. If someone wanted to buy this photo, it would be titled Satisfied."
Jeff: (eye roll)
And scene.
We also did a day tour to see the island;  mountains, pineapples and cocks oh my.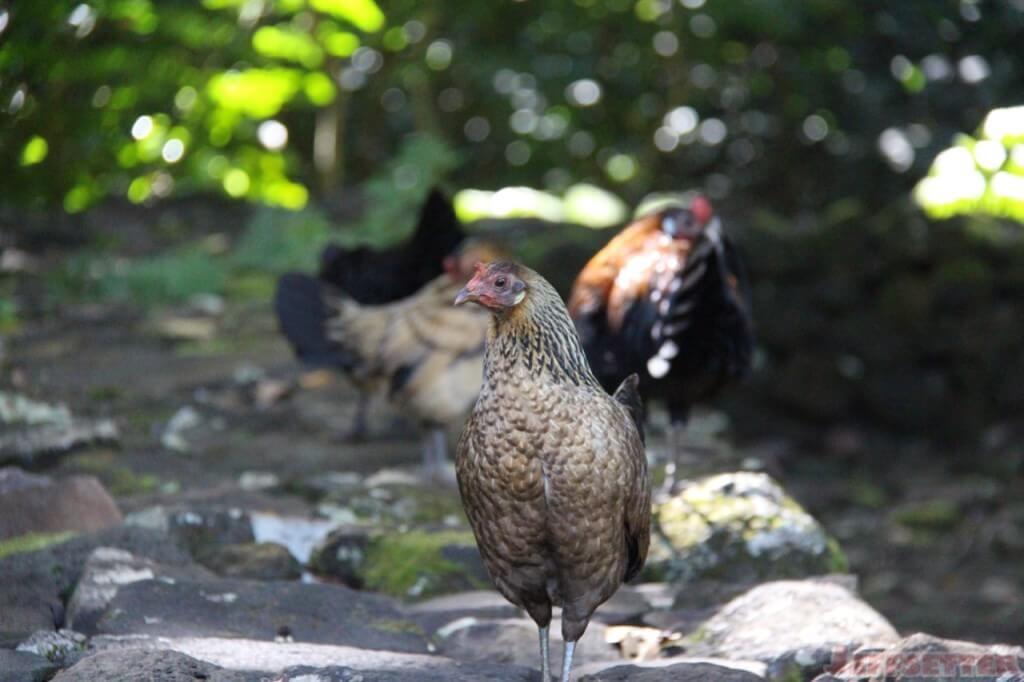 Two words for this trip – Sensory overload!!