I love a good steak.  But, in my opinion, finding a place that makes perfect steaks can be difficult; especially since I'm pretty good at cooking steaks myself ?.  But I got to try Stripsteak Waikiki during a business dinner and liked it, so I decided to take Mrs. Islander to try the place out.
Now, let me preface this review by saying that I ordered a boneless ribeye during by business dinner, and it was fantastic.  Perfectly seasoned and cooked with very little extra-muscular fat and no sinew.  In a word, my steak was impeccable.  And you'll see why this point is important later.
Location
Stripsteak Waikiki is on the fourth floor of the International Market Place in an area called the Grand Lanai.  It's where all of the Center's restaurants are, save for The Street HNL, a Michael Mina food hall and Kona Coffee Purveyors, both of which are on the bottom floor.  And if you drive here, all restaurants validate for one hour.  After that, parking runs $2 an hour for the next few hours.  So be sure to make a reservation if you can so you aren't wasting money waiting for a table to open.
Service
Overall, the service was good.  Our primary server was prompt, personable, and courteous.  The pace of service, however, was a little slow throughout the night, though that's not surprising; it was a packed house that night, after all.  Oh, and it's worth noting that the restaurant is a semi-open air, so if it's hot out, it's going to be hot inside too.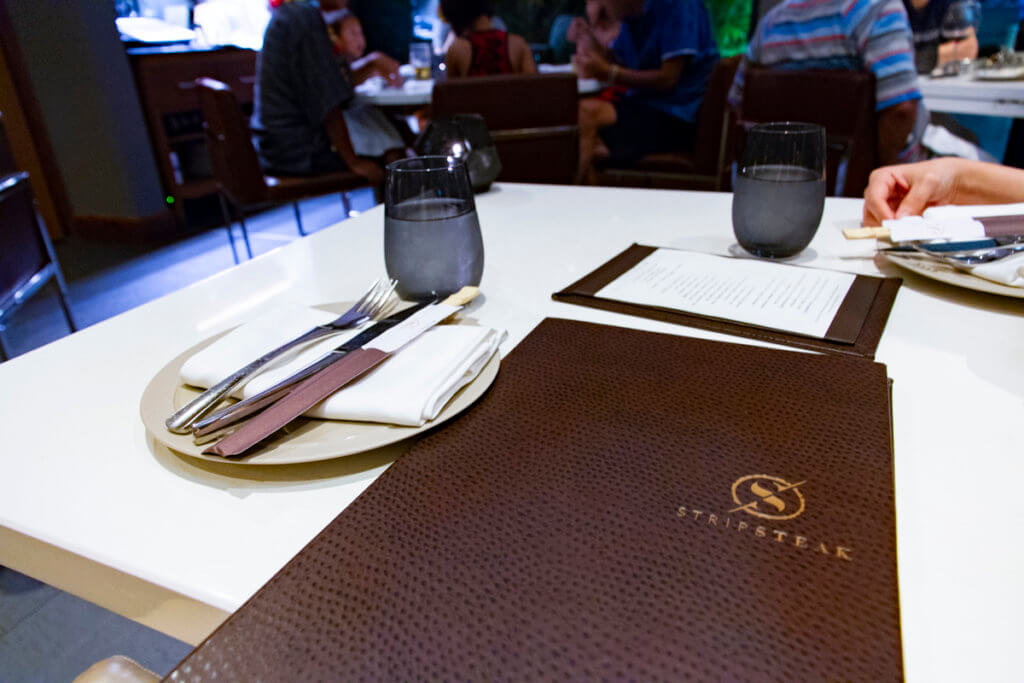 Beverages
The night we were at Stripsteak Waikiki, it was quite humid.  Heavy showers were in the forecast for the night, so the restaurant itself was on the warmer side.  So, to help cool down, we started off with some drinks.  I chose the Down in Kohana cocktail, while Mrs. Island Miler went with a zero proof Lava Fizz.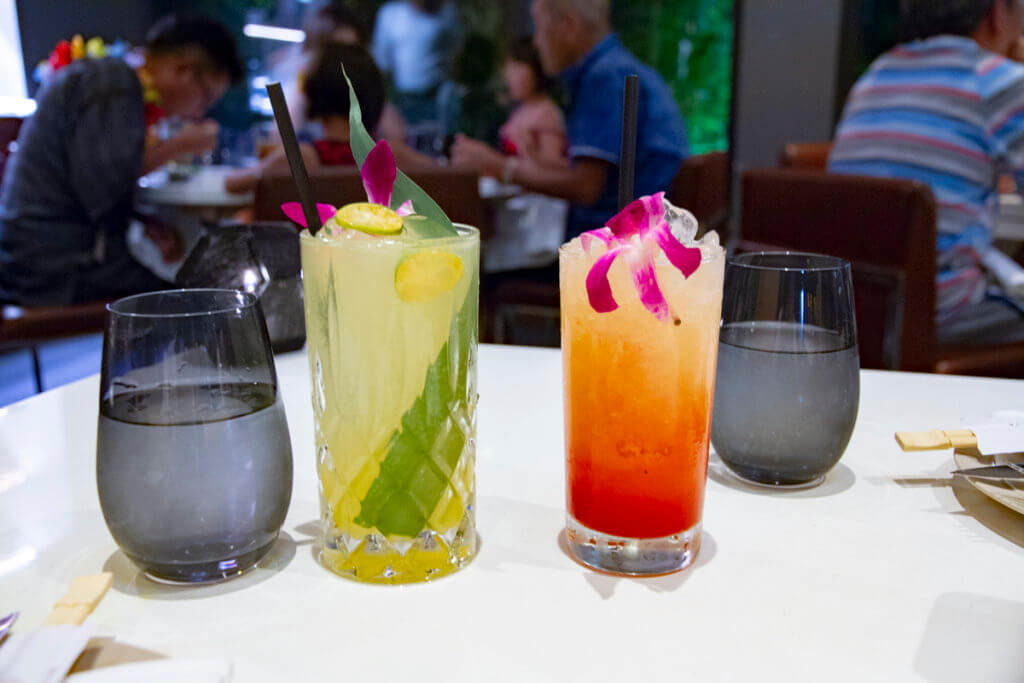 If you've been following along with my dining reviews, the name Kohana will sound familiar.  It's the brand name for one of my favorite locally made spirits, Kohana Rum.  So, naturally, I had to try a cocktail that utilizes their signature kea (white) rum.  Other components of the Down in Kohana include velvet falernum, lilikoi syrup, and fresh lime, giving the cocktail a bright, sweet-sour profile that pairs well with the unique flavor of Kohana's Agricole-style rum.
The Lava Fizz was also quite good according to Mrs. Island Miler, containing raspberry and orange juices with a splash of soda.  A somewhat tart drink, much like my cocktail, that's helpful in cutting the richness of the food we were about to eat.
Starters
As anyone that's dined at Stripsteak knows, the restaurant does not offer bread.  Instead, guests receive a welcome dish of french fries from the chef.  And not just any fries, these are duck fat fries with a cup of plain sea salt fries, garlic fries, and furikake fries paired with truffle aioli, house ketchup, and tonkatsu sauce, respectively.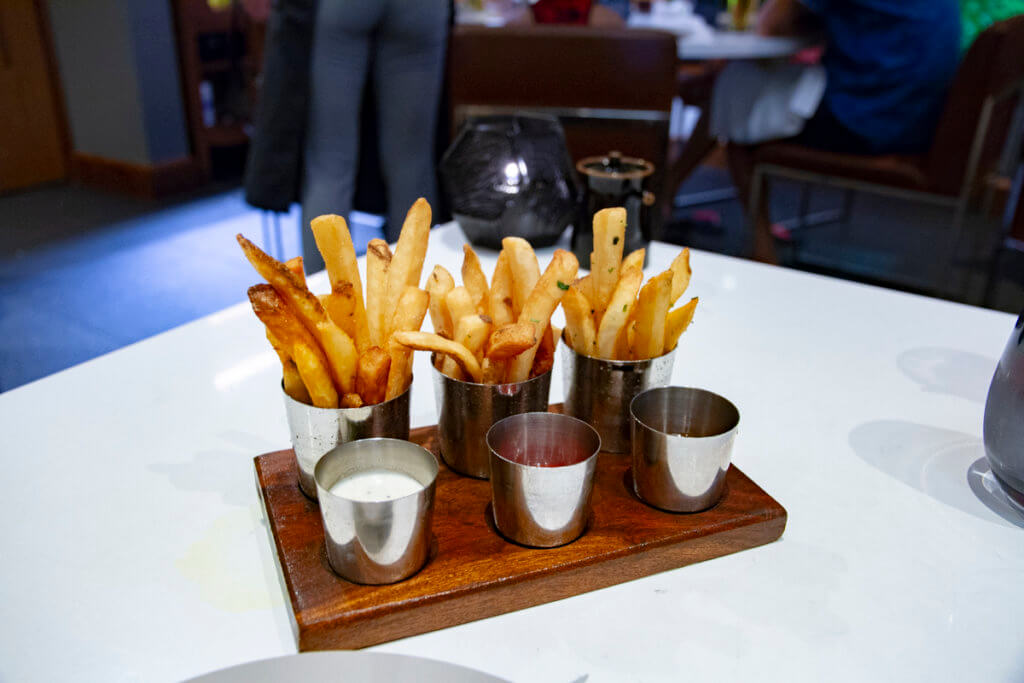 For our starters, the Mrs. and I settled on two of Stripsteak Waikiki's signature items; the "Instant" Bacon and the Lobster Tacos.
Honestly, I was skeptical about the Instant Bacon.  The dish is pork belly in a black pepper-soy glaze and a tempura oyster that's under a cloche filled with smoke.  No doubt it's a theatrical dish with the reveal and all, but it seemed gimmicky.  And it kind of is, but I'm happy to have been proven wrong.  The pork belly has great flavor and is slightly crispy on the outside while being tender on the inside.  I could've done without the tiny fried oyster, though, as it really didn't add to the dish at all.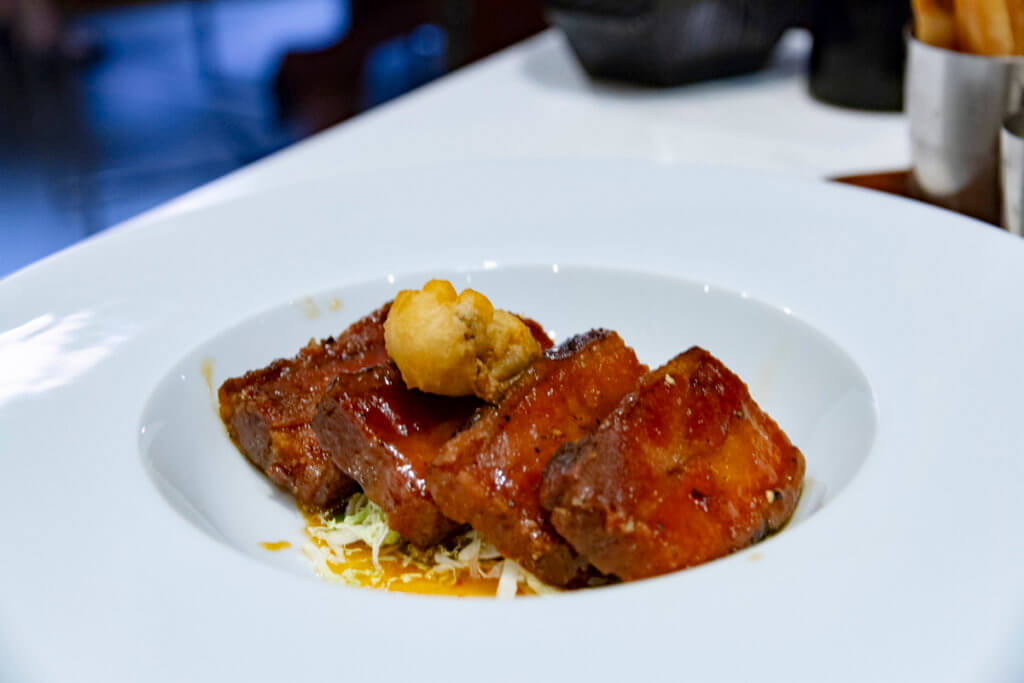 The Instant Bacon is a rich and unctuous dish, so it was to our great relief that the Lobster Tacos are a refreshing, light dish.  Like the Poke Tacos at The Hideout, the Lobster Tacos at Stripsteak Waikiki start with a wonton shell foundation.  That's then filled with a mixture of chopped lobster, shrimp, Kewpie Mayonaise, celery, shiso, tobiko, and a sweet pea espuma.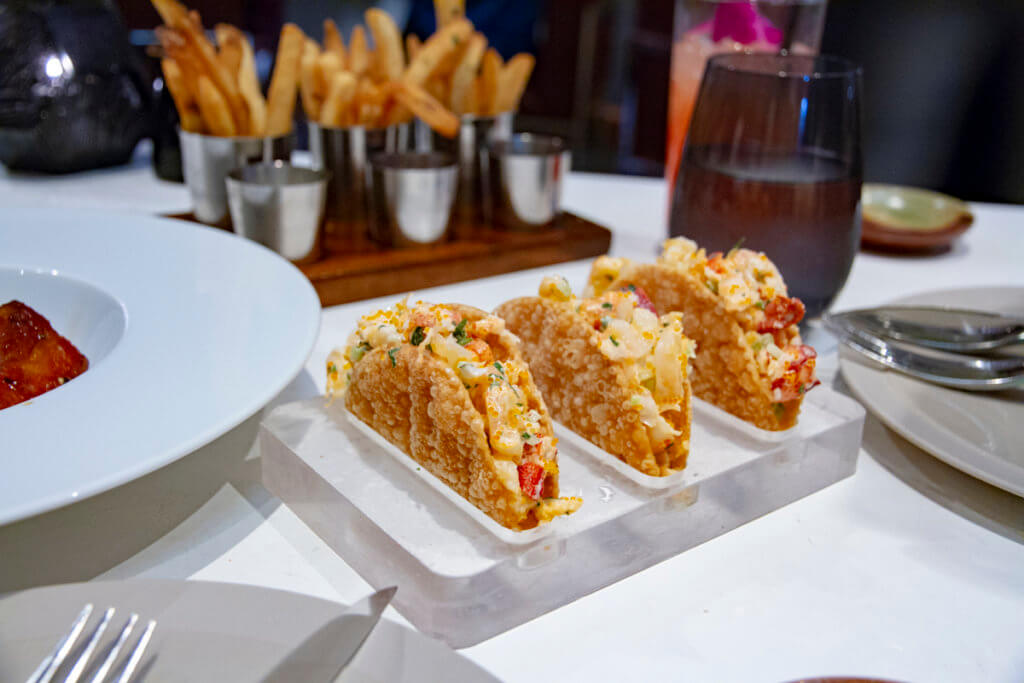 Admittedly, there wasn't much of a lobster flavor, but there (thankfully) wasn't any fishiness either.  I couldn't, however, detect the shiso either, which is odd because it's usually a rather strong flavor.  But, no matter.  The tacos were tasty enough, though I'm not sure I'd order them again.  I'd much rather try the Tempura Squash Blossoms which, unfortunately, they didn't have during our visit.
Mains
Stripsteak Waikiki is, if you didn't already know, a steakhouse.  And, as you'd imagine, most of your main options are steaks.  But the restaurant has a sushi program too, and being the sushi lover that she is, Mrs. Island Miler decided to go with the Omakase set for her main.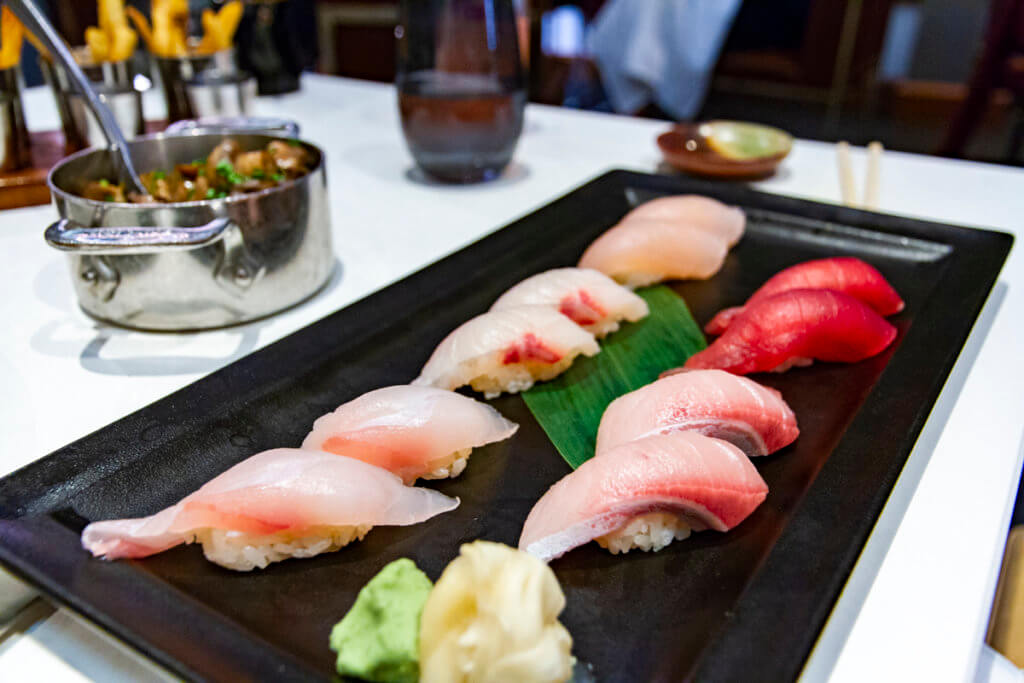 As you can see, all pieces were served at once.  And, as can be seen, the sushi in the omakase are all finfish and there are two pieces of each type of fish.  That's really disappointing.  Especially since much of the fishes used taste so similar.  Totally not worth $60.
For my main, I stuck with steaks.  And as I mentioned earlier, I really loved the boneless ribeye I had at Stripsteak on a previous visit.  But this time, out of curiosity and at the urging of who I think is a manager, I went for the dry aged Kansas City Strip.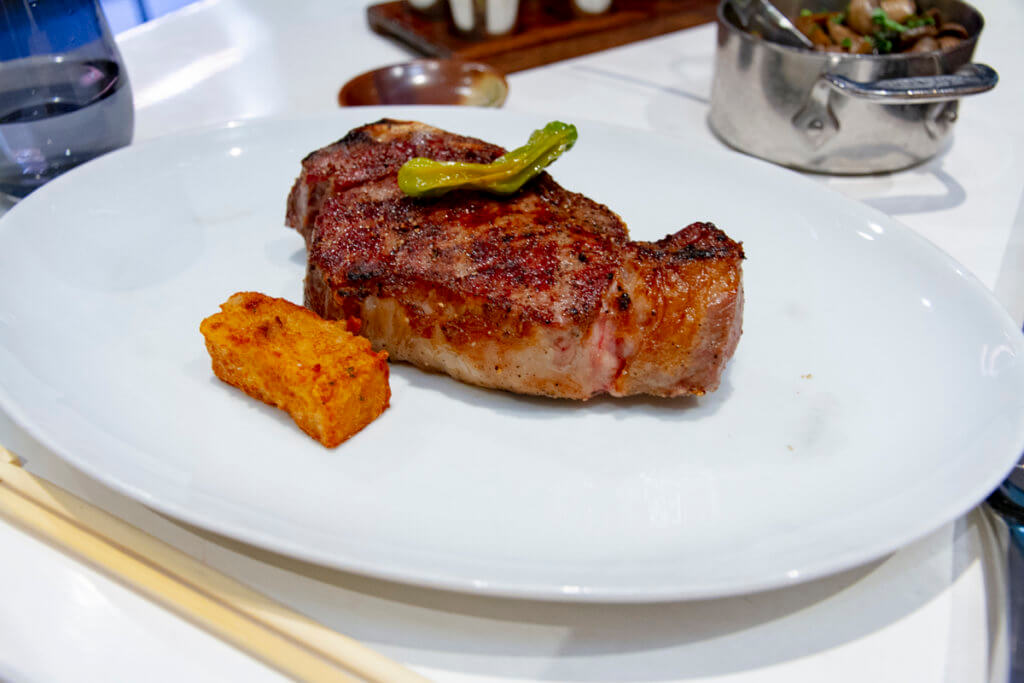 A Kansas City Strip is just another name for an NY Strip, though this one was a bone-in specimen.  And, while it looks good, it was completely disappointing.  Though cooked to a perfect medium-rare, the steak was really tough.  It was so tough, in fact, that I struggled to cut it with the provided steak knife.  Chewing the thing was also a chore; there was so much sinew in it!  Totally not worth the $85 price tag;  I should've stuck with the ribeye for $67.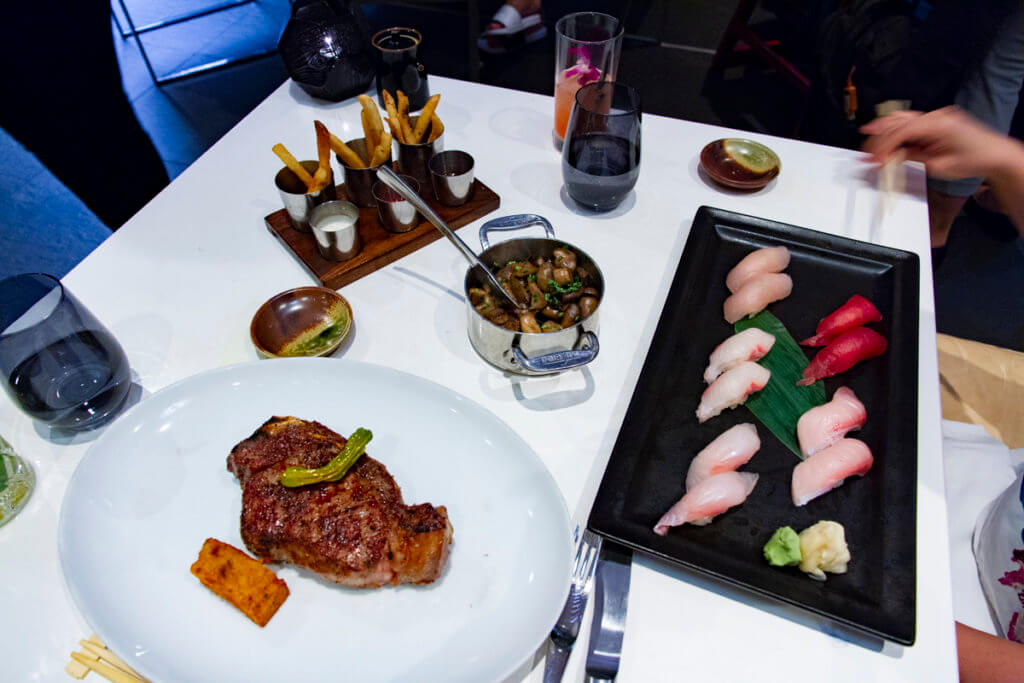 Though the steak was disappointing, at least my side was fantastic!  It's listed as Hamakua Mushrooms, but really it's a mixture of regular cremini mushrooms with Hamakua Ali'is and shiitakes cooked in butter, white soy, and mirin.  Delicious!
Stripsteak Waikiki, Final Thoughts
Though cutting my steak was like trying to cut a tire with a pocket knife, was bland, and hurt my jaw from having to chew so much, I managed to choke down the $85 disappointment.  And, after finishing it, I was stuffed, as was Mrs. Island Miler, so we decided to skip dessert.
Needless to say, despite the wonderful service, our dinner at Stripsteak Waikiki was disappointing.  Yes, the appetizers were tasty, but our mains were unacceptable, especially for the price.  And that gives me really mixed feelings about the restaurant.  I did, after all, have one really good experience here once before.  So, it's hard for me to say whether or not I'd recommend the place.  But, I can say the dry aged Kansas City Strip isn't worth the money.  And, at least we had a great steak the night before at Yamada Chikara.