In addition to Robben island, there is a lot to see in the area surrounding Cape Town. Immediately after we got off the Robben Island ferry, we hopped in a taxi to take a ride to the Table mountain gondola. On our way I stopped at a camera shop to pick up two extra batteries for my DJI Phantom Quad Copter, which only took a few minutes to complete.
Views from the top of Table Mountain
We were dropped off at the ticketing area for the Gondola, and it already afforded us a beautiful view of the city. We are told that sunny and clear days on Table Mountain are not a common occurrence, so we really lucked out with our weather this day. It was about 95 degrees by the time we got to the base area, so we were looking forward to the coolness that comes with higher elevations.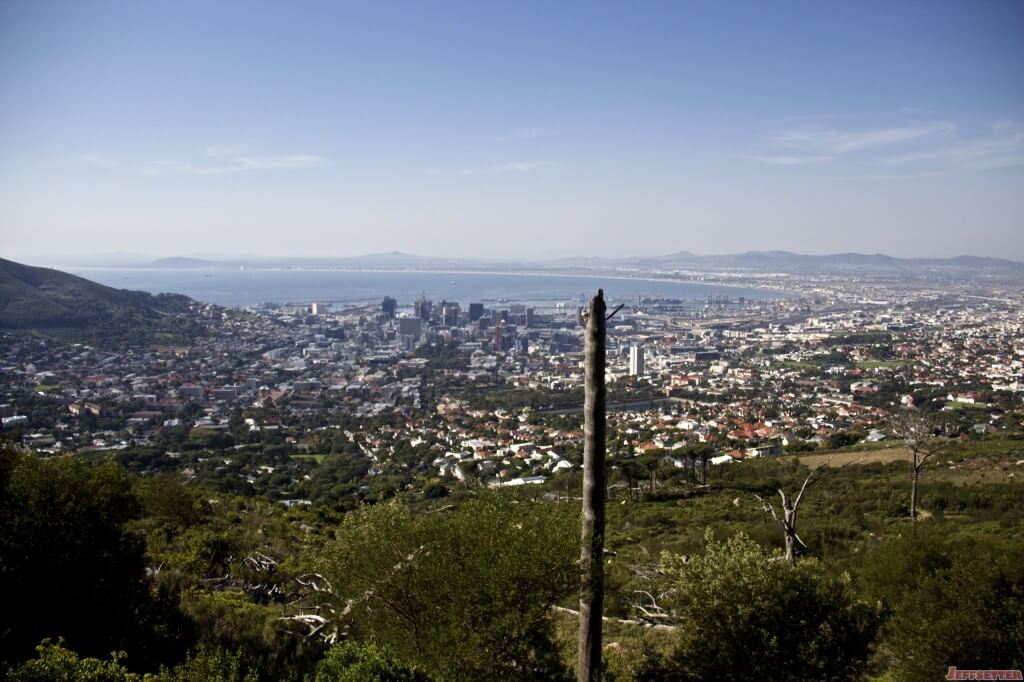 After a quick ride to the top of the mountain, we got out and enjoyed some truly tremendous views of the South African coastline. While these photos do a good job of showing you the beauty, nothing beats being there in person.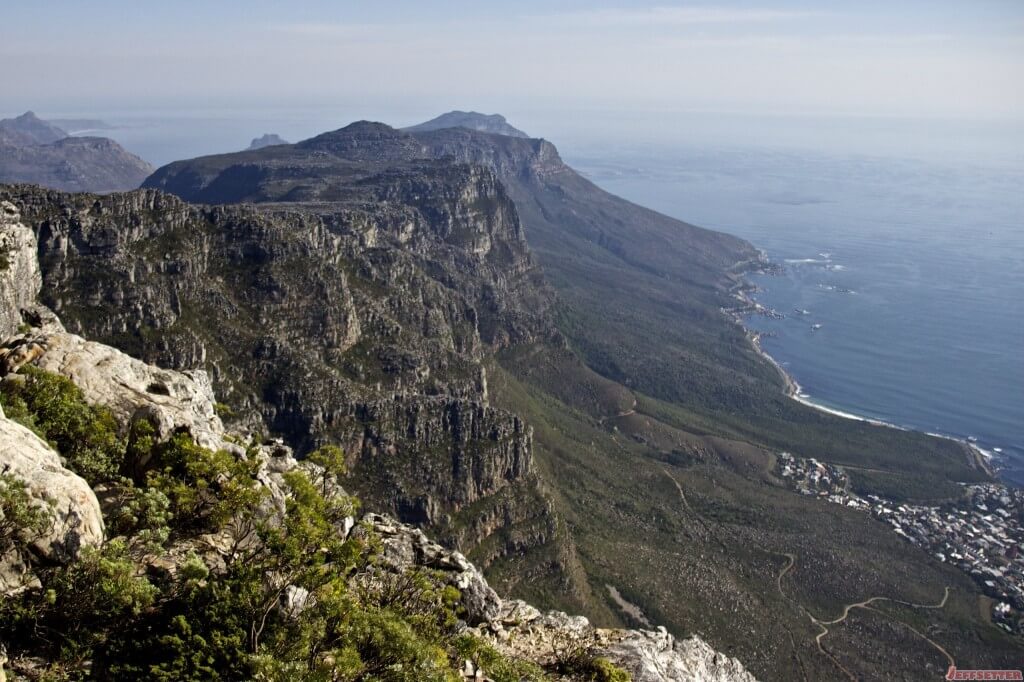 As we walked around the top of the mountain for about 45 minutes, I saw some other objects to catch my attention, like birds trying to eat the food of those visiting the restaurant at the top of the mountain.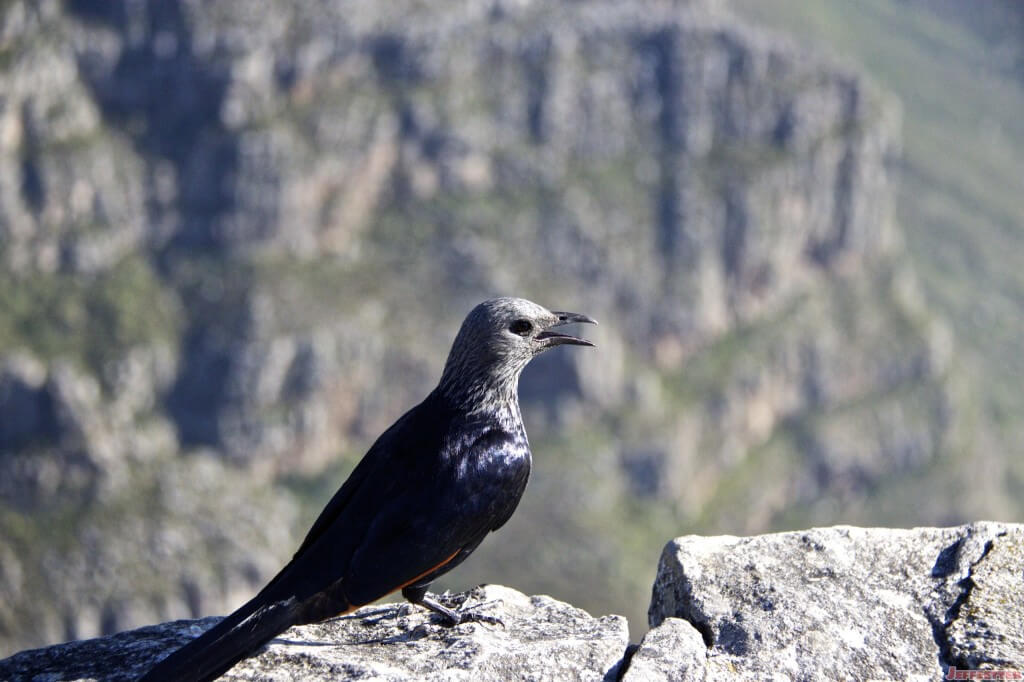 I took several GoPro videos of the surroundings, but don't currently have the bandwidth to post them to YouTube. But hopefully these pictures will suffice.
After taking hundreds of photos of the area, we took the gondola back down to the base so we could head back to our hotel. Look at how clear the sky was that day!
Cape Peninsula Tour
For our second day (and last full day) in the Cape Town area, we booked the Grand Cape Peninsula tour with Rainbow tours. This tour had several of the stops we wanted to see, and was reasonably priced. The only complaint about the tour is that the brochure says there is an optional winery stop where we can check out local wines, but when we got onto the tour in person the driver said he knew nothing about winery stops.
That means I didn't get to see a winery in Africa and I'll have to come back if I want to continue on my unofficial quest to see wineries on multiple continents. Coming back for wine country visits shouldn't be too bad, right?
Our first stop was Hout bay to get on a boat to see a seal colony. While I have been on boat tours to see animals in the past, I have generally found them to be both extremely boring and a waste of time. This boat tour was the complete opposite. It was BEAUTIFUL and PERFECT in all ways. Let me describe.
It starts with an amazingly quiet harbor in the morning with reflections of the mountains.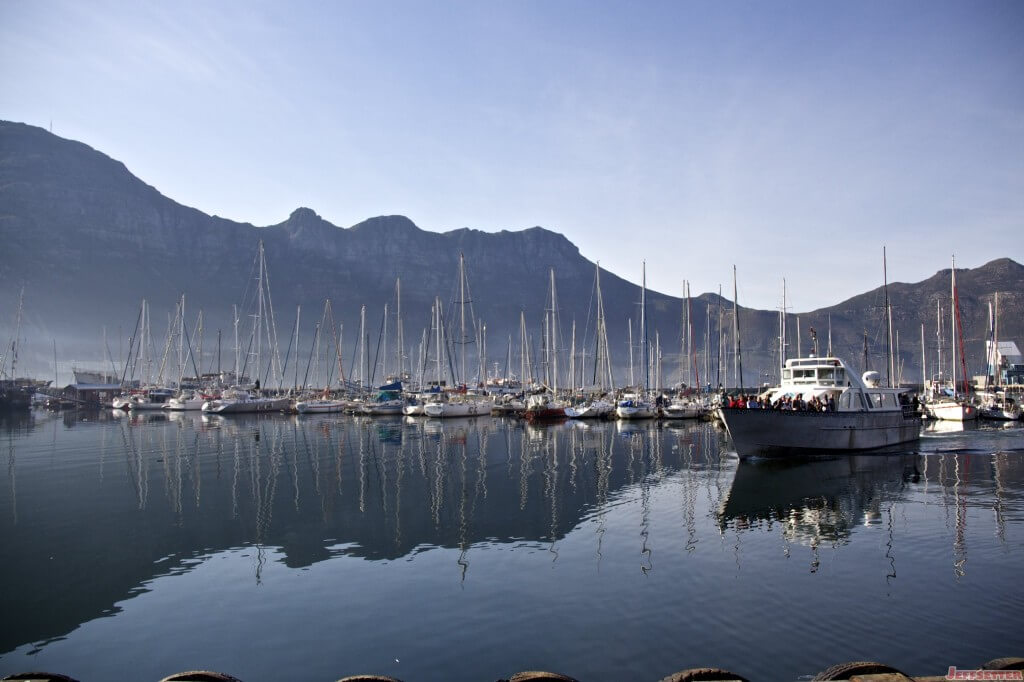 Then you get a little time to check out the local wood carvings, which I always find to be nice and photogenic.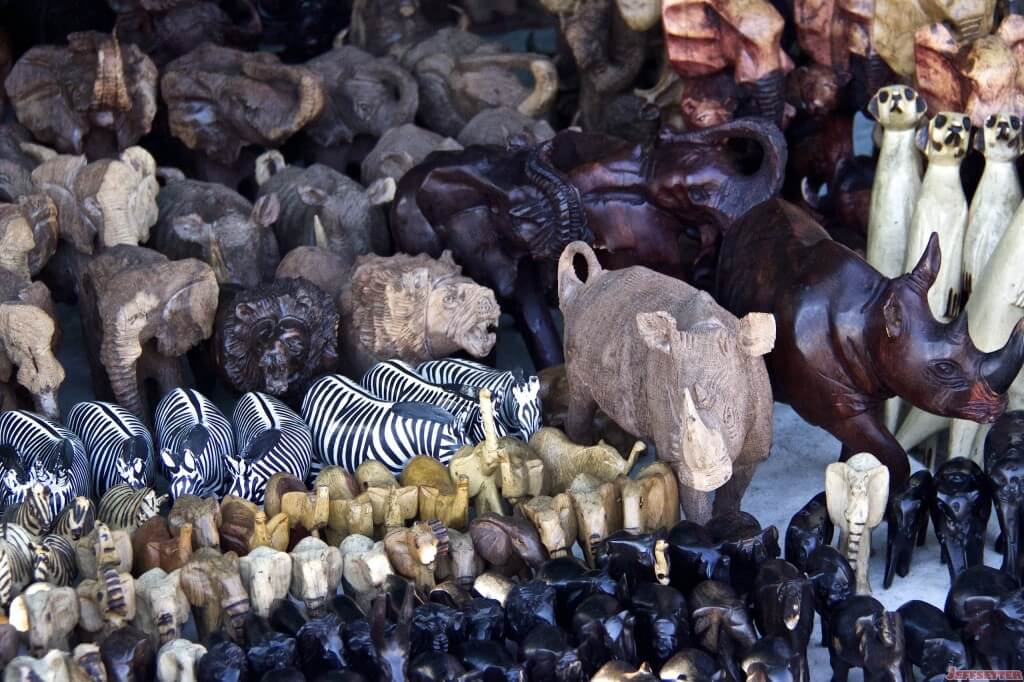 You even get to see vuvuzelas, the worst part of the 2010 world cup in South Africa.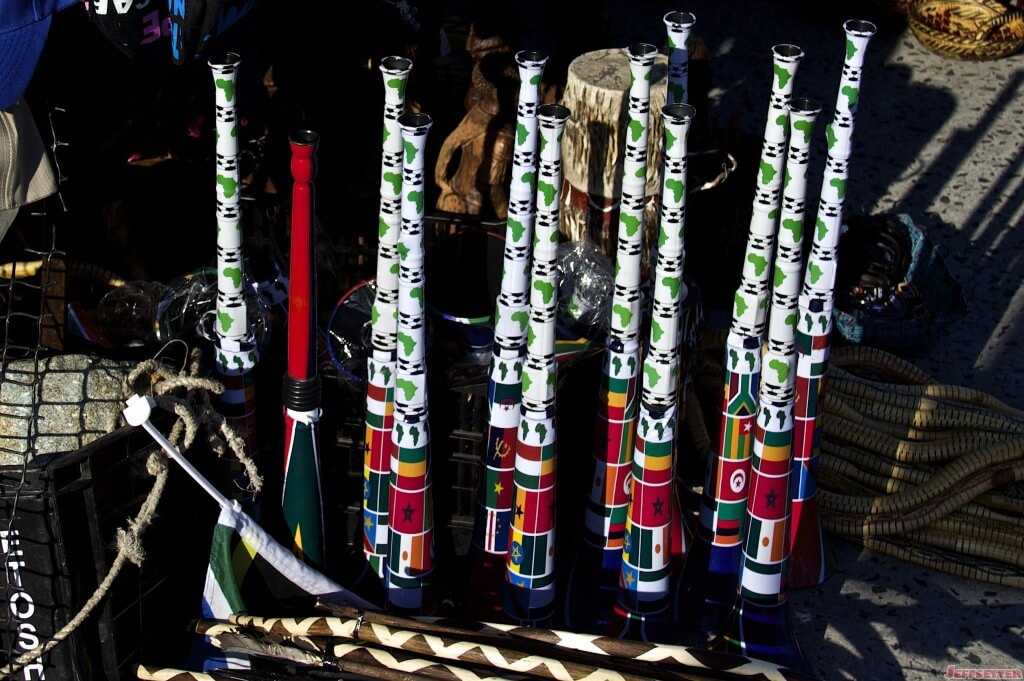 Then you get into a boat and are treated with views like this one: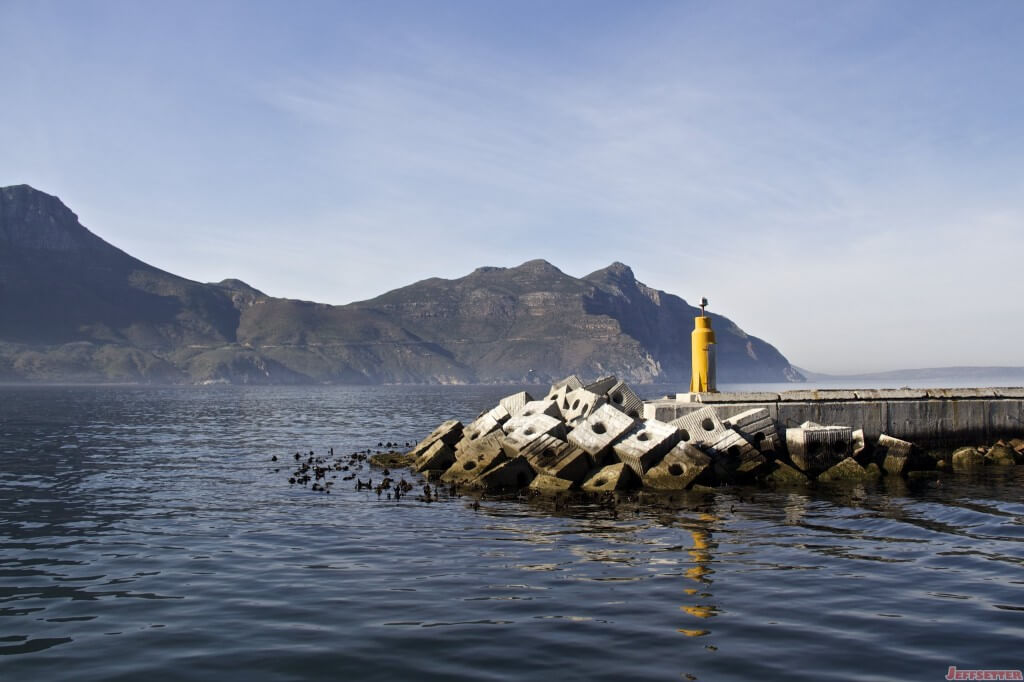 And this one: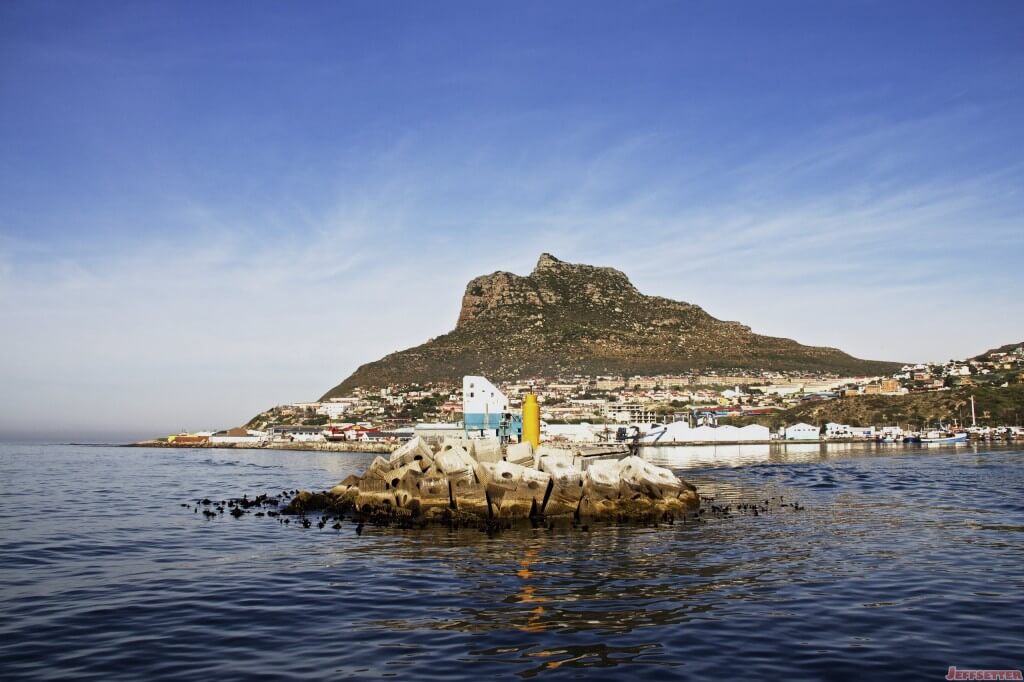 Then you get to a huge set of rocks with seals on them. And you get in CLOSE. Like so close that you don't even have to use the full zoom on your camera.
The drivers of this boat did an incredible job of getting us in close to the seal colony. Then they turned the boat to let the other side see as well. There were seals in the water around us, seals soaking up the sun, and lots of birds flying by as well.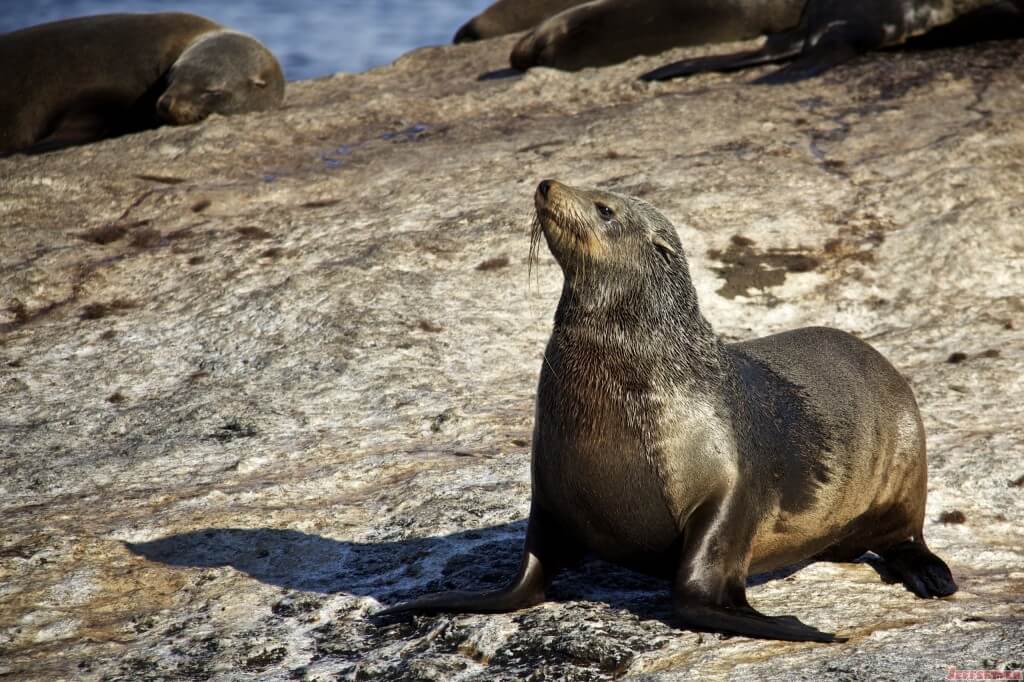 I took about a hundred photos of the seal island – they are just so much fun to watch. After about 15 minutes of viewing, the boat turned back for the harbor of Hout bay. In total we were gone for 40 minutes, and I would gladly make that ride again.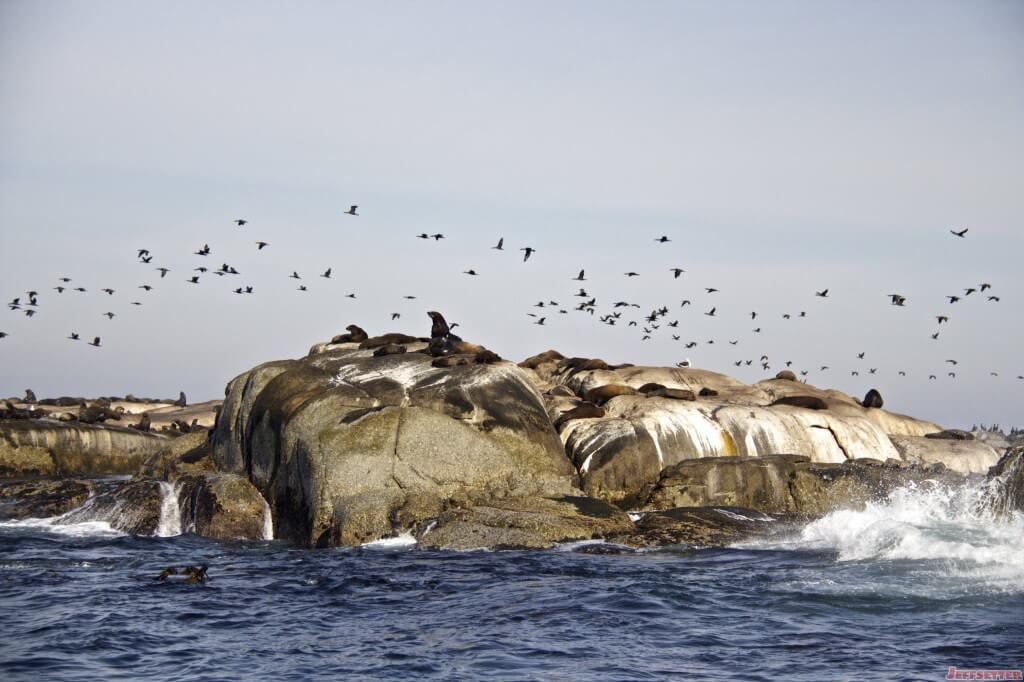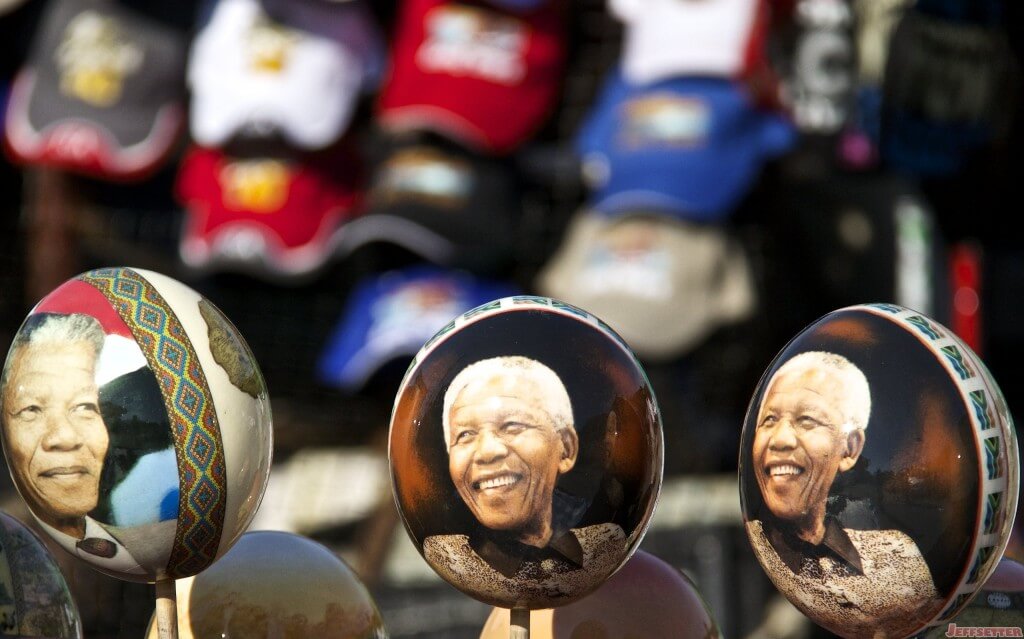 Views and (eventually) Lunch in Simon's Town
Apparently one of the main roads on the cape was closed due to road construction, so we took an alternate route that drove us through Simon's town, which was a British naval base in the second world war. Now it is home to the South African Navy, which is not quite as formidable.
After snapping some photos from the top of the mountain overlooking the city, we continued on our trip to the Cape of Good Hope.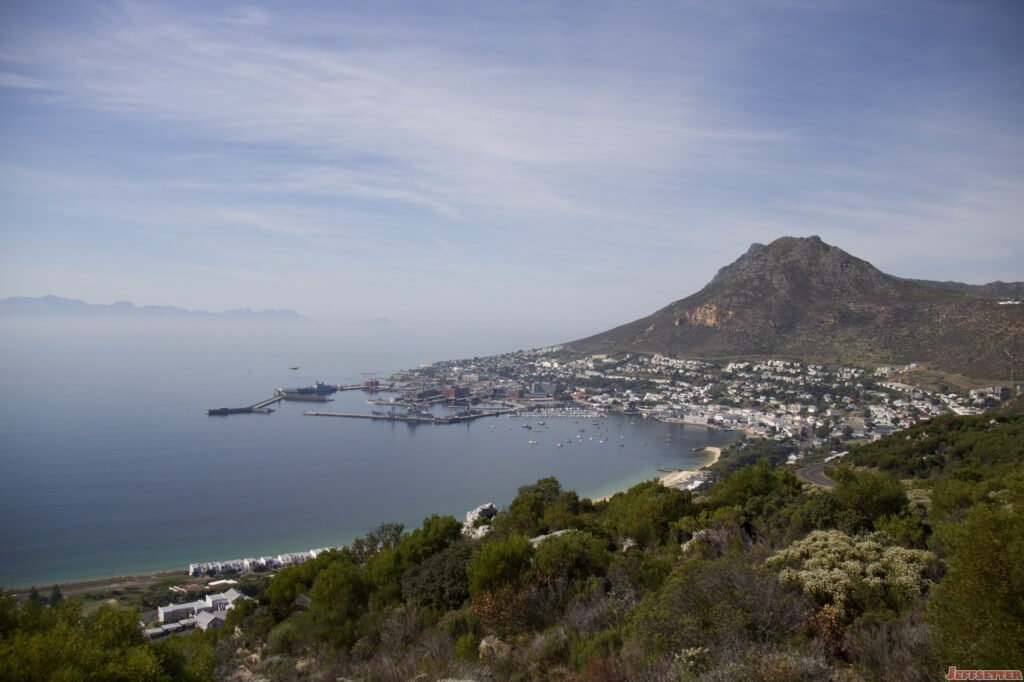 On our way we saw some Baboons. Our driver HATED Baboons.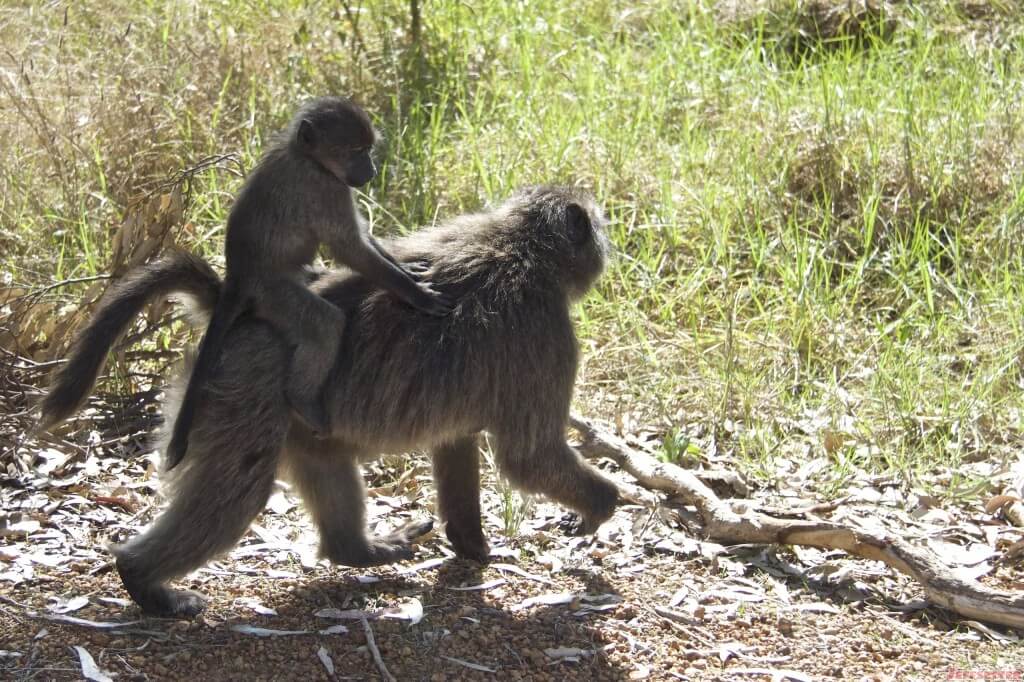 Then we made our way to an area that featured an awesome view of the Cape of Good Hope, as well as an old lighthouse that was used to guide ships navigating the waters.
The coast line was another beautiful sight filled with jagged cliffs and white sand beaches. I would go swimming there if it weren't for a fear of Great White Sharks.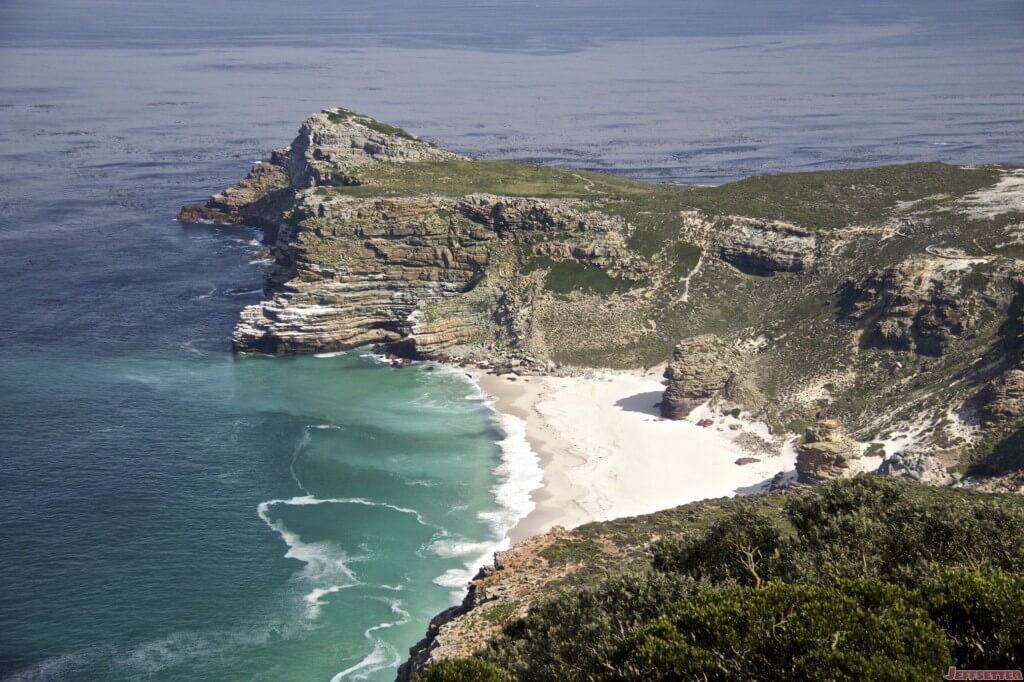 After hiking up to see the light house (a very steep trail), we stopped for some water and souvenir shot glasses before heading back down.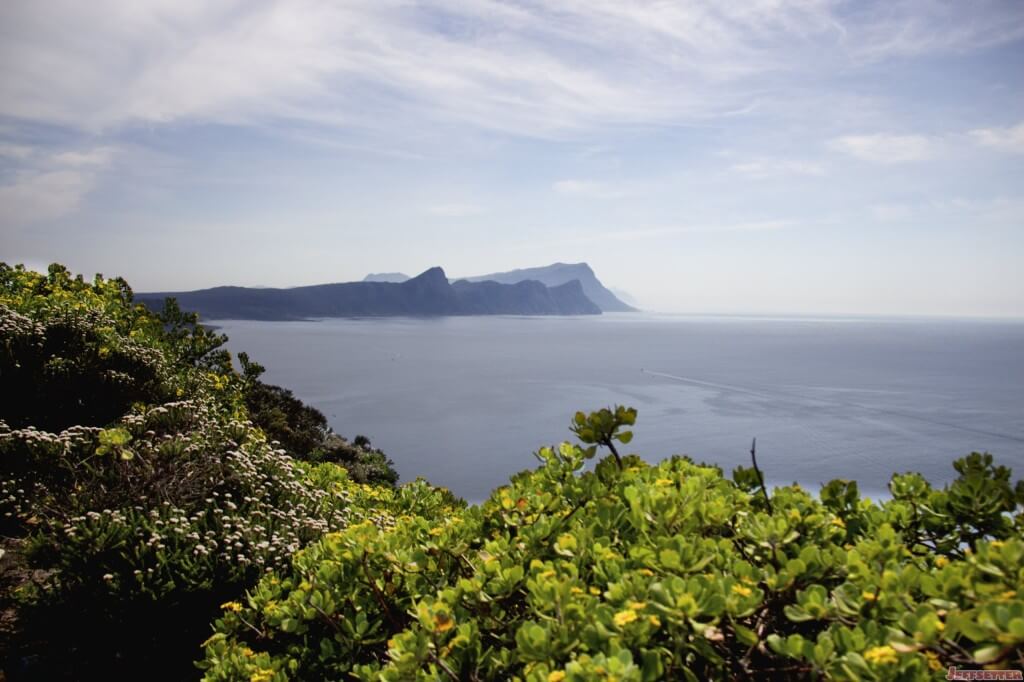 Visiting the Cape of Good Hope
We soon made our way to the Cape of Good hope to take pictures and provide proof of life (or something like that) that we visited the most south-western point of Africa. Our driver convinced me and Papa Jeffsetter to raise our hands in the photo, so we look pretty ridiculous.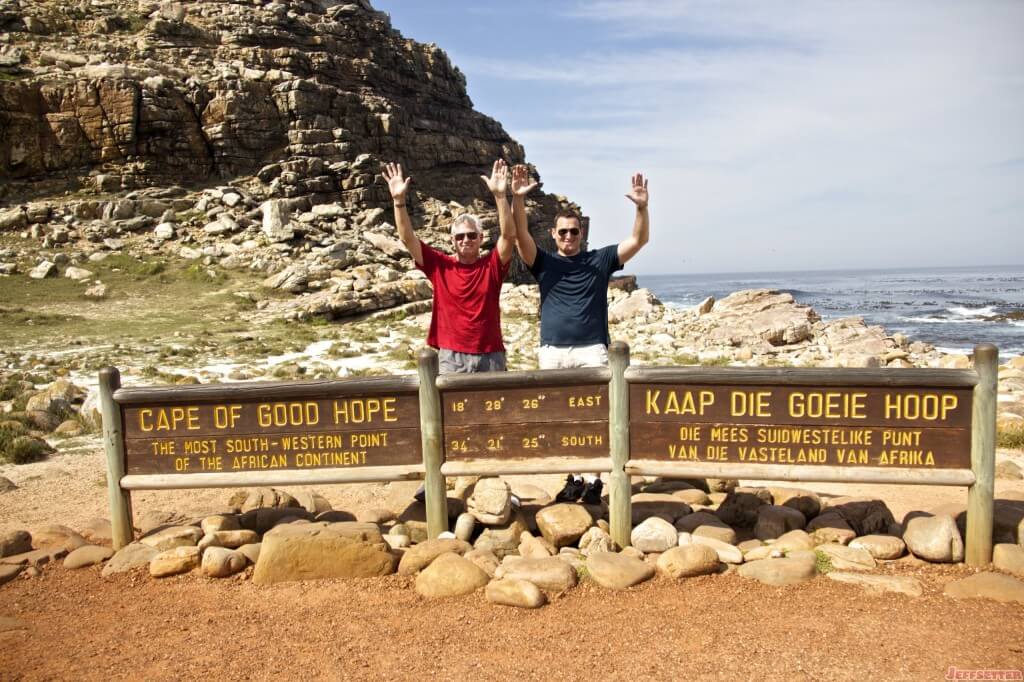 While I originally thought that we were going to be visiting the point where the Atlantic and Indian oceans merge, this was not the case. We learned from our guide that this actually happens in Cape Agulhas, which is 105 miles southeast of Cape Town.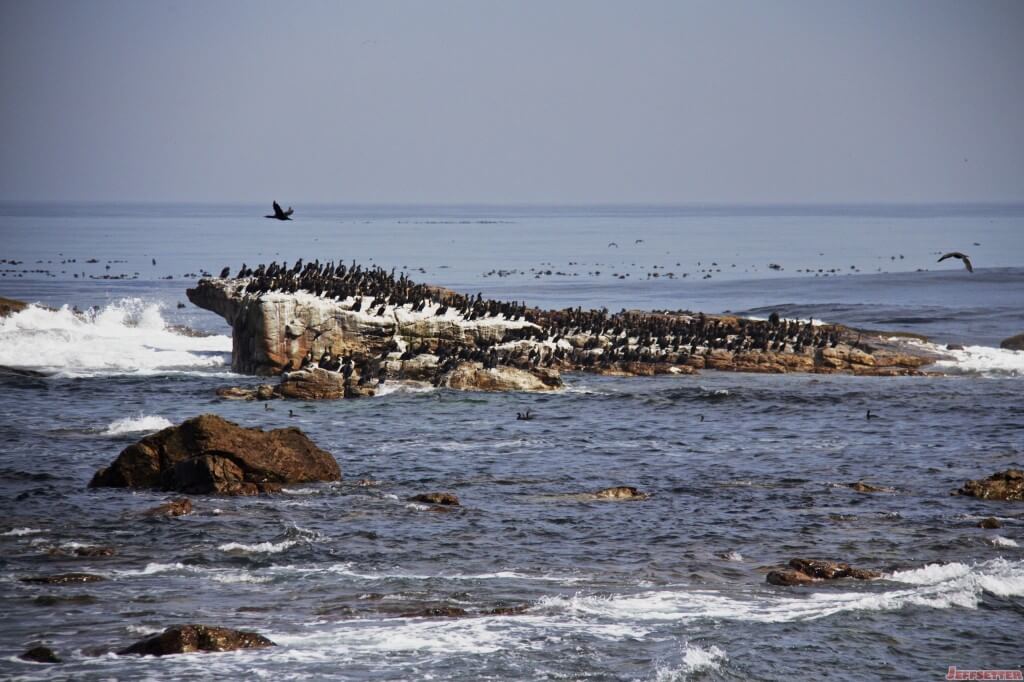 Lunch and Penguins in Simon's Town
Next we went back to Simon's Town for some lunch and refreshments.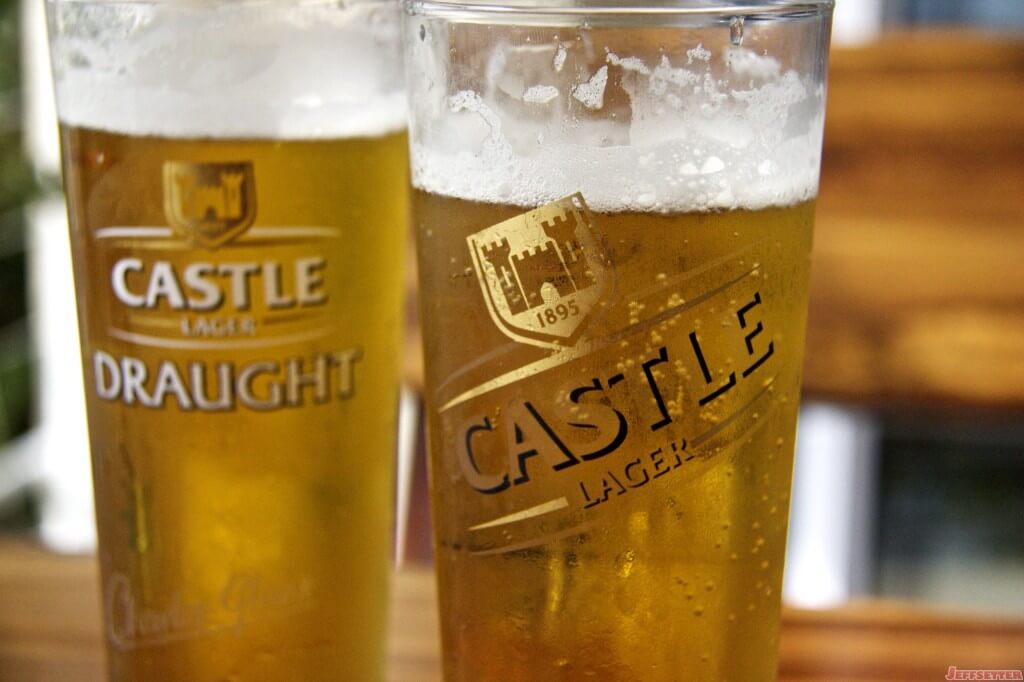 After lunch it was time to see the Penguins.
This is the second time Papa Jeffsetter and I have seen Penguins in the wild, and this trip was much less dangerous. The other trip was in Chile in 2010 and nearly cost us our lives by boarding a rickety boat with a small engine called "Titanic II" to see a colony of penguins in the Pacific Ocean.
These penguins were located on a beach that was almost laughably accessible to tourists.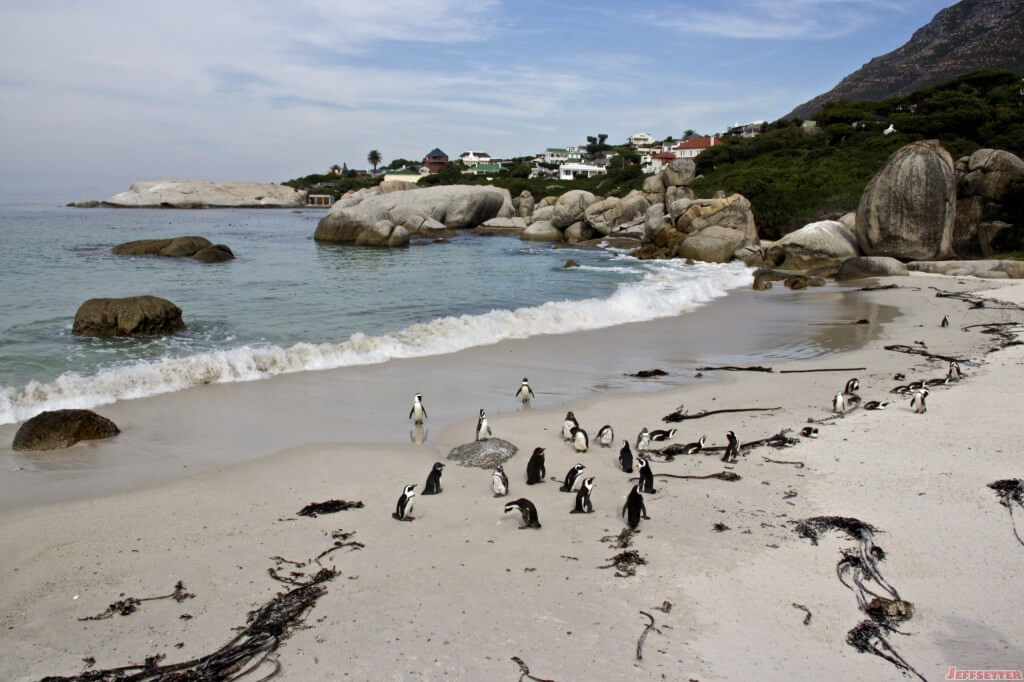 This type of penguin is nicknamed the Jackass penguin because of the loud noises they make. They sound like a donkey when they make noise. It's really strange.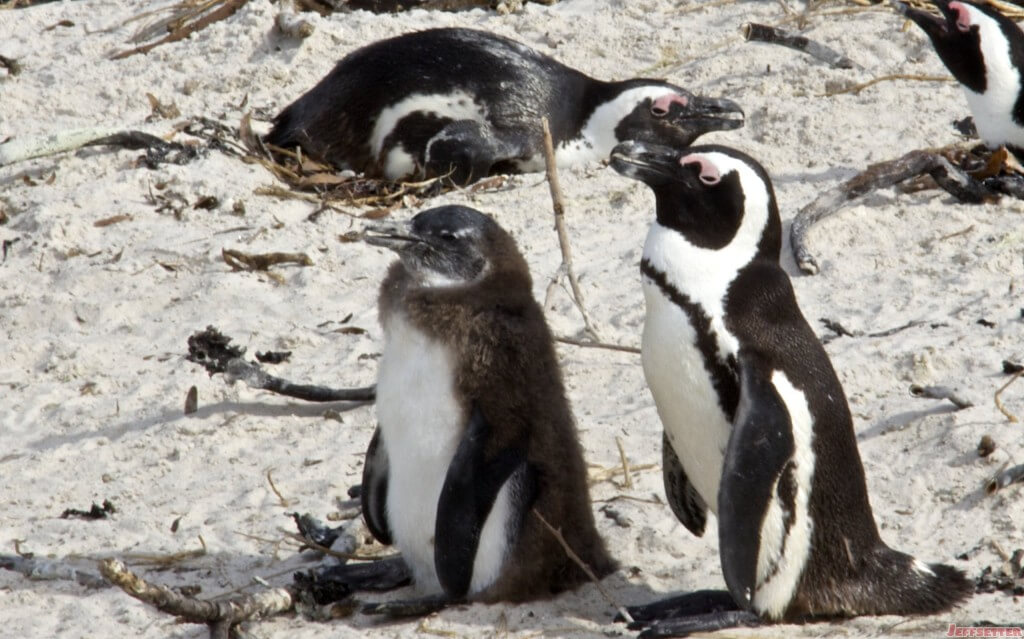 Kirstenbosch Botanical Gardens
Our last stop on the trip was the Kirstenbosch botanical gardens. While it was nice to see some local flora and fauna, we were so tired from our long day that we were just ready to be home. We did snap some fun photos, though.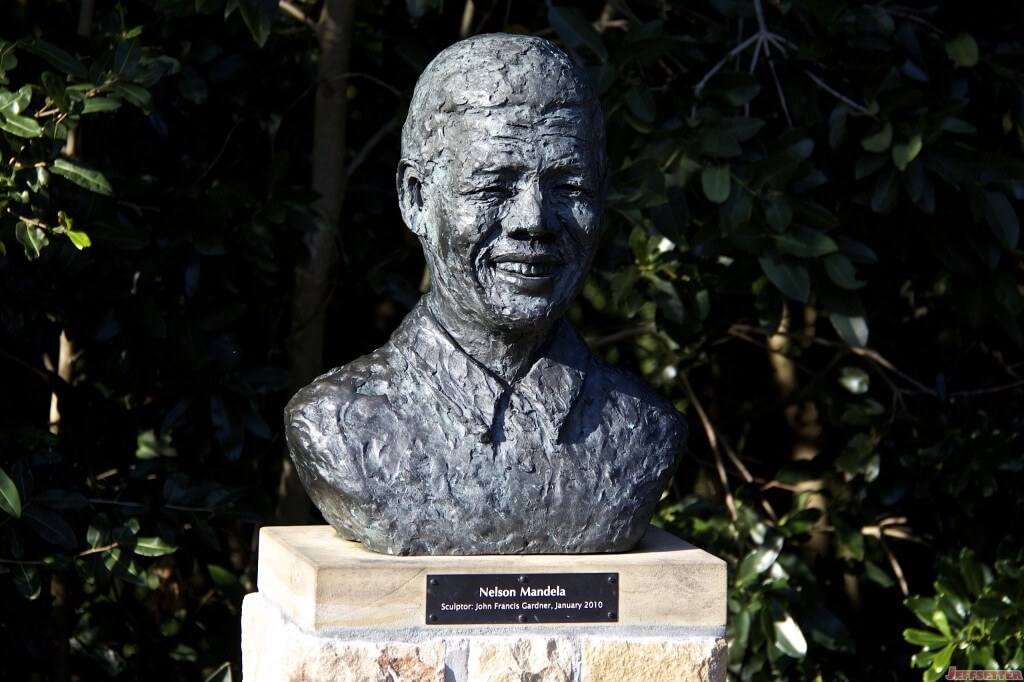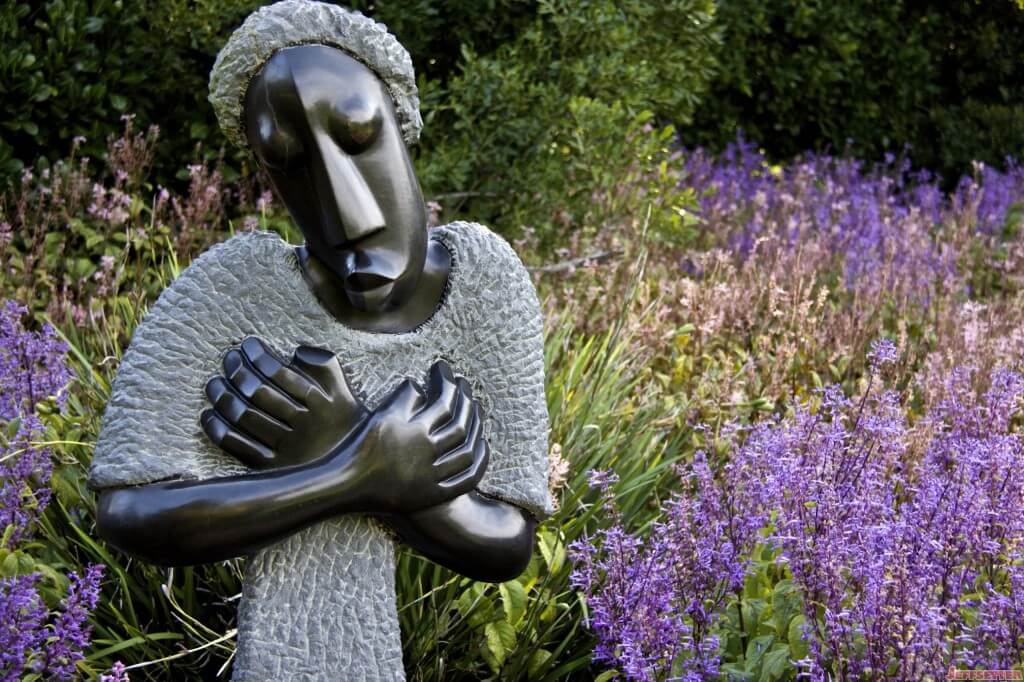 Final Thoughts on the Cape Peninsula
This area is as beautiful as everyone says. If you don't want to rent a car and drive in Cape Town, the tour that we did is a really good alternative. While I would have liked to see a winery, we did see the other landmarks we wanted to see in the two days we were in Cape Town.
Next time I visit I want to spend a month here. It's that awesome.
For the next stop on this trip report we'll be heading to the other side of South Africa for a Safari!