This past weekend we did another Waikiki staycation. However, things were markedly different compared to our last few stays during the pandemic. The biggest difference, of course, being that the crowds are back in Waikiki! It was crazy, though nowhere near as bad as Miami.
I'll get around to reviewing our recent staycation soon. For now, though, I'd leet to let you guys know that things are picking up again in Waikiki. In fact, arrival numbers have been on the rise for months now. Back in January, we were seeing an average of about 7,000 domestic passengers per day. In February, that rose to roughly 9,000 to 10,000 passengers per day. But, since the beginning of March, those numbers began shooting up quickly, culminating in over 22,000 arrivals on Saturday, March 20, alone. That's just 8,000 less than our daily average in 2019. And half of those arriving in Hawaii do so in Honolulu.
The Crowds Are Back
With that many people making their way to the islands – and Oahu in particular – things are decidedly more crowded these days. The sidewalks are once again filled with visitors and locals strolling about. Store have patrons shopping in them once again, and restaurants are as packed as they're legally allowed to be. And that brings about a major problem. Honolulu restaurants no longer have capacity restrictions. But, they must maintain a distance of six feet between tables and maximum party sizes of 10.
Don't get me wrong; I think we should maintain these restrictions for the time being. With the crush of people now in Waikiki, though, this is leading to exceedingly long wait times. The crowds outside of The Cheesecake Factory at the Royal Hawaiian Center, for example, were epic. The line just to get your name on the list was insane too. Fortunately, we were there to pick up an online order for desserts, but even that was an ordeal in itself.
Heck, when I was making plans for our staycation, I couldn't find available dining slots any time before 8:30 pm, nearly a week out. Granted, we did stay during spring break, but still. Luckily, we needed up securing a coveted take-out special from Sushi Sho Waikiki to enjoy in our room instead.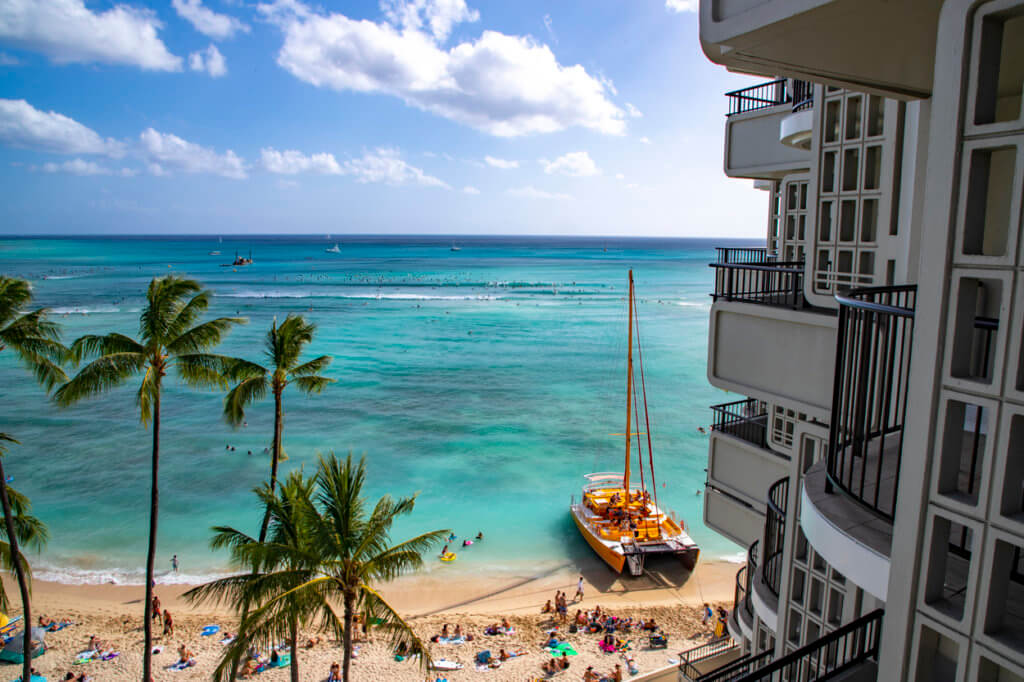 Behavior
Having the crowds back is certainly good for business. But, the crowds bring with them a major implication. When people are on vacation, they tend to act, well… Not so good. This was a problem in Hawaii before COVID-19 as tourists would disrespect cultural sites, residents, and even our laws. Now, though, things seem far worse. Many of the visitors I witnessed in Waikiki now seem far more entitled and callous than before. About half weren't wearing masks, few ever followed hotel and business rules limiting elevator capacities, even fewer followed social distancing guidelines, and a huge majority paid no heed to traffic laws. The rampant jaywalking, even with oncoming cars approaching, was shocking.
Nevermind the pandemic for a minute here. Running out into a busy street like Kalakaua Avenue against the light with oncoming cars is stupid. It's also just one of the types of behaviors that annoys the hell out of residents. It's part of the reason why traffic is the way it is in Waikiki. So, please, wait for your turn!
Masks
Back to masks. Many people weren't wearing them. This is especially true of visitors. Most locals we saw, even when heading to or coming back from the beach, had masks on. But many tourists, even those strolling along Kalakaua Avenue, weren't wearing masks. Many in the International Market Place weren't either in clear violation of the center's masking policy.
Now, I don't care where you're from. But you need to follow our local laws and emergency orders. If you don't, not only are you putting other visitors and residents at risk, but you could contribute to a rise in cases. And if cases rise high enough, Oahu will slide back into Tier 2 of its reopening strategy, placing strict limitations on restaurants, bars, attractions, and more. Needless to say, that would ruin future visitors' time in Hawaii. Think I'm joking? Case rates are already on the rise once again.
For those of you that don't know, Hawaii statewide emergency orders require masks to be worn at all times indoors except for certain activities such as eating and drinking. Masks must also be worn outside when social distancing isn't possible. So, you know, in those crowded lines, when the streets get really packed, etc. Also, businesses have the right to institute their own stricter rules. Be respectful and follow their rules. Failure to do so could result in your arrest.
Oh, and, wearing your mask around your chin doesn't count…
Pandemic Update
As I mentioned earlier, cases are on the rise once again in Hawaii. Heck, cases are on the rise in 21 states right now, while a third wave is hitting other countries around the world. But, back here in Honolulu, we've seen cases rise from a 14-day average of 20 new cases per day only two weeks ago to an average of 43 new cases per day on Monday, March 22. That's an 80% increase in the past two weeks. It also places us close to the 50 cases per day threshold that would force us back into Tier 2 of the reopening strategy. Honolulu's test positivity rate also jumped from 0.9% to 1.6% during that same time.
The Hawaii Department of Health notes that our rising rate of infection is directly correlated with Honolulu's move to Tier 2 and the increases in arriving visitors. And the trends certainly do match up perfectly.
What's more, Hawaii's hospitality workers only became eligible for the vaccine on March 15. Hawaii has one of the slowest rollouts in the nation. In fact, the national average says 1 in 4 Americans have already received at least one dose of a vaccine. But guess what the ratio is like in Hawaii? 1 in 5. What's more, three of Oahu's hospitals have ICU occupancy rates above 75% already.
The Crowds Are Back in Waikiki, Final Thoughts
Look, I don't care if you believe the virus is real or not. Nor do I care what your home state's rules are like. This is Hawaii and we have our own emergency orders in place. Things were going well for a time too, and now they're not. To be clear, I'm not blaming all of this on visitors. There are lots of irresponsible residents too. But, if we want things to remain open, we all have to do our part. So please, for the sake of our business owners, our industry workers, other visitors, and even residents, wear a mask, keep your distance, and heed all emergency orders and existing laws. I'm grateful things aren't as bad here as they are in Miami, but things are about to get worse if we don't act now.