Good food, especially at decent prices, can be difficult to find in tourist districts.  It doesn't matter if you're in Times Square, San Antonio, Anaheim, or Waikiki, there's a lot of bad to be had.  But that doesn't mean all your dining options in these areas are bad. Waikiki especially has been getting better in recent years.  And of one my favorite spots to grab a bite in the area is Waikiki Yokocho.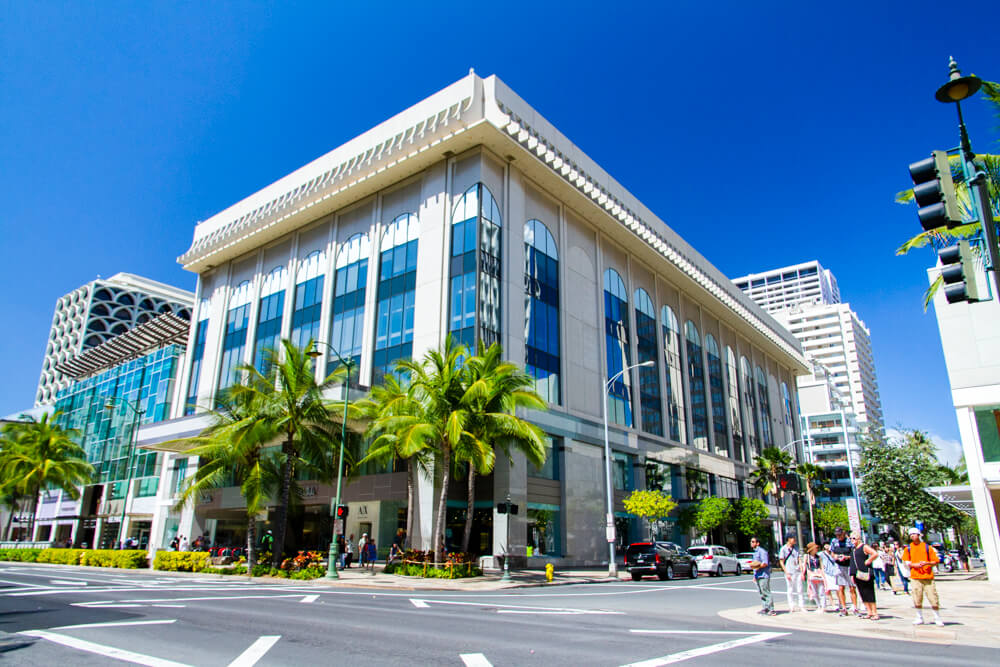 Waikiki has been going through a bit of a renaissance in recent years.  The tourism heart of Hawaii has been going through a great deal of changes.  This hasn't been without controversy, of course, especially when discussing the new International Market Place.  But there's no denying that these changes have brought some great changes with them too.  One of my favorite being Waikiki Yokocho.
Waikiki Yokocho Gourmet Alley
If you've ever been to the Shirokiya Japan Village Walk at Honolulu's Ala Moana Center, then you'll be familiar with Waikiki Yokocho's concept.  In my opinion, however, Waikiki Yokocho is a much higher quality experience than the Japan Village Walk.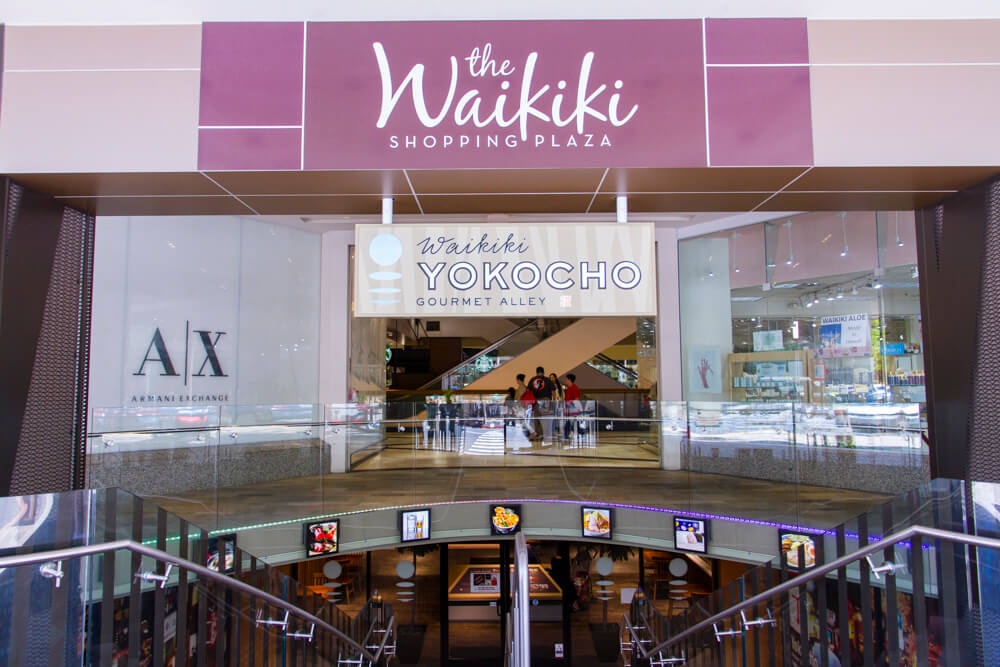 To access Waikiki Yokocho, you simply head to the Waikiki Shopping Plaza, and go down to the basement level.  The Waikiki Shopping Plaza is a smaller building next to Victoria Secret and across the street from the Royal Hawaiian Center.  And if you're staying at the Hyatt Centric Waikiki, its just down the street (toward the ocean) from the hotel.
The Restaurants
If you're not familiar with Waikiki Yokocho or Japan Village Walk's concept, they're basically food courts made to resemble alley lined restaurants in Japan.  Yokocho is a bit smaller than Japan Village Walk, but there's a decent variety of restaurants: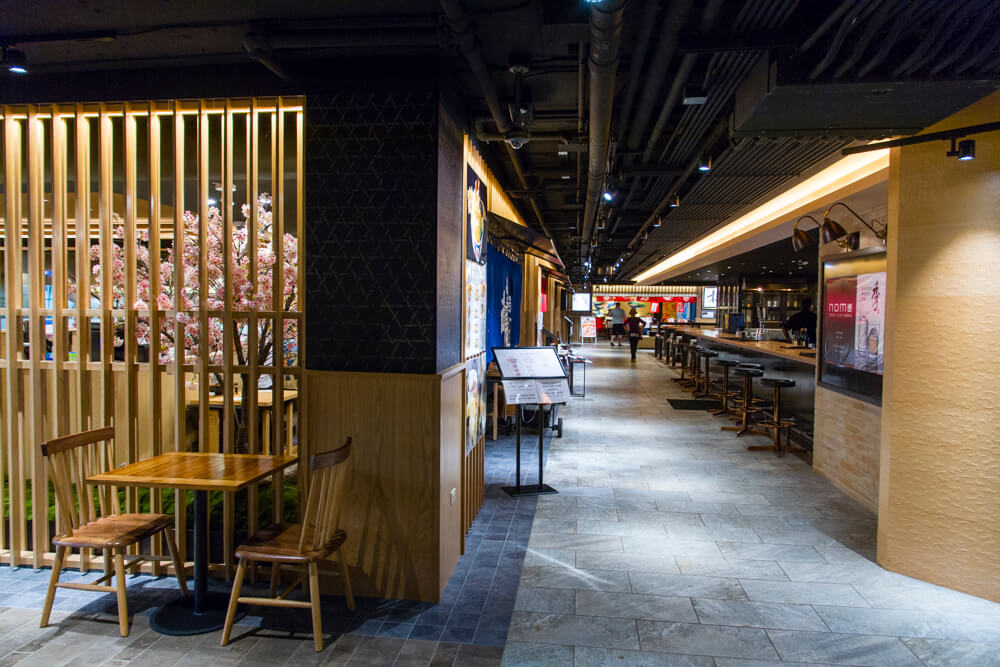 Kaneko Hannosuke (tempura)
Nin Nin (curry)
Kingyo (okonomiyaki + teppanyaki)
Bario (ramen)
Tsujita (tsukumen)
Marion Crepes
Shichimusubi (musubi/onigiri)
Baikohen (ramen)
Beniya (sushi + washoku)
Nomu (Suntory whiskey + cocktails)
Pour Lounge
Kushikatsu Tanaka (fried stuff on a stick)
Sizzle (seafood, shabu shabu, sushi)
Nana's Green Tea
Tonkotsu Kazan Ramen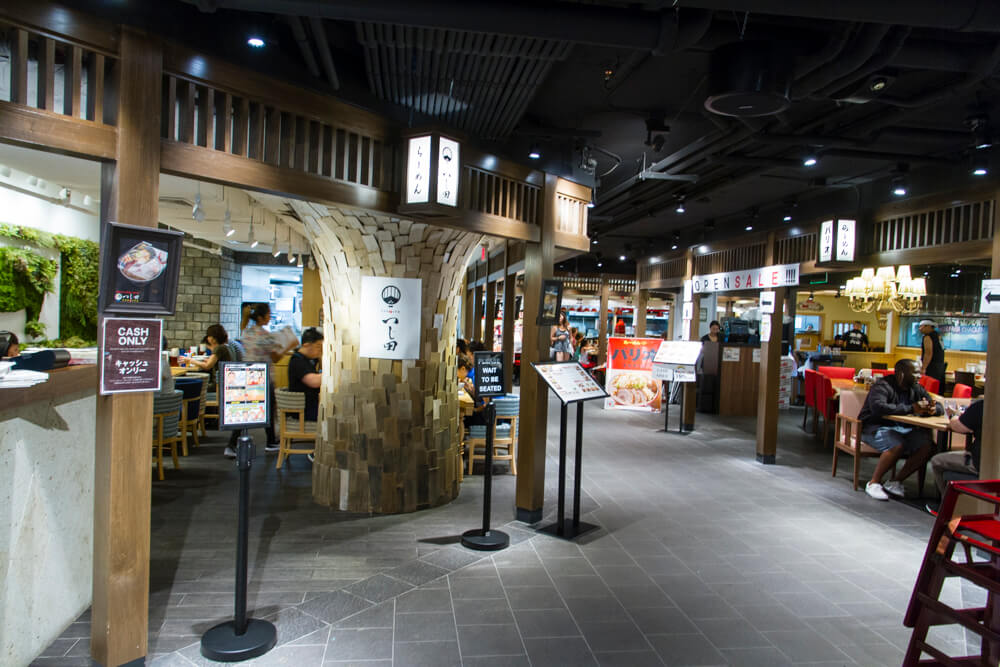 My Favorite
Mrs. Island Miler and I have tried Tonkotsu Kazan Ramen, Baikohen, Bario, and Nana's Green Tea.  So far, my favorite of those four is Bario.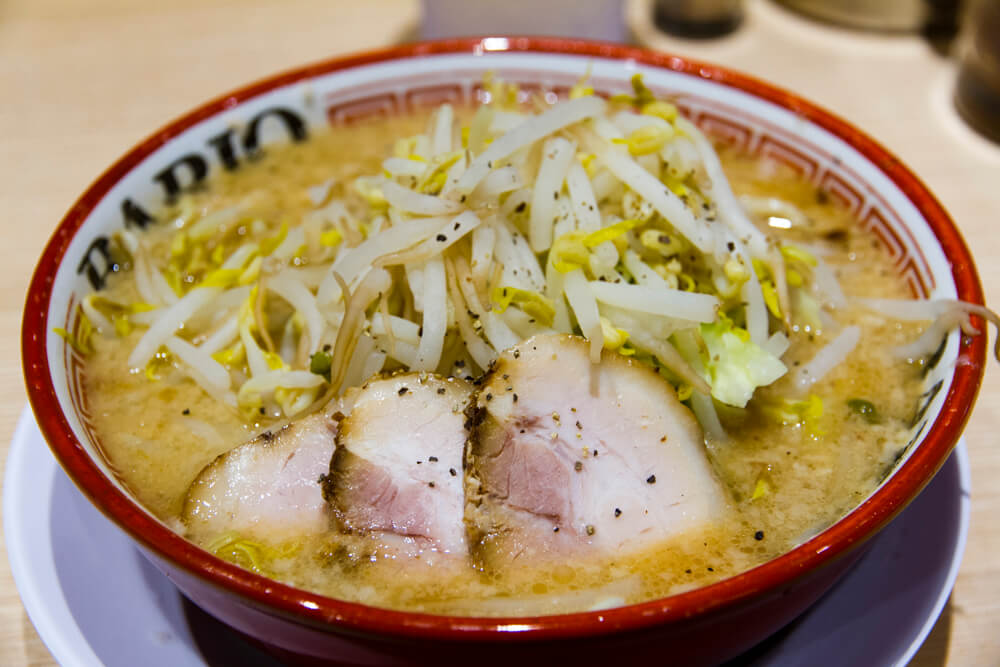 Bario's ramen is really unique, using thick (almost udon thickness) noodles in a hearty, pork and garlic based soup.  Their bowls of ramen are then topped with melt-in-your-mouth chashu (roast pork), some cabbage, bean sprouts and black pepper.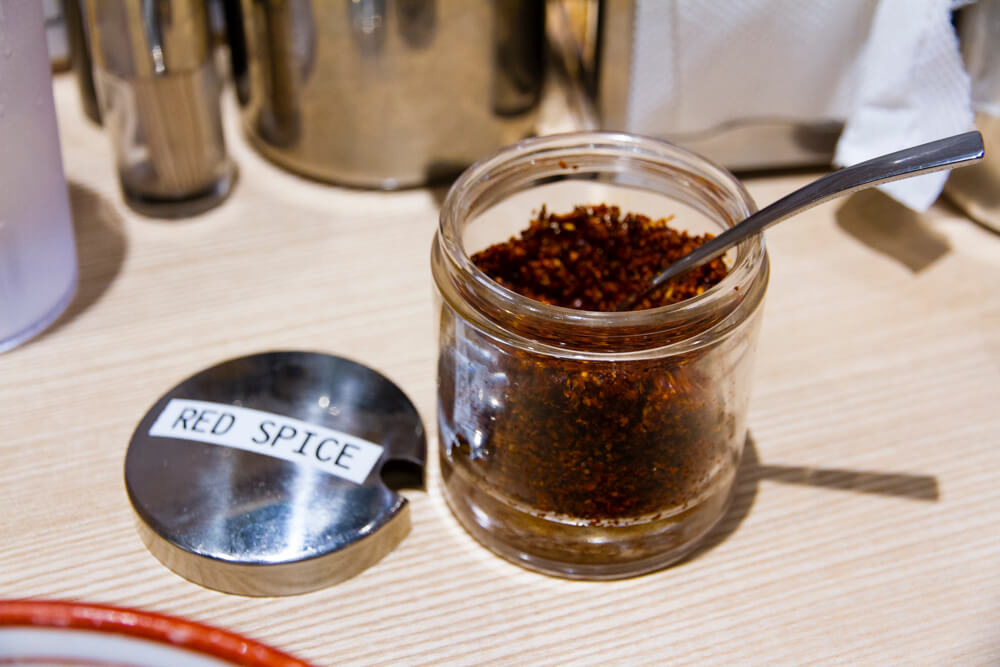 The tables all have containers of both minced garlic and Bario's "red spice" so you can add as much of both as you like.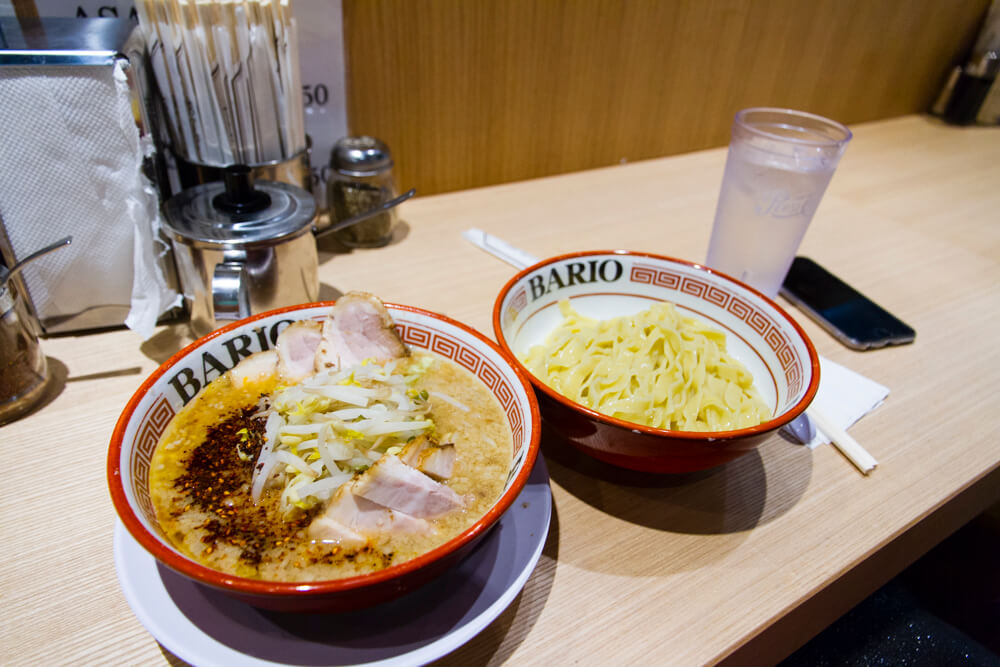 The tsukumen (dipping ramen) is similar to the ramen, though the noodles are flatter, and the soup comes with the red spice already in it with a splash of vinegar.  The spice and vinegar help to cut the richness, making the tsukumen more balanced, but I'm still addicted to their standard ramen.
Baikohen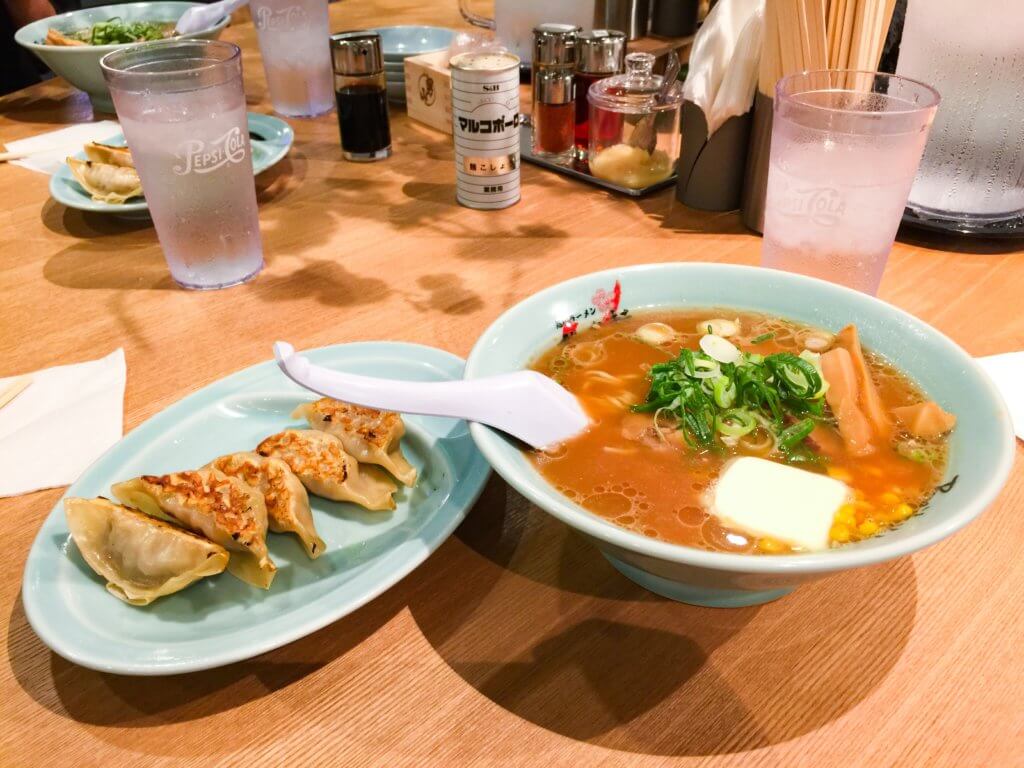 If you want something a little lighter, Baikohen is your best bet at Yokocho.  This Hokkaido-style ramen joint is actually Michelen rated in Japan.  Baikohen's ramen is good, but is lighter than Bario, despite the butter in the soup.  And while I liked Baikohen, I still prefer Bario.
I've also been told that Kaneko Hannosuke is very popular in Japan, with extremely long wait times at the Tokyo shop.  Here, the lines aren't anywhere near as long, though it is one of the more crowded shops.
Waikiki Yokocho Final Thoughts
When staying in Waikiki, Waikiki Yokocho is a solid dining option.  It isn't the cheapest option (Marukame Udon takes that title) in the area, but it isn't badly priced and there is a lot of good food to be had.  Especially if you're a fan of Japanese food.  And while Shirokiya Japan Village Walk is more popular, I prefer Waikiki Yokocho.  The quality is higher in my opinion, and it isn't as crowded.  But, if cheap beer is what you desire, the Japan Village Walk is where you probably want to go.