Help! This arbitrary rule is making me crazy! In a state where a lot of things already don't make sense, this one is a real brainteaser! And, honestly, I'm thinking about it far more than I should be.
Last year, I tried to fly home from Maui with a case filled with persimmons from Matsui Farm up in Kula. The problem was I was flying Southwest. At the time, we were informed that we couldn't bring fresh produce into the aircraft's cabin. Why? USDA regulations governing the movement of produce out of Hawaii. Namely, you can't transport any fresh fruits or veggies out of the state without special screening. And because Southwest uses gates in the Central Concourse at Honolulu, you can't hand-carry fresh produce out of fear you'll give it to someone boarding a flight heading out of state – they must go in your checked bag.
At the time, I was frustrated but went with it. After all, we have two free checked bags each on Southwest. All we had to do was stuff the box of persimmons into a spare collapsible duffle bag Mrs. Island Miler had with her, and we were good.
But then we went to the Big Island, and things got even more bizarre.
This Arbitrary Rule is Making Me Crazy!
The thing that broke my mind was an incident that occurred when we arrived at Honolulu's Daniel K. Inouye International Airport for our outbound flight. Specifically, before tagging and dropping our bag, I headed to the USDA screening station ahead of Southwest's ticket lobby. The agent there asked where we were going, and we told him Hilo. After hearing this, he told us we didn't need to go through screening. Um, WHAT?!
If I couldn't bring persimmons back from Maui because I could hand it off to someone in the terminal in Honolulu, then why don't I have to go through ag screening in Honolulu? What's to stop me from doing the same with Oahu-grown apple bananas or something, hmm? And even if I don't do that, I could easily do the same at my destination island, as most don't have separate terminals. Duh.
Then, in Hilo, we were repeatedly reminded that we can't have any plant matter in our carry-on bag because of the aforementioned USDA regs. Does this rule only apply when traveling from the neighbor islands to Oahu? If so, how does that make any sense?! How does it stop someone from giving someone plant matter in Honolulu if you aren't checking for it in Honolulu?!
See why this arbitrary rule is making me crazy? Either the rule itself isn't being enforced properly, or it really is entirely arbitrary and non-sensical. If it's the latter, well…
Final Thoughts
As you can see, this arbitrary rule is making me crazy because it makes zero sense. On the one hand, it's a stupid rule that was written exceedingly poorly or isn't enforced evenly. On the other, it's a rule made to give Hawaiian Airlines a competitive advantage. Based on my recent USDA experience, I'm inclined to believe it's the latter. This is especially true since even Two Ladies Kitchen in Hilo has a sign saying you can't hand-carry their fruit mochi on SOUTHWEST AIRLINES only. Yet, this fresh produce rule doesn't apply to Hawaiian? Come on!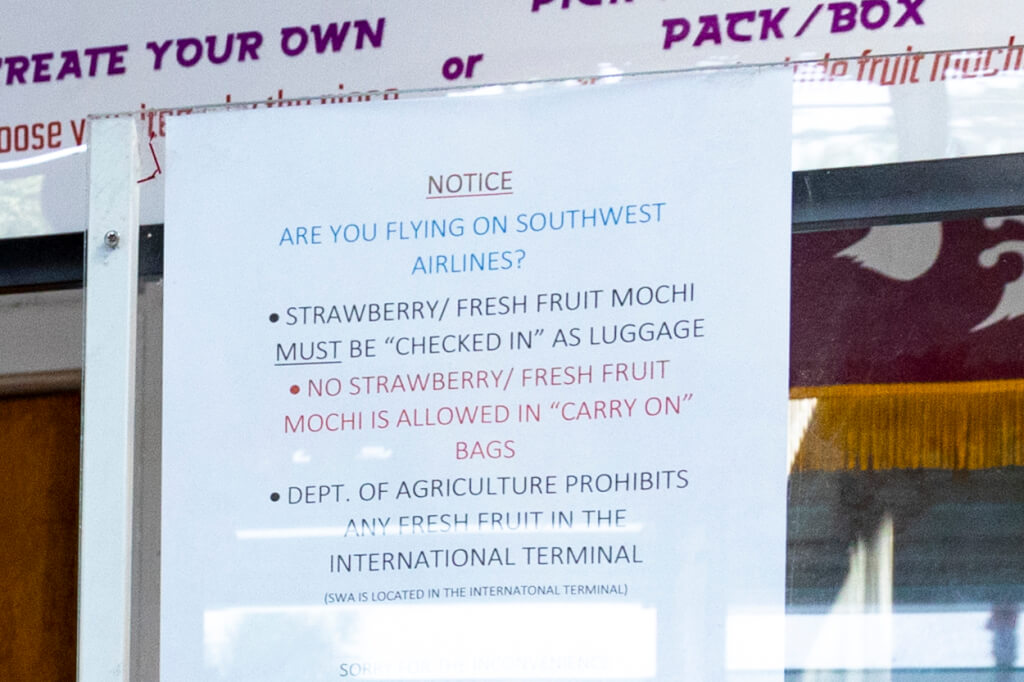 On a side note, does anyone else find it hilarious that Hilo has an "international terminal? The only "overseas" flight out of Hilo is one United flight to Los Angeles!