I'm not usually a fan of persimmons. To me, they're often overly sweet, dry, and one-dimensional. However, this isn't the case with Maui persimmons, which is how we found ourselves visiting the Matsui Persimmon Farm in Kula.
In all honesty, before this trip, I thought Hashimoto Persimmon was the only persimmon farm in Hawaii. Here on Oahu, where it's too warm to grow persimmons, Hashimoto is the only producer we see in our grocery stores and restaurants. All other persimmons available on the island come from out-of-state. Naturally, Hashimoto is who I sought to visit while we were there. Unfortunately, they only sell via pre-order based on their harvest schedule, which didn't line up with our travel dates, sending me into a research frenzy and found out that there are actually a few persimmon farms. Eventually, I came across Matsui Persimmon and decided to pay them a visit.
Visiting the Matsui Persimmon Farm in Kula
Like Hashimoto, Matsui actually works on a pre-order system too. However, if they have extra persimmons available, you're more than welcome to stop by and buy some. That's exactly how we found ourselves visiting the Matsui Persimmon Farm. I called ahead, they had, so we headed up.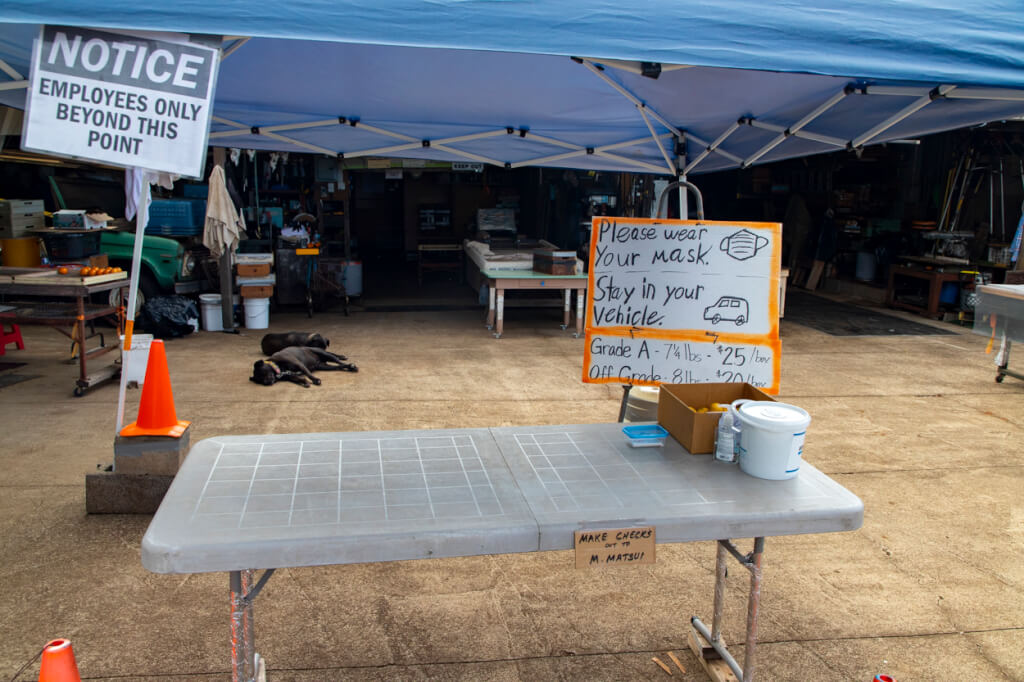 The Matsui Family
Now, before I get into the farm and their persimmons, let's talk a little about the family. Showing up out of the blue, we had some time to wait around while our order was packed. Rather than have us sit in our car, the eldest Matsui invited us out to talk story and show us around a bit. It turns out the Matsui's have been growing persimmons on the slopes of Haleakala for generations. In fact, during the 2021 season, there were three generations of Matsui working the orchards and stand. This truly is a family-run operation – something that's becoming increasingly rare – and made our experience all the more special.
Persimmon Types
At Matsui Persimmon Farm, they grow and sell three different types of persimmon – fuyu, hachiya, and maru/cinnamon. Fuyu is one of the most common varieties available in the U.S. These super-sweet persimmons have a squat, vaguely tomato shape and vibrant orange color.
Hachiya, on the other hand, is an astringent persimmon that must be fully ripened to rid it of its tannic qualities. These have a more elongated, pointy shape and are a vibrant orange color.
Finally, Maru Persimmons, are rounder, but not as squat as fuyu. They're also far lighter in color. Maru persimmons can be eaten while still crisp and darken to a brown color and get softer as they ripen. Cut them open when they're still crips and you'll see brown streaks and spots. The eldest Matsui told us they're sugars developing in the fruit.
While visiting the Matsui Persimmon Farm, they only had maru persimmons, though they managed to scrounge up a couple of fuyus for us. Personally, I prefer fuyu, though the Maru we had were good too!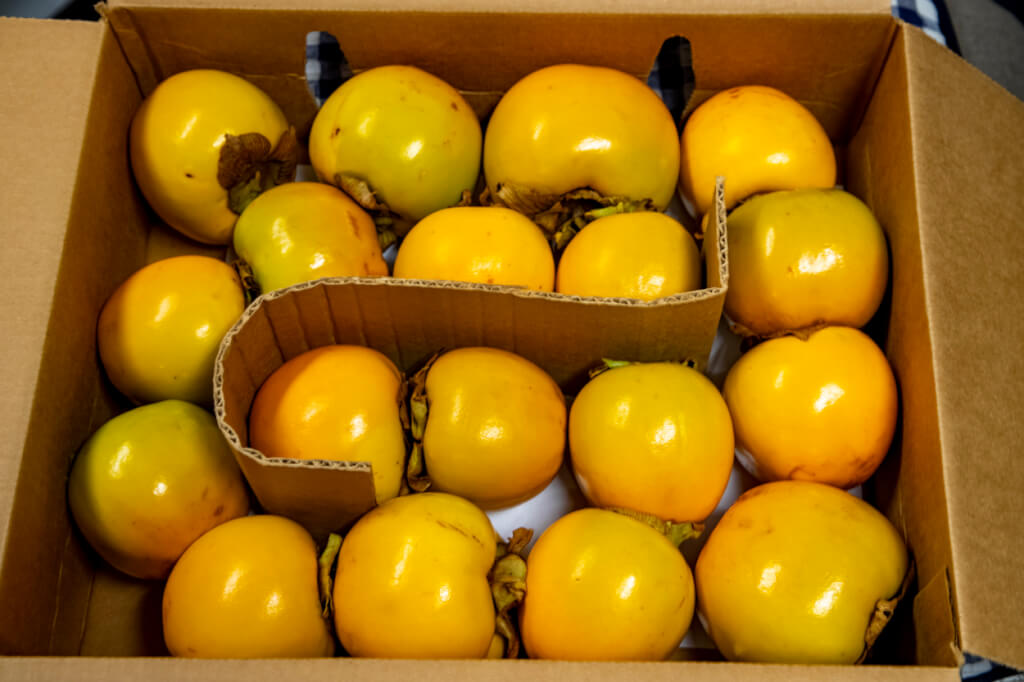 Dried Persimmons
While we were talking, the eldest Matsui lead us over to a series of racks out in the sun. He told us that any off-grade persimmons they harvest are transformed into dried persimmons. It's a labor-intensive process in which they lay the persimmons out in the sun during the day and set them back in cold storage at night. The results, however, are mind-blowing. Mr. Matsui had us try one, and it was like an explosion in my mouth. These dried persimmons are unlike anything else I've ever tasted!
Matsui Persimmon Farm dried persimmons are meaty, chewy, and jammy in texture and are intensely sweet. They're so sweet, in fact, that it's difficult to eat more than one at a time. But they aren't cloying or sugary. It's really difficult to describe the sweetness these divine little fruits have. Unfortunately, they are a bit difficult to transport home, as these all-natural, preservative-free dried persimmons must be kept under refrigeration.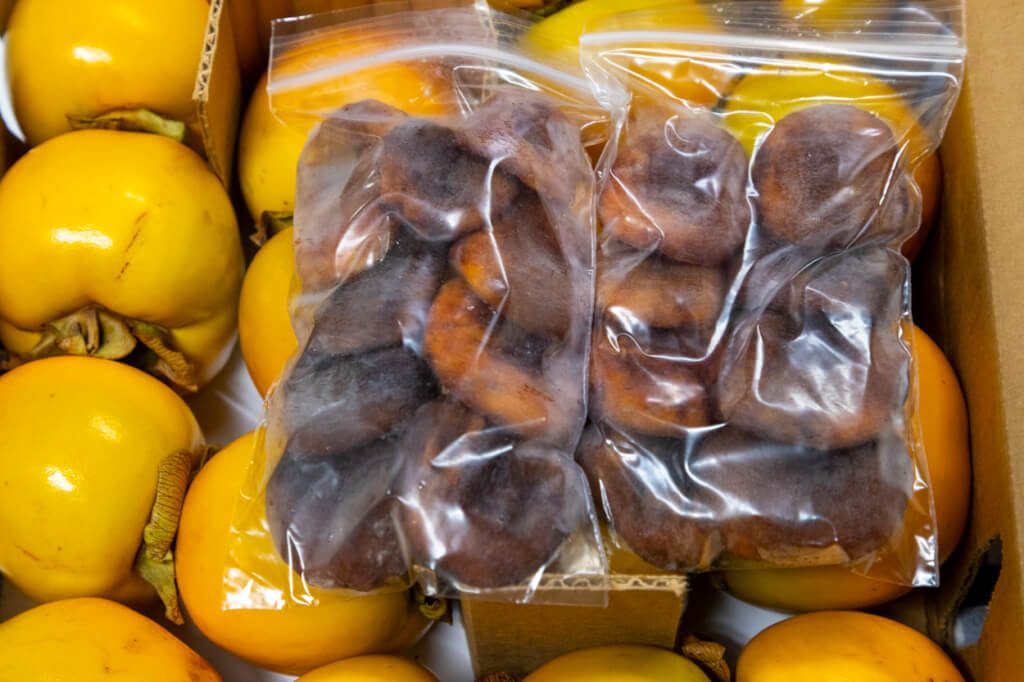 Matsui Persimmon Farm Orchards
Unfortunately, the Matsui family doesn't offer tours of their beautiful orchards. Luckily, some of it is visible from the driveway. What a view! You can even see Lanai out beyond the West Maui Mountains!
Final Thoughts
While I'd highly recommend ordering persimmons from Matsui farm, it's important to note that they are seasonal fruits. Specifically, persimmon season runs from October to early December. Going in the second half of November, we caught the tail end of the season. With that said, to place an order, you can visit matsuipersimmons.com or call them at 808-298-6242. Orders may be picked up at the farm or can be shipped to any address within Hawaii. Per USDA regulations, fresh fruit cannot be exported from the islands. Oh and remember to bring cash or a check – no cards are accepted here!
Grand Maui Adventure