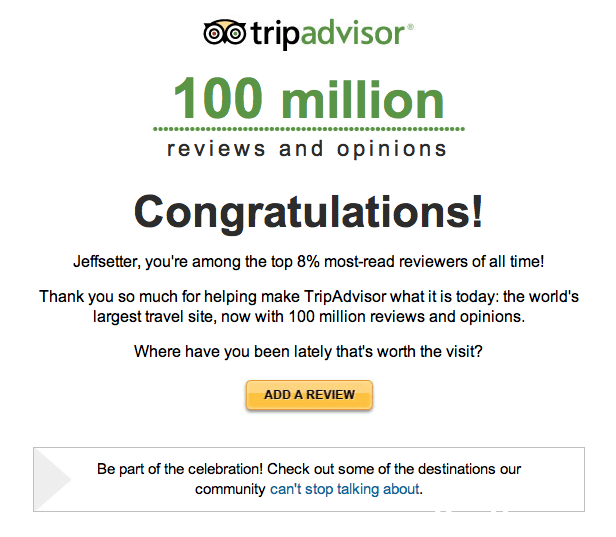 Last week I received an intriguing email from Trip Advisor saying that I am among the 8% most-read TripAdvisor top reviewers of all time. I was equal parts honored, intrigued and skeptical at the same time for several reasons, which I'll go into detail in the rest of this post.
Trip Advisor is Taking a Page from LinkedIn
I am a very heavy networker on LinkedIn, and on that social network, I received an email last month stating that I was among the top 1% of profiles viewed on their network. I considered this an honor, since I am on LinkedIn very often and have 1000+ connections. I know my profile is viewed often and I actively participate in the network. 1% was not out of the question for me.
On the other hand, I was very surprised to be so high on TripAdvisor's list, because I haven't been nearly as active.
My TripAdvisor Account Only Has 5 Reviews Posted, in Less Than 6 Months
I am most surprised that I am in the all time top reviewers list when my first review posted in October of 2012 and I have only posted 5 reviews to date. If I continue on the pace of posting once per month (hopefully more often than that), I should easily crack the top 1% by this time next year.
What This Says About TripAdvisor Top Reviewers
The email I received from TripAdvisor indicates that either I happened to review some very enticing international properties, my reviews are exceptional, or they simply do not have a lot of repeat reviewers.
I am guessing it is the latter. It is likely that the TripAdvisor community fully functions on 10% of their users or less. Most likely, TripAdvisor is so popular because of the top 1% of their reviewers!
Sure, they provide a great infrastructure and other technology, but it's really a small percentage of their users who float the entire community. That's why I am receiving emails about how many people have viewed my TripAdvisor reviews and other engaging emails.
TripAdvisor has invested heavily in emails and social networking components to encourage me to join that 1% of elite reviewers who are accountable for most visitors to the site. It's a brilliant plan to get us interested in coming back to review.
As I have said previously, however, I wish that they did more to help promote their top reviewers, by giving them an opportunity to link back to their site or other feature opportunities. They are taking more from reviewers than they are giving at this point.
Did This Email Work on Jeffsetter? Will I Post More Reviews?
Actually, I think that this email did work. I am competitive by nature and I want to become elite on their site. That means that I might just decide to post reviews to TripAdvisor more often, in an attempt to reach the elite 1% level with TripAdvisor. That is a fun challenge that I think can easily be reached with simply posting reviews for hotels where I have already stayed.
Would it change your behavior? Would you start reviewing more on TripAdvisor to be part of elite company?