Last updated on April 29th, 2018 at 09:59 am
Looking for a place to stay on Waiheke Island? We booked a practical guest house at the Villa Pacific for our stay.
If your travel style is finding a great value with great views, then …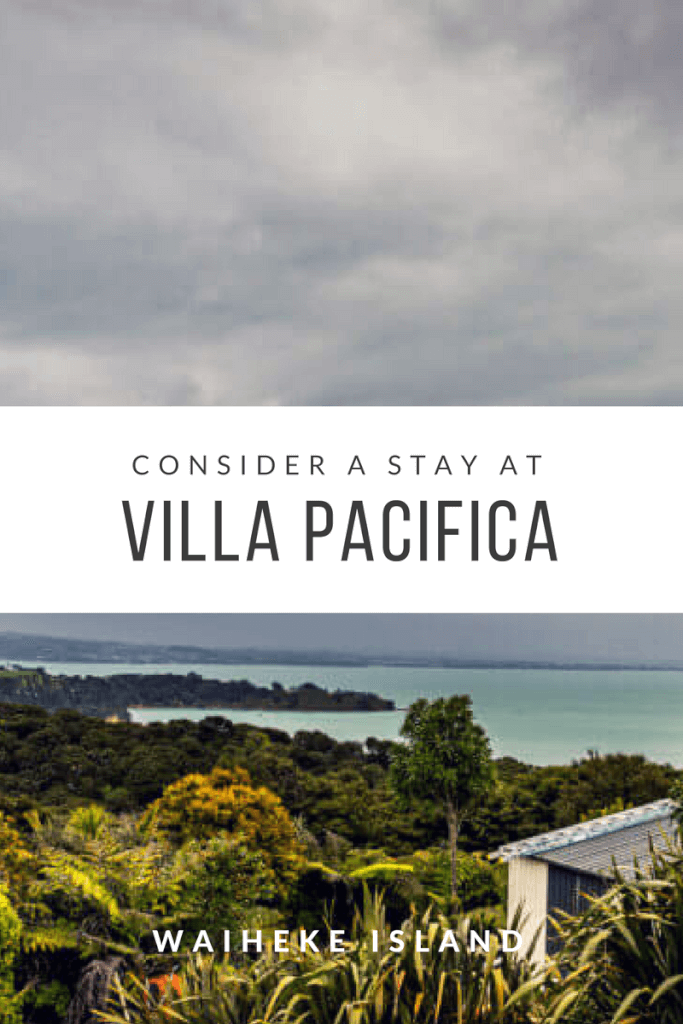 If you are planning to stay over night on Waiheke Island, then I recommend booking well in advance (especially during peak season). The limited number of hotels and B&Bs book up quickly.
One (as if there is only one) great thing about Waiheke Island is the large number of guest houses and vacation homes available.  After searching for a while, I found the Villa Pacifica.
The Villa Pacifica
Why? Great value and views, includes a car and transfers from the ferry
When: By booking only
Phone: 09 3726326
Where: 66 Musson Dr, Waiheke Island, Auckland 1971
Cost: $170 – $650 NZD depending on the unit
Villa Pacifica has several units – a main house, 2 bedroom apartment, single unit 1 and single unit 2. The guest house is owned and managed by a wonderful couple, Cliff and Gaye.
We stayed in Unit 2, the windows on the left in the picture.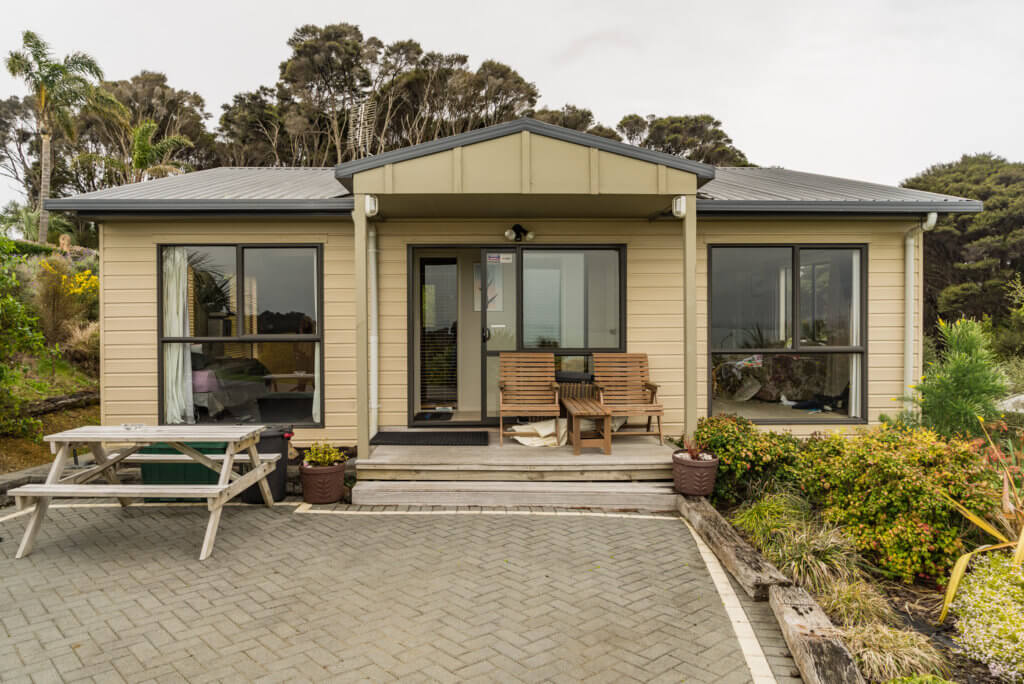 Booking
I found Villa Pacifica through Bookabach.com, which is part of the HomeAway network. I think Bookabach has the best inventory of rental properties in New Zealand for the DIYer. Although, Airbnb has improved (e.g., the Pagan Vines has switched from Bookabach to Airbnb).
You can also book directly through their website.
Originally, I tried to book Unit 1 because it has a washer.  Unfortunately, it was booked moments before I sent my request.
Thankfully, Unit 2 was available. Unfortunately, we had an issue with the booking system, and Villa Pacifica could not process the deposit. Thus, we secured the accommodation on our honor. When we met at the ferry terminal on Waiheke, Cliff and I celebrated our new found faith in humankind – both of us showed up as agreed!
Value
At the beginning of this post, I mentioned that if you like a great value, then Villa Pacifica is a great choice.
The 2017 price for Unit 2 is $170 NZD (~$123 USD) a night. The rate includes the following:
Free use of a car
Transfers from/back to the Waiheke wharf
Free wireless internet
Bed linen & towels (exclude beach towels)
TV, CD & DVD in apartments
Self catering continental breakfast with in the form of packaged cereals/tea/coffee/milk
They also have an offseason special, which is what we booked. In 2015, the off-season was $110 NZD per night with a 2 night minimum stay (it's up to $130 NZD now).
Why do I think this is a great value?
The price is reasonable, plus it includes
Free use of a car (our car was an automatic compact sedan)
Transfers from/back to the Waiheke wharf
Free wireless internet (this may seem standard, but it is still not a 100% certainty in NZ)
We were planning on renting a car anyway, so Villa Pacifica was a no brainer for us. I think you need a car to really explore the island, especially in the off-season when other transportation is limited.
You can book tours (winery and sight-seeing) to explore the island. Uber was sparcely available, since it was the offseason. Bike rentals are also available at the ferry terminal.  However, we liked the freedom of exploring on our own time. A tour is something may recommend if you are just doing a day trip.
The Area
Villa Pacific is centrally located. Trekking trails, Batch Winery (which has a full restaurant) and an olive oil store are all within walking distance.
The view from our front door step was pretty spectacular, and this is when it was cloudy.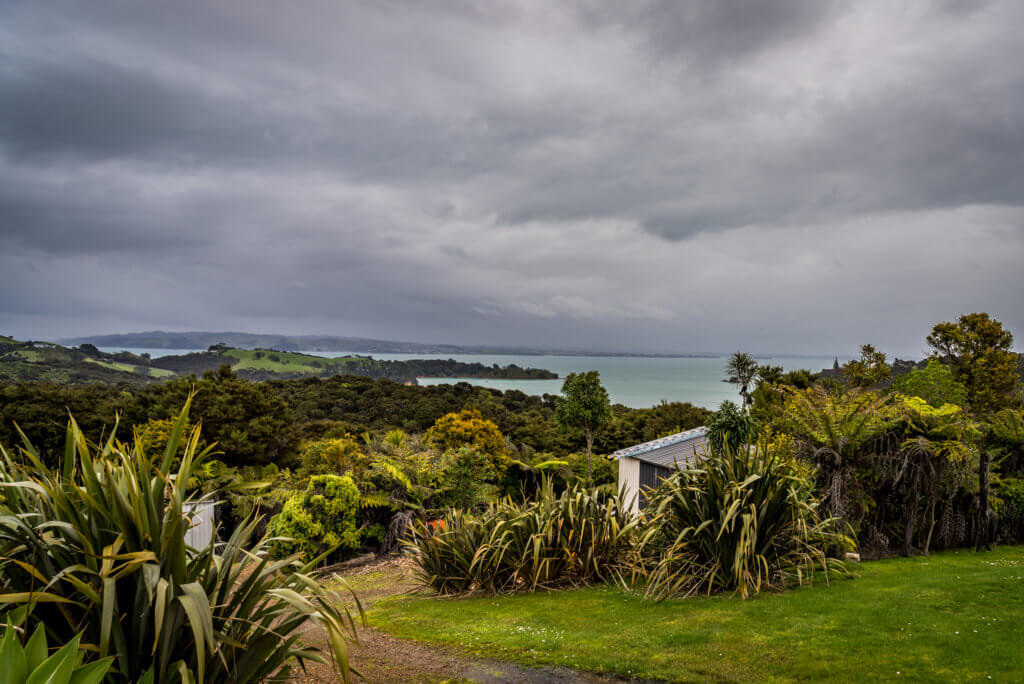 Cliffe is a photographer, you will see a lot of his work around the unit. If you look at the listing, then you will see several shots of the view and yard area (which you have access to a table and chairs). The listing photos are quite true, and you have our cloudy photo to show you the island on its "worst day."
Unit 2
Unit 2 has a small living room with an extra twin bed (which you can use as a day bed or not at all). You can see the view easily through the picture window.
The living room has a small breakfast table and a love seat with a flat screen tv. The love seat looks small in our photo, but we could both fit comfortably on it.
Towards, the back of the living room is the kitchenette with hot plates. The kitchen has a mini fridge and all the tools needed to cook up a hot breakfast or a nice dinner. The sink is a little small for washing pots, but it fine for a long weekend stay.
The bedroom is cozy and the bed is quite comfortable, and has a heating pad for those cooler nights during the off-season.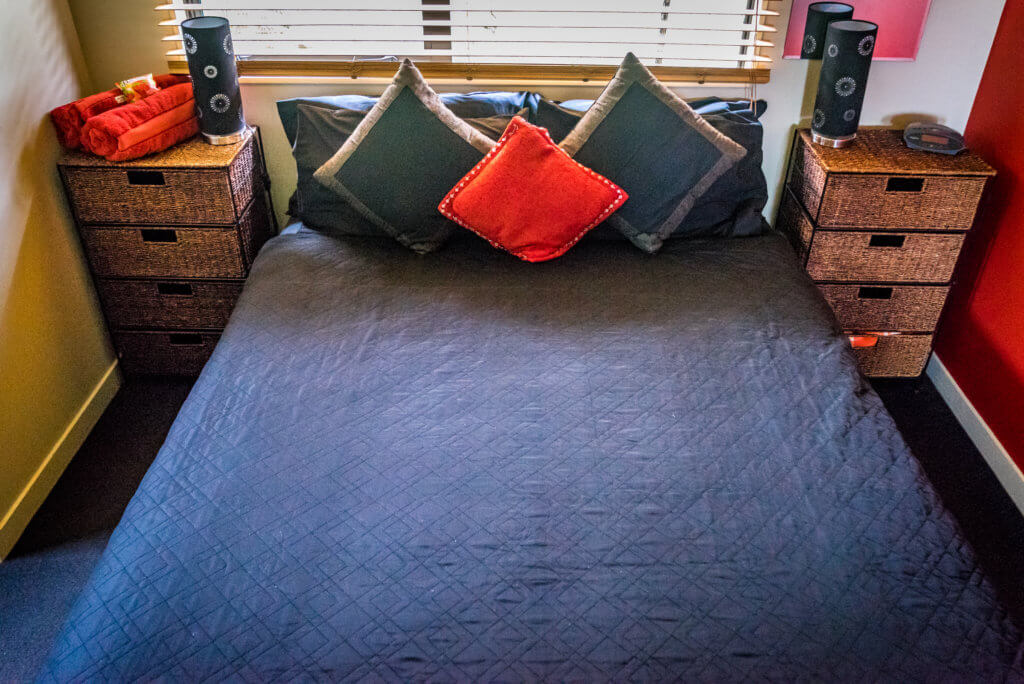 We didn't take any photos of the bathroom, but the shower (no tub) had hot water and good pressure with a reminder of water conservation. You are on an island.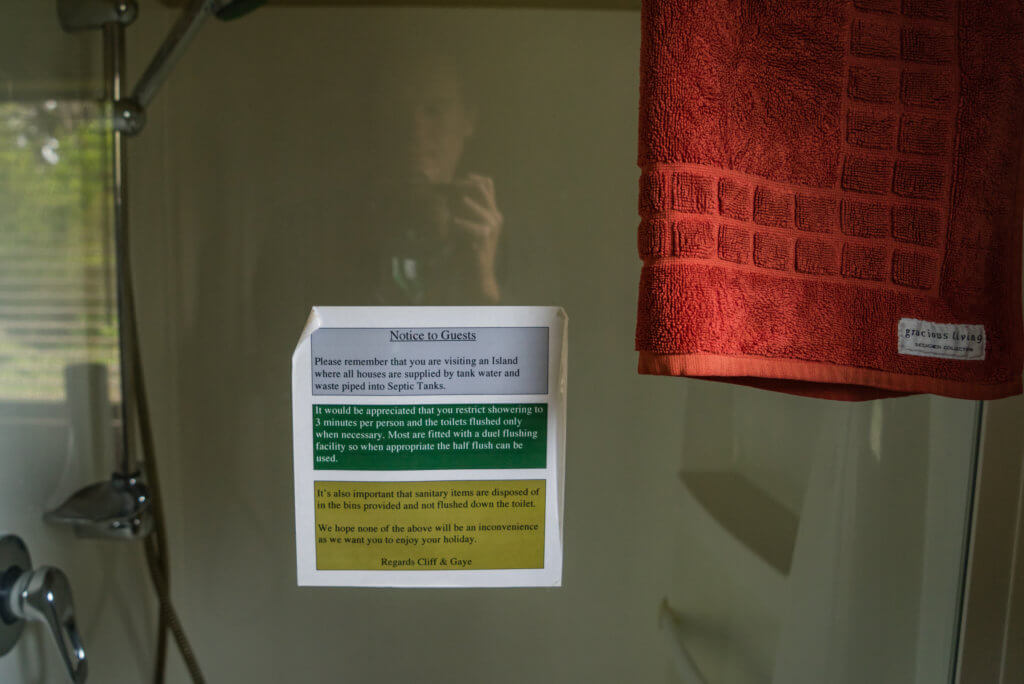 Recommendation
Villa Pacific is in a great location with accommodating and generally lovely hosts. I think the value is great, and can't be beat with the inclusion of a car. If you are into 5-star luxury amenities, then this probably isn't for you.
We loved our stay, and would recommend to anyone looking for a clean, comfortable, centrally located accommodation for a great value.
Thank you for hosting us Cliff and Gaye.
Till next time …