Ever wonder which US airline handles bags the best?  Well, luggage storage company, Luggagehero, did a study to find out who's the best and who's the worst.  And while some rankings are a given, some of the results surprise me.
Methodology
We've seen similar studies before for a variety of air travel issues.  And, often, I tend to question the results.  But in Luggagehero's study, they analyzed six years worth of DOT Mishandled Baggage Reports spanning from 2012 through April 2018.  So that's a fairly comprehensive study, not just some anecdotal evidence from last month.
Top 3 Results
It doesn't surprise me whatsoever that Delta tops the Luggagehero ranking.  They're lauded as the best of the Big 3 thanks to their excellent operational efficiency and above average service.  I've never flown Delta, so I wouldn't know.  But given their reputation, it makes sense that they'd top the list.
What did surprise the hell out of me, though, is that Spirit came in second place.  They're one of the most loathed airlines in the US thanks to their pricing model and poor service.  However, they seem to run an efficient operation and attract customers by their ultra-low prices.
JetBlue rounds out the top 3, which, again, isn't s surprise.  They're a much-beloved airline that seems to run a good operation too.  But as with the above two, I've never flown JetBlue, so I really can't say from personal experience.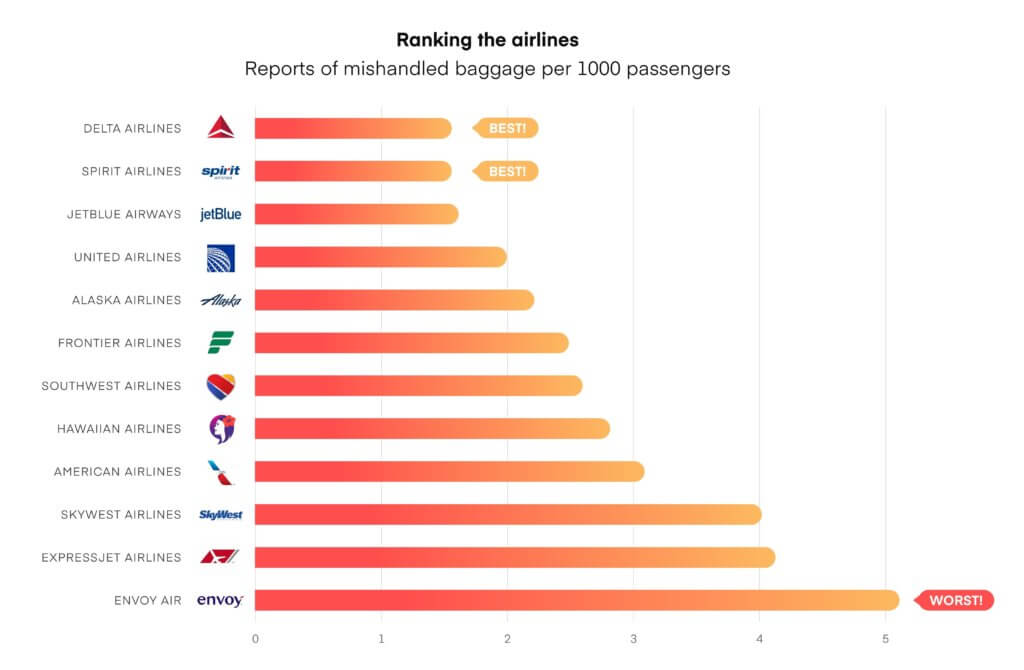 Bottom 3
The three poorest performing carriers in the study are all regional airlines.  SkyWest and its subsidiary ExpressJet come in at third and second worst, respectively.  This is somewhat surprising to me, though, considering how much flying they do for Delta and Alaska's regional subsidiaries.  But the absolute worst airline in this ranking is American Air Group's subsidiary, Envoy.  This doesn't surprise me one bit, given the fact that American is the worst of the Big 3 in the rankings.
The Rest
The rest of the upper half of the list is occupied by United (really?), Alaska, and Frontier.  On the other side, the rest of the bottom half of the list includes Southwest, Hawaiian, and American.  I'm surprised by United being so high on the list, given their indifference to customer service, especially in the Kirby era.  And I'm amazed Alaska didn't rank higher, especially since the Airline places so much emphasis on baggage handling.  Southwest's low ranking surprises me too, as they're known as such a customer-centric airline.
But despite Hawaiian's rosy reputation among other bloggers, it doesn't surprise me at all that they're as low in the rankings as they are.  While they've never lost or broken any of my bags, they have damaged them.  Their bag handling is so rough, they've taken out chunks of metal out of my hard-side checked bag.  And they managed to strip a good amount of finish off another of my hard-side bags.  Plus, it takes forever to get your bag once you've de-planed.
Missing
What disappoints me about this list, though, is that there many (primarily regional) airlines missing from the list.  Those that come to mind include Republic Air, Mesa Air, PSA Air, Endeavor Air, Allegiant (lol), and Sun Country, among others.
Timing Matters
The study does include another component too, which is time.  Obviously, incidences of lost and damaged bags are higher during busier seasons.  And, according to the study, there's an uptick in these incidences during the summer month.  However, the worst times to travel if you're trying to avoid lost bags is the months of December and January.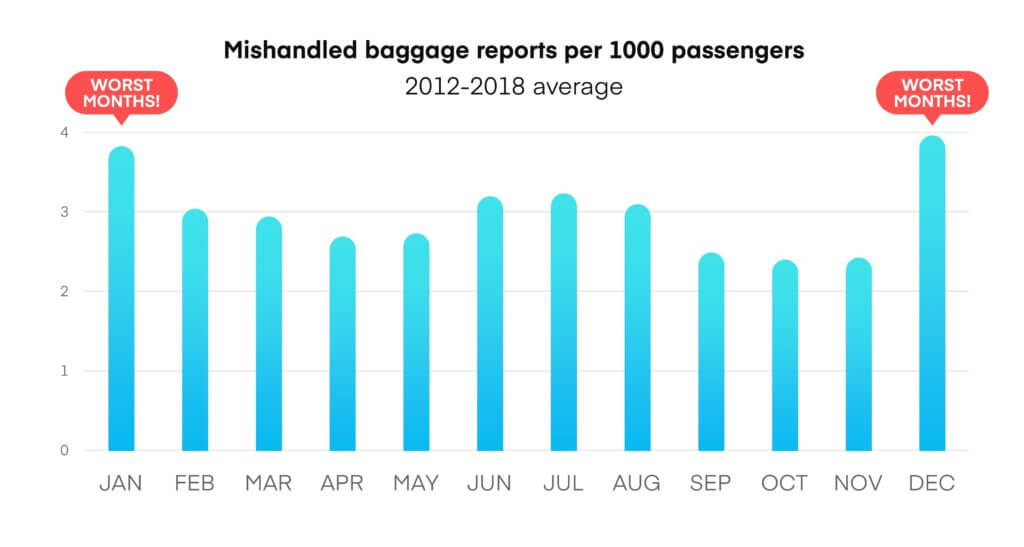 Which US Airline Handles Bags the Best, Final Thoughts
I always take these kinds of lists with a grain of salt.  But, this particular one was compiled using six years of DOT data, which is interesting, to say the least.  However, there are only 12 airlines on the list, with many more that could have been included.  And, remember, even excellent airlines screw up from time to time.  So if you're checking a bag, always pack a backup change of clothes in your carry-on, as well as any must-have essentials like medication.  Oh, and make sure you have a card with great lost/delayed baggage benefits, such as the Chase Sapphire Reserve.  Those coverages can really help if your bag does go missing and you need things replaced quickly.
With all that said, though, gives us yet another reason not to fly American, aside from Doug Parker's shenanigans.  And the list also reinforces my belief that Hawaiian isn't as great an airline as people think it is.  Personally, of the airlines I've flown, though, Alaska remains tops regarding baggage handling.  Every time I've flown them, the bags are already appearing on the conveyors by the time I reach the baggage claim.  No waiting around for 30+ minutes as is often the case with Hawaiian.