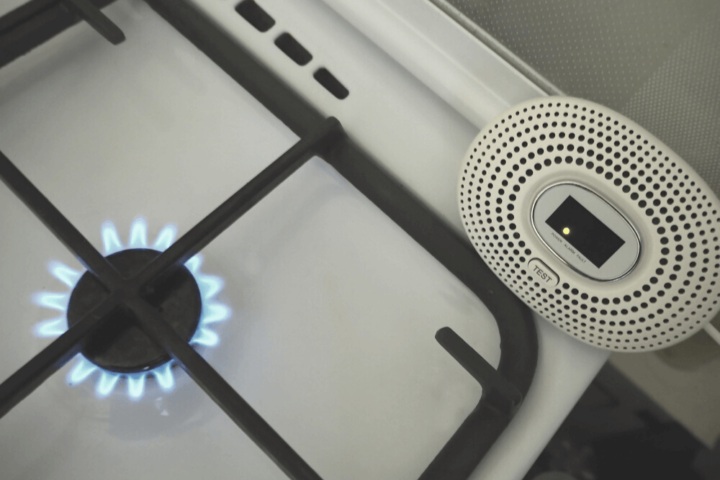 All of our reviews are based on exhaustive research, industry experience and whenever possible, hands-on testing. When you make a purchase using one of our chosen links we'll get a small percentage of the proceeds. This supports the site and keeps Jeffsetter running. You can read more here.
The propane alarm in your RV is a lifesaving piece of equipment that needs to be working optimally all the time. As long as you don't have a gas leak, you likely won't even notice your propane alarm, but it will keep working in the background silently until it has a reason to activate and sound an alarm.
If you have a propane alarm that keeps beeping even when a leak isn't present, there's likely something else causing the problem.
So, let's answer the question; why does my RV propane alarm keep beeping?
An RV propane alarm may keep beeping if aerosol was sprayed near the device, if there's an obstruction like a pet preventing airflow or if dust and grime entered the alarm. A low or dead RV battery, an out-of-date alarm that needs replacing, or a continuous gas leak might cause the alarm to go off.
Completing maintenance tasks like winterizing your RV and testing your RV propane alarm will help keep your rig adventure-ready so you won't have to spend days prepping your RV before heading out into the wilderness.
Your RV propane alarm is an essential piece of equipment that you shouldn't RV without, but it can be frustrating if your alarm isn't working properly and is going off even when there isn't a gas leak.
There are many potential causes of a propane alarm that keeps beeping, so let's look at a few and find the solution to your problem.
Why Does My RV Propane Alarm Keep Beeping?
There are many potential reasons why your RV alarm keeps beeping, but luckily it shouldn't take too long to get to the bottom of what's happening.
Although the noise of a propane alarm beeping can be frustrating, it's essential to open the windows and doors throughout your RV and check thoroughly for a gas leak before simply hitting the reset or mute button on your alarm.
Reason 1: Aerosols
Having items such as cooking spray, deodorant, bug spray, and antibacterial spray inside your RV is normal, and usually doesn't cause much of an issue. If, however, any of these aerosols are sprayed near your propane alarm, it could cause the alarm to activate and start beeping.
Aerosols tend to use propane, butane, or isobutane as a propellant, so when a spray is used near the alarm, it will automatically detect gas and start beeping.
Therefore, if you are using cooking spray or deodorant, try to use only a little bit at a time and stay a safe distance away from your propane alarm. Keeping your RV well-ventilated with plenty of airflow can help keep the alarm from activating too.
Reason 2: Obstruction Blocking Air Flow
A common reason for your alarm repeatedly going off is an obstruction preventing fresh air from flowing near the device. Anything like a large bag of belongings, a box, or a pet blocking the alarm can limit air flow and cause the alarm to start beeping.
It's therefore best to keep the area around your alarm clear and free from obstructions.
Reason 3: Dirty Alarm
If your RV propane alarm keeps beeping and you haven't cleaned it in a while, dust, and dirt could be causing the problem. A buildup of debris on the detector can cause the alarm to sound as dust can make its way into the device.
Keeping the alarm clean and dust-free is easy, as you can simply use a soft bristle vacuum or cloth to gently clear away any dirt.
Using water solutions or general cleaners may not be the best idea as the liquid can interfere with the electrical components in the alarm. Sticking to fabric cloths and soft-bristled brushes or vacuum heads will ensure no damage will come to the device itself.
Reason 4: Out Of Date Alarm
Generally, most gas alarms tend to have around 5 to 7 years of life, and once this time is up, your alarm will likely activate and a warning code may appear too.
It's easy to mute your alarm to get rid of the beeping noise, but this can lead to you forgetting to replace the alarm and spending time in an RV that is inadequately prepared if a gas leak were to happen.
I find it's best to try and deal with problems as soon as possible, and a replacement gas alarm is not something you want to put off. The alarm manufacturing date is usually located on the back of the alarm, and it's best to check your alarm is still in date and be prepared for when you will need to buy a new one.
Even if your RV propane alarm doesn't currently need replacing, it's a good idea to know how to replace your alarm, as it may stop working without warning.
The video below shows a great step-by-step installation process for a new RV propane alarm, so you can gain the knowledge needed to complete the job yourself.
The RVer in the video shows how simple the job is to complete, and as long as you take things slow, it shouldn't be too difficult.
Replacing your RV propane alarm isn't a huge job, and once you've completed the task once, you'll be able to carry the knowledge into the future for when you need to replace it again.
Reason 5: Low Or Dead RV Battery
If your alarm batteries are running low, your alarm may beep as an indicator that it's getting low on power and may not work properly soon.
If your alarm is wired into your RV electrical system, and your rig isn't very high on power, your alarm may stop working correctly.
A propane alarm that doesn't have sufficient power going to it may not even operate at all, so if this is the case for you, it's best to get your RV powered up quickly.
Reason 6: A Gas Leak
An obvious but often overlooked reason your alarm may keep beeping is if there is a gas leak present somewhere in your RV. Even a tiny amount of gas can be dangerous to you and your loved ones, so if your alarm is activating, it's wise to open up the doors, vents, and windows and exit the RV.
If you do have a gas leak in your RV, it's best not to ignore the issue, and instead get to the bottom of the problem. Once the leak has been fixed, it's a good idea to test your RV propane alarm and check it's working correctly.
How Do I Stop My RV Propane Alarm From Beeping?
When you're relaxing in your RV, the last thing you'd likely be expecting is your propane alarm ringing loudly in your ears. It's normal to feel a bit panicked at first when the alarm sounds, but knowing how to stop the propane alarm from beeping will mean you can think straight and find a solution.
Step 1: Hit The Reset Button
The reset button on an RV propane alarm is there to be used after your alarm has been activated and you locate a gas leak or discover it was a false alarm.
It's important to investigate the reason why your alarm has activated and not simply assume it was a false alarm. Gas leaks can be a serious health hazard, so it's important to take all the necessary actions required to find a potential gas leak.
Step 2: Change The Battery
If your propane alarm is beeping because the battery is low, simply replacing the batteries will stop the alarm from beeping.
The device itself may need replacing if it's out of date, so it's wise to check the date so you know when you'll need to purchase a new alarm.
Step 3: Vent The RV
As aerosols can set off your RV propane alarm, venting your RV after using a cooking spray or a similar product can prevent the alarm from activating in the first place, and will help stop it from beeping if it gets set off.
It's wise to keep air flowing through your RV as it can help prevent any moisture from building up which can eventually lead to mold growth.
Step 4: Press The Mute Button
There's usually a mute button on your RV propane alarm that can be used when the device is beeping. If you know the device was activated due to a false alarm, you can press the mute button and not worry about further action.
However, if you're not sure of the reason why the alarm sounded, it's best to investigate further after using the mute button.
Knowing how to stop your RV propane alarm from beeping will mean you'll be less likely to panic if your alarm does go off, and be able to get to the cause of the problem quicker. If you're unable to identify the reason your alarm keeps going off, it may be worth asking a specialist for help.
Closing Thoughts
Like most things in life, RV propane alarms are fantastic pieces of equipment when they work correctly, but when your alarm is beeping and you don't have a gas leak, you may start to feel a little less fond of your propane detection device.
An alarm that is repeatedly going off without any gas present may be faulty, low on power, or at the end of its life, and if this is the case, you'll need to replace it as quickly as possible.
Gas leaks can happen when you least expect them to, and as they can be hazardous, it's vital to have precautions in place for protecting you and your loved ones.
No matter how busy life gets, be sure to test your RV propane alarm regularly, and make sure it's in an able position to alert you if your RV has a gas leak somewhere.