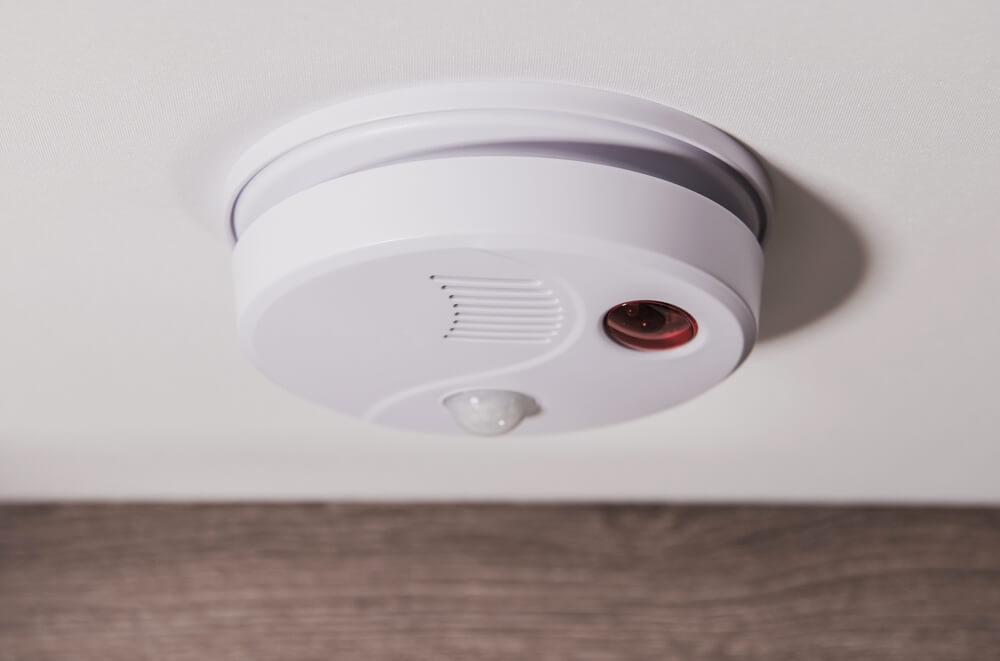 All of our reviews are based on exhaustive research, industry experience and whenever possible, hands-on testing. When you make a purchase using one of our chosen links we'll a small percentage of the proceeds. This supports the site and keeps Jeffsetter running. You can read more here.
Potential carbon monoxide poisoning is probably the last thing on anyone's mind when traveling in an RV. However, it is something that you need to be aware of in your rig. Carbon monoxide (CO) is emitted as a byproduct by many of your RV's appliances. Nearly anything gas-powered in your rig including your stoves, portable generators, and heaters all emit CO. While it is emitted in generally safe amounts, your rig is equipped with a CO detector to alert you in the event of a leak or overproduction.
That's why it is beyond important to be aware of how your CO detector works. So, why does your carbon monoxide detector keep beeping?
Your carbon monoxide detector will beep for one of three reasons. Each one is to alert you to take action of some sort. Either it detects carbon monoxide, it has low battery power, or it is nearing the end of its lifespan.
Let's discuss why these features are so important for your rig and your safety.
Why Is Carbon Monoxide Detection So Important?
Carbon Monoxide has no odor, taste, or color. It is undetectable by all of the senses. This makes exposure so much more dangerous as it happens entirely unnoticed. When exposed, CO can have a variety of effects on a person. The body naturally intakes CO faster than oxygen. This is because red blood cells are even more receptive to the gas than oxygen, so when exposure occurs, your body will soon be overpowered by it. Oxygen in your blood becomes replaced by toxic CO, slowly traveling throughout your entire system.
In low concentrations, it can cause chest pain and general fatigue. Low exposure often progresses as these symptoms are easy to ignore for most. As the concentration increases, the symptoms worsen. Nausea and lightheadedness become very common, with severe headaches and even vision impairments alongside it. Exposure that goes beyond this is often fatal.
CO can sneak up on anyone and quickly deteriorate your health. This perhaps would be less dangerous if CO was not so common in RVs. So many appliances use it in one way or another. If your generator has an exhaust leak, this can blow CO into your RV's living space. If you accidentally left your stove on or if there is a leak, CO can slowly spread. It's nearly impossible to avoid CO entirely within your rig as you travel.
That is why CO detection is not something you can afford to overlook. Your rig must always have a functioning CO detector installed, and you should frequently check it to ensure it is working as it should. Luckily, to make that process a little easier, CO detectors have a few features to alert you of when they need something. That is most often the reason why it is constantly beeping. Knowing what those signals mean is crucial in protecting your health and that of anyone else in your rig.
4 Reasons Why Your Carbon Monoxide Detector Keeps Beeping
There are a few different reasons your carbon monoxide detector keeps beeping. Either to alert you of something it needs or to warn you of a potential leak.
1. CO Leak
This is the most important signal from your CO detector to watch out for. As such, when this occurs the beeping that follows is the most constant, loud, and jarring of them all. You definitely won't mistake it for anything else.
When CO is detected in your rig, your alarm will very loudly and consistently sound its alarm. It will not chirp or alternate like any of the other signals might, as the goal of this alarm is to ensure that everyone in the rig evacuates immediately. Whether you are asleep, distracted, or have headphones in, the beeping that accompanies a CO leak is meant to grab your attention. In addition to the constant noise, your CO alarm will usually flash a series of red lights to further alert you of the situation.
When you hear and see this coming from your CO alarm, you must take immediate action. All windows and doors in your rig should be opened, and everyone, including pets if you have any, need to stay outside. If your RV is actively hooked up to a gas line, you'll want to turn this off.
Additionally, your generator, be it a built-in unit or a portable one, should be shut down. You'll know when the danger has subsided once your alarm no longer detects CO and the constant beeping and flashing red lights stop.
You must call 911, however, if you or anyone else begins to feel the symptoms of CO poisoning. Often, the symptoms can be very similar to the flu, so if you know you just had a propane leak and you begin to feel sick soon after, don't assume it's just the flu or the common cold. It's always best to be on the safe side of things, especially when it involves CO.
2. Low Battery
While the next reason for why your CO alarm may be constantly beeping is not due to a leak, it is also very important. When CO is present, your alarm will constantly and very loudly beep. However, when your alarm is alerting you of low battery power, it will loudly chirp approximately every 30 seconds. This is meant to get your attention, but not be as adrenaline-inducing as the beeping associated with a CO leak.
However, this shrill chirping won't stop until you replace the batteries. As annoying as the constant sound is, it is a super important feature of your CO alarm. Without it, many travelers would be unaware that their CO alarms ran out of power and would receive no warning in the event of a CO leak. Considering the completely undetectable nature of the gas, that is not a situation anyone can afford to risk.
To get the noise to stop, simply replace the old batteries with new ones. You need to do this as soon as the chirping begins, however, as it is best to not leave even a single day or night go by without having an operational CO alarm protecting you.
3. Lifespan
The third reason why your CO alarm may be constantly beeping is that it's approaching the end of its lifespan. Similar to the low battery alert, your CO alarm will typically chirp every 30 seconds or so. You should familiarize yourself with the different sounds of your alarm so you can easily distinguish the two types of chirps.
CO alarms have a lifespan of 5-10 years depending on the model and how well it is taken care of. If you can't tell the difference between the two sounds, the best thing you can do is replace the batteries. If the chirping stops, then you know it's a battery indicator. However, if the chirping persists, then you know you need to replace the alarm entirely.
4. False Alarm
A false alarm can also be the reason why your CO alarm keeps beeping, This can occur for a few reasons. A common one is due to excessive moisture. If your CO alarm is coming into contact with steam and mist from the bathroom or kitchen all the time, it can trigger the sensors.
Additionally, if you or anyone else has smoked heavily inside your RV they can trigger the alarm as CO is present in the smoke. The most common cause of a false alarm, however, is your CO alarm exceeding its replace-by date. Once they have reached the end of their lifespan, CO alarms become prone to malfunctions and that includes false alarms.
Knowing the features and alerts of your CO alarm as well as what can cause a false alarm is crucial in ensuring safety in your rig. CO poisoning is not something to be taken lightly, and your alarm serves as perhaps the most important line of defense against it in your RV.
However, it's better to not even need your alarm to alert you of the presence of CO. It is best to never have a leak in the first place, so let's explore some ways you can prevent them from happening.
How To Prevent Carbon Monoxide Leaks
Preventing CO leaks comes from being aware of all its possible sources in relation to your RV. For instance, be sure to always double-check if your stove is off after each use. You should also periodically check your generator's exhaust to make sure it is fastened properly and venting the gas outside. Avoid using portable gas stoves or certain portable heaters for too long inside your rig When using gas inside your RV, make sure it is properly ventilated. Open the windows and doors and use your roof vents. The last thing you want is to create an air-tight CO vacuum inside your rig.
Sometimes though, the problem may not even be from your rig, but others nearby. Generator's on nearby rigs can at times blow their exhaust towards your RV, and without proper ventilation, this can cause a CO to build up in your living space. While uncommon, this can be the result of RVs being cramped too close together and without proper generator care. Being aware of it nonetheless can save you from serious trouble.
Closing Thoughts
Your Carbon Monoxide detector constantly beeping may be super annoying. After all, who wants to hear incessant beeping or chirping of any kind, but your CO alarm has that in place to keep you safe. Understanding the dangers of CO and the effects it has on the body will allow you to take greater care in avoiding exposure. That annoying beeping can be what saves a life, so whether it's just a battery change, time to replace the alarm, or an actual CO leak, you never want to ignore it.