Last updated on July 3rd, 2023 at 12:55 pm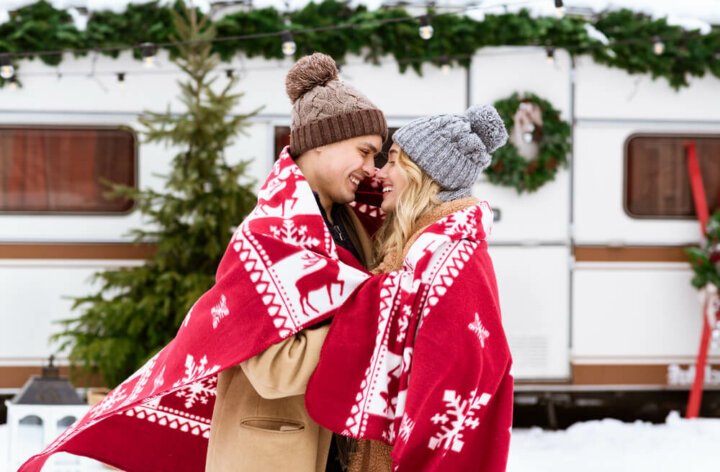 All of our reviews are based on exhaustive research, industry experience and whenever possible, hands-on testing. When you make a purchase using one of our chosen links we'll get a small percentage of the proceeds. This supports the site and keeps Jeffsetter running. You can read more here.
The summer months are coming to an end, and most of the RVers you know are starting to winterize and store their RVs for the season. You're not quite sure you want to do that though.
RVing in the winter sounds like it could be a lot of fun, a new adventure, something different to try. Perhaps, it occurs to you that you could live in your RV all winter, but you're not exactly sure how.
So, how can you winterize your RV to live in it?
Winterizing your RV to live in includes inspecting your RV for cracks and leaks to reduce heat loss, as well as adding insulation to the exterior and interior of your RV. To keep the pipes from freezing, consider using RV anti-freeze to just your black water tanks, keeping your freshwater tank free to use.
There are plenty of other things to keep in mind when traveling in your RV for the winter. This article will take you through the steps of how to winterize your RV to live in it as well as some essentials to have with you on your winter adventure.
Can You Live In Your RV In The Winter?
RVing is most popular in the summertime, so it makes sense if you've never considered the possibility of living in your RV full-time or utilizing it in the winter months. However, you can definitely continue your travels once the temperatures drop.
There can be some challenges that come with RVing in the winter, like ensuring that your pipes don't freeze and burst or making sure you stay warm enough on your travels.
That being said, traveling in the winter can be an exciting experience. You can enjoy activities like skiing and snowboarding, not to mention the coziness of a mug of hot chocolate in your RV after a cold day.
Usually, when the temperatures drop, RVers will winterize their RV and store it for the season. Even if you are planning to use and live in your RV over the winter months, there is still some winterizing that you should do.
There are also plenty of tips and tricks that I'm happy to share with you, so you can keep yourself warm and comfortable for the whole season.
How to Winterizing Your RV to Live In It
If you're planning on spending the winter in your RV then it's important that you stay warm, so let's take a look at some of the things that can help you feel at home in your RV during the cold season.
Winterizing the Exterior
You'll need to do some prep work on both the outside and inside of your RV to keep it from getting damaged by the harsh winter weather. Your top priority with the exterior of your RV is preventing leaks.
You may have a heated and closed wet bay, but even if you do I would caution that you take these steps to avoid any damage from the cold. It's always better to be over-prepared than under.
Before starting winterizing the exterior of your RV, make sure that you've shut off the electricity and the water pumps as well as allow time for your water heater to cool down.
1. Inspect the Exterior
This is a great time to take stock of how the exterior of your RV is doing. Check for any leaks or cracks, especially on the roof.
Any cracks that you find should be resealed. You can test if they are sealed or not by spraying your RV down with a hose and making sure that no water gets into the interior.
You may also want to call in a professional to make sure this is done right. Resealing an RV roof is no joke, and is definitely part of regular RV maintenance.
2. Drain Water Systems
You need to make sure that you drain and clean your water tanks. This can and should be done at an RV dumping station. Make sure that you also open all your faucets and drains, as well as flush your toilet to empty your freshwater tank completely.
Keep an eye out for any leaks or cracks in your tanks and pipes. If you do encounter any, make sure they are repaired.
This is the step where you would typically add anti-freeze to your plumbing system. The anti-freeze makes sure that your pipes and tanks don't freeze and bust over the winter months. Because you are planning on living in your RV over the season, you might want to adjust for this.
You can add anti-freeze to just your black water tank, that way it's not affecting your drinking water supply. You can also opt to use compressed air to blow all the water from the lines and keep them dry. Consult your owner's manual before doing this though.
Many people opt to go without water for the season and simply use bottled water for brushing their teeth and doing the dishes. If that doesn't sound like your cup of tea, then I would recommend using the anti-freeze in your black water tank and refilling your fresh water tank. Just keep an eye on your pipes regularly throughout the season.
3. Wash & Wax
This is definitely not a requirement, but I wouldn't skip out on this step. A good wash and wax is not only part of regular RV maintenance, but it can help your RV stand up to the elements a bit better.
4. Covers
If you weren't going to be living in your RV for the winter, I always recommend covering it if you aren't parking in a protected space for storage. Since you are, it's not practical to cover the entire Rv, but you definitely need to cover any exterior vent. This includes things like the skylight and AC unit.
Cold air, snow, even ice and get through these and make things unpleasant inside.
5. Insulation
There are a few things that are as key to warmth as insulation. A lot of people will probably think of insulating the interior of your RV, but there are exterior parts that need some insulation too.
Any exposed pipes, water lines, and hoses should be insulated with either insulating foam or heat tape. Your water tanks should also be insulated. If you have an enclosed wet bay, you can put in a small heater or heat lamp to keep it nice and toasty.
If you decide to park in one place for a while, you should skirt your RV. Even if you're just somewhere for the night, if it is going to be very cold, it might be worth doing this as well.
6. Exposed Metal
You should apply lubricating oil to any exposed metal to keep it from freezing. This includes bolts, latches, joints, frames, etc.
Winterizing the Interior
With the outside of your RV ready to take on the winter season, you'll want to make sure that you can be comfortable inside of your RV all winter long. Where you plan on traveling and how cold it gets there will help you figure out exactly how much winterizing your interior needs.
Winter in one place might be around freezing or slightly below, but not much colder than that while another place can be in the negatives without even factoring in windchill. Knowing what to expect from your travels is important to research before starting the winterization process.
1. Clean
Most people don't love cleaning, but it is an important part of taking care of your space. Winterizing your RV for storage usually gives you the excuse to deep clean your RV so that it's nice and clean when you decide to take it out again.
Even though you don't plan on storing your RV, it's still a good time to make sure things are really clean in your RV. This isn't exactly a necessary step, and you can definitely skip it if you're feeling a bit lazy, but I wouldn't!
2. Insulation
Insulation, insulation, insulation!
This is going to be key in keeping you comfortable all winter long. Some RVs are better suited to the winter and if you plan on traveling in the winter every year, it might be worth looking into one, but you can still make yours comfortable.
RV windows are not typically rated for the cold, so you'll want to insulate those a bit better than they are. You can apply heat shrink to the windows and wheat tape to the door frame.
If your windows are really letting in a lot of cold air, you can remove the frames and spray extra insulation into the gaps and then reinstall the frames.
There are also interior vents that you should insulate with foam pillows.
You can also install thermal curtains and add rugs or foam tiles to the floor to make it even warmer inside.
3. Dehumidify
Moisture is your enemy in the winter. Cold and wet are far more uncomfortable and difficult to get warm from than just cold or just wet. Not only that, moisture can lead to mold in your RV, which can cause a lot of health problems and can be difficult to get rid of.
Use a dehumidifier to keep moisture from building up. I would put one in the main living area and another in the bathroom.
Once you've finished the winterizing process, you should make sure to keep an eye out for any issues that might arise. Check on your pipes and holding tanks regularly to make sure they haven't frozen over. Keep an eye out for mold in case your dehumidifier isn't working and test the insulation for any weak spots or cracks.
Additionally, consider occasionally leaving the vents locked open a slight bit, to allow fresh outside air to circulate throughout the RV, minimizing condensation inside.
Winter weather can get pretty harsh, so don't be surprised if you need to add some extra insulation along the way or redo any of these processes after a month or so.
Essentials To Have
Aside from winterizing your RV to live in, there is some equipment that is useful to have for those cold months.
1. Winter Vehicle Tools
As someone who lives in a colder climate, there are some items you just have in your car at all times in case you get stuck in the snow. The same stuff should be found in your RV in the winter.
You should have a shovel, an ice scraper, and a bag of sand or kitty litter. The sand or kitty litter can help you get traction if you are stuck in the snow and can't just dig your way out.
A nice alternative to the kitty littler would be if you put tire chains on your RV.
2. Space Heaters
There are so many different types of space heaters on the market. Propane, electric, portable, catalytic. Any of these will work, just pick whichever you like the best and what will suit your camping needs.
If you don't plan to be hooked up to power, then I would steer you toward a propane heater. That means you should also make sure you have plenty of propane on hand for when it runs out.
Keep in mind that you should have carbon monoxide and smoke detectors installed and working in your RV just in case your space heater gives off too much gas or if it falls and catches something on fire.
3. Dehumidifiers
At the risk of redundancy, I'm once again mentioning that you should have at least one dehumidifier on hand in your RV. Two is better so that you have one in your main living space and one in the bathroom.
4. A Heated Hose
A heated hose for your freshwater tank will save you a lot of time and effort. Without one, you need to drain the hose every night to keep it from freezing. A regular hose will almost definitely freeze in below freezing temperatures, so I would recommend investing in a heated hose to avoid that hassle.
It's possible to DIY a heated hose and the video below outlines exactly how to do that.
5. Skirting Set for your RV
As I mentioned earlier that if you plan on staying in one place for a while, skirting your RV is a good idea. A skirting set for your RV will keep the underside protected from wind and chill. This will overall reduce the impact of the cold on your RVs pipes and other parts that are in the underbelly of your RV.
6. A Generator
A generator is probably a no-brainer, but sometimes it can be easy to forget the most obvious things. If you already RV full-time, you're no stranger to a generator. This will be essential as backup power for your heat source and for your RV while you're out in the cold.
Even if you plan on being connected to shore power, keeping a generator on hand is essential in case the shore power fails or is adversely affected by the harsh winter weather.
8. Extra Water
Always have extra water on hand, no matter what season you are traveling in.
Pipes can freeze even if you've done everything in your power to keep that from happening. If it does, you want to make sure that you still have access to safe drinking water.
There are plenty of other items that can make your experience RVing in the winter better, but these are what I would call essentials to keep yourself safe and warm throughout the season.
This video offers extra tips and tricks to keep yourself warm and happy on all your winter adventures.
Conclusion
RVing doesn't have to stop just because the temperature drops. In fact, it can be even more exciting and exhilarating to RV in the winter, you just have to make sure you're approaching it with safety and comfort in mind.
The winter months offer their own challenges when it comes to RVing, but can be incredibly rewarding. Whether you ski, snowboard, snowmobile, go on a winter hike, or even just sit inside and enjoy the beautiful scenery, winter in your RV is an unforgettable experience.