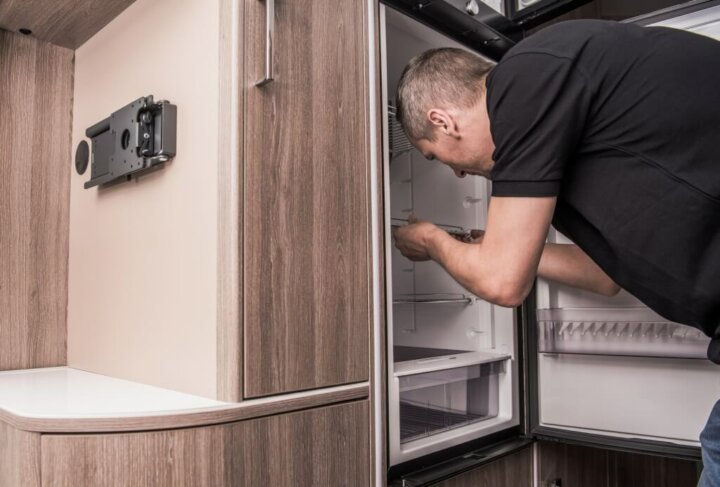 All of our reviews are based on exhaustive research, industry experience and whenever possible, hands-on testing. When you make a purchase using one of our chosen links we'll get a small percentage of the proceeds. This supports the site and keeps Jeffsetter running. You can read more here.
Your RV's refrigerator is one of the most essential appliances that you have. While its most obvious use is in storing and preserving food and drink items, it has more uses than just that. Your fridge is an indicator of much of what is going on in your rig.
Since it is such a major appliance, it is connected to every major source of power in your rig. Your fridge can run on both electricity and propane gas. This means if there is an issue with your power supply, wiring, battery, generator, or propane, chances are your fridge will be the first place you notice it.
Being aware of what can cause problems for your fridge is essential not just for keeping it in working condition, but for maintaining your rig as a whole.
So, what can cause an RV fridge to stop working?
Your RV's refrigerator may malfunction for a number of reasons. Mechanical problems such as an issue with the coolant can be the culprit. The most common, however, is a problem with either the electrical power source or the propane one.
Let's look at all the ways your fridge can mechanically fail.
Why is My RV Fridge Not Working?
Your fridge may not look it, but it is a complex machine with many essential parts. Any one of them can fail, malfunction, or be worn down and that can cause many problems for your fridge.
So, let's take a look at some of the mechanical problems your fridge might be facing.
The Condenser
Your refrigerator uses a complex reaction of various gasses, heat, and water to create a cooling effect. If your fridge is unable to stay cool, chances are there is an issue with this process.
For instance, the cooling unit has a condenser that cools Ammonia vapor until it converts to its liquid form. The Ammonia then interacts with both hydrogen vapor and heat to begin the cooling process. If the condenser is damaged or worn out, none of these reactions can take place.
A Leak In The Cooling Unit
Since the cooling unit in the fridge uses so many substances to achieve its results, many of them can leak. The most common of them is Ammonia.
Luckily, unlike a Carbon Monoxide leak in your rig, you'll know exactly when an Ammonia leak occurs. The smell is unmistakable. Additionally, you should see yellowish staining either inside or around the back of your fridge. These are the tell-tale signs of an Ammonia leak.
Exposure to it should be avoided as it is a highly corrosive gas. It burns and irritates the lungs, eyes, and skin. While generally not fatal, it is still a highly uncomfortable situation to deal with. If an ammonia leak occurs from your fridge's cooling unit, be sure to open all windows and doors in your RV to allow for proper ventilation.
The Burner
A refrigerator uses heat to interact with ammonia and water to create a reaction that later produces the cooling effect. This heat is the result of the burner. It is most commonly used in propane-powered refrigerators, and chances are the fridge in your rig has that feature.
Problems arise, however, when your traveling with your rig at higher altitudes. Once you go above 5000 feet, there is a general drop in oxygen levels. Without adequate oxygen, your burner cannot produce the flame necessary to generate heat.
Now that you are aware of some of the mechanical problems your RV fridge can face, let's discuss how you can fix them.
How to Fix Mechanical Problems With Your Fridge?
Most of the mechanical problems encountered with your fridge can be fixed. However, if your condenser is damaged it will need to be replaced as it is a specific part within the overall cooling unit. Replacing your condenser becomes part of fixing your cooling unit.
On the other hand, if the problem with your fridge is a leak within that unit, there is some troubleshooting you can do.
Troubleshooting A Cooling Unit Leak
Due to the presence of ammonia associated with such a leak, you'll first want to air out your rig. Open any and all screen doors, and windows and use the roof vents when appropriate. Next, you'll want to cut power to your fridge before attempting to perform any work on it for safety's sake.
Once these preliminary steps are complete, you can place a thermometer in your fridge overnight and gauge the drop that occurs. Ideally, you will see a drop in temperature to around 20 or 30 degrees Fahrenheit. The reason for this test is that it allows you to gauge both the severity of the leak and if a leak is the only issue with your cooling unit.
The options before you with regards to your fridge's cooling unit are to either find and plug the area in which the leak is coming from, or replace the unit entirely. This will of course depend on the severity of the leak as well as if it has been caused by any significant internal or external damage to the unit.
Fixing The Burner
If you have made the mistake of not transitioning from gas to electricity for your fridge before traveling to higher altitudes, chances are your burner is unable to function. While a general lack of oxygen in higher altitudes is generally the cause of a failing burner, it can also be the result of strain placed upon the propane supply.
Liquid propane in particular is susceptible to the demands of higher altitudes. If your fridge uses liquid propane, it is important to use electricity to power your fridge before traveling to a high-altitude location.
If your burner has already begun malfunctioning, you can remove any and all excess propane from the supply lines after powering down your fridge. Then, switch it to electricity before using it again. This should reset it entirely and get the burner up and running again.
Resetting An RV Fridge
It's important to note, however, that plenty of appliances like your microwave, for example, have specific mechanisms in place to reset them properly, including some RV refrigerators. For some models, they include a simple reset button that will automatically handle most of the process for you. For other models, you'll need to find the appropriate circuit breakers for the fridge and switch them off and on again.
It's important to be aware of the specifics of your refrigerator model so you are able to reset it correctly. These mechanical issues with your fridge can all be reasons as to why it's not working and being able to identify and fix them is important in troubleshooting your fridge.
However, what if the issue is with your refrigerator's power rather than its parts?
Why Is My RV Fridge Not Running on Electricity?
When a Fridge runs on electricity, it uses a heating element rather than a burner to generate heat. Chances are if your fridge won't run on electricity it's because there is an issue with the heating element. Luckily, you can use a multimeter to quickly determine if there is a problem with it or not.
If the heating element is in working condition yet there is still no electricity to your fridge, the problem may be greater. Your RV's power circuit may not be providing power to the fridge. This is most evident with the fuse.
Old burnt-out fuses in your circuit breakers are a common problem that can sneak up on anyone. Your rig may need replacement fuses for the sections of your RV that power your fridge.
Be sure to power off your rig when doing so as replacing dead fuses with the power running still poses a dangerous risk.
Why Is My RV Fridge Not Running on Gas?
While electrical problems can be quite common for your fridge, it could also be possible that your fridge doesn't work when powered by gas instead. If this is the case, it is important that you check your burner. Unless you are above 5000 feet, there is no reason as to why it should be malfunctioning.
If propane gas is not reaching your refrigerator, it will be unable to fuel the burner. Just as the heating element can warn you of an electrical problem, the burner can warn you of one with the gas supply. Alternatively, your burner may be receiving gas but unable to ignite. If the igniter is no longer working, you'll know by the smell of gas from your fridge.
The issue may also be that gas simply isn't getting to your fridge. In cold weather, your propane lines can become obstructed and present problems for nearly all of your propane-powered appliances.
A sign of this is if the ignitor is working, and you can hear its signature clicking sound, but there is no flame or gas smell. In that case, you know the issue is with the gas being unable to reach your fridge.
With there being so many different ways your RV's fridge can malfunction, it is crucial that you take the time to properly maintain it. After all, it is one of the most important appliances in your rig.
How To Stay On Top Of Your RV Fridge Maintenance?
Most RV refrigerators last around 10-15 years, with 20 years being the higher-end brought about by good maintenance. So, what does good maintenance look like?
Keeping The Fridge Closed
This may seem strange and even inconsequential, but it is actually very important. You are probably aware of the fact that keeping the fridge open is bad for the contents within. Food and drink items can quickly go bad if the fridge is left open as it is unable to keep them cool.
Beyond this, however, is the fact that keeping it open for too long has negative effects on the fridge itself. For instance, constantly allowing the cold air to leave the fridge forces the cooling unit, and all the tools within that support it, to work overtime. This can drastically reduce your fridge's lifespan over time.
Defrosting
A lack of cold air is not the only problem your fridge can face, as sometimes the opposite can be an issue instead. It is usually recommended that RV travelers defrost their refrigerators and freezers once or twice a month. This is because if everything is working correctly, the constant presence of cold air can cause ice to quickly build up within the fridge.
While initially posing no problems, over time the ice can become a nuisance. Overgrowth of ice can damage areas of your fridge, as well as even block the internal openings responsible for sending cold air into the fridge.
Luckily, ice is an easy problem to fix, simply break off chunks of it and melt the rest down. While it is a messy process, it's also an easy and fairly quick process.
Keeping Your RV Level
Whether you are new to RVing or an avid traveler, you know the importance of leveling your rig when camped at a new location. Not only does it make everything more comfortable, but good leveling provides less strain on the rig itself, the jacks, the slides, and much more.
It also happens to provide less strain on your refrigerator. Yes, even your RV's fridge can be affected by poor leveling. In fact, if you are running your fridge on propane, it may barely work at all if your rig is not level. An uneven surface can displace the propane within the fridge, causing it to be unable to reach and ignite the burner.
Inspections And Getting It Serviced
While there are plenty of do's and don'ts to follow when using and maintaining an RV fridge as Dave also explains in the following video:
Perhaps the best maintenance method of them all is to have your fridge be regularly inspected and serviced. This you could do by yourself if you are familiar with how RV refrigerators work and have access to the owner's manual.
However, it is usually best to allow professional help to perform these routine inspections for you. They can more easily catch what you may have missed and will know exactly what to look for in your fridge.
They can check anything and anywhere from the condenser coils, to the burner to the fridge's exhaust vent. Whatever the issue may be, a routine inspection is a great way to get a head start on fixing it.
Closing Thoughts
There are quite a few reasons why your RV's fridge may not be working. However, the troubleshooting process is fairly simple considering the options ahead of you.
You can run your fridge on propane or electricity to see where the problem is. Doing so can not only expose an issue with the power source but may even expose a mechanical one such as the heating element or burner not working.
Whatever the problem may be, you'll be able to identify it quickly and get your fridge up and running again for your next RV adventure.