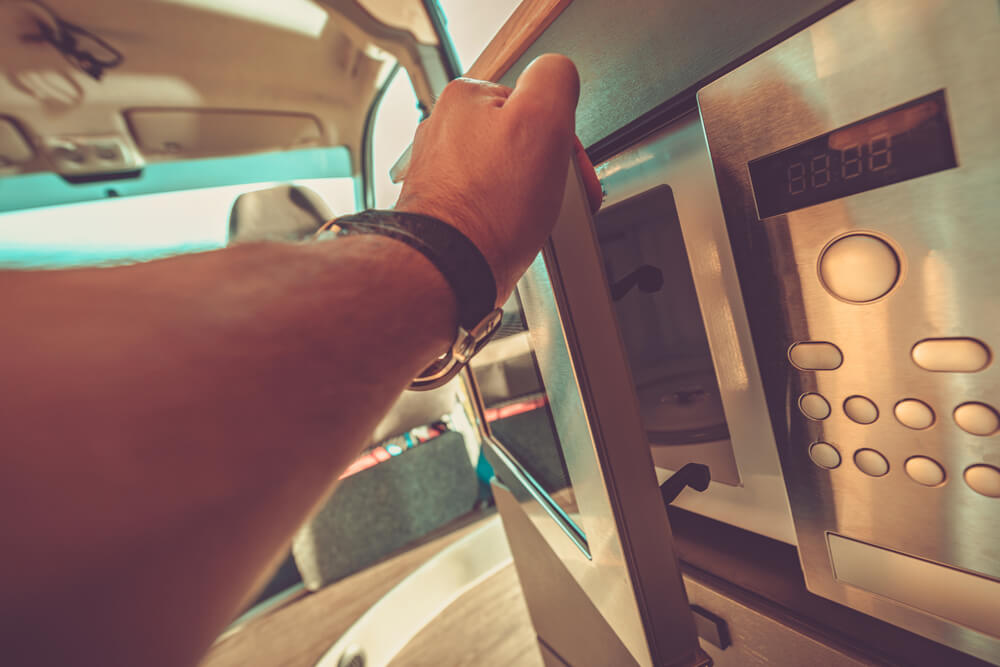 All of our reviews are based on exhaustive research, industry experience and whenever possible, hands-on testing. When you make a purchase using one of our chosen links we'll a small percentage of the proceeds. This supports the site and keeps Jeffsetter running. You can read more here.
Your rig's microwave is another tool that makes traveling or full-time RV living that much more comfortable. Like any appliance though, sometimes things just seem to go wrong without much explanation. It's always especially frustrating when it happens to the microwave because then you realize just how much you need to use it. You definitely don't want it to malfunction right before Thanksgiving dinner!
So, what might be causing my RV's microwave to not work?
The most common reason for why your RV's microwave is not working is because it either has no power or not enough power. This could be due to a blown fuse, problem with the outlets, or any other similar electrical issue.
While this can all definitely be very tedious, they are all fairly simple to both identify and troubleshoot. Let's dive into each one of these problems and how to fix them!
Why Does MY RV Microwave Have No Power?
If everything in your RV seems to run fine other than the microwave, then that is a clear indicator that the problem is with it and nothing else. If your microwave just has no power, check its internal fuse.
Internal Fuse
Using either your microwave model's owner's manual or an online guide for it, locate the internal fuse and replace it with one that has the same rating. If your microwave has power again after replacing it then congratulations, you've solved the problem! If not, then it could be an issue with a section of your rig's electricity.
AC Unit
One of the best indicators for if you are having a wider electrical problem or if it is isolated to your microwave is the AC unit. The AC and the microwave run on the same power section of your rig. Run your AC unit and see if it turns on, if it does then the problem is definitely just with your microwave and if it is not the internal fuse then it may be an issue with the power cord or outlet. However, if your AC does not turn on, then you know for sure this time that the issue seems to be with your RV's greater power supply.
Rig's Power Station
In that case, if you are at a campground, the first thing you'll want to check are your outdoor electrical hookups. We've all heard it a million times before, "just turn it off and on again." Well, we've heard it so much because usually, it's true! That alone can give your rig's power the small boost it needs to run smoothly again.
Simply head outside to the small power station your RV's electrical cord is plugged into and flip the breakers off and on again. If that is what your rig needed, then afterwards when you head inside, you'll find everything working as it should.
If not, then you'll need to troubleshoot further. If you're still seeing problems with the microwave and maybe even other appliances, then check your RV's power converter/breaker box.
Power Converter/Breaker Box
The power converter/breaker box is typically going to be located under one of the main pieces of furniture in your rig. The most common places are under the rear bed and the main dinette set. Once you've found it, identify the breaker for your microwave and all related appliances and make sure it hasn't tripped or been burnt out. If it has then you know you'll have to replace it, if not, simply flip the breaker off and on again and see if that jumpstarts it.
If the problem is not with your power station, breakers or fuses, the next thing you'll want to check are the outlets near the microwave.
Electrical Outlets
The outlets near your microwave are ground fault circuit interpreter (GFCI) outlets. This is because they are built with the ability to immediately shut off if they detect any possible issue. Typically, the outlets near any source of water, like the ones in the kitchen or bathroom, will be GFCI as they can easily come into contact with water and potentially short circuit.
So how do you know if the outlets your microwave uses are GFCI?
GFCI outlets are larger and easier to identify than regular ones. The biggest tell is that they will have two prominent buttons in the center, one saying "test" and the other saying "reset." Simply push the reset button to start up the outlet again if it had shut off due to contact with water. This will immediately send power through it again and have your Microwave up and running again.
Sometimes though, the issue is with your microwave, but it is not necessarily a problem with its power source. Let's discuss why your RV's microwave may not be working despite both the microwave's power and your rig's power being totally fine.
Common RV Microwave Problems
Your RV's microwave has a ton of different parts that could contribute to something going wrong. One of them is the magnetron.
The Microwave's Magnetron
No it's not a transformer, the magnetron is the part of your microwave responsible for heat production. They are a very complicated piece of equipment; they don't heat up your food by simply blowing hot air on it. Instead, they use complex chemistry to produce radiation that heats up your food.
Magnetrons have a heated metal rod in their center called a cathode. When you turn on your microwave and the cathode begins to heat up, electrons begin to fire from it and interact with other parts of the magnetron. The ensuing reactions produce the microwave radiation that is responsible for heat production.
As one can expect a system this complicated can quickly malfunction if even one thing goes wrong. To test your microwave's magnetron, use a multimeter to test the electricity it is using. If it is barely using any, then you know something is wrong and you'll want to have the magnetron replaced. If you don't already have a multimeter in your RV, there are five great options you can check out right here.
The Microwave's Wattage
Another problem that may arise with your RV's microwave is with its power consumption. This is not a problem with the power supply of your microwave or rig itself, but it may be a situation where your microwave simply requires more energy than is being provided. When it comes to cooking and power, ovens and stoves are usually the first things that come to mind but microwaves can take quite a bit of power as well.
If your microwave needs more power than your outlets or rig can provide this will always prevent it from working. Using a multimeter again, you can check the output of the outlets your microwave is plugged into and see if they are providing enough power. If not, check nearby outlets and plug the microwave into the one that has the highest voltage.
Additionally, your microwave's wattage will definitely be too high for your rig if the power station you are hooked up to only provides 20 amps or less. At an absolute minimum to keep most appliances running you will need 30 amps, with 50 amps being the most ideal.
This problem can also present itself if you are running your microwave on a portable generator that is simply too small or does not have enough power. That is why it is very important to know what size generator is best for your rig. If you are running lots of different appliances on a single generator, turn off the others and then see if your microwave is able to work again, if not then your generator is definitely not powerful enough. Generally, you will want at least 1000 watts to be able to run your microwave.
Check The Microwave's Venting
Overheating will quickly stop your microwave from working the way it should. Your RV's microwave has a venting system in place to both keep it cool and keep any excess radiation from seeping out into your living spaces. That is why it is very important to routinely check the venting to make sure that there are no problems, both to keep your microwave working and to keep you safe.
All these issues can be reasons for why your RV's microwave is not working. If they become too persistent or the damage, they have caused is too severe, it may be time to look into replacement options so you don't have to keep dealing with a faulty microwave.
Replacing Your RV's Microwave
There are a few things to know and consider before choosing a new microwave to make sure it is the best fit for you and your rig. When replacing a microwave, you'll want to measure the old unit and be aware of how much space it takes up in your cabinetry before purchasing a new one. You definitely don't want to spend money on a new microwave only for it to not fit in the existing space.
Alongside this, you'll also want to be aware of the power demands of your old microwave and find a new one that closely matches it. That way you can avoid the problem mentioned earlier of not being able to sufficiently power your microwave. If the microwave you want requires more power, it won't be a problem as long as you are prepared. Either ensure that the hookups you use in the future have higher amperage or have a generator that can power your microwave.
Once you have chosen and purchased a replacement microwave, the installation process is fairly simple as well. While it can never hurt to have one installed for you, just follow the instructions that come with your new microwave to successfully do it yourself. A good tip to keep in mind, however, is to keep any leftover screws from your old microwave as they may come in handy when installing the new one on any custom mountings you may have in your cabinetry.
Closing Thoughts
It always sucks to have your microwave malfunction, but as we've established, there are a ton of things you can do to get it up and running again before even needing to explore replacement options.
It's super important to be in tune with your RV's electrical setup so you can avoid situations where you're not able to use your microwave despite nothing being wrong with it. It will save you from needing to waste time stressing or from wasting money on repairs. Plus, you'll always be able to have your kitchen up and running again in no time when you're trying to prepare your next best meal or simply enjoy some delicious leftovers!