The Andaz Maui is a nice resort with great rooms on a beautiful beach.  But what sets the Andaz Maui apart from many of the other properties around it is it's dining.  Andaz Maui dining has a more local focus than other resort restaurants, though only at its own dining outlets.  In total, the Andaz Maui has 5 dining venues:
Ka'ana Kitchen
Lehua Lounge
Bumbye Beach Bar
Mokapu Market
Morimoto Maui
All of the above except the Morimoto Maui are the resort's own dining venues.  Sort of.
Mokapu Market
I wouldn't really call Mokapu Market a dining venue, but they do offer 24/7 grab-n-go items, a gelato bar, and hot items during the day.  That being said, Mokapu Market offers a large variety of items and excellent convenience.  I appreciate that it's open 24/7 and seems to always be staffed with genuinely friendly people.  When visiting Mokapu Market, do keep an eye out for the donuts.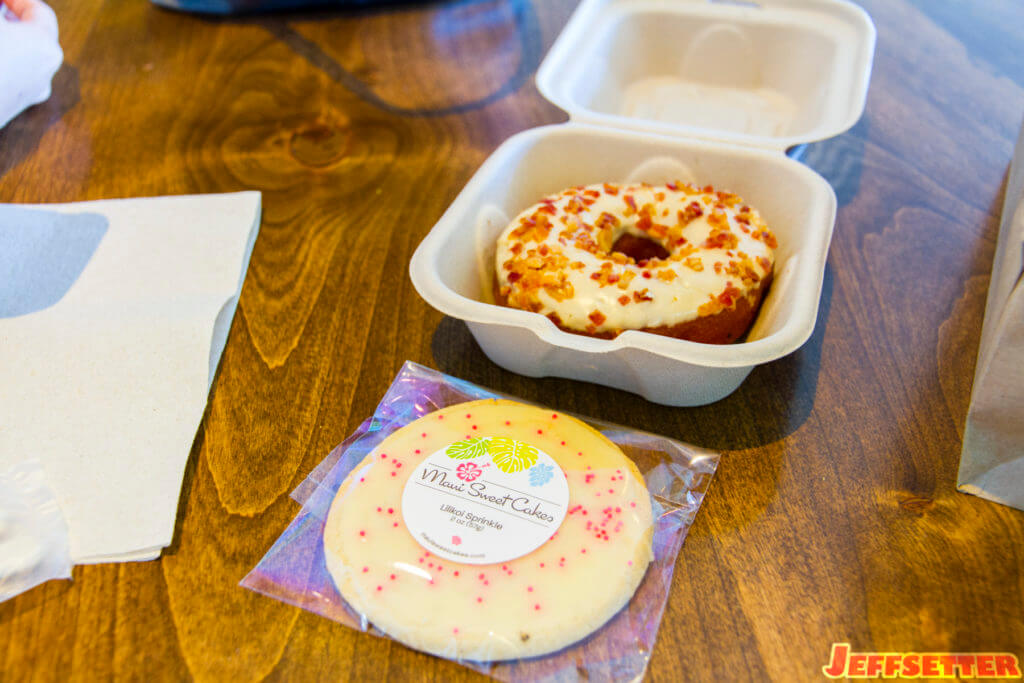 Already with the local theme, Mokapu Market sources its donuts from Donut Dynamite, a local food truck specializing in donuts.  The Andaz Maui is actually one of the few places on the islands you can buy these donuts in a store.  The wife and I sampled a few of them and found most of them to be pretty good.
Lehua Lounge
The Lehua Lounge is the Andaz Maui's poolside lounge + bar; their casual eatery really.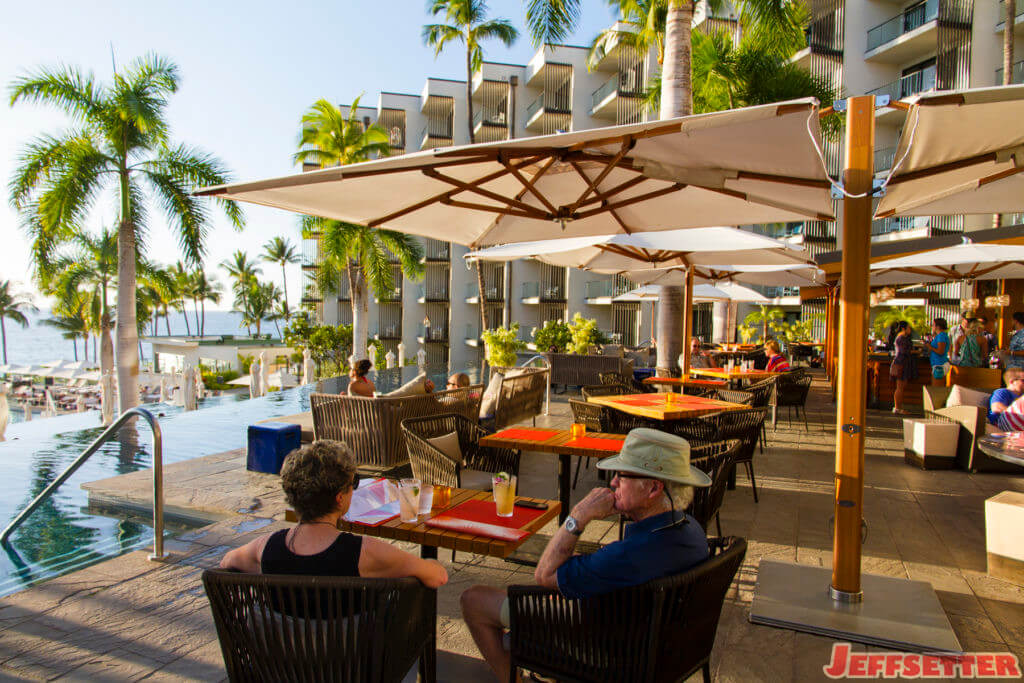 The lounge is open during the afternoon and evening serving a variety of cocktails, beers, wines, spirited, soft drinks, small plates, and large plates.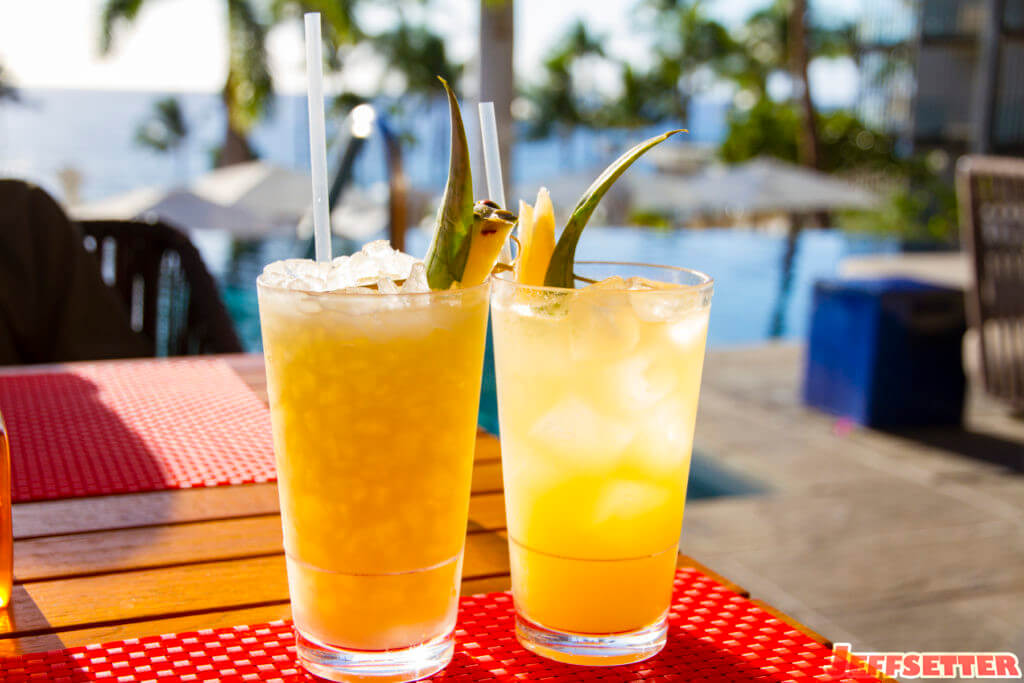 If you order only one thing here, I highly encourage you to give the Loco Moco Poutine a try.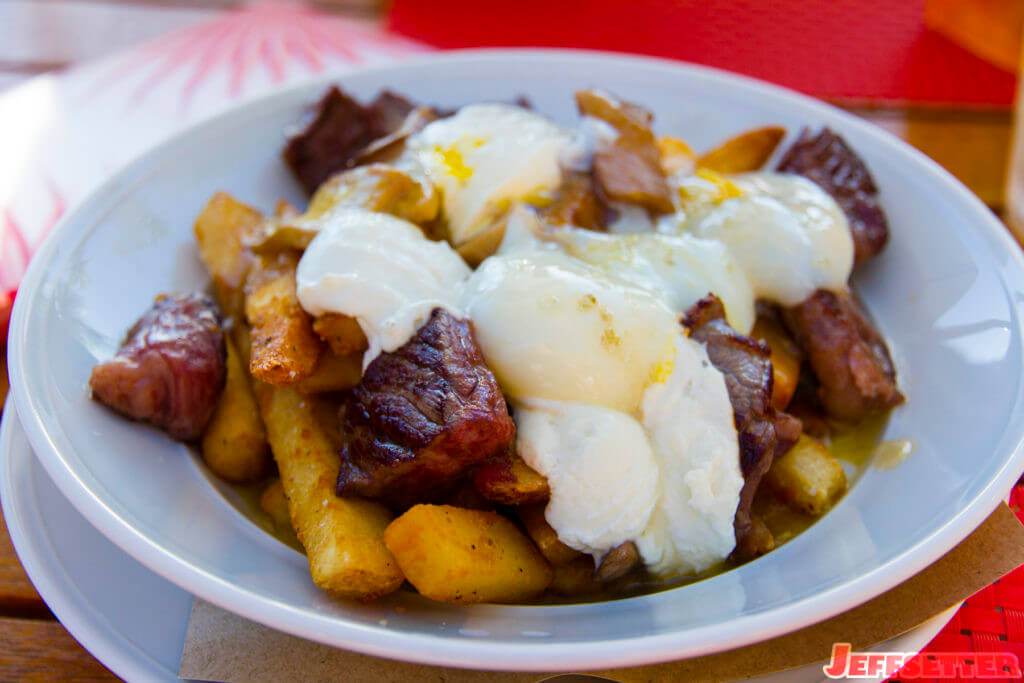 $16 might seem like a lot of money for a plate of fries, but it's worth it.  The Loco Moco Poutine are fries with chunks of seared wagyu beef with Hamakua mushroom gravy and onsen (soft cooked) eggs.  It's rich, luxurious, artery clogging deliciousness.  And I think are a great twist on a local favorite.
Bumbye Beach Bar
The Bumbye (meaning later in local pidgin) Beach Bar is the Andaz Maui's lunch spot.  The Beach Bar, despite it's name, isn't located on the beach, but is next to the beach level pool.  The menu has a large variety of cocktails and soft drinks, as well as typical beach foods like tacos, burgers, and hot dogs.  We haven't tried Bumbye Beach Bar, but the menu is very island inspired and sounds fantastics.  Typical beach foods have a local twist, and there's even healthier options like salads and veggie wraps.
Morimoto Maui
The big name Andaz Maui dining option is the Morimoto Maui.  The menu here is similar to the Waikiki location for both lunch and dinner.  The wife and I hadn't dined here either, but we had visited the Waikiki location a few years ago.  I'm a great fan of Masaharu Morimoto, but I wasn't impressed with his Waikiki restaurant.  I'd pass if you're looking for a surf & turf, etc., but the sushi is good.
Ka'ana Kitchen
The Andaz Maui's signature restaurant is the Ka'ana Kitchen.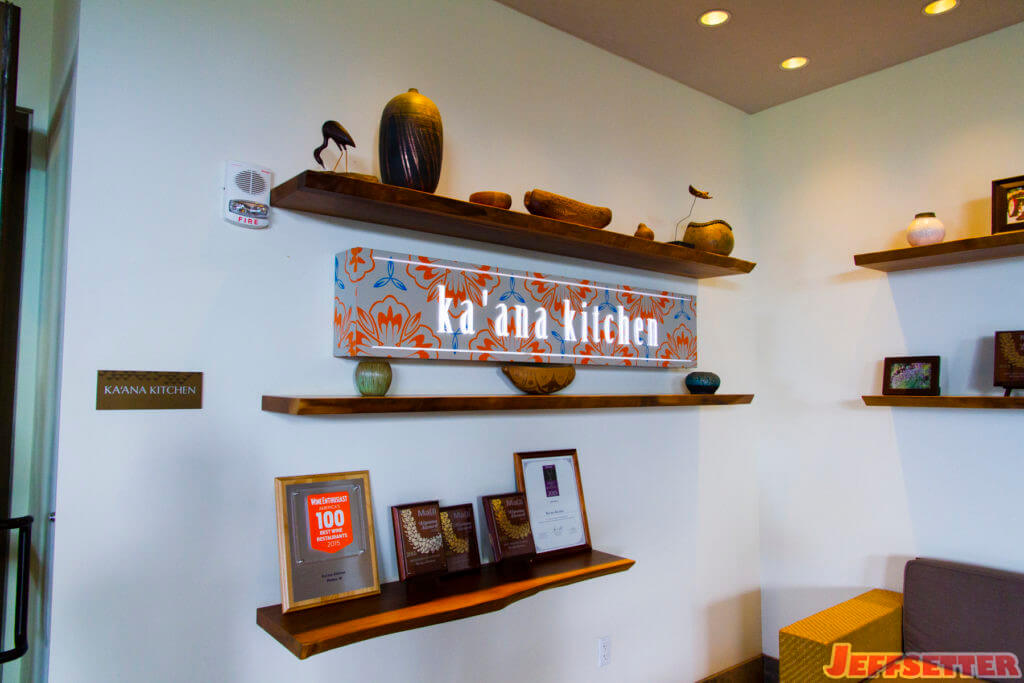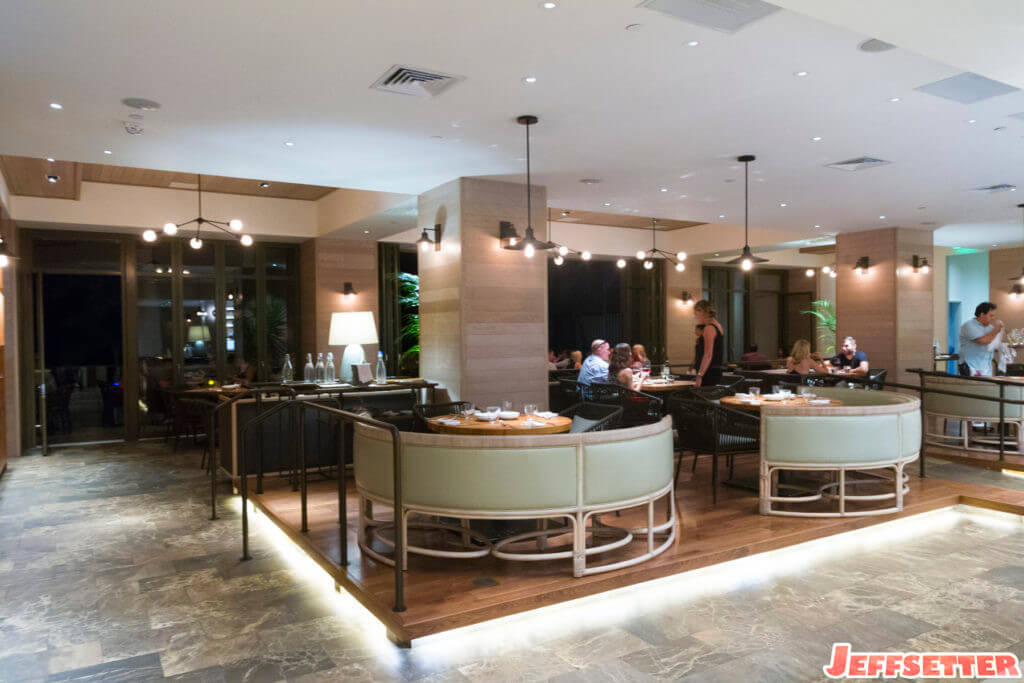 Ka'ana Kitchen is open for lunch and dinner and has a locally inspired, farmer focused menu, especially at dinner.  Breakfast/brunch is a contentious issue for Hyatt Gold Passport Members, and yes it is expensive, but it is high on quality and delicious buffet experience.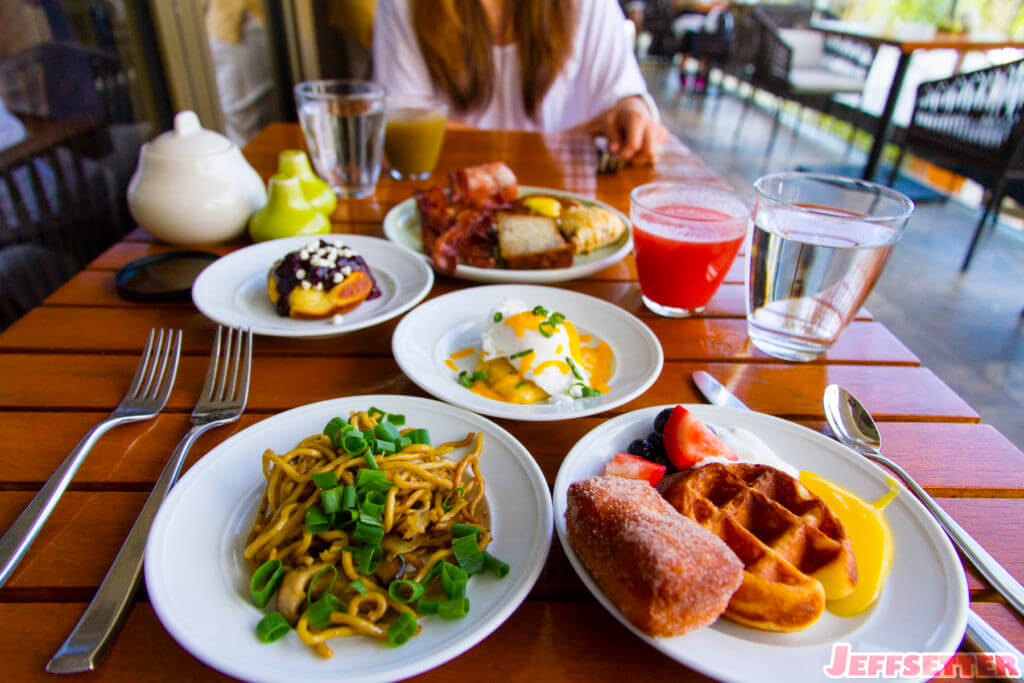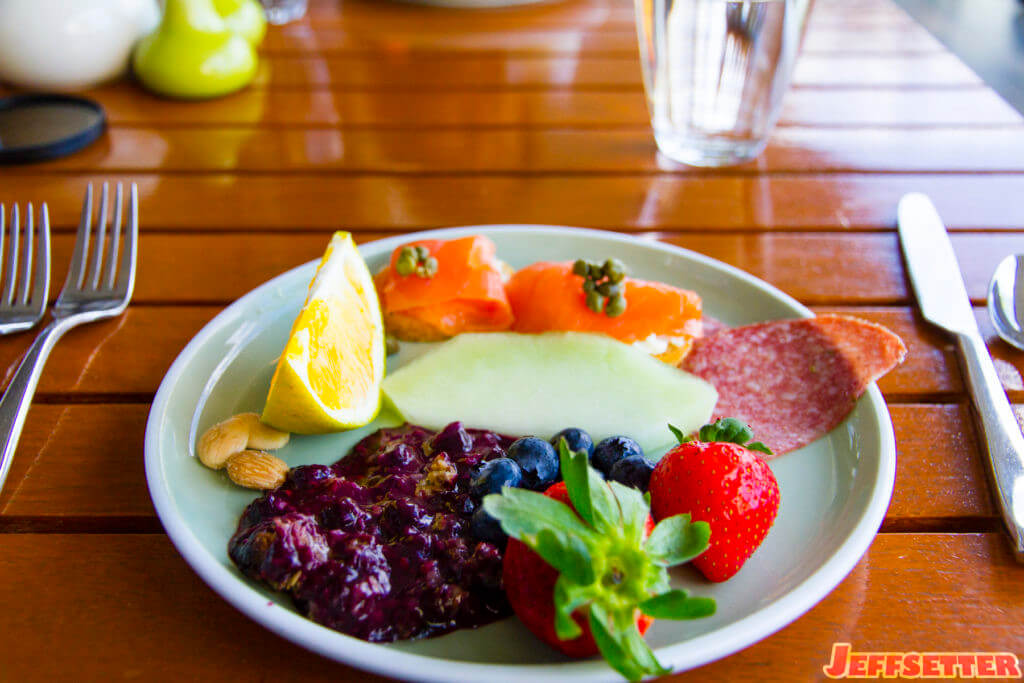 Dinner at Ka'ana Kitchen, however, is where the restaurant really shines.  As I've said before, the menu is farmer focused, which means it changes often.  There are a couple of permanent menu items, which are the restaurant's signature dishes, but even if items are on the menu, it doesn't men it's always going to be available.  Some of their signature dishes are…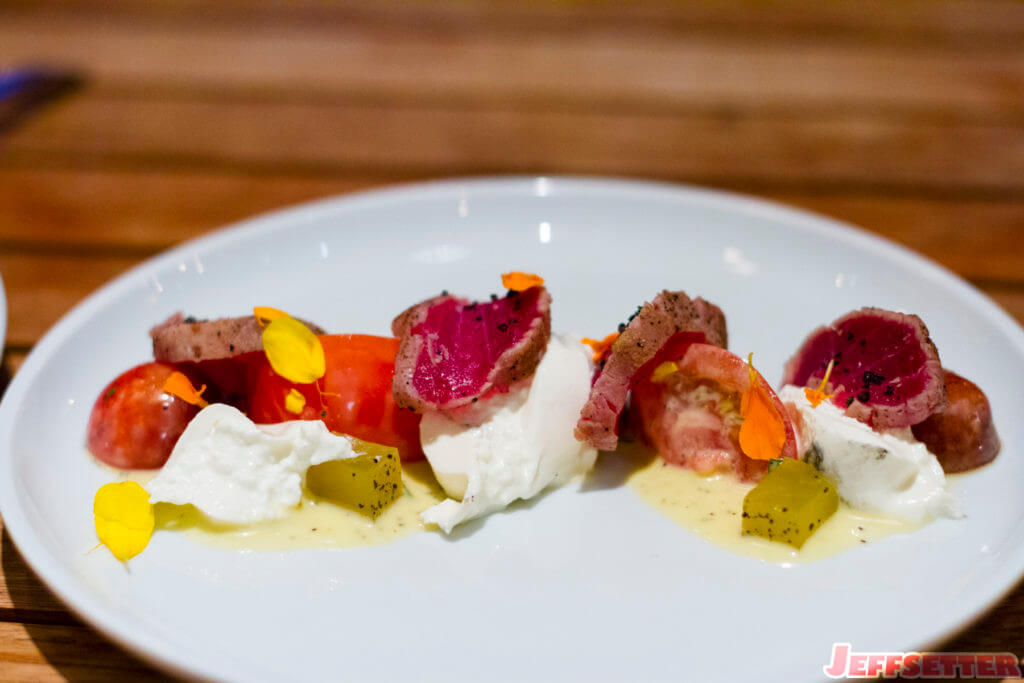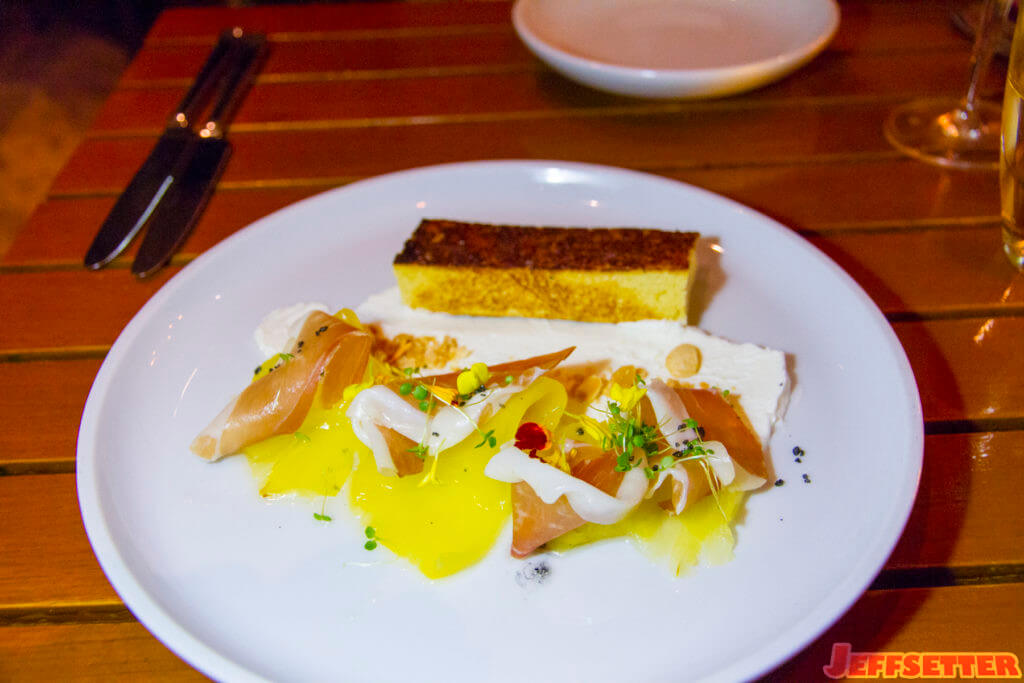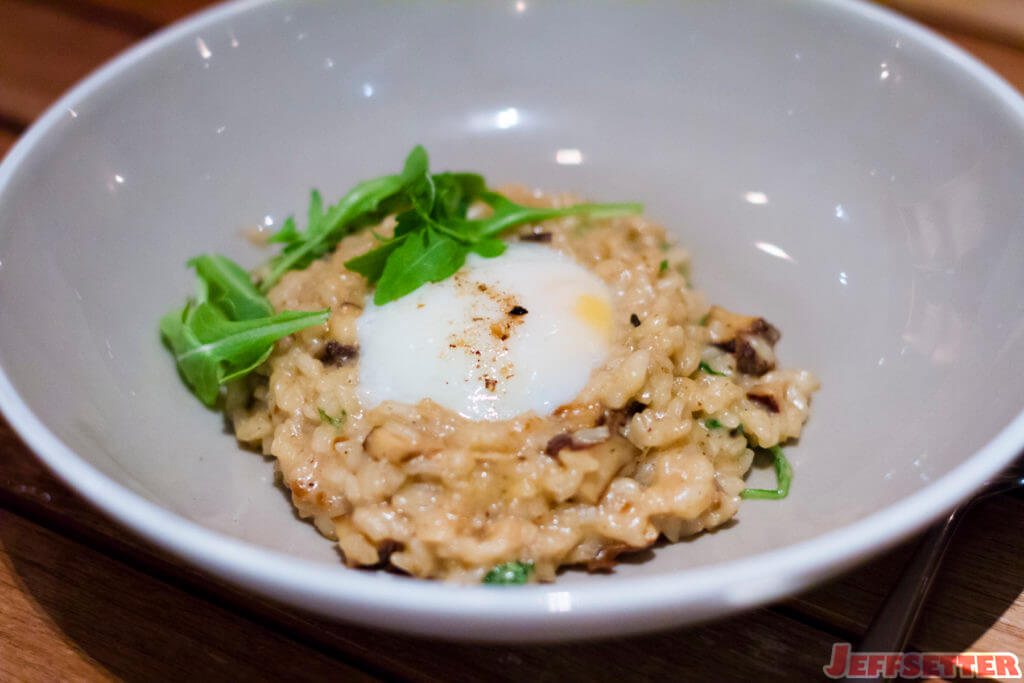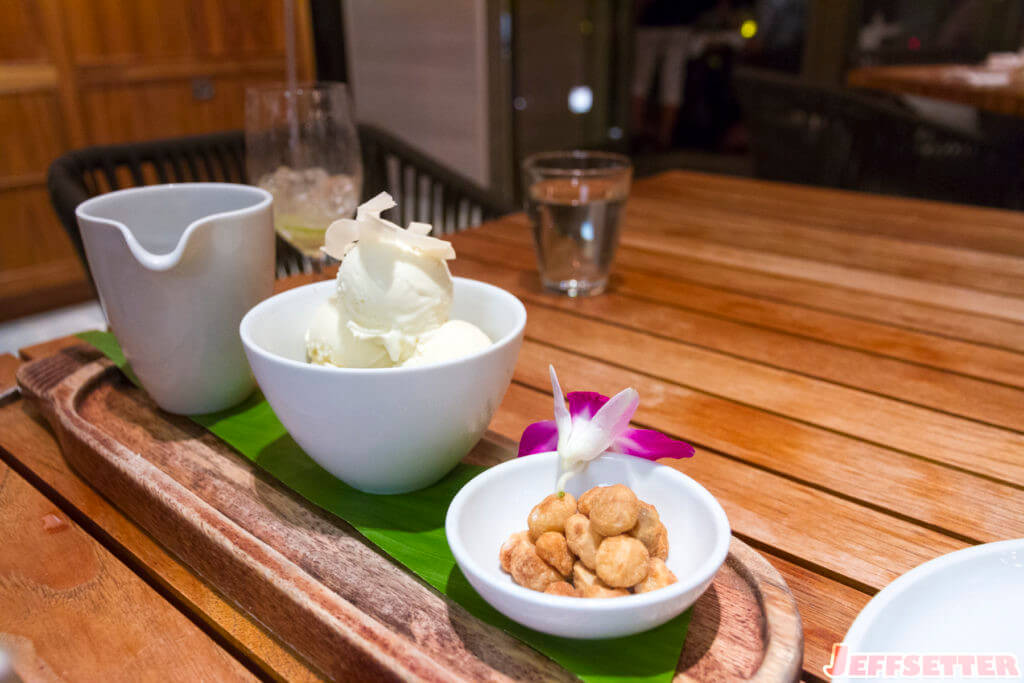 These standbys are delicious and always a great option.  I'd order most of those items again, especially if I really can't decide.  That's not to say you shouldn't order seasonal items, though.  Examples dishes include: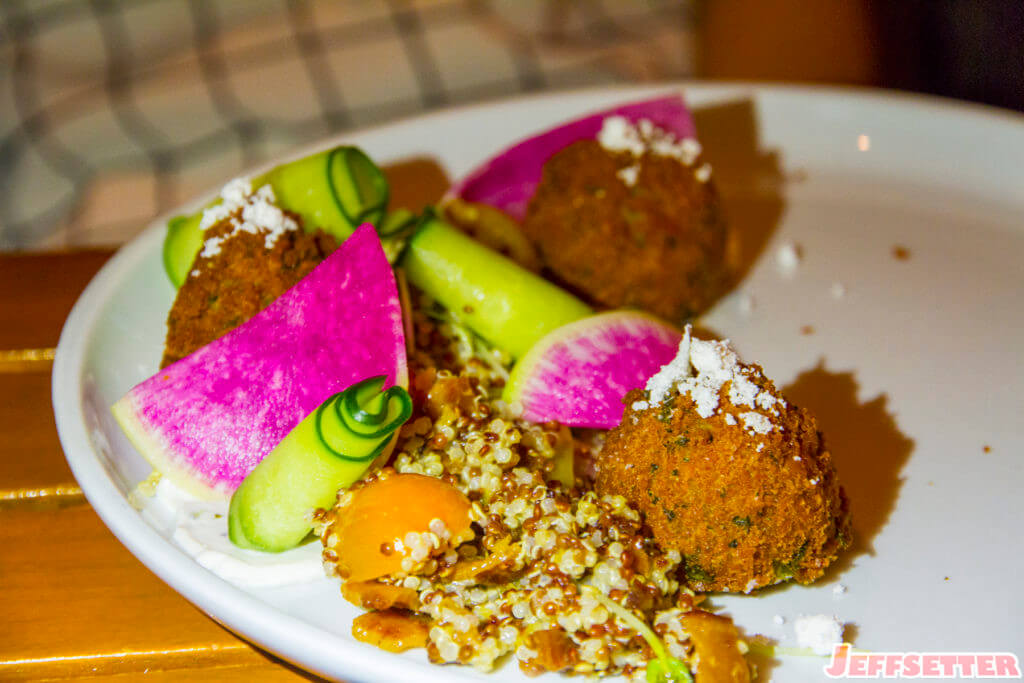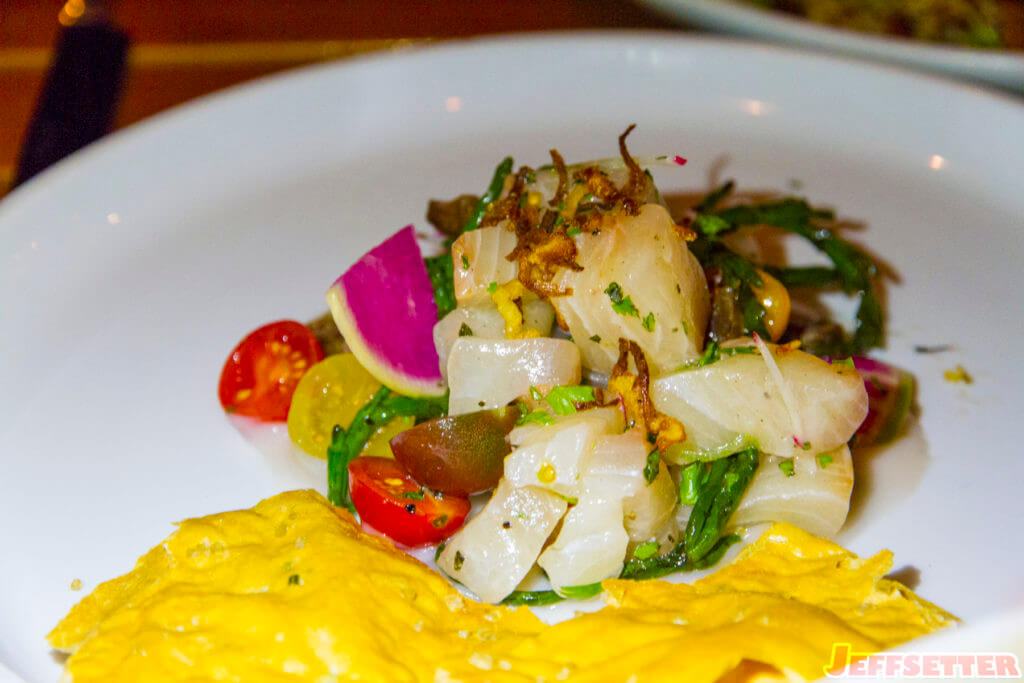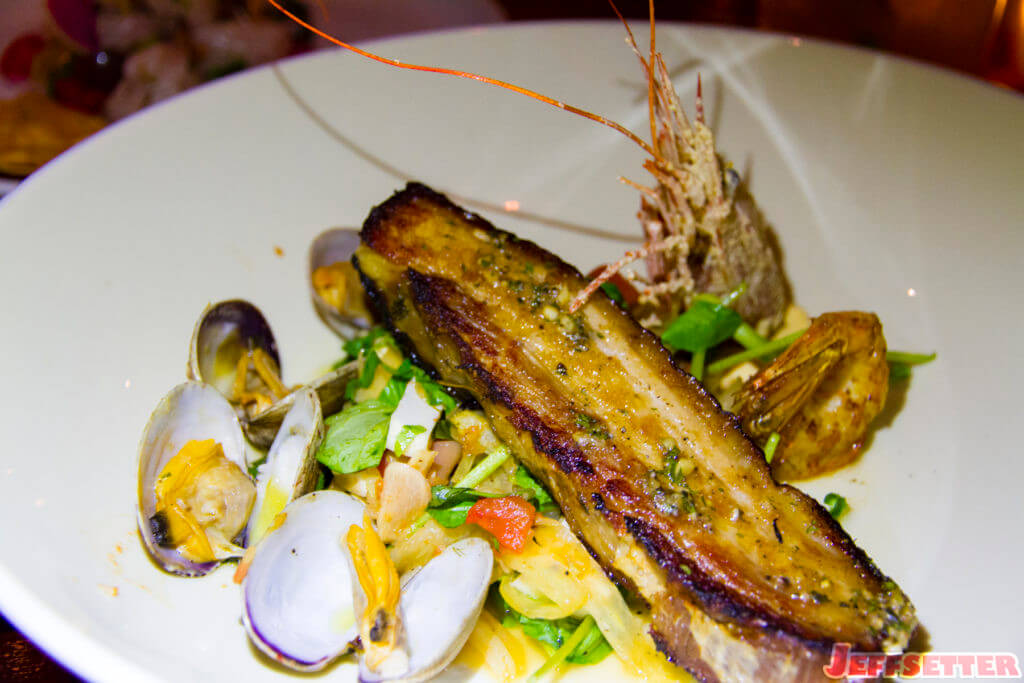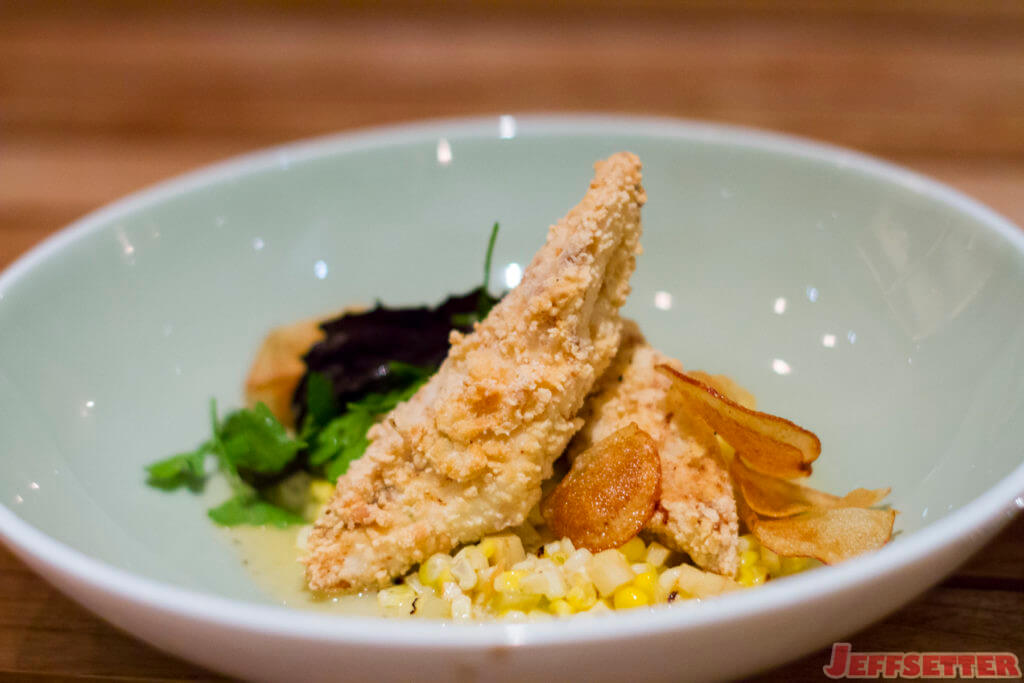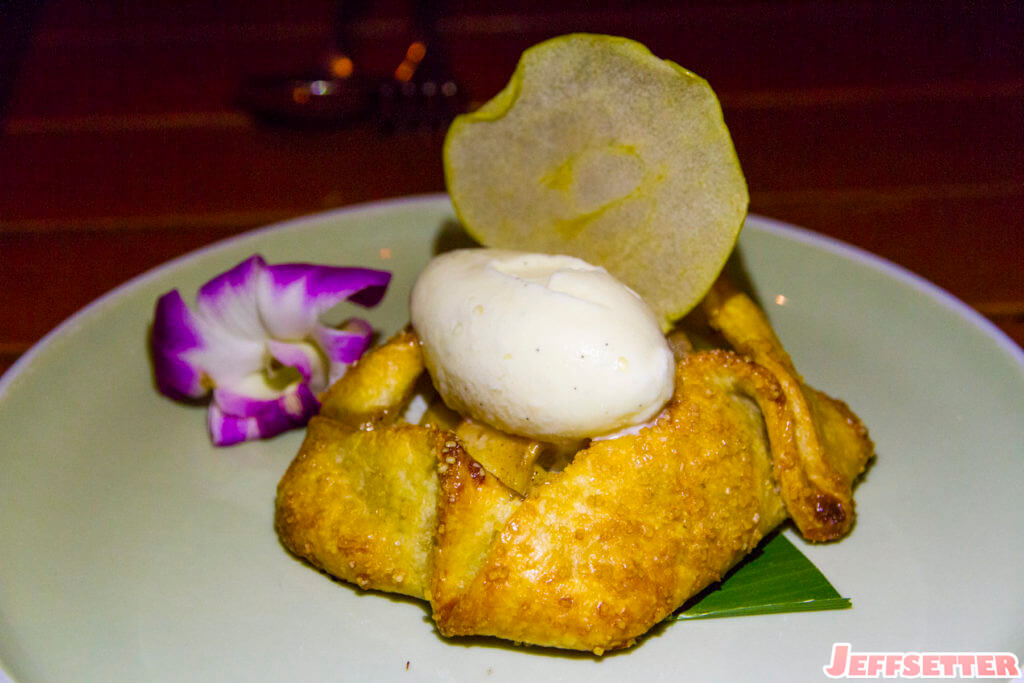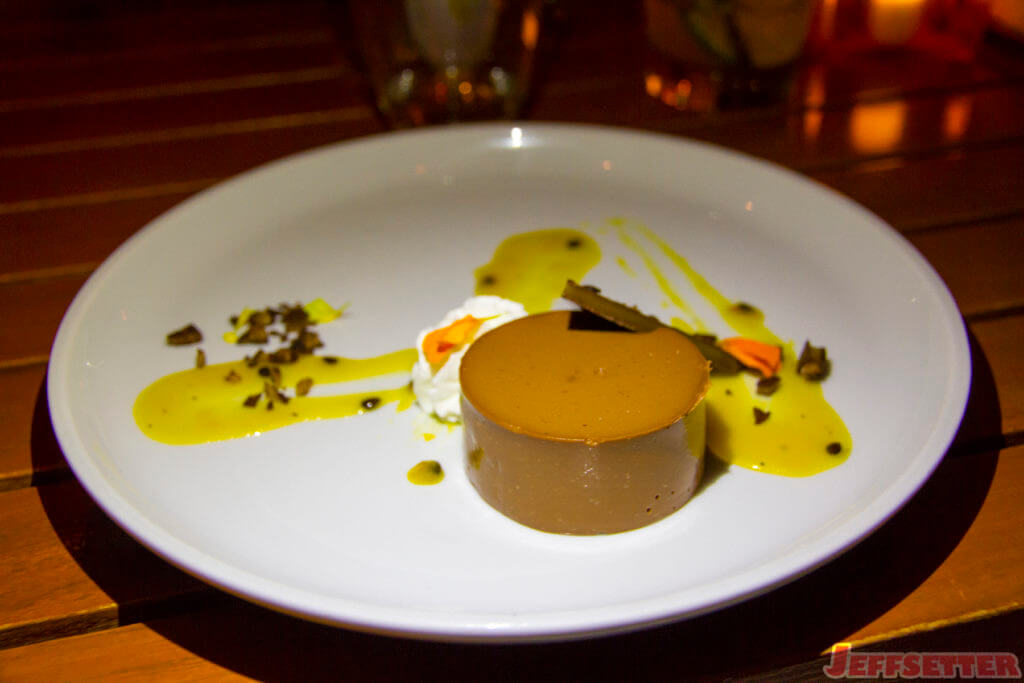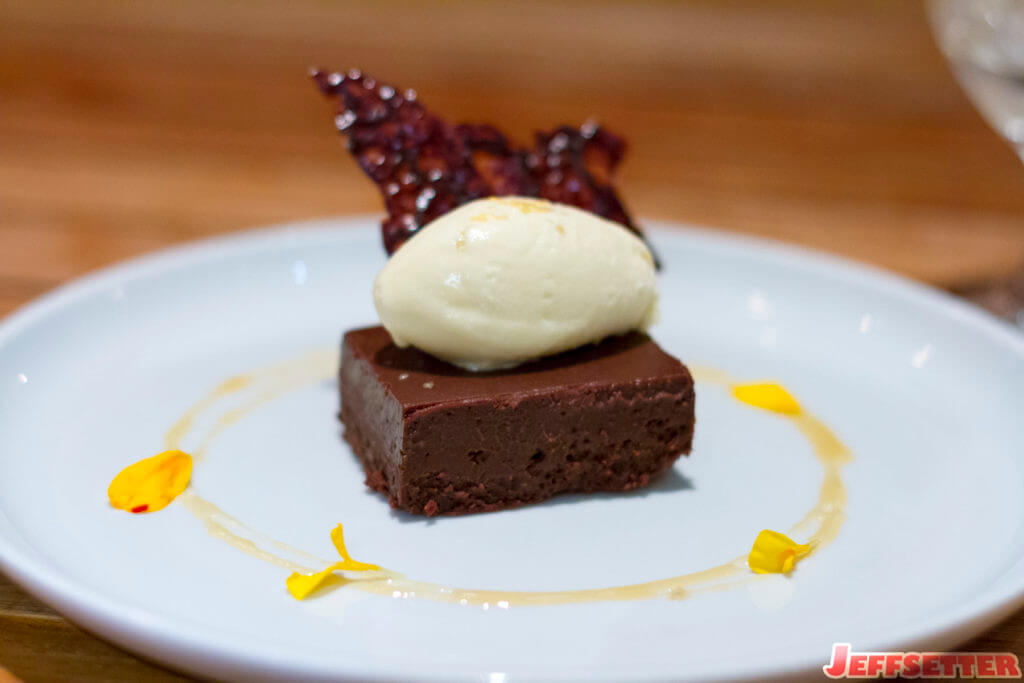 My absolute favorite dishes at Ka'ana Kitchen?  Pretty much everything we've had here.  But the two most shocking dishes to me (in a good way) were the Kona Cold Kampachi and the Berkshire Pork Belly, dishes you unfortunately won't be able to sample.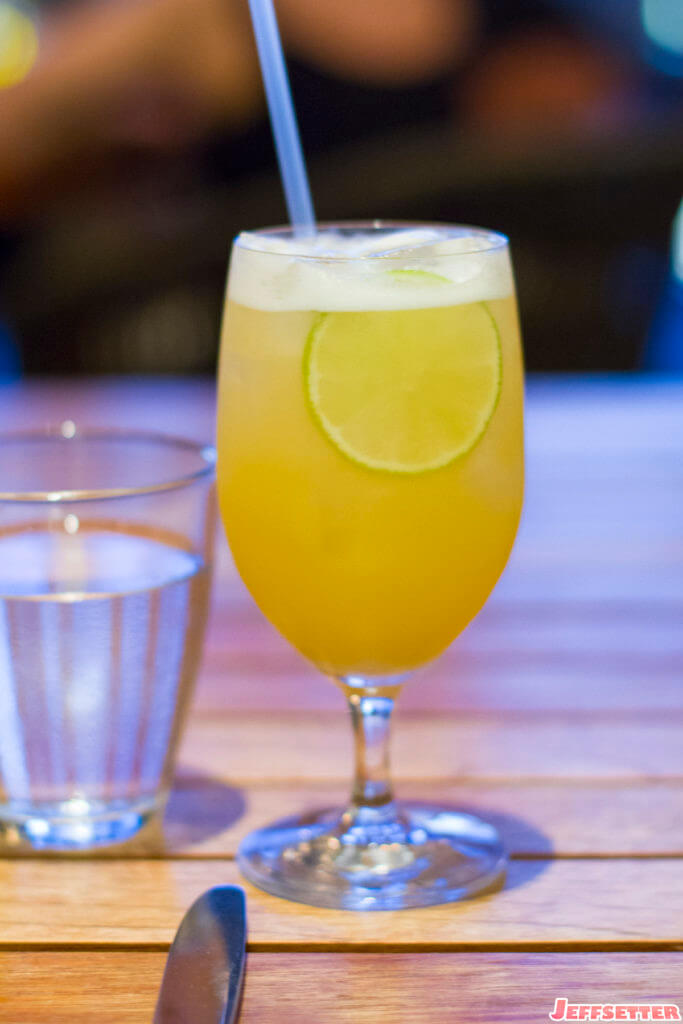 The drinks at Ka'ana Kitchen, alcoholic and not, are also fantastic and often use local ingredients.
For the best views at the restaurant, you'll want to request a seat outside.  But, Hawaii can be very hot and humid, so I'd recommend asking for a seat inside.  And if you're on a dinner date, ask for one of these seats.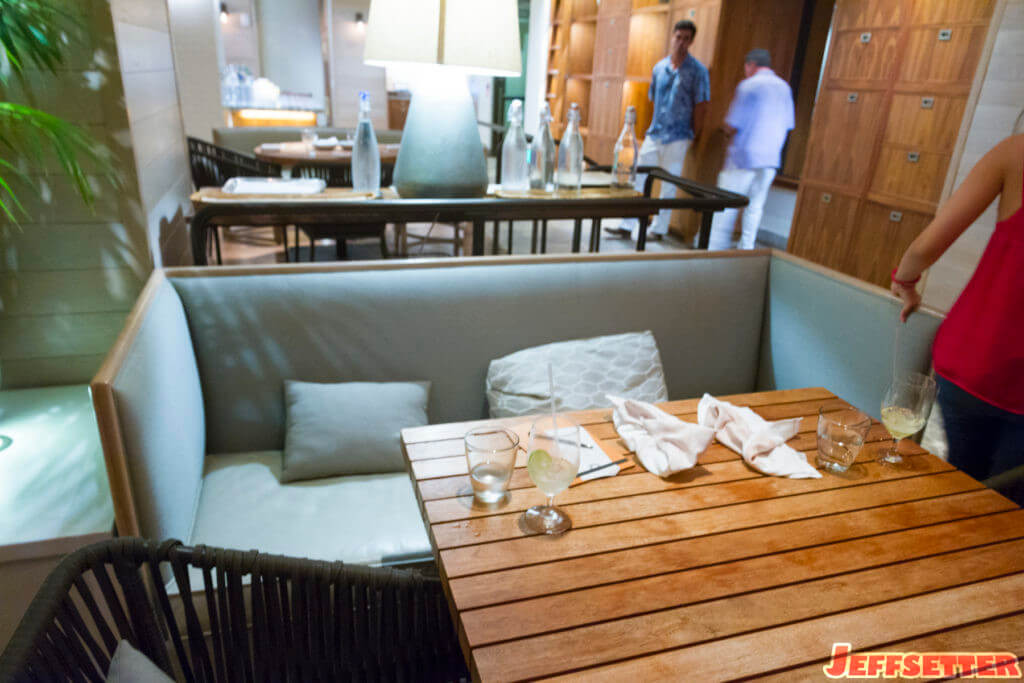 I love that love seat type of seating, and sitting next to my wife as if we're sitting on the sofa at home was interesting.  If you're like us and like to sample each others dishes, this is really the best seating type.  Period.
While the quality of the Andaz Maui has become a contentious topic, one thing that I believe remains true is that Andaz Maui dining remains an excellent experience.  I know many of my local foodie friends will agree that the inventive, locally inspired, locally sourced dishes are worth the price.  The food alone is worth a visit to the resort, regardless if you're actually staying.  In fact, as long as budget allows, dining at the Andaz Maui is something I'd do every time I visit the Valley Isle.  And don't forget, the Ka'ana Kitchen does allow Gold Passport Members to earn points even if you aren't a guest at the Andaz Maui.  So don't forget to complete your GP information on your receipt if you aren't room charging.
Valley Isle Love
Andaz Maui Dining Guide