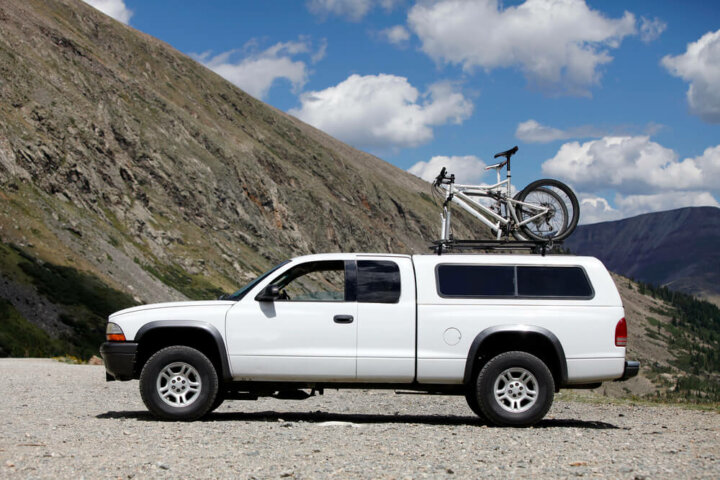 All of our reviews are based on exhaustive research, industry experience and whenever possible, hands-on testing. When you make a purchase using one of our chosen links we'll get a small percentage of the proceeds. This supports the site and keeps Jeffsetter running. You can read more here.
While camper shells have many pros and cons they are a fantastic addition for pickup truck owners who want to create an enclosed space on the pickup bed. The goal of camper shells is to keep everything inside safe and dry, however, if a camper shell isn't watertight or weatherproof, you could end up with a soggy interior.
So, are camper shells watertight?
Camper shells are watertight, however, over time, water may collect at specific points on the camper shell and make its way inside through the seals. It may be worth replacing the seals on your camper shell to make it watertight and give it a better chance during the rainy season.
Any type of leak on an RV isn't fun, and if leaks aren't dealt with as soon as possible, they could get worse and lead to expensive damage to the interior of the camper shell. If the camper shell isn't sealed properly to the truck, or if some areas are crooked and leave gaps, water may find its way inside.
Are Camper Shells Watertight?
Most of the time, both camper shells and truck campers are advertised as being completely waterproof, however, if you use your rig often and expose it to various weather conditions, over time the waterproofness may decrease.
Camper shells usually leak where seals are located, and this can happen if the seals aren't tight enough, or if they've started to deteriorate over time. Luckily, you can replace the seals on your camper shell and make it far more weather-resistant.
It's also a good opportunity to see what's happening on the inside of your camper shell when it's raised off the bed. Sometimes there can be hidden damage you weren't even aware of such as issues with mold or dampness where moisture got trapped.
How Do You Seal a Camper Shell?
When your camper shell starts leaking, not only is it frustrating, but it can be hard to know what to do to fix the problem and how to stop it from happening again. Water getting into the camper shell can cause issues with electrics and internal components, and if there are any gaps or cracks, dust and dirt can creep inside the shell too.
What You'll Need:
Wood Slats
Cleaning Solution
RTV
Weather Stripping Seals
Step 1: Remove the Camper Shell
Although you can remove the camper shell alone, having someone to help lift the camper shell off the pickup bed would be useful as it can be a bit awkward with just one pair of hands!
Depending on the type of camper shell you have, wiring may need to be disconnected and bolts or clamps removed to allow the shell to lift off from the pickup bed.
Step 2: Hold the Camper Shell in place
Once you've managed to raise the camper shell off the bed of the pickup truck, you'll need to either take it completely off or use wood slats or something similar to hold it in place. This will allow you to get a better look at the seal and also see if there's any damage to the shell itself.
Step 3: Clean the Area
You'll then need to clean the area on the camper shell that sits on the pickup truck bed rails. It's also worth cleaning any dirt or dust off the bed rails too as this can affect how well your shell seals to the pickup. Clean away any old glue or sealant that may be present too, as this will make for a better seal in the long run.
When cleaning, if you notice any holes, it may be worth using some tape or RTV to seal them up as they could be contributing to leaks in the camper shell.
Step 4: Apply Weather Stripping Seals
Weather stripping seals can be purchased at most automotive stores and are made from rubber that once stuck on, keeps out rain, snow, and dust. You'll also need to buy suitable adhesive to stick the weather stripping seals onto the surface of the camper shell. After applying a neat line of adhesive to the camper shell, you'll need to stick the weather stripping seals on.
It's best to get this right the first time as seal adhesive can be very sticky and you may not be able to move the seal later if it's not in the right position. It can also be wise to check if other areas on the camper shell need sealing like the windows or doors.
Step 5: Fit the Camper Shell Back On
The camper shell can be put back onto the pickup truck once the seals have been replaced. Checking if there's any leaking is a good idea, so it's worth spraying a hose over the camper shell and seeing if any water is getting in.
When lowering the camper shell back down onto the pickup bed, make sure it's being put in the right place, as a shell that isn't aligned properly can create gaps where water can get in. It can take a bit of time for the adhesive and sealant to set, so be sure to check the instructions for the recommended dry time.
Are Truck Shells Watertight?
Part of the camping experience is to slow down and embrace nature and face the often inconsistent weather! When you're off exploring in your truck camper and it starts raining, the last thing you want to deal with is water getting inside your camper.
It's difficult for a truck shell to remain watertight in all weather conditions. Most truck shells are weather-resistant, but not completely safe from prolonged heavy downpours or frosty conditions. If you're storing your camper outside this winter, you'll need to take some time to winterize it to prevent damage from the cold.
To help give your truck shell a better chance in harsh weather conditions, it may be worth raising it off the pickup bed and replacing the seals. If you've owned your truck shell for quite some time, the seals may have started to wear away and not be as effective as they once were. Replacing the seals is an affordable way of keeping water out of your truck shell.
How Do You Waterproof a Truck Camper?
Truck campers are often used for more than simply creating an enclosed space in the bed of a pickup truck. Many people use truck campers as a sheltered place to sleep, cook, and live whilst traveling out on the road, and as they are expensive, it's worth preventing as much damage as possible from coming to the shell!
Regardless of whether you're using your truck camper to haul gear or for adventure-packed weekend camping trips, it's important to keep your camper in the best condition. One of the common issues with truck campers is leaking, however, there are a couple of effective methods that can help solve this problem.
The Bolting Method
It may be useful to have another pair of hands when waterproofing a truck camper using the bolting method, as some parts may be a bit tricky. Getting this done by a professional is also possible, so if you aren't confident or don't have the correct tools, it may be best to contact the pros.
What You'll Need:
Having the right equipment not only makes the job easier but can also help get the best results possible and waterproof your truck camper effectively.
Wood Boards
Drill and Various Drill Bits
Material to Protect the Truck Camper
Insulation Tape
1.5-inch bolts with ⅜ inch threading
⅜ inch locking nuts
Washers
Aluminum G Clamp
Step 1: Remove the Truck Camper
To get to the underneath part of the truck camper, you need to either raise it and hold it in place with wooden boards, or completely remove the camper from the pickup. If you have the space to take the shell completely off the bed it can make things a lot easier as you can fully inspect the shell for any hidden damage.
Completely removing the truck camper will mean you'll have to disconnect any wiring such as the tailgate wiring. This will be reconnected later on when the camper gets returned back into position on the pickup bed.
Step 3: Apply Insulation Tape
Use the insulation tape on the shell, being sure to first clean the area and make sure any dirt, debris, or dust has been removed.
When you are applying the insulation tape, you can also remove any old bits of sealant or tape that may be on the shell. This will make it easier for the tape to stick to the shell, creating a better seal.
Step 4: Fit the Truck Camper Back On
Carefully lower the truck camper back on the pickup bed, being sure to align it properly. A truck camper that isn't aligned perfectly can leave small gaps where water could get inside.
Step 5: Use Aluminum G Clamps
Use the aluminum clamps to secure the truck camper to the rails on the pickup bed. Unless you have a new shell, there should already be installation holes where you can use the nuts, bolts, and washers to hold it in place.
Step 6: Use Nuts, Bolts, and Washers
If there are no installation holes, you'll have to drill three or four holes, 30 inches apart on the truck bed edges. Before going ahead and drilling the holes, use some material to protect the truck camper whilst you're drilling. Even the smallest shards can cause aesthetic damage so it's best to use a blanket or towel to cover the truck camper shell.
Step 7: Check Taillights
For the final step, you'll need to either reconnect the taillight wiring on the truck camper or tap into the electrics of the pickup truck to create a circuit to power the camper taillight.
The video below is a step-by-step of how to get your truck camper in the best position against all weather conditions. As you can see, taking the process one step at a time is the best way to complete this method effectively.
If you're concerned that your G clamps may not be strong enough, welding clamps could be a good alternative to hold the truck camper shell to the bed.
The Weather Stripping Method
The second way to effectively waterproof your truck camper is by using weather stripping seals. This is an ideal method if you don't have access to tools or would just rather avoid using power tools on your truck shell.
What You'll Need:
Weather Stripping Seals
Wood Boards
Cleaning Solution
RTV
Step 1: Raise Truck Camper
Although you can completely remove the shell from the pickup bed, it might be easier to instead raise it and hold it in place with wooden boards. If you've got a friend helping you with the process, someone could get inside the bed and hold the shell up, whilst the other person puts the boards in place.
Step 2: Clean the Join
Truck campers are the ideal rigs for camping out in the heart of nature, and often driving to these types of destinations, dust, dirt, and general debris can get stuck in areas on the camper shell. When your truck camper is raised off the bed, you'll be able to see any grime that has been stuck around the seals.
This is the perfect opportunity to clean away any dirt and remove any old sealant or glue that may prevent the seals from working optimally against the rain.
Step 3: Apply Weather Stripping Seals
Adhesive can be used to help the weather stripping seals stick well to the shell. As you don't want the glue to dry before you've applied the seals, it's best to line everything up before gluing so you can get the seals into place quickly.
Step 4: Use RTV
If you're not using the bolting method, it may be useful to apply some RTV silicone for extra weather protection. Once the silicone and seals have had enough time to dry, it's worth spraying water all over the truck camper to see if the weatherproofing has worked.
If there are still some leaks, it may be worth using more RTV or seeing if there are any holes or damaged areas on the truck camper that might be allowing water to get inside.
So, Do All Camper Shells Leak?
Leaking is a common problem with camper shells, especially with those that have slide-outs, a completely flat roof, or many windows and vents. All of these issues combined make a camper shell more prone to leaks as there are more seals to deteriorate and become ineffective over time.
It may be worth installing a tailgate seal which can help keep water, dust, and debris from getting into the shell through the tailgate. These can be found at automotive stores and are a low-cost option that can provide great additional protection from the weather.
Closing Thoughts
In conclusion, camper shells can be water resistant but are rarely watertight. There are, however, a few ways you can help weatherproof your camper shell or truck camper. Taking the necessary precautions to stop your camper shell from leaking can help prevent expensive damages you may need to deal with when harsh weather conditions hit.
Making a camper shell watertight doesn't only mean any equipment or gear stored inside will stay safe and dry but also means you'll stay dryer and warmer on your next weekend away!