Last updated on June 5th, 2023 at 12:11 pm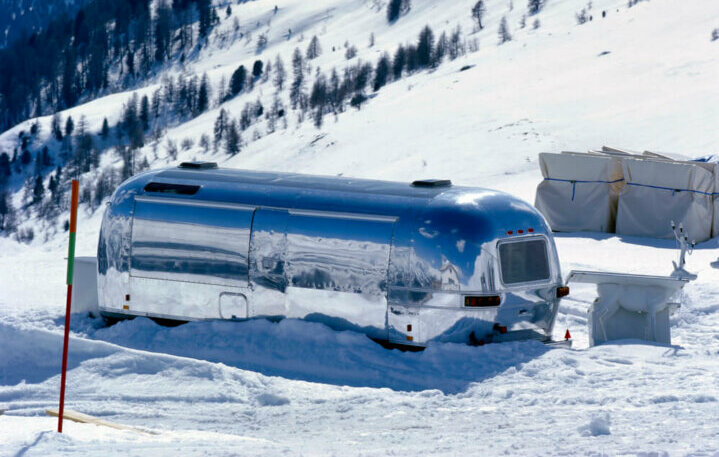 All of our reviews are based on exhaustive research, industry experience and whenever possible, hands-on testing. When you make a purchase using one of our chosen links we'll get a small percentage of the proceeds. This supports the site and keeps Jeffsetter running. You can read more here.
Winterizing your RV is the best way to protect it against damage from freezing temperatures. Although the process can take a bit of time, it's essential to winterize your camper every year when your RV will be stored in an icy climate.
If you're lucky and your RV will be parked in a mild climate over winter, you probably won't have to worry about frozen plumbing in your RV, but you might still want to consider doing it just in case!
So, how long does it take to winterize an RV?
The time it takes to winterize an RV depends on which method you choose. Using antifreeze is faster than using compressed air, but both are efficient ways of protecting your RV. For experienced RVers, the winterization process can take less than an hour, but if it's your first time then it could take 2-3 hours.
It can seem like a big task to winterize your RV, but letting your rig fend for itself over winter isn't a great alternative! It's best to be prepared and get ahead of the game before the sub-zero temperatures start to creep in. So, let's talk about the process and how long will it take!
How Long Does it Take to Winterize an RV Using Antifreeze?
Using antifreeze for winterization is a popular and reliable way of protecting your RV from the cold. If you have all the tools at hand then winterizing your RV with antifreeze can take less than half an hour to complete. The exact time however will depend on the size of your RV and your experience.

Be sure to use RV-specific antifreeze rather than general automotive antifreeze as it's safer and designed to enter your RV's water system. It's also best to have a look at the manufacturer's manual before going ahead and winterizing your RV with antifreeze in case it's not a method suited to your system.
How Do You Winterize an RV Using Antifreeze?
Antifreeze is a surefire way to prevent components in your RV from freezing such as the pipes and water heater. As the antifreeze method can be completed in a short amount of time, it's a good method to choose if you've left it to the last minute to winterize your RV.
Step 1: Switch off Power
Safety comes first, so before beginning the antifreeze process, turn off both the power and gas supply. As a general rule of thumb, it's always best to switch the power off when you're working on your RV to prevent any unwanted surprises like the water heater kicking in halfway through the winterization process!
Step 2: Drain the Water
If the RV shower has recently been used, give the water an hour to cool down, as no one wants boiling hot water spurting out from the faucets. Once the water has cooled, all the faucets can be opened to allow the rest of the water in the system to drain out. After the last bit of water has left the system, turn all the faucets back off again, as it's time to put the antifreeze to work!
Step 3: Pump the Antifreeze
Before you can get the antifreeze running through your system, you'll need to disconnect the inlet side of the water pump. Once this has been done, a tube can be connected, joining the water pump inlet to the jug of antifreeze.
After turning the water pump on, walk through the RV turning on each faucet one at a time until you start to see the pink antifreeze coming out. You can then turn the faucets off again as the antifreeze is in the water pipes and is ready to protect your RV plumbing from the cold.
Step 4: Don't forget the drains
The antifreeze winterization process is quick and simple, but if you're like me, you can easily forget to protect the drains in the RV! Pouring a little bit of antifreeze into each drain will help prevent them from freezing, and it's worth putting some in the toilet too.
How Long Does it Take to Winterize an RV Using Compressed Air?
Compared to the antifreeze method, compressed air winterization can take a bit longer, but it's an effective, chemical-free alternative. You'll also need specific equipment such as an air compressor and blow-out adaptor plug.
If it's your first time winterizing your RV with compressed air, my best piece of advice would be to take it slow and use the correct PSI, as you don't want to blow air through the pipes at a pressure that's too high, as it can cause some major problems resulting in expensive fixes.
How Do You Winterize an RV using Compressed Air?
Compressed air is an ideal way of winterizing your RV as it pushes the water out from the pipes that would otherwise freeze. If you're storing your RV in a particularly harsh climate this winter, be sure to be thorough with this winterization method.
Even a small amount of water left behind can freeze and expand, causing plumbing pipes to crack and burst, creating a whole load of problems you'll have to deal with as soon as possible!
Step 1: Turn off Power, Gas and Water
Turning off the power prevents water from being heated up by the water heater while completing the winterization process. This is also a good time to turn off the water supply and allow it to drain out from the faucets throughout the RV. Be sure to wait for the water to cool if the shower has recently been used.
Step 2: Disconnect Water Pipes
Once the water has completely drained out, the water pipes, inlet and outlet connections, and inline water filters need to be disconnected.
Step 3: Attach the Air Compressor
The blow-out can then be screwed onto the water inlet and once it's attached, the air compressor can be connected too. If you don't already have an air compressor, it's useful to buy one that can pump your tires up too!
Having a piece of equipment that's suitable for more than one job on your RV is always a good idea, as it saves you from having to splash out more money in the future.
Step 4: Use the Air Compressor
The recommended pressure to blow out your RV water lines is between 30 and 40 PSI. Make sure to stick to this as pushing air through the system must be done with caution to avoid accidental damage like burst pipes.
You'll know when the process is complete as no more water will drip out from the faucets. If some water is still dripping out, continue to use the air compressor as even small amounts of water left in the pipes can freeze and causes problems.
How Long Does it Take to De-winterize an RV?
When the spring camping season is around the corner, it's time to begin the de-winterization process of your RV. This is an essential step, as it's important to make sure the water system is safe for use again.
If you winterized your RV using the antifreeze method, the de-winterization process will take some time, as you'll need to flush the entire system thoroughly with water and then sanitize it too. This will clear out any residual antifreeze, as the last thing you want when you set off in the spring is funky-tasting water!
If you didn't winterize your RV using antifreeze, you'll just need to sanitize the system. The compressed air winterization method has a far shorter de-winterization process, as you don't need to worry about flushing any chemicals out from the water system.
How Do You De-winterize an RV?
De-winterizing your RV is an important but simple process. Don't make the same mistake I did and start the process too early though, as if another frost rolls in and temperatures plummet, you'll have to start the entire winterization process again to protect your pipes from freezing!
Step 1: Flush out Antifreeze
The first job is to turn on the bypass valve on your water heater to allow the antifreeze to fully drain out. You'll then need to connect to a city outlet or garden hose to let fresh water make its way through the RV water system.
Step 2: Open up the Faucets
You can then open the faucets throughout the RV and let the water and antifreeze flow out. It's easy to know if the antifreeze is making its way out, as the bright pink liquid will start to come out from the faucets. Once no more trace of pink can be seen, you'll need to turn the water supply back off.
Step 3: Take the Heater Out of Bypass Mode
You'll need to take your heater out of bypass mode, or if you didn't put it in bypass mode over winter, the heater needs to be flushed through and have a new water filter put in.
Step 4: Flush the System Again
Reconnect the water supply and flush the system again thoroughly to avoid any small amounts of antifreeze remaining in the pipes.
The video below provides a great example of how to successfully remove as much antifreeze as possible from your water system. If it's your first time completing the RV de-winterization process, it's worth taking your time and doing it right the first time.
As you can see, the process can take a bit of time but it's worth putting the effort in to have nice tasting water whilst you're away in your RV. Be sure to drain out the antifreeze at a suitable waste point as antifreeze can be harmful to the environment.
As I already mentioned the compressed air winterization method has a far shorter de-winterization process, all you have to do is sanitize the system and you're good to go!
Closing Thoughts
The process of getting your RV ready for winter, although can take a couple of hours, is a vital process that shouldn't be skipped if you're storing your RV in a cold climate over winter. The antifreeze method is faster initially but requires more time and effort when it comes to de-winterizing your RV and getting it ready for use again.
The compressed air winterization method, on the other hand, takes longer to complete but has a far shorter and easier de-winterization process. It's a method worth considering if you want to limit the chemicals entering your RV water system, but still want to successfully protect it from winter.