Last updated on March 1st, 2023 at 06:00 am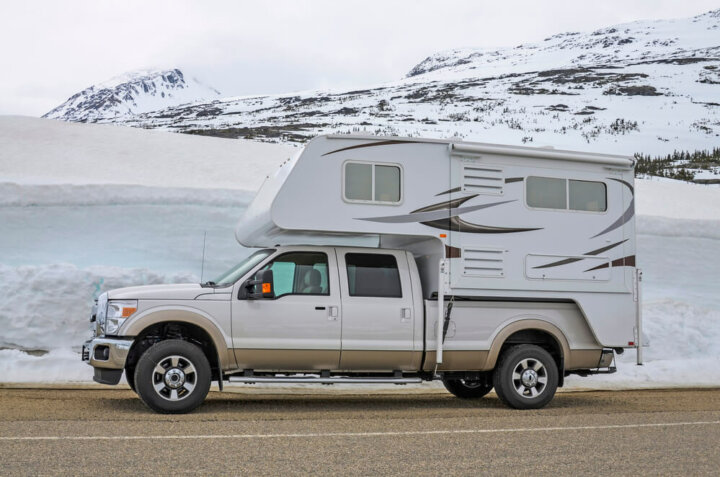 All of our reviews are based on exhaustive research, industry experience and whenever possible, hands-on testing. When you make a purchase using one of our chosen links we'll get a small percentage of the proceeds. This supports the site and keeps Jeffsetter running. You can read more here.
Truck campers are the ultimate setup to give you a true overland camping experience, as you can head down dirt tracks into forests or sandy trails to hidden beaches, with all the amenities you need in the back. All of this freedom does come at a price though, and truck campers have a hefty cost.
So, why are truck campers so expensive?
Truck campers are expensive because they have less production demand compared to other RV types, the materials needed are heavy and costly to buy, and there is an important design process to keep the center of gravity where it should be whilst including a fully-functioning living space. Additionally truck campers require a heavy-duty pickup truck.
If you're looking for the ultimate off-road vehicle to get you into the heart of nature, a truck camper might be the one for you. Truck campers have many benefits, but their big price tag tends to be one of the main drawbacks for many people.
Let's take a look into some of the reasons why truck campers are so expensive and see if they are worth the investment.
Why Are Truck Campers So Expensive?
There are a few reasons why truck campers have a high price tag, and if you don't already own a pickup truck, you'll need to factor in the cost of one of those too as a truck camper needs to be mounted to a pickup bed.
We've put together a few of the main reasons why truck campers are so expensive so you can weigh up if they are worth the big spend.
1. Less Production Demand Than Other RV Types
Truck campers have less supply demand than other RV types like Class A and Class C campers. As they have a smaller market, truck campers naturally also have a higher price tag.
The price of truck campers can vary from $10,000 to $50,000 and beyond. Although this is considerably cheaper than many larger RVs, you do end up paying a lot for a small amount of space. With a rise in the popularity of campers over the past few years, it's unsurprising that the price of truck campers has stayed rather high.
2. Engineering and Manufacturing
The engineering and manufacturing process of truck campers is lengthy and expensive and the materials needed also don't come cheap. Truck campers need to be able to fit perfectly onto the pickup bed they're designed for and a lot of time has to be put into this in order for the truck camper to be safe.
Truck campers need to be engineered perfectly in order to work optimally and stay fixed on the back of the truck when in use. They need to have the ability to secure well enough onto a pickup bed, whilst remaining sturdy and grounded when driving.
3. Design Process
The design process of truck campers is a crucial element that needs to be done correctly to keep the truck's center of gravity balanced. The layout of a truck camper needs to feature many of the same components of modern-day Class C RVs, but with far less floor space to fit it all in.
The cost of truck campers is reflective of the freedom and adventure they provide. It's difficult to fit so much in such a compact space, and yet the design of truck campers is innovative and includes a highly functioning space to sleep, cook, eat, and enjoy the wilderness.
What Are the Advantages of Truck Campers?
Truck campers can provide a totally different camping experience to regular RVs as they can get you into the depths of nature so you can sleep surrounded by trees, and under the stars. A problem with standard RVs is that they often rely on campgrounds for a place to stay and this can sometimes feel restrictive.
Truck campers offer a spectacular off-road experience that takes away the common restrictions associated with regular RVs. Let's take a closer look at some more of the advantages of truck campers.
1. Off-Road Capability
Arguably, one of the biggest benefits of truck campers is their off-road capability. If you've ever wanted a rugged wild camping experience but have been restricted by your camper, a truck camper can give you the freedom to go pretty much anywhere.
Pickup trucks are naturally good off-road and as truck campers are mounted to the bed of a pickup, you end up with a vehicle that's ready for some action. The size of the truck camper you'll need to buy depends on the size of the bed on your pickup.
It's important to choose a truck camper relative to your pickup bed as the weight and center of gravity need to be kept in balance for safety when out on the road.
2. Easy to Drive
Truck campers are more familiar to drive compared to driving a huge camping rig, you're still driving the same pickup truck you usually drive, but with more height involved! It's this familiarity that makes truck campers easy to drive and maneuver, something that's extremely useful when heading down narrow tracks on steep a slope, and questionable terrain.
Just be sure to remember the additional height of the truck as this can become challenging when driving in areas with low bridges or height-restricted areas.

The video below is about an avid RVer who spent 6 months traveling full time in a truck camper and is a great watch to get a true feel for the capabilities a truck camper has on the road, as well as the off-road experience.
As you can see in the video, if you're used to driving large RVs or towing big rigs, a truck camper will be a breeze, but it's easy to forget about their awkward height! Be sure to keep an eye out for low tree branches when out in the wilderness, as if a big and strong enough one comes along, it could damage your truck camper and cost a lot to repair.
3. Small Storage Space Needed
Unlike large campers that may need to be stored away in an expensive unit when out of camping season, a truck camper requires very little storage space. They can be kept out of the way on drives or in the corner of garages.
If you're storing your truck camper in a particularly cold climate, you'll need to winterize it to protect it from the cold temperatures. Winterizing your truck camper can prevent problems like freezing pipes that could eventually split, burst, and cause leaks, a winter cover might be worth buying for additional protection.
4. Versatile
Truck campers offer great versatility as they can be mounted to a pickup for a weekend away in the forest, and then unloaded back at home so the pickup truck can be returned to an empty bed. It's hard to find a camper that can do all the things a truck camper can, from the towing capability to a comfortable camping experience.
The way a truck camper is able to transform from a vehicle that can be used for going to and from the shops, to an innovative space you can sleep, cook, eat and relax, is impressive. If you're looking for a camping experience that offers arguably more than a regular camper, a truck camper might be an option to consider.
What Are the Disadvantages of Truck Campers?
Although truck campers are fantastic adventure rigs, they do have a few downsides that are important to explore. They can be an awkward size in terms of height which can be a problem in urban areas. Depending on the weight and aerodynamics of the truck camper, it could also affect gas mileage.
Plus, if you don't already own a pickup truck, you'll have to factor in the cost of one of those too which can be a rather large investment.
1. Restricted With Height
Truck campers offer a flexible travel experience in terms of being good in a variety of challenging terrains like mud and snow. The height aspect of truck campers can be a bit of a hindrance though, especially when exploring areas with low tunnels, bridges, or barriers.
Nothing is more frustrating than finding an overnight camping spot online, driving to the location, and being met with a height barrier. I guess in a truck camper though you could probably spin around, head into the trees, and find another dreamy spot that's just as good or even better!
2. Can Be Tricky to Load and Unload
If you haven't loaded or unloaded a camper onto a pickup truck before, it can be a bit of an intimidating task! Truck campers need to be aligned perfectly onto the bed of a pickup truck, whilst also remaining balanced during the process as they can tip over and get damaged.
When loading a pickup truck onto your truck bed, it might be useful to recruit a friend or family member to watch you slowly reverse and make sure everything is lining up well. Like most things in life, your confidence will grow in time and with practicing getting the camper on and off the bed of your truck.
My biggest piece of advice would be to take it slow and steady when mounting the truck onto the pickup and taking it back off again. The last thing you want is the camper tipping over, getting damaged, and potentially falling onto your truck in the process!
3. You Have to Own a Pickup Truck
Owning a pickup is a necessity when it comes to truck campers, as they need to be secured onto the truck's bed. Pickup trucks are useful vehicles in their own right, but if you don't already have one, this can be an additional cost to think about.
As some RVs can cost well in excess of $100,000, it's worth remembering everything a truck camper and a pickup truck can offer for a much lower price. If you're wanting a rig that is multi-functional and can provide an action-packed camping experience, truck campers are the one.
Closing Thoughts
Truck campers are expensive, but their impressive design and innovative features allow you to easily see why that is. For many, a Class C RV will be the answer to their camping dreams, but if you want a vehicle that can take you down gnarly tracks, even in the rain, truck campers are the way to go.
If you have a budget in mind for your truck camper, it's worth looking into good quality second-hand ones that can be a lot cheaper than buying a new one. Remember to choose a truck camper that's in good condition and is an ideal fit for the size of the bed on your pickup and you'll be good to go!