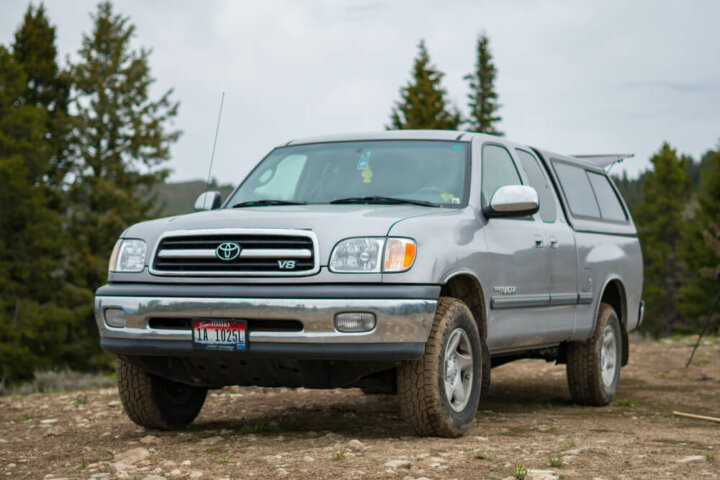 All of our reviews are based on exhaustive research, industry experience and whenever possible, hands-on testing. When you make a purchase using one of our chosen links we'll get a small percentage of the proceeds. This supports the site and keeps Jeffsetter running. You can read more here.
Camper shells are an addition to your pickup truck that creates a fully enclosed space, ideal for camping or keeping important gear safe and dry. If you're looking to add one to the bed of your pickup, it's important to first look at the benefits along with the downsides of camper shells.
So now you're probably wondering, what are the pros and cons of camper shells?
The great thing about camper shells is that they're versatile, come in various designs, and are lightweight and durable. However, camper shells also have disadvantages, they can be expensive, potentially obstruct visibility and the limited height can be a problem if you're planning on moving furniture.

Depending on your intended use of the camper shell, some of the downsides may not be that important to you. If you want a spacious, full camping setup, it might be worth looking into truck campers instead as they offer more space.
However, if you simply want a durable solution to cover your open bed, a camper shell may be the ideal option for you.
What Are the Pros of Camper Shells?
Camper shells are a fantastic addition to the back of your pickup truck as they create an additional space that's weatherproof and secure for you to go camping or store important equipment away.
Camper shells can be extremely functional, and if you are thinking about adding one to your pickup, it's important to weigh up if it's the right option for you. There are many benefits to adding a camper shell to your truck, so let's go ahead and take a look at a few.
1. Versatile
The versatility of camper shells is impressive as they can be mounted to the bed of your pickup without too much hassle, and provide a completely new, enclosed space for whatever you need. As camper shells are customizable, you can choose the one that fits your rig best and create the additional space you need.
A camper shell can be an ideal option if you use your pickup truck for work and need a weatherproof, safe space to keep your tools and equipment. For those who want to use their camper shells for adventure and fun, you can add a bike rack or even a roof rack to haul extra gear around.
2. Range of Design Options
The variety of design options for camper shells doesn't end with the interior. Since the dawn of the camper shell, aesthetics have developed, and now you can bag yourself a shell that matches your pickup perfectly.
Along with different styles and models of camper shells, many manufacturers can also customize the shell to fit your precise needs. To top it off, you can also get the paint on your camper shell matched perfectly to your pickup truck for a sleek, modern aesthetic.
If you're a DIY kind of person then there are a lot of changes you can make to an already existing design, like adding additional insulation for example!
3. Lightweight and Durable
Unlike large truck campers that can be heavy and awkward in size, camper shells are relatively lightweight, but this does also depend on the components of the shell and the materials it's made from.
Fiberglass is a lightweight material that camper shells are often made from, but they can also be made from aluminum. These materials are both durable and create camper shells built to last through various weather conditions.
Camper shells take away the stress that can be caused when you're hauling things around in your open-bed pickup tuck and the weather turns wet. You'll no longer have to worry about hooking a tarp or cover over your things because a camper shell can keep them safe and secure for you.
The video below highlights several of the benefits of adding a camper shell to a pickup truck. As you can see, there are many reasons why a camper shell can be a great option for your rig from overlanding opportunities to having the peace of mind of keeping everything inside dry.
As you can see in the video, there are plenty of customization options available for camper shells from the manufacturer, and getting them done by professionals is a good idea as it keeps your warranty intact.
What Are the Cons of Camper Shells?
It may seem like camper shells are the ultimate option for everyone with a pickup truck, however, it really comes down to personal choice and what you need out of your rig. Camper shells do have some downsides that are important to consider before going ahead and buying one.
1. Expensive
Camper shells can be expensive as they vary in price from $500 to $2000 and beyond. In terms of total additional space, camper shells are expensive, however, if you consider all the features camper shells can offer, they aren't too much of a big investment and are considerably cheaper than truck campers, as they tend to be very expensive.
Many people may not want a permanent camper shell on their pickup and so they opt for a removable one. This versatility is great, but camper shells can easily be stored away in a garage and forgotten about, so if you invest in a shell, be sure to get your money's worth out of it!
2. Obstructed Visibility
A big concern with camper shells is the potentially obstructed rear view. This is more of an issue with hard-sided shells as there are no windows to help you get the clearest view possible.
To help with potential blind spots, it might be worth installing additional mirrors to your pickup truck which will make things a lot easier, especially for night-time driving when visibility is naturally more difficult.
If you have a camper shell with windows, try and avoid overloading it so you can see well through them. It can be tempting to use a camper shell as a place to store all sorts of things, but keeping your shell neat and tidy will let you have access to the windows, both for visibility and for air!
3. Limited Height
Camper shells help keep anything you would have formerly put in the bed of your pickup truck dry and secured from harsh weather or driving conditions. The enclosed space of a camper shell is also somewhat restrictive, as you can only store things that will fit in the shell. Gone are the days when you could haul around sheets of hardwood or take furniture to the dump!
My biggest piece of advice if this is something you're concerned about, is to remove the camper shell ahead of time if you know you'll be lugging around something sizeable in the near future. When you've finished transporting big items, the camper shell can be put straight back on.
4. Tricky to Remove
That leads me to our last possible disadvantage and that's the fact that certain camper shells can be hard and frustrating to remove and put back onto the bed of your pickup.
That's why it's worth getting a friend involved to lend you a hand and get the job done right. I always think slow and steady is the best way to go about things, so be sure to take your time and you'll likely get it right the first time!
Closing Thoughts
There are advantages and disadvantages to most things in life, and camper shells are no exception! Camper shells are the perfect option if you're looking to create a solid, weatherproof space on the bed of your pickup truck, but if you're thinking you might need more height, a truck camper might be a great alternative to explore.