As I've said a couple of times now, I've never flown Delta before.  But, this trip to Salt Lake City gave me a chance.  That's because those already scheduled to travel with my company were already flying direct on Delta.  And so, here's my review of my experience on Delta Air Lines 2768 HNL-SLC.
After leaving the lounge, I headed to my departure gate at the Daniel K. Inouye International Airport's Terminal 2.  As is often the case at HNL, the boarding area was a mess.  However, it turns out I was being paged just prior to me arriving.  It turns out, the gate agents wanted to discuss the peanut allergy on my itinerary.  The agents, though, were incredibly friendly, just like those in the lounge.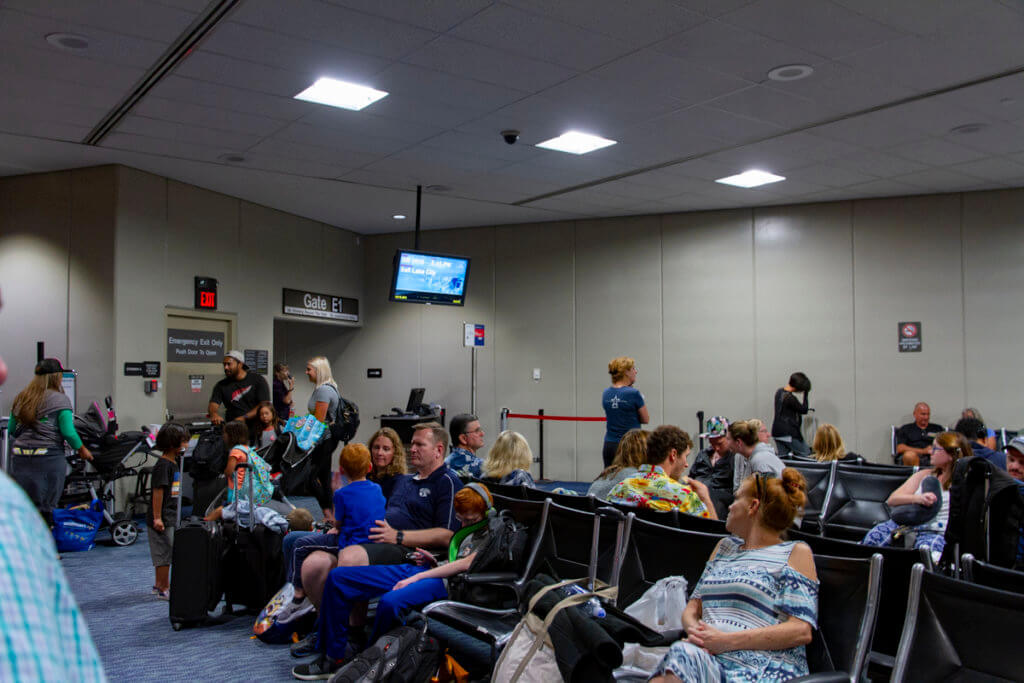 Boarding
Boarding for our 8:45 pm flight was scheduled to begin at 8:05 pm.  However, at 8:00 pm, the initial pre-boarding call was made for those needing extra assistance.  Following pre-boarding, there was a call for active duty military, followed by premium cabin passengers.  Following pre-boarding, the agents called up the Sky Priority group and then Group 1.  I was in Group 2 (of 4), but the agent that paged me earlier ushered me in at the tail end of Group 1, getting me onboard a few minutes earlier.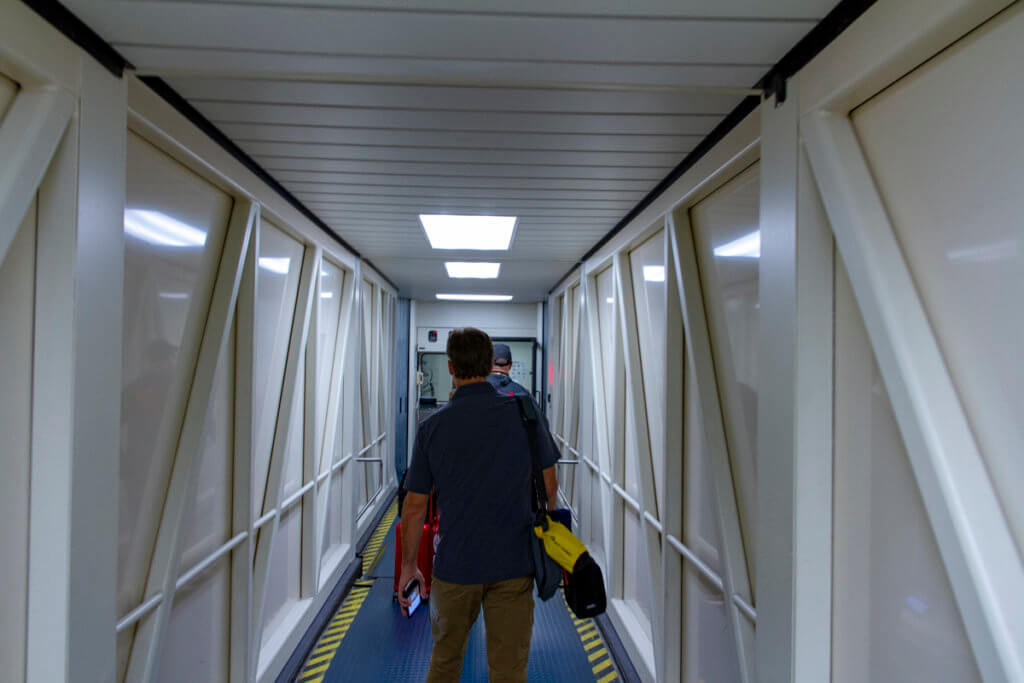 My aircraft that night, by the way, was a Delta Boeing 767-300ER (N176DZ), which rolled off the production line in April 1999.  The aircraft is nearly 20 years old, but she's in great shape.  In fact, the plane's interior is modern, bright, and spotlessly clean.  But, that's the Delta way.  They keep their aircraft in much better shape than American, and you can't even compare the condition of their birds to similar aircraft at Hawaiian.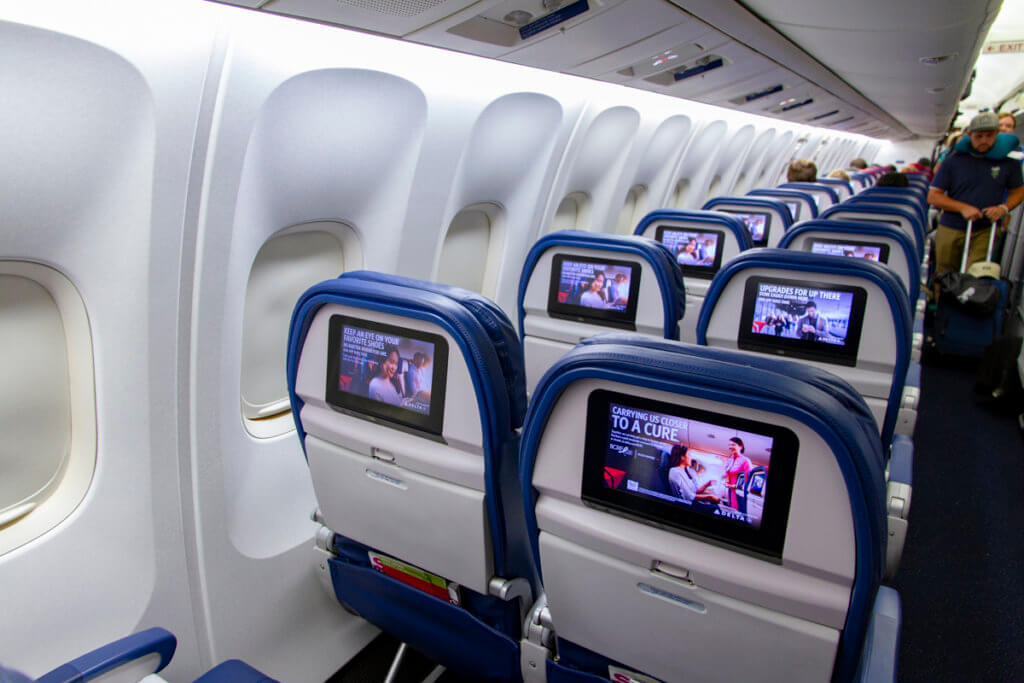 Seats
I'd have to say, the one thing I don't like about Delta is how they've monetized their seat selections.  You see, economy class begins at row 18, but if you want to assign yourself a seat in rows 18 through 24, it'll cost you $130.  OUCH.  That's more than it costs to fly in Alaska's Premium Class or Hawaiian's Extra Comfort! And Delta Comfort+ will set you back $210 on this route!  Seriously!  Why would you pay to upgrade?!  I'm obviously not a Medallion Elite, nor will my employer pay for preferred or Comfort+ seats, so I ended up assigning myself 27C, an aisle seat in the center.
Once aboard I headed to my seat, and waiting for me there were a blanket and a pillow.  Not the best quality stuff for sure, but I appreciate that they even offer them.  After all, Hawaiian only offers them on non-catered red-eye flights and Alaska doesn't offer them at all.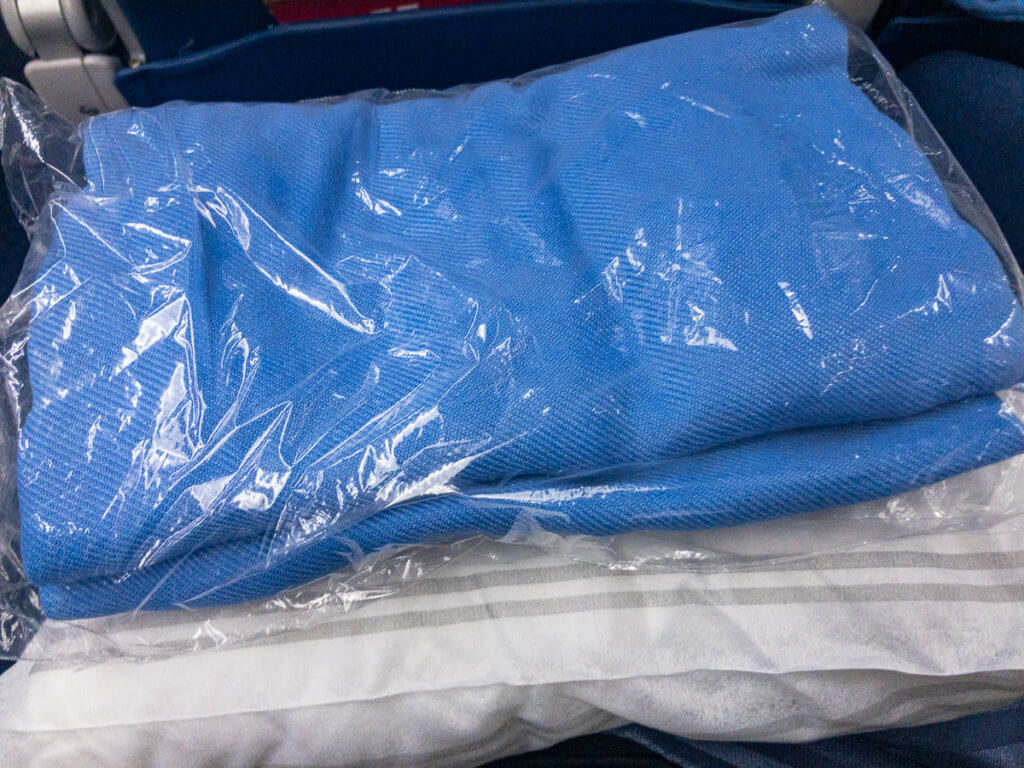 The seat itself has about 31 to 32 inches of pitch, which is a little more space than Hawaiian offers, plus individual air nozzles!  And, call me crazy, but I think Delta's seats have a bit more padding than Hawaiian's too.  But, aside from the differences in pitch and possible difference in padding, the seats are largely the same.  Same design, same seatback IFE hardware, and even the same USB-only power setup.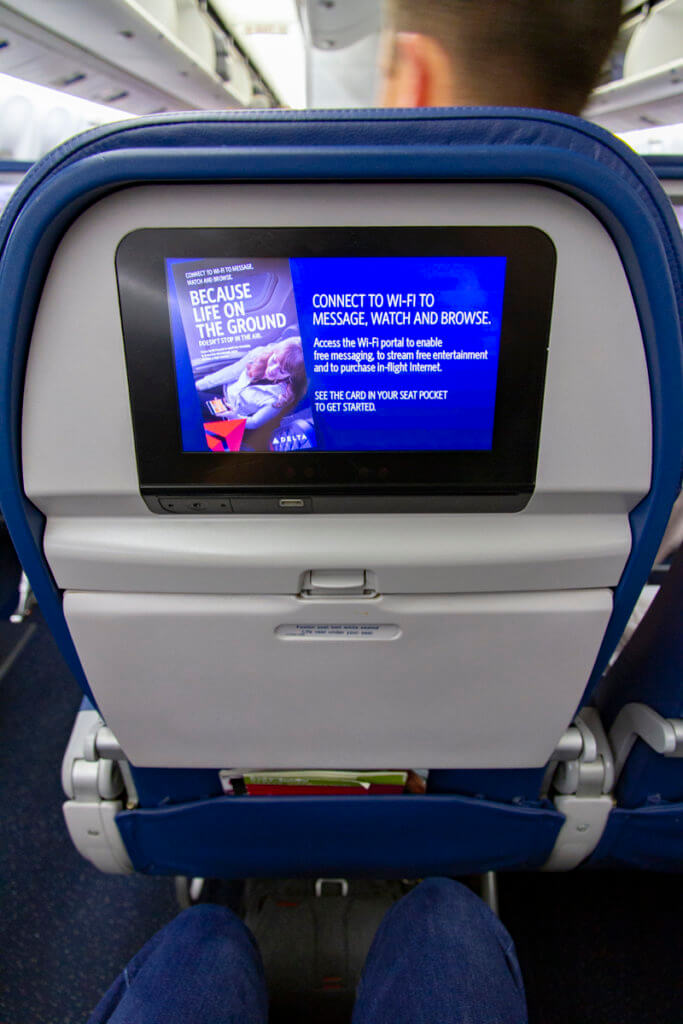 Boarding wrapped up in about 30 minutes and the doors closed at 8:36 pm.  Shortly after, the welcome and safety video was screened, and then we began our pushback at 8:40 pm; five minutes ahead of schedule.
DL2768 HNL-SLC
We had favorable conditions for departure that night, with almost no other traffic.  As a result, it took about 15 minutes to taxi out to HNL's reef runway where we began our take-off roll at about 8:56 pm.  Unfortunately, there was a bit of chop on the way out, which would last for most of the flight.  And, as you might imagine, this meant that cart service wouldn't be available for most of the flight either.
That said, the lights in the cabin remained off for pretty much the entire flight to allow passengers to sleep.  Announcements were also kept at a bare minimum as well, which I appreciate.  These are things Hawaiian Airlines needs to learn, as they apparently put the need to make ancillary sales over passenger comfort.  In case you couldn't sleep, though, Delta offers a wide variety of movies and TV shows, including newer releases like the Incredibles 2.  Complimentary earphones are also available if you don't have your own.
I ended up trying to sleep for most of the flight but had a hard time doing so.  I'm not lucky enough to be able to sleep anywhere and in any position. Thus, an economy class seat on any airline simply isn't going to do the trick for me.  But, I did notice that the flight crew went out of their way to try to fulfill passenger requests.  They even came through the cabin a few times throughout the flight with trays of water, despite the constant turbulence.  The seatbelt sign was eventually turned off over California.
Arrival
At 6:15 am Mountain Time, we began our descent into Salt Lake City.  The cabin lights were turned up a bit at the time as flight attendants came through to prepare the cabin for arrival.  Then, at 6:38 am, we had a rather harsh touchdown at SLC.  And by harsh, I mean jarring.  I'm surprised no overhead bins popped open.  And there didn't even seem to be much wind either.  Then, after a quick, six-minute taxi, we arrived at our gate at 6:44 am, 10 minutes ahead of schedule.
Like Alaska Airlines, Delta has a 20-minute baggage guarantee too.  As a result, by the time I got down to the baggage claim, bags were already circling around the belt.  So, I grabbed my bag and headed over to the car rental center.
Delta Air Lines 2768 HNL-SLC, Final Thoughts
I'm glad I finally got to give Delta a try.  I finally understand why people love this airline so much.  Not only are their aircraft comfortable, but their service is excellent.  I still think Alaska's service is excellent too, but Delta edges them out by a little.  After all, Delta's aircraft all have seatback IFE, and they provide pillows and blankets.  But the soft-product on both airlines is quite similar, and Alaska does offer standard outlets at every seat too.  Plus, Alaska's pricing is a whole lot more affordable than Delta's, and their loyalty program is by far better.  As a result, I'll likely keep most of my flying with Alaska for the time being.  But, Delta is worlds better than Hawaiian in just about every way.  And, of course, they're far better than American too.
Utah 2018
Delta Airlines 2768 HNL-SLC