On the final day of our Food Centric Staycation, we decided to sleep in a little. As a result, we wanted to get some brunch nearby. So, we decided to give the Herringbone Waikiki brunch a try.
Actually, I've been to Herringbone Waikiki for brunch before with a jetsetting buddy last year. But, Mrs. Island Miler had never been, so why not? Besides, the Herringbone Waikiki is a short walk from the Hyatt Centric Waikiki.
Location
Herringbone Waikiki is one of a handful of restaurants you'll find at The Grand Lanai at the International Market Place. Specifically, you'll find Herringbone across the way from Eating House 1849 near Kona Grill and Goma Tei.
Atmosphere + Service
Herringbone Waikiki is owned by the same company that owned Yauatcha Waikiki. So, it didn't surprise me that service was all over the place here. The hostess wasn't rude, but she wasn't friendly either. Our server was friendly, though, and pretty helpful. Overall, though, service was quite slow; even early on when the restaurant was relatively empty.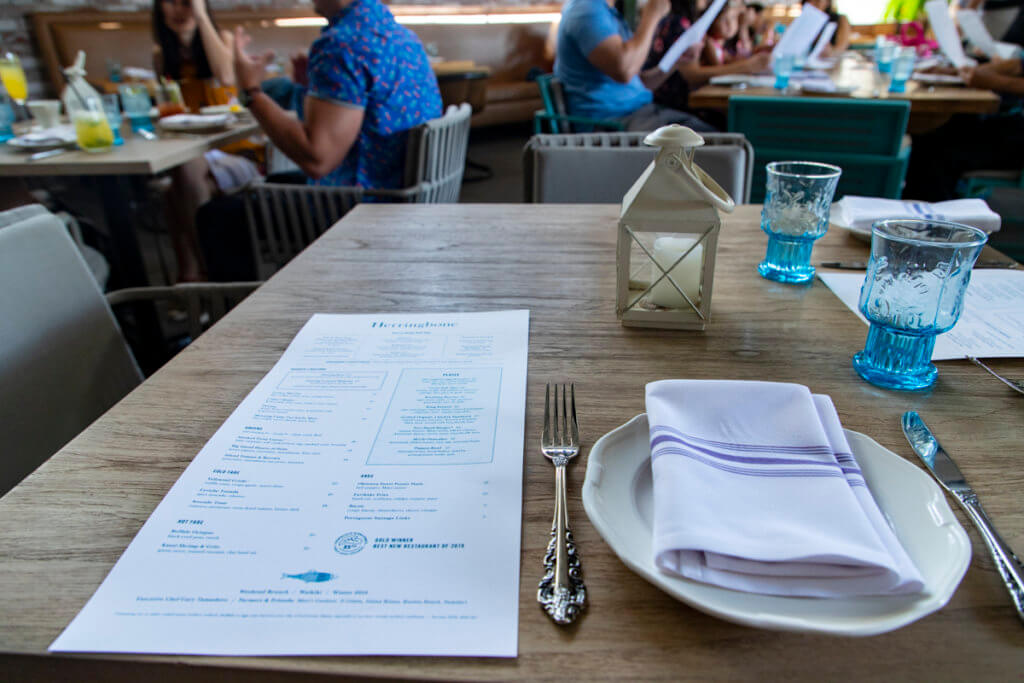 As far as the atmosphere goes, the restaurant was lovely. But, by the time we finished our brunch, the place was PACKED. And, as you'd imagine, with the place at capacity, it was quite loud in there. But the crowds are expected here, as Herringbone Waikiki is a popular brunch spot. After all, they offer unlimited mimosa and rose packages. But that's not why we came here.
Cuisine
For our brunch, Mrs. Island Miler and I went with a somewhat unusual mix of dishes. To start, we decided to give the Furikake Fries a try.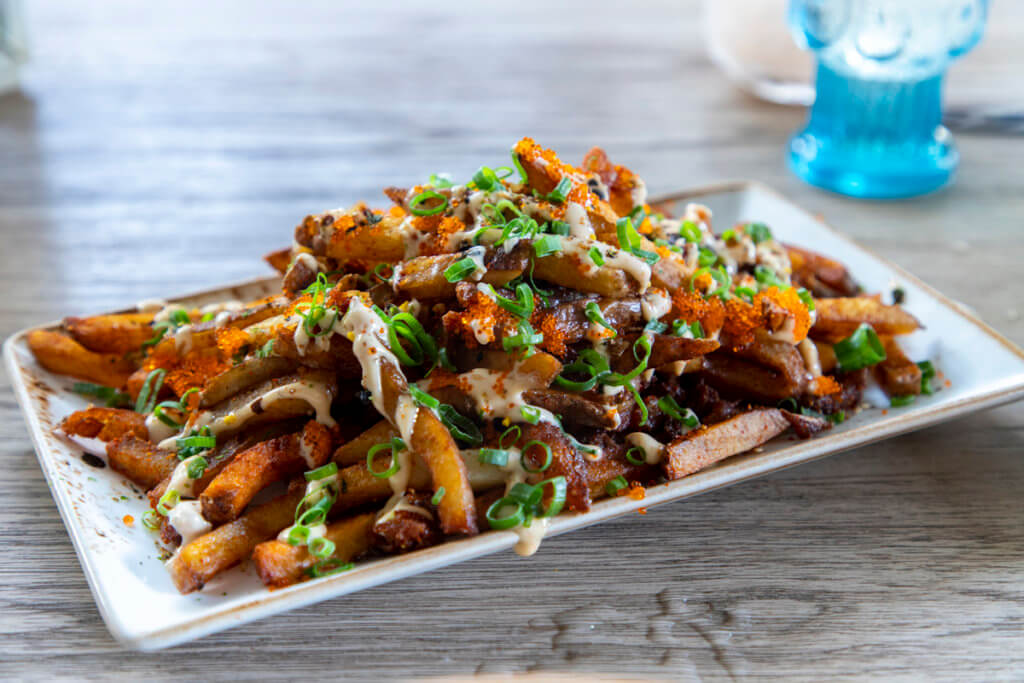 These crispy, perfectly cooked fries came topped with furikake, Sriracha mayo, tobiko, and green onions. It was delicious, but I'm not sure I'd order it again at $15.
For her entree, Mrs. Island Miler decided to get the signature Herringbone Eggs Benedict ($28). That price is pretty steep for eggs benedict, but this isn't your average version. Instead, you get griddled sweetbread topped with bacon, spinach, poached eggs, king crab, uni, hollandaise sauce, green onion, and caviar. It's a difficult, messy dish that's alright.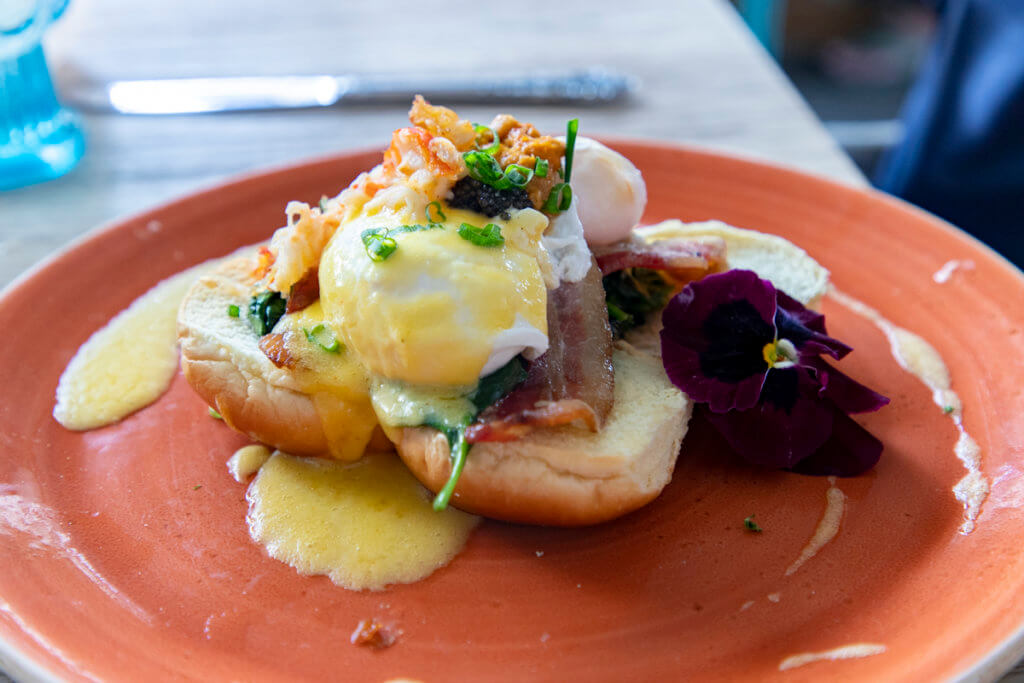 Me? I got the Mochi Pancakes ($21). The price seems steep for this too, right? But each order comes as a short stack (three pancakes) of large, dense pancakes. And, to dress them up, the pancakes come with a side of lilikoi butter, tree sap (lilikoi syrup), and seasonal fruit.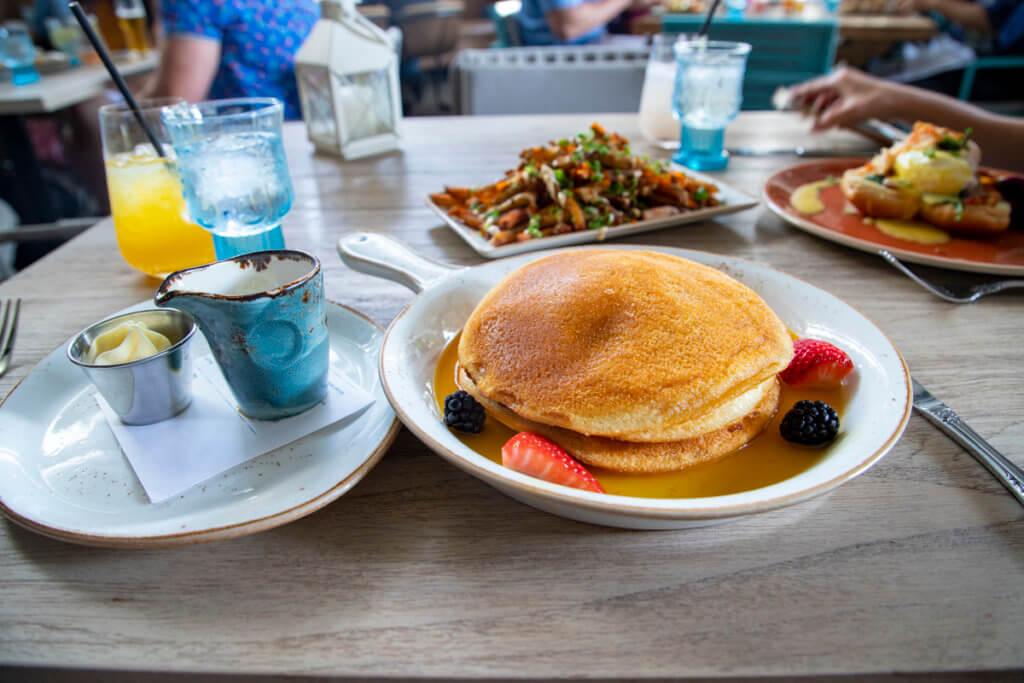 To me, these pancakes are a good reason to come to Herringbone Waikiki for brunch. They're dense and chewy, and are reminiscent of butter mochi, smothered in a sweet-sour lilikoi syrup. Oh, and they're very filling. I finished only a quarter of these and took the rest home. Heck, our server said he's never seen anyone finish the pancakes by themselves.
Herringbone Waikiki Brunch, Final Thoughts
Honestly, Herringbone Waikiki is an over-priced restaurant with mediocre service and food. However, I do like the Mochi Pancakes quite a bit. Plus, if you love mimosas and rose, then brunch here might be a good deal for you. The unlimited booze packages go for $25 with no cap so long as you finish by 2:00 pm. But if you don't want to try the pancakes or don't want the unlimited alcohol, maybe check out the delectable Hideout Waikiki brunch instead.
A Food Centric Staycation
Herringbone Waikiki Brunch