If you fly maybe only once per year and think my Hawaii credit card award travel guide is too complicated, then this post is for you. So let's talk about what are, in my opinion, the best credit cards for infrequent flyers of 2021.
And if you prefer to drive instead of fly, check out our favorite RV credit cards here.
If you don't travel often, there are still ways to score deals via credit cards. You don't have to go through all the points conversion work if you're fine with flying economy and primarily travel domestically. So, let's get into it.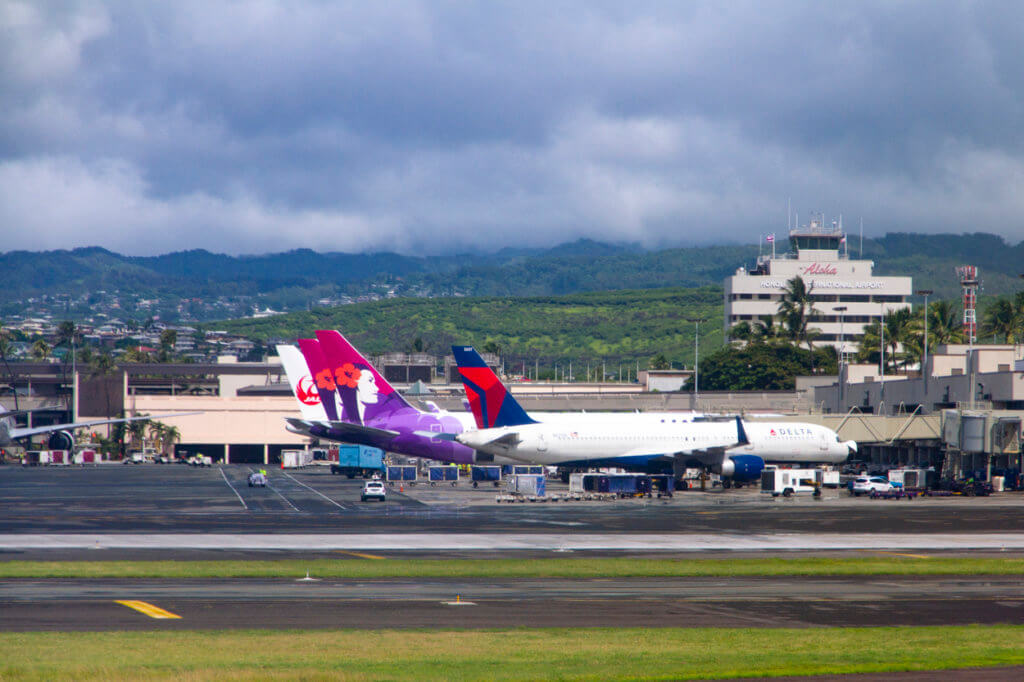 Alaska Airlines Mileage Plus Visa Signature
If you usually travel with someone else, one of the best credit cards for infrequent flyers is the Alaska Airlines Mileage Plan Visa Signature from Bank of America. In fact, this is probably the best airline credit card around. Why? The value it provides its cardholder. Here are the major points:
Annual Companion Fare
First Checked Bag Free
$75 Annual Fee

Annual Companion Fare
Let's break these benefits down a bit. First up, the famous Annual Companion Fare. This benefit, which you get every year on your card anniversary, lets you purchase a companion a ticket on your itinerary for $121+ depending on airport fees, etc. So, in a terrible example of this, I bought a one-way fare from Los Angeles to Honolulu for the wife and I. My ticket cost $244, while I paid $123 for my wife's ticket – that's about half off. But in a better example, back in 2016, I bought a roundtrip ticket between Honolulu and New York for about $850 (the lowest available fare even without the certificate) and paid $150 for my wife's ticket. That's a MASSIVE saving. Either way, both of these use cases more than justifies the card's annual fee. After all, even in my worst example, you still come out $48 ahead.
It's worth noting that this fare is valid on ALL Alaska Air flights. That means you can use it to travel, not only throughout the US but also to Alaska's international destinations such as Canada, Mexico, and the Caribbean, too.
First Checked Bag Free
Airline credit card checked bag fee benefits come in all different kinds of shapes and sizes. The Alaska Airlines Mileage Plan card, however, offers one of the better values in this regard. That's because you get not only your first checked bag free, but up to six people on your itinerary enjoy this benefit too. That's a saving of $60 per person for each roundtrip flight you take or $120 per couple per roundtrip flight. Got a family of six? That's a $360 savings per roundtrip flight!
Think about it this way, in my worst-case scenario, the card already saves $168 – and that's AFTER paying the $75 annual fee. Crazy, right?
Got a family of four or want to take two couple's trips per year? Get a card for yourself and your companion.
Delta SkyMiles Platinum American Express Card
Maybe you like the idea of Alaska Air's Companion Fare but want more flexibility. Well, then the Delta SkyMiles Platinum American Express card may be for you. The major points of this card include:
Annual Companion Certificate
Free First Checked Bag
Global Entry or TSA Pre-Check Fee Credit
$39 Delta Sky Club Access
20% Statement Credit on In-Flight Purchases
$250 Annual Fee
I know what you're thinking – a $250 annual fee is far higher than $75. But, let's break down these benefits in detail.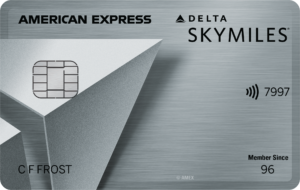 Annual Companion Certificate
You'll notice that Delta calls their companion benefit a certificate rather than a fare. That's a critical distinction. Why? Unlike the Companion Fare, which requires a $99 payment in addition to the taxes and fees, the Companion Certificate only requires payment of taxes and fees of not more than $75. Nice, right?
Now, it's important to note that Delta's Companion Fare only works on domestic flights within the lower 48. HOWEVER, there's an exception for residents of Hawaii, Alaska, and Puerto Rico. If you're a resident of one of these states/territories, you have an address registered to your account fin one of these areas, and originate your flight from these areas, you can use the Companion Certificate.
Checked Bag Benefit
Delta's first checked bag benefit is nearly identical to Alaska's. The only difference here is that you're capped at four people on the same itinerary for a maximum savings of $240 per roundtrip flight.
Global Entry or TSA Pre-Check Fee Credit
This is a fairly common benefit, especially on more expensive cards like the Chase Sapphire Reserve or the American Express Platinum. And, basically, the benefit reimburses you the cost of these programs when you charge them to your card. So, if you choose TSA Pre-Check, you'll pay (and get credited back) $85 every four years. But, really, you should opt for Global Entry. Not only do you enjoy expedited custom screenings, but you get TSA Pre-Check as well. That has a value of $100 every four years.
Other Benefits
I won't get into the other benefits too much since they're fairly straightforward. The $39 Delta Sky Club Access grants you a lounge day pass for $39. It's worth noting, though, that you CANNOT purchase a day pass anymore unless you have specific cards such as this one. Previously, a day pass would set your back $59. What's more, to enter the club, you must have a same-day ticket for a Delta-operated flight.
The statement credit for in-flight purchases is just that. Spend $11 on an economy class sandwich pack using your card? You'll get $2.20 credited back to your card.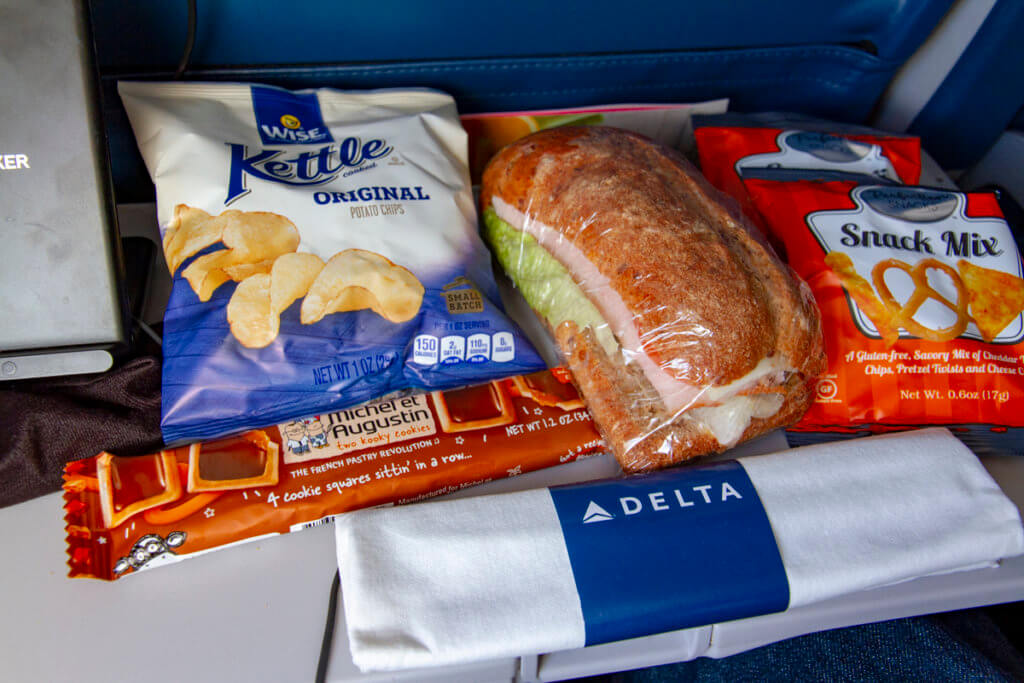 Example
Say you want to fly to Salt Lake City, Utah, from Honolulu to visit one of Utah's fantastic national parks, such as Golden Spike or Zion. A roundtrip ticket for early September 2021 will set you back $387 in Basic Economy or $457 in Main Cabin. Regardless of which you choose, you'll pay a maximum of $75 for your companion. So, even if you book Basic, you'll save $342 on the fare alone. Then, toss in another $120 for checked bags for both of you, and your net savings is already $462. Hungry? Buy a couple of sandwich packs and tack another $4.40 In savings.
After deducting the annual fee, you come out saving a net total of $216.40 from the one flight. Pretty awesome, huh?
Hawaiian Airlines World Elite Mastercard
If you've been reading this blog for a while, you might think that the Hawaiian Airlines World Elite Mastercard's inclusion in my best credit cards for infrequent flyers of 2021 rankings might be a bit odd. After all, this is a card I rip on quite often. But, I must give credit where credit is due. If you're a person that flies to Vegas every year and you travel with someone, this card is marginally worth it. Let's break it down:
$100 annual companion discount
First Checked Bag Free
$99 annual fee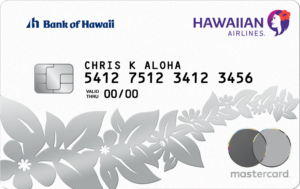 Off the bat, it's easy to see what this card might be worth having. That $100 annual companion discount basically wipes out the annual fee IF you use it. That said, $100 off a flight to Vegas is not much. The last time I used the benefit, I paid a whopping $1,300 for my wife and I. In Extra Space seating. And, yes, that's AFTER this discount. But, we were traveling with others, so it wasn't much of a choice.
As far as the checked bag benefit goes, Hawaiian is really stingy with this one too. Only the primary cardholder gets the first checked bag for free. So, that's a savings of $25 for inter-island flights or $30 for trans-Pacific flights. That means, on your theoretical Vegas flight, you'll save $160 on your flight for two people. Subtract out the annual fee, and your total savings is $61. That's not nothing, but it also isn't anywhere near as much as you'd save with the other two options.
Best Credit Cards for Infrequent Flyers 2021, Final Thoughts
It's important to note that this post doesn't consider other aspects of the above cards, such as travel insurances and other ancillary features. Nor am I taking into consideration the value of the points they earn. You can easily see how pitiful direct earnings are when you look at my Hawaii Credit Card Award Travel Guide and compare the Hawaiian Airlines World Elite Mastercard's performance to the other cards. And it only gets worse with Delta since SkyMiles is one of the worst loyalty program currencies around. Instead, we're here to look only at the direct value you can extract from these cards.
So, given the data we've covered, which airline card are you more likely to carry? There are strengths and weaknesses to both and which one you choose largely depends on your travel preferences. I carry the Alaska Airlines Mileage Plan Visa Signature card right now and will continue to do so as long as the benefits remain the same.