The normal rule of thumb is to transfer your Ultimate Rewards points to the partner(s) of your choice, right? Well, here's why you should book hotels through Ultimate Rewards instead of transferring your points.
When to Book Through Chase
Now, let's be clear, booking through Chase isn't always a good idea. This is especially true at big chain hotels like Marriott, Hilton, Hyatt, etc. Why? Because you often won't earn points, won't earn elite credits, and won't be able to use your elite benefits when booking through Chase. That's because Chase's portal is by Expedia, which is an OTA. And we all know how much the hotel chains hate OTAs.
But if you don't care about elite benefits or earnings, or perhaps you're booking with an independent property, then booking hotels through Ultimate Rewards might make sense. Let's take a look at a few examples.
Major Chain Example Pricing
To do a comparison, I searched for hotels in Honolulu the weekend before Christmas. As you can see, Ultimate Rewards redemptions are pretty reasonable for the listed hotels. While there's a much bigger selection, this particular subset ranges in price from 14,400 to 28,842 points per night.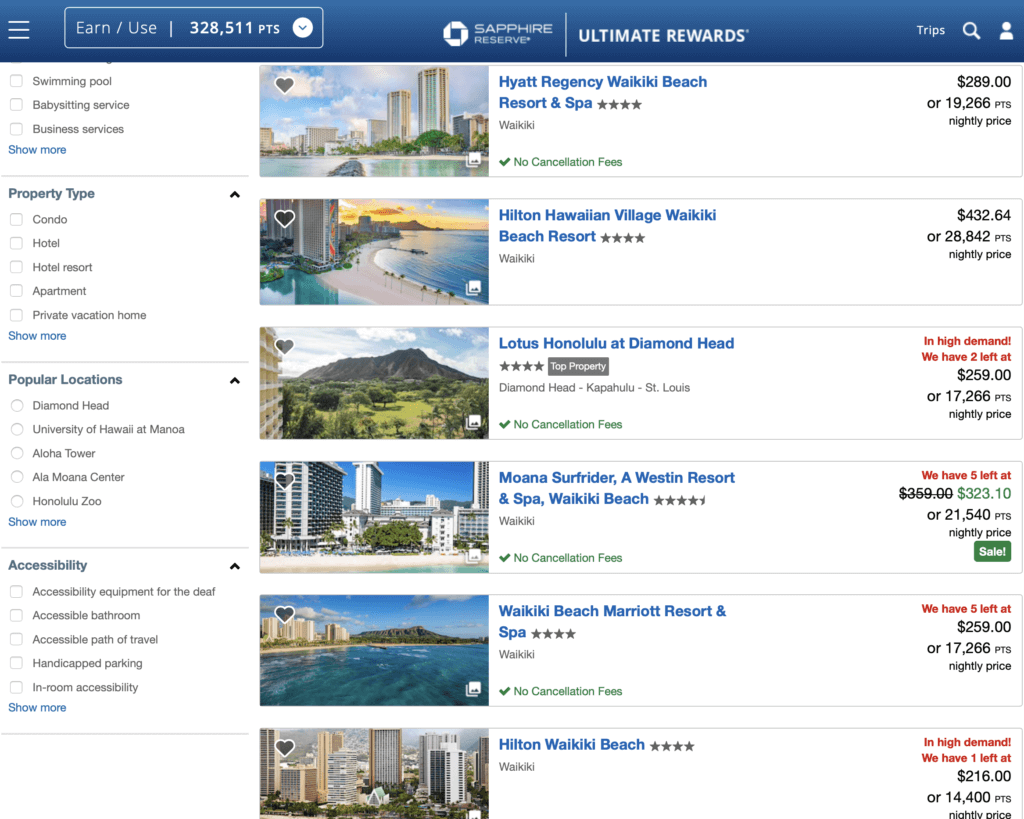 These point redemption prices aren't necessarily the best deal, though. For example, if we look at World of Hyatt redemptions on the same dates, the redemption rates are really similar. So, in this case, it makes more sense to transfer points and book to take advantage of your elite benefits and elite night earnings. But that's only if you can find availability. Remember, Hyatt properties LOVE to play games with availability nowadays.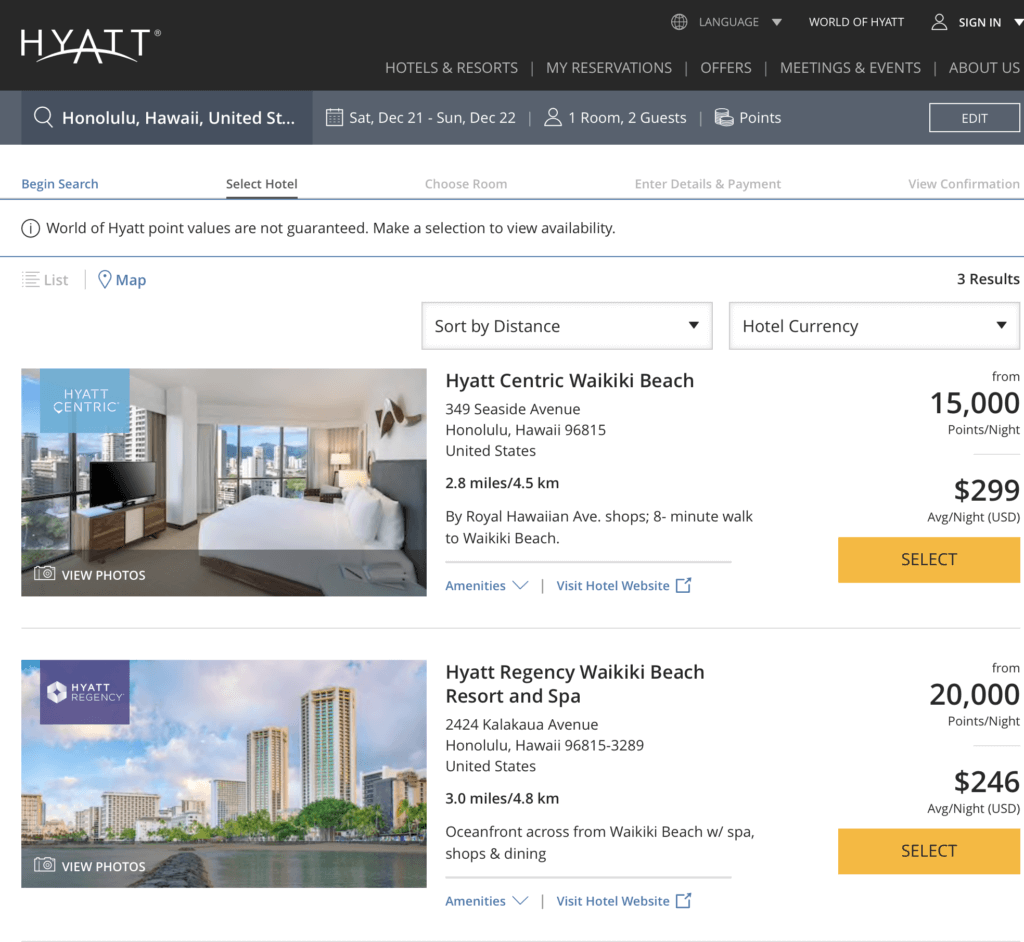 But, when you look at Marriott Bonvoy, clearly Ultimate Rewards redemptions are a far better deal. For example, it cost 17,266 UR points vs 50,000 Bonvoy points at the Waikiki Beach Marriott, and 21,540 UR points vs 60,000 Bonvoy points at the Westin Moana Surfrider. Just remember, though, that you won't receive your elite benefits or elite night credit earnings when using UR points.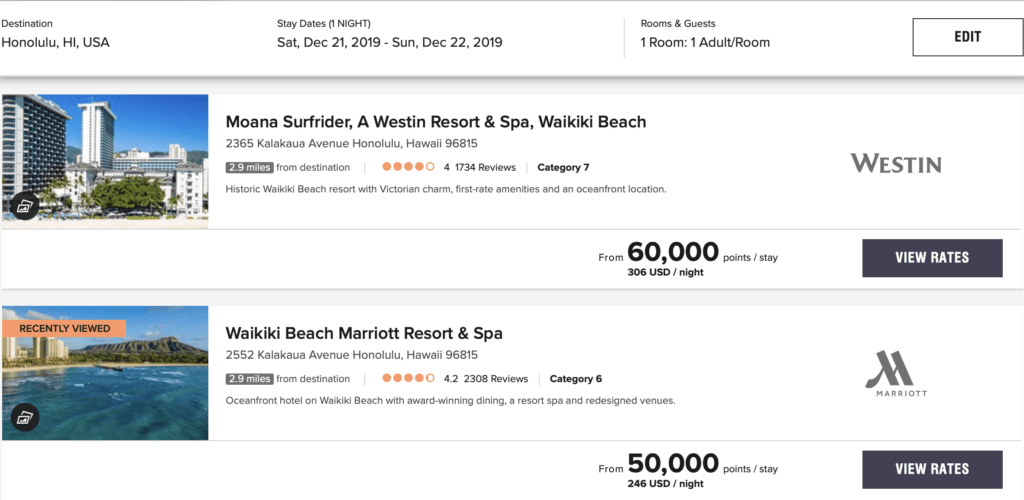 The same is true for Hilton properties. With Chase, you'll pay 28,842 UR points, while booking direct with Hilton, you'll pay 60,000 points. Granted, you'd need Amex MR points to transfer to Hilton.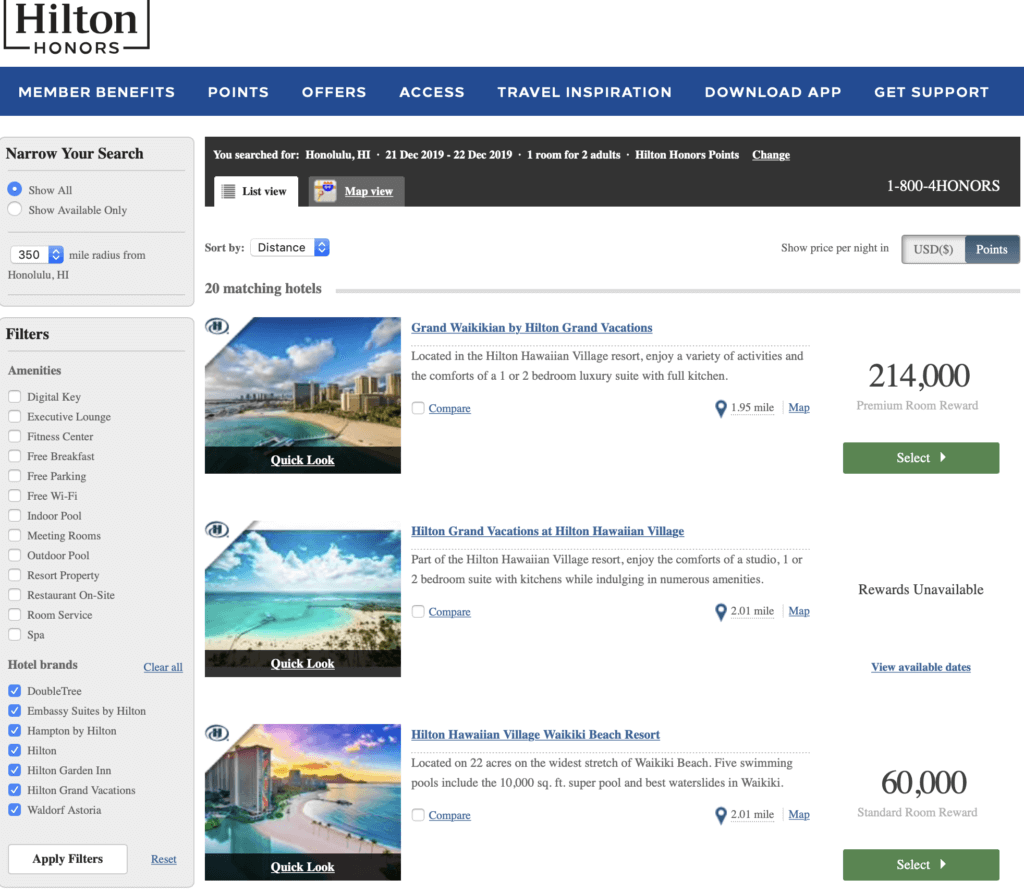 While the Ultimate Rewards prices blows the Hilton Honors and Marriott Bonvoy prices out of the water, it's important to remember that both brands offer a 5th-night free benefit on award stays. So, it doesn't forget to factor that into your calculations when comparing prices.
Independent Hotel Pricing
Of course, the best use of Ultimate Rewards points as far as hotels go is using them to book independent hotels. Here are a few examples using the above criteria.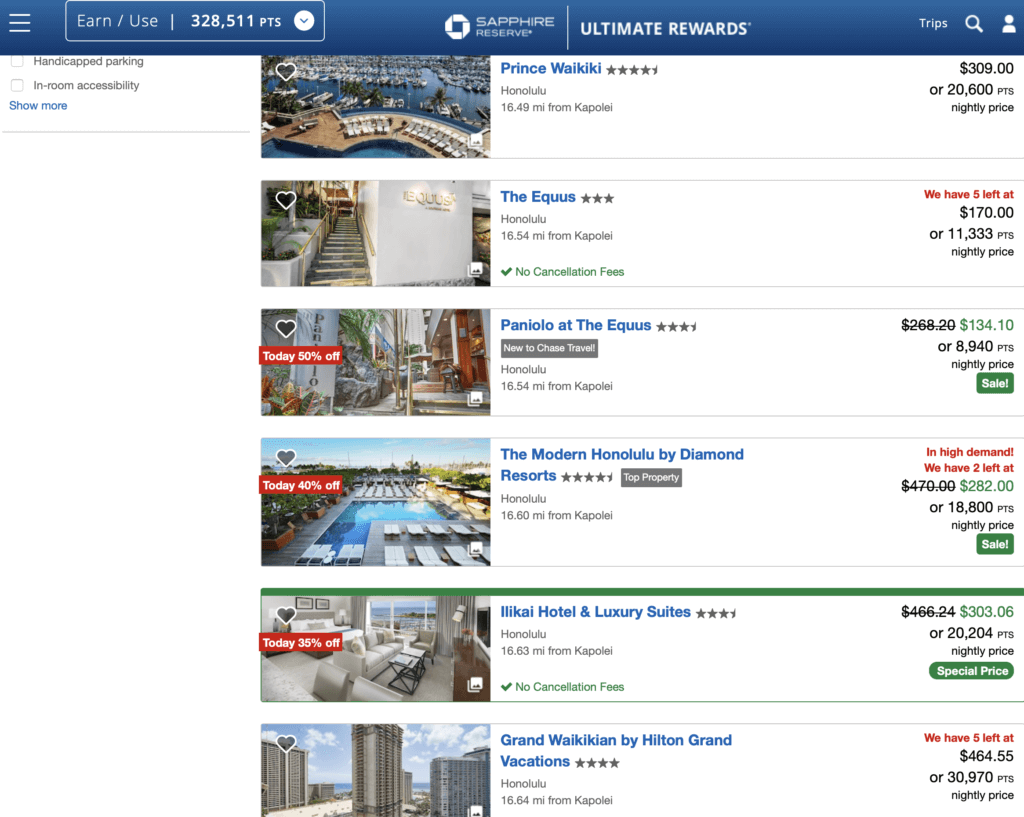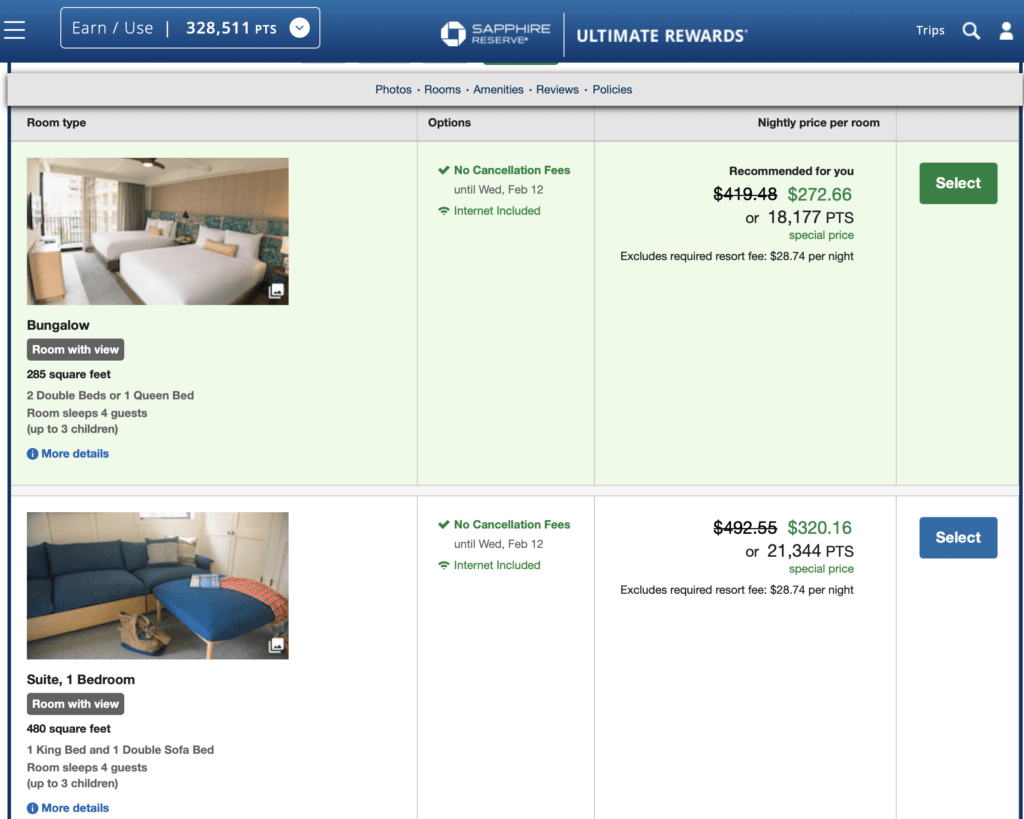 While none of the above hotels are on the beach (though the Ilikai is maybe a 5-minute walk from the beach?), most of these are legitimately nice hotels. I mean, the Prince Waikiki, The Modern Honolulu, The Ilikai Hotel & Luxury Suites, and the Surfjack are all places I'd stay at.
How Do Amex Membership Rewards Redemptions Compare?
I did a search via Amex Travel for the same dates as above, and I have to say, their rates don't compare whatsoever.

For example, the Modern Honolulu prices at 29,266 MR points per night, while it's 18,800 UR points with Chase. The Prince Waikiki is even higher at 42,714 MR points per night, whereas Chase lists at 20,600 UR points per night. Seriously, the Amex rate is more than DOUBLE Chase's!
So, yeah, Ultimate Rewards > Membership Rewards for direct booking with hotels.
Book Hotels Through Ultimate Rewards Instead of Transferring, Final Thoughts
Honestly, I've been struggling to allocate funds towards the review of independent hotels here in Honolulu. The answer to that issue, though, has always been right there in front of my face. And, I must say, I'm a little embarrassed that I haven't considered this option. But, hey, better late than never, right?
It's also worth noting that the above prices are for Sapphire Reserve cardholders. Remember, Ultimate Rewards points under the Reserve are worth 50% more. So, if you have a Preferred version of the card, your prices will be 50% higher.