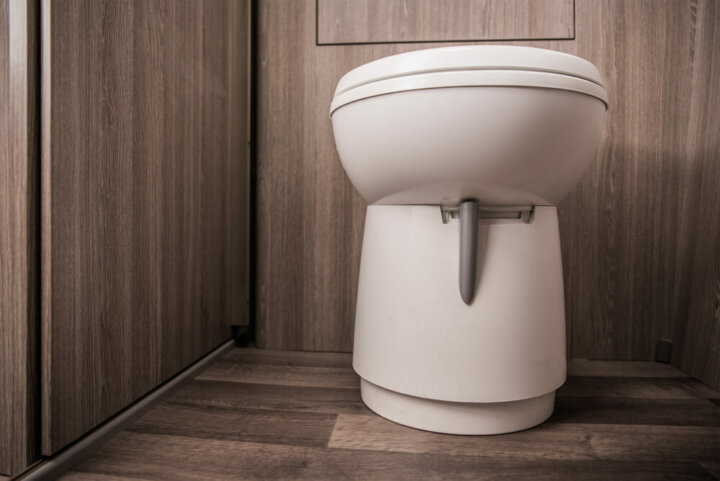 All of our reviews are based on exhaustive research, industry experience and whenever possible, hands-on testing. When you make a purchase using one of our chosen links we'll get a small percentage of the proceeds. This supports the site and keeps Jeffsetter running. You can read more here.
While RV living is meant to offer many of the same comforts as home, that doesn't mean that everything works the same as it does in your house. One of the things that's a little different is your RV septic system. Instead of taking waste from the toilet through pipes to a waste treatment facility, your waste is stored in a blackwater tank.
RV owners need to put chemicals in the tank to help break solids down. Then, all the liquids are sucked out at an RV dump station and processed at a waste treatment facility.
Since solids break down in a tank, can you flush tampons down a camper toilet?
Even though a tampon technically can go down an RV toilet, no you should not flush tampons down an RV toilet. RV blackwater tanks hold waste that is broken down before being flushed out. Since tampons don't break down, they get trapped in the blackwater tank and can cause problems like clogs and bad odors.
Below, we'll take a look at why you shouldn't flush tampons down an RV toilet, what you should do instead, and how to take care of the problem if this is something that's already happened.
Can You Flush Tampons Down an RV Toilet?
While you technically could flush a tampon down the toilet of your camper or RV, it really isn't the best idea. RV septic tanks are made for human waste and toilet paper. In fact, most people use RV-safe toilet paper because it's thinner and breaks down faster than household toilet paper does.
Even though tampons are biodegradable, the chemicals used in RV black water tanks don't break down quickly like RV toilet paper. So even if they flush down the toilet at first, they can get trapped in the black water tank, cause odors, and even block the pipes. The build-up of solid waste on the bottom of the tank also means it gets fuller faster.
Why Shouldn't You Flush Tampons Down a Camper Toilet?
To understand why you can't flush tampons down your camper toilet, you must understand how your RV camper toilet and blackwater tank work. Here's a quick video on the water system in your RV before I explain blackwater and your RV toilet.
The blackwater (that's water and waste that comes from your toilet) is held in its own tank. When you go to an RV dump station, you attach a hose and it removes all the liquid waste from the tank. The hose is not designed to pick up solids and those are usually left behind.
Most of the contents of the blackwater tank are liquid because of the chemicals that are put in there to break down waste and RV toilet paper into smaller pieces. These chemicals aren't strong enough to break the tampons down, so a lot of times they get left behind sitting at the bottom of the tank.
Tampons are really absorbent, so they trap a lot of the liquid in the blackwater tank. Since they aren't being flushed out regularly with the rest of the waste, they will most likely cause bad smells that don't seem to go away. There's also a risk of them causing problems if they do get picked up and sucked into the pipe or if they settle somewhere along the pipe system.
Plastic tampon applicators (or anything hard) shouldn't be flushed down an RV toilet either. While they're less likely to cause a clog, they can block openings and toilet paper can get caught on them, which eventually results in a blockage. There's also a risk of the edges of plastic causing nicks and scratches as it moves around in the black water tank and causing damage over time.
A Quick Look at What You Can (and Can't) Flush Down Your RV Toilet
As a general rule, you shouldn't put anything down your camper toilet that you couldn't flush down your toilet at home. This includes women's sanitary products like tampons and pads, as well as any type of personal hygiene wipe, baby wipes, or anything else that isn't human waste or RV-safe toilet paper.
You cannot flush most kinds of toilet paper either, however, there are kinds of toilet paper safe for your RV toilet. They are generally thinner, and they do break down faster than household toilet paper. RV toilet paper works well, but you could also use marine toilet paper or biodegradable toilet paper.
How to Properly Dispose of Tampons in an RV?
The best way to dispose of tampons when you're in an RV is in feminine hygiene bags designed especially for this purpose. Most of them are a solid color so you can't see inside and they lock in odor.
However, there's nothing wrong with wrapping the tampon in some toilet paper and throwing it away in your RV bathroom trash can. It shouldn't be an issue if you empty it often enough. If you do have a problem with odor, then throw the wrapped tampon in a Ziploc bag and seal it shut before tossing it in the trashcan.
What to Do if You Accidentally Flush Tampons Down a Camper Toilet?
Accidents happen, especially when relatives or friends are visiting or you're new to RVing. The good news is that hopefully, you'll be able to dislodge the tampon without any incidents. Otherwise, you might need to call in certified help.
Tampon, wrong toilet paper, not enough chemicals, or something else, you'll know there's a problem if your RV toilet is bubbling, not flushing, or has a bad odor. These methods should work on most clogs and solid waste build-up.
Try to Fish It Out
This method is best for when you can still see the tampon in the drain. Open up a metal clothing hanger and use the end as a hook to grab onto the tampon and dispose of it. This stops it from going into the tank and causing problems altogether.
That being said, you shouldn't use this method if you can't see the clog. You should also avoid scratching the sides of your plumbing with the hanger to prevent damage.
How to Dislodge a Clogged Tampon?
If you can't see the tampon, then there are a few methods you can use. Of course, these methods will push the tampon down into the blackwater tank, rather than remove it altogether. You'll still want to take steps to help dislodge it and prevent further problems. A lot of these methods will solve any other RV toilet clog you might have, too.
Try Plunging It or Snaking the Drain
Plungers, snakes, and wands are all tried-and-true methods that work in RVs like they would in your home's toilet. Plunging creates suction that helps waste solids move down, while snakes and wands kinda push the clog further down.
With any of these methods, you may need to add more water to the toilet so you can flush the pipes since you don't have as much water readily available as you would in a toilet at home.
Add Boiling Water to the Tank
Boiling water works to dislodge any solids by helping them break down so they can move down the tank. It also works well for solid build-up in your tank, which can happen if your blackwater tank isn't breaking down solids enough between trips to the dump station.
However, this method isn't perfect and you may need to try it more than once for particularly stubborn clogs. Some people even recommend adding boiling water about 12-24 hours before emptying your blackwater tank. This will dislodge solids so they are removed with the rest of the waste. Extra water will also help keep things flowing better, too.
Consider the Ice Method
I've also heard that adding ice to your RV toilet and flushing it works well. Ice are chunks, but they'll break down later on. As the RV tank moves around (this works best when you're on the road), those chunks can also help dislodge any solids stuck on the bottom of the tank, so hopefully, you'll be able to remove them at the next dump station.
Add Soap or Laundry Detergent
Another way to unclog your RV toilet is using dish soap or laundry detergent. The slippery suds help things move along the pipe, especially if you add water and let gravity do the work
Some other people swear by adding baking soda (you'll need about half a cup) to the toilet and then adding 1 cup of vinegar. This bubbles up and creates a reaction that eats away at debris stuck in the pipes. Follow this with boiling water to rinse any debris down into the tank. Alternatively, add a cup of baking soda and a mixture of 2 cups boiling water to 2 cups vinegar.
Final Word
So, can you flush tampons down an RV toilet? Probably not. While they might not cause problems immediately, RV septic tanks are meant to handle broken-down solids, waste, and liquid. Tampons don't break down like RV toilet paper does- if they did then they wouldn't be able to absorb liquid as well as they do!
Fortunately, even if a tampon is accidentally flushed down your RV camper toilet, there are a few steps you can take before it causes a big issue. Just try to avoid it happening in the future!