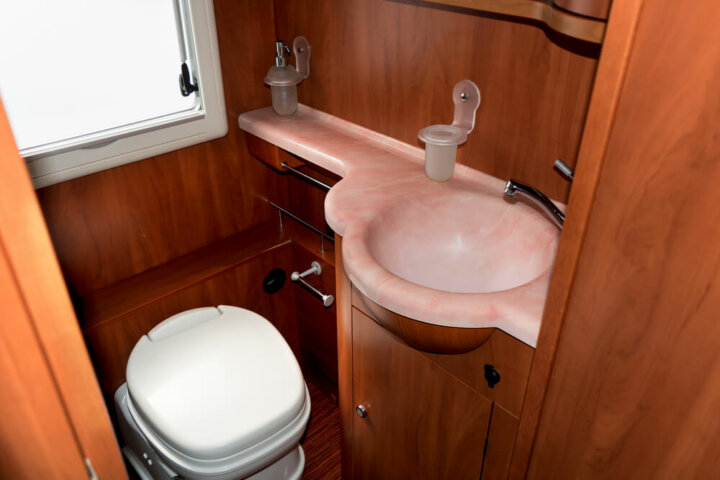 All of our reviews are based on exhaustive research, industry experience, and whenever possible, hands-on testing. When you make a purchase using one of our chosen links we'll get a small percentage of the proceeds. This supports the site and keeps Jeffsetter running. You can read more here.
Whether you currently use them in your residential home, do you know whether or not you can use flushable wipes in an RV? These useful and cleansing wipes have become a mainstay in many homes, but does this mean that you can use them on the road without consequence?
So, can you use flushable wipes in an RV?
While flushable wipes are often labeled as biodegradable and safe for our sewer systems, many products currently available on the market are dangerous for both RV plumbing systems and septic tanks. Many sewer systems around the world can't even handle flushable wipes, so you may want to think twice before using them in your RV.
In this article, we will go over everything you need to know about using flushable wipes in an RV. Given that the answer to whether or not you can use this product is up for debate, there are a great number of things to discuss.
Whether you frequently use flushable wipes in your RV or are curious as to whether or not this is a good idea, you're in the right place. Let's talk about flushable wipes in an RV setting now!
Using Flushable Wipes in an RV: What You Should Know
There are plenty of opinions about whether or not you should use flushable wipes in an RV. This is largely because there are so many products to consider as well as a variety of ways to use flushable wipes.
It's important to note that flushable wipes are different from biodegradable wipes, but both of these types of wipes are often mislabeled and misused.
Your RV plumbing is much more delicate compared to the plumbing found within a typical home. It is much easier to clog the small and narrow pipes found on board the average RV. Plus, you cannot break down clogs in an RV with traditional liquid drain cleaners such as Drano or Liquid Plumber.
There are multiple studies that suggest the danger of flushable wipes. Unless a flushable wipe is made entirely of organic or plant-based materials, the synthetic fibers and materials used to make these wipes don't break down easily.
This is true both in an RV setting as well as a traditional sewer setting. In fact, many cities are facing plenty of issues and sewer line clogs because of flushable wipes.
In addition, even if a flushable wipe is plant-based and in theory safe for the environment, it still may need a long time to break down. While these will be a better option for the environment overall, your RV black tank enzymes can only break down so much at any given time. However, you may find that emptying your RV black tank is easy and that you don't run into clogs very often.
This is why some RV owners choose to use flushable wipes in their RV, as they have yet to run into any issues. However, there are plenty of things to consider when it comes to using flushable wipes in an RV, especially an older rig with a less efficient plumbing system.
Problems With Flushable Wipes in an RV
Given that flushable wipes can cause problems in a traditional sewer or septic system, what are some of the problems that can cause in an RV?
Let's take a look at everything that you should consider before you flush anything down your RV toilet!
1. Flushable vs Biodegradable
One of the first things to consider when purchasing any type of flushable wipe is whether or not it is simply flushable or biodegradable as well as flushable.
Many of the modern-day wet wipes currently available on the market do not break down as readily as others. That's why it's important to only choose a flushable wipe that is labeled as biodegradable or otherwise compostable.
However, these products are often mislabeled and are unlikely to break down quickly, even if they are biodegradable. This is definitely something to keep in mind, especially if you are shopping for flushable wipes for the first time.
2. Clogs Are Common in Black Water Tanks
Even when using septic or RV-safe toilet paper, clogs are extremely common in an RV black water tank. Unclogging a black water tank is one of the least appealing parts of RV ownership, but it will likely happen to all RV owners at some point in time!
However, using flushable wipes makes clogs nearly a guarantee, even if you use biodegradable ones.
This is simply because of the way that black water tanks are designed as well as the way in which you use your own black water tank.
Many RV experts recommend keeping water in your black water tank so that solid waste does not build up as readily on the walls and floor of the tank itself.
However, the weight of a flushable wipe as well as the fibers involved in the production of these wipes make it difficult to clear them out when you visit a dump station.
Perhaps you have an infallible method of clearing out your black water tank so that you never have clogs, but flushable wipes are notorious for getting caught in places they shouldn't!
3. Some Wipes Clog Septic or Sewer Systems
As previously mentioned, there are a number of flushable wipe brands that cause clogs in both septic tanks as well as city sewer systems. These means of plumbing aren't necessarily foolproof, but they are more advanced than the average RV sewer.
Given the fact that some cities have put bans in place on certain flushable wipes, how can these wipes possibly be safe for your RV?
4. Unclogging a Drain Is Tricky in an RV
Whether your black water tank is clogged or you have a flushable wipe caught in your toilet, unclogging anything in an RV is not an easy task. This is largely because you can't use harsh chemicals such as Drano or any other liquid drain cleaner in an RV.
As a full-time RVer, let me be the first to tell you that unclogging a black water tank is no picnic. I exclusively use septic-safe toilet paper and plenty of water when flushing as well as when dumping my black water tank. Still, my vintage rig often clogs and I utilize other products and tools in order to combat this.
Given the types of fibers used to create flushable wipes, they are far more likely to get stuck and create a buildup or a larger clog compared to other materials. Some RV black water tanks are there less likely to get clogged than others, but is it worth the risk overall?
Solutions When Using Flushable Wipes in an RV
If you know you want to use flushable wipes while on the road in your RV, what are some possible solutions for you?
Whether you have kiddos that benefit from flushable wipes or you use them for yourself, here are some potential solutions to consider before you flush those wipes down your RV toilet!
Test Your Wipe First
If you aren't sure how readily your flushable wipes dissolve, you can always test this for yourself before flushing it down your RV toilet.
Simply put your wipe in a glass of water and let it be. Keep an eye on it and see just how long it takes for it to start to dissolve or break down, and this will give you a good idea as to whether or not it is safe to go into your RV black water tank!
Throw Your Wipes Away Instead
One of the most common solutions for flushable wipes on board an RV is to simply throw them away rather than flush them.
Many people who bring flushable wipes on their camping adventures do this rather than risk clogging their black water tank.
While it may not sound very glamorous to throw away your used flushable wipes, it's a small price to pay in exchange for a clear RV sewer system!
Use Plenty of Water When Flushing Wipes
When it comes to keeping your black water tank clear and unclogged, plenty of water is often the solution. This is also a natural way to help your flushable wipes both break down and keep them from clogging.
You should always use plenty of water when you flush an RV toilet and make sure to use additional water when dumping your black water tank.
Keep Used Wipes in a Sealed Bag
If you are alright with throwing away your wipes but are worried about the smell, you can always keep your used wipes in a sealed plastic bag or container.
This allows you some flexibility as to when you toss them, and you can always keep this sealed container outside of your RV and away from anywhere you may be able to smell it!
Final Thoughts
Plenty of people who camp in an RV don't have any issues with flushable wipes in their black water tank. However, even more people do encounter this issue.
When it comes to using flushable wipes in an RV, it is up to you and at your discretion as to whether or not you use them. However, keep in mind that wipes often need years to fully break down, which is likely a deal breaker for the average RV black water tank!