Last updated on August 24th, 2023 at 12:08 pm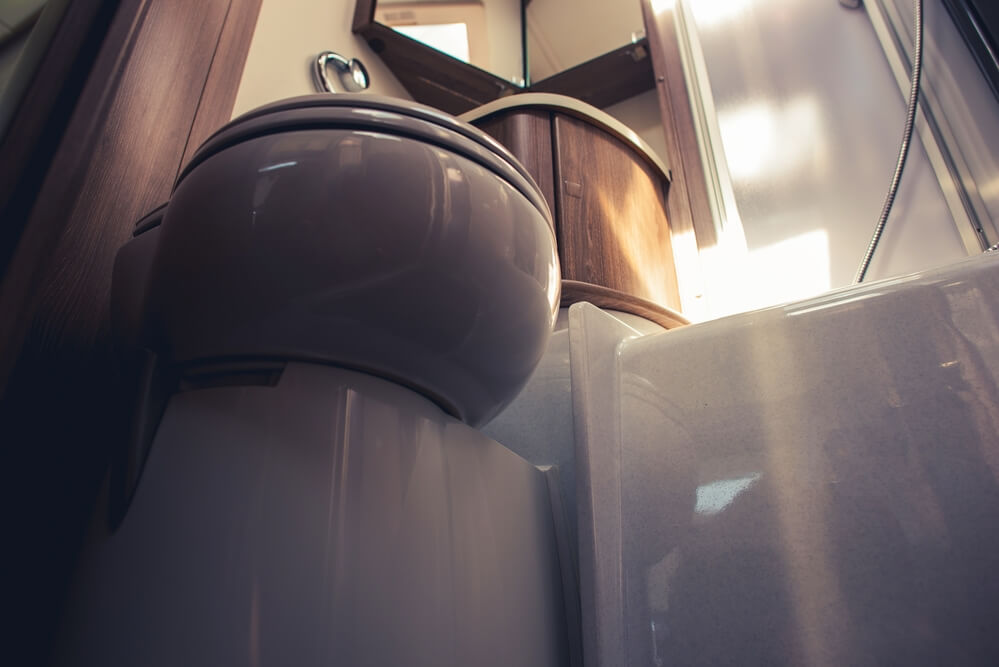 All of our reviews are based on exhaustive research, industry experience and whenever possible, hands-on testing. When you make a purchase using one of our chosen links we'll a small percentage of the proceeds. This supports the site and keeps Jeffsetter running. You can read more here.
Your RV sewer system is more delicate than you may think, which is why you should know what toilet paper is safe for RVs. Many new RVers may be surprised to hear you can purchase specialty toilet paper for your motorhome or travel trailer, but is this necessary?
What toilet paper is safe for RV?
Any RV-specific toilet paper is safe to use in RV toilets, but brands such as Kirkland, Scott, and Seventh Generation are popular RV-safe toilet paper options. Any toilet paper labeled as septic-safe can be used in RVs, along with normal toilet paper paired with tank cleaning products to help prevent blockages and clogs.
In this article, we'll cover everything you need to know about toilet paper and RVs along with why you might want to use RV-specific toilet paper from time to time. We'll also discuss a variety of different brands that are reliable in an RV setting, as well as other tips and tricks from a full-time RVer.
Let's get started so you can learn how to take care of your RV sewer system today!
Can You Use Regular Toilet Paper In Your RV?
It's possible to use regular toilet paper in an RV, however, there are different opinions about this, along with additional plumbing accessories worth purchasing to avoid any issues further down the line. In my personal RV experience, I haven't experienced any issues using regular toilet paper in my camper. But this isn't always the case.
I don't recommend using any type of regular toilet paper in your RV without tank cleaners or particular enzymes to help break down solid waste inside your RV's black water tank.
Even if regular toilet paper is labeled as septic safe, your RV system is much more delicate than the average septic tank, as talked about in the video below.
With the addition of tank cleaners and various waste processors, you can use regular toilet paper that isn't too thick with relative ease. Take it from me, a full-timer living in a travel trailer built in 1976! I use regular toilet paper and chemical tank treatments in tandem and have done so since the beginning of my travels.
But are there any reasons why you may not want to use regular toilet paper in an RV? Let's find out now.
Why Avoid Using Regular Toilet Paper In An RV?
So, is it really worth avoiding using regular toilet paper in an RV? Well, this is a tricky one to answer, as it depends on a few different factors. If you're comfortable using additional water and chemicals to ensure regular paper won't block the sewer plumbing, go ahead! However, if you would rather minimize water consumption and avoid clogs from the offset, RV-safe or septic-safe paper is the way to go.
It Struggles To Dissolve
The problem with using regular toilet paper in your RV is that it often struggles to dissolve in an RV setting as opposed to a traditional household with a regular toilet. This is especially true if you use thick and quilted toilet paper. I would strongly advise purchasing some additional accessories or RV toilet chemicals to assist the toilet system and make sure it functions optimally.
Regular Paper Needs More Water
Another downside to using regular toilet paper in your RV is the amount of water needed during flushing and using tank treatments. If you're a boondocker or plan on camping off-grid, you may want to rethink whether or not you want to use regular toilet paper or RV toilet paper.
This is because your utilities and resources are limited if you aren't hooked up to water or electricity while camping. The amount of water you need to safely break down regular toilet paper can be unrealistic for a boondocking situation.
Chemicals May Be Needed To Avoid Clogs
I'm all about using natural products wherever possible, but often, RV toilet blockages and clogs need substantial chemicals to boot them out to the dump station. This may not be the most ideal situation for RVers avoiding harsh chemicals, however, additional treatments are a necessity for RV toilets where regular paper has been used.
RV-branded toilet paper will dissolve with ease, leading to less water consumption overall, as well as a relatively clean tank at the end of your trip. While you may still need tank treatments for solid waste, you likely won't have to worry about running out of water or leaving mounds of toilet paper behind in your black water tank!
What Are The Pros And Cons Of RV Toilet Paper?
Many RVers argue that RV toilet paper should be the only toilet paper you use in your RV. Naturally, this type of toilet paper is completely safe when used in an RV setting, and you shouldn't have any difficulty choosing RV toilet paper exclusively for your rig.
Pro: RV Toilet Paper Breaks Down Easier
RV-specific toilet paper is designed to break down with ease, meaning there's no need to purchase any additional chemicals or accessories for an RV sewer system. Knowing your paper won't stick around and create blockages is true peace of mind, and saves any unpleasant future jobs with a clogged black tank!
Con: RV Toilet Paper Is More Expensive
The main reason many people choose not to use RV toilet paper is because of the cost. RV toilet paper costs far more than regular toilet paper and often comes in much smaller packs than traditional toilet paper as well. This is frustrating as RVing costs more than enough already! However, purchasing RV-safe toilet paper in bulk can result in a cheaper overall price per unit.
Pro: Clogs Are Unlikely
Many RVers swear by RV toilet paper as the last thing they want to ever deal with is a clogged black tank! If you don't plan on RVing for very long, RV-safe toilet paper is a good option to go for. You won't have to worry about anything clogging your black water tank, and it won't cost too much for a short trip.
Con: RV Toilet Paper Is Thinner
Given the necessity of RV toilet paper needing to break down as part of your RV sewer system, many people complain that RV toilet paper is too thin compared to traditional toilet paper. Not only are you paying more, but you're getting a subpar product in many ways.
Good Brands Of RV Safe Toilet Paper
Are you curious to know what brands of toilet paper are safe and ideal for use in an RV setting? Whether you want to use regular or RV toilet paper, here are some of the most popular options!
Kirkland Brand Toilet Paper
One of the most popular toilet paper brands that Rvers swear by is Kirkland Signature bath tissue. This product is available in bulk at Costco, but you can also purchase it online. It says it is septic-safe, which means it is ideal for use in an RV setting.
Not only is this product affordable and readily available- it doesn't have many issues when used in an RV plumbing system. So long as you use tank cleaners and chemicals in conjunction, this toilet paper may be a good option for you.
Scott Brand Toilet Paper
Another common brand of toilet paper that many RVers use in their rigs is Scott brand bath tissue. This product is available in local grocery stores and retailers, as well as online. Plus, it is safe for septic systems, and it is a product I regularly use in my RV.
This product specifically mentions that it breaks down and dissolves quickly so it is ideally used while camping or RVing. Knowing this may give you more peace of mind bringing it on your overnight trips!
Seventh Generation Toilet Paper
If you are looking for toilet paper that also makes you feel better about the environment, check out this option from Seventh Generation. Not only is this purchase more environmentally sustainable than others on this list but it is also recommended for use in an RV or camper setting.
Using toilet paper that is made from 100 percent recycled products may help you feel better when camping, surrounded by nature and trees!
Any RV Toilet Paper Brands
If you are still on the fence about using traditional toilet paper in your RV, you can always purchase RV-specific toilet paper. While it may sound silly to buy special toilet paper for RV life, it may be worth it to you so that you have some peace of mind regarding your plumbing.
Check out this four-pack of toilet paper from Camco, a brand that is well known to just about every RVer, experienced or not. This product dissolves quickly and won't clog up your RV toilet or black water tank, leading to a clearer tank overall.
There are many other brands of reliable RV toilet paper, but you may not appreciate the price of most of them. That's the main drawback to specialty toilet paper for your RV- plus, it may not be readily available at your local stores!
What Toilet Paper Brands Should I Avoid Using In My RV?
As a general rule, you should avoid using any toilet paper that isn't labeled as septic safe. You should also keep an eye on the softness and thickness of the toilet paper itself. The softer and thicker a roll is, the more likely it is to clog your RV sewer system and plumbing.
Some brands that most RVers avoid using in their RV as a general rule include:
Charmin' (any style or type)

Quilted Northern

Cottonelle
While the idea of using toilet paper that isn't very thick may not be appealing to you, keep in mind that your RV can only handle so much. You aren't dealing with a very sophisticated plumbing system while you're on the road, so caution should be used.
Is Septic Safe Toilet Paper OK For RVs?
When choosing toilet paper for an RV, I highly recommend choosing only toilet paper that is septic-safe. This means that the toilet paper is more likely to break down in your RV's sewer system and black water tank.
However, you should still take a look at the thickness and softness of the toilet paper when making your final purchase. Some popular toilet paper brands say they are septic-safe, but the durability and strength of their product isn't ideal when used in an RV setting. The last thing you want is for your RV toilet to bubble!
You should also still use black tank cleaners or other sewer system accessories in conjunction with septic-safe toilet paper. Even this type of toilet paper won't break down as well as RV toilet paper, so keep this in mind when making a decision!
What Other Products Can I Use Besides RV Toilet Paper?
Curious about what other products you may need to purchase in order to avoid buying RV toilet paper? Here are my top recommendations for products that work perfectly with regular toilet paper!
Tank Cleaner Or Treatments
A necessary evil when it comes to RVing is keeping your tank clean and free of solid waste or debris. No matter the toilet paper you use, many RVers purchase tank cleaners, treatments, or chemicals in order to keep their plumbing systems operating at peak efficiency. There are many different types of tank treatments, including different methods of dispersal.
You can use powder, liquid, or capsule treatments, giving you a wide variety of options in terms of ease of use and storage compatibility. These treatments are made to dissolve any solid waste that might build up inside your black water tank. They are meant to be simple and effective, as well as useful for deodorizing your toilet and tank. Treatments like these are necessary for any RVer, in my eyes, and they are typically affordable too, so it's a win-win!
Home Remedies For Clogged Tanks
There is a wide variety of home remedies for clogged tanks, though many RVers report varying success with some of these applications. However, if you are in a pinch while camping, some or all of these methods may work well for you.
Some popular home remedies for unclogging your RV tank that's blocked with toilet paper include:
Adding ice to your black water tank and driving around; you'll need a full bag or two, but these are readily available at most campgrounds or RV parks.

Using baking soda and vinegar to break down and neutralize the buildup; I recommend one full box of baking soda and a half gallon of vinegar.

Adding dish soap, laundry detergent, or Vaseline to the tank for extra lubrication; this method works best before you have a clog, but it may still help at any stage.
While purchasing an RV tank chemical treatment or RV-safe toilet paper may be easier from the get-go, some of these home remedies can be helpful. Hopefully, you never end up with a major clog, but there are solutions at any stage!
Sewer Hose Attachments
No matter the type of toilet paper you use, your RV's black water tank should be cleaned on occasion. This helps prevent the majority of buildup and debris so you can continue hitting the road whenever you're ready to!
Some sewer hose attachments offer you the ability to spray water inside your tank. You can find attachments that are semi-permanent, or you can purchase swivel wands that give you more control over where the water flows.
Cleaning your black water tank after a long camping trip is always a good idea so you don't end up with a smelly bathroom the next time you hit the road. However, there are many other products available on the market to help you through this situation too.
Final Thoughts
There are many different options for what toilet paper is safe for RVs. You may find RV toilet paper is the only way to go, or you may be content using regular toilet paper in an RV setting. Taking care of your RV's plumbing system is a necessary evil when it comes to RV ownership. Making informed decisions is always a good idea, and you can do so with this advice in mind and avoid any regrets!