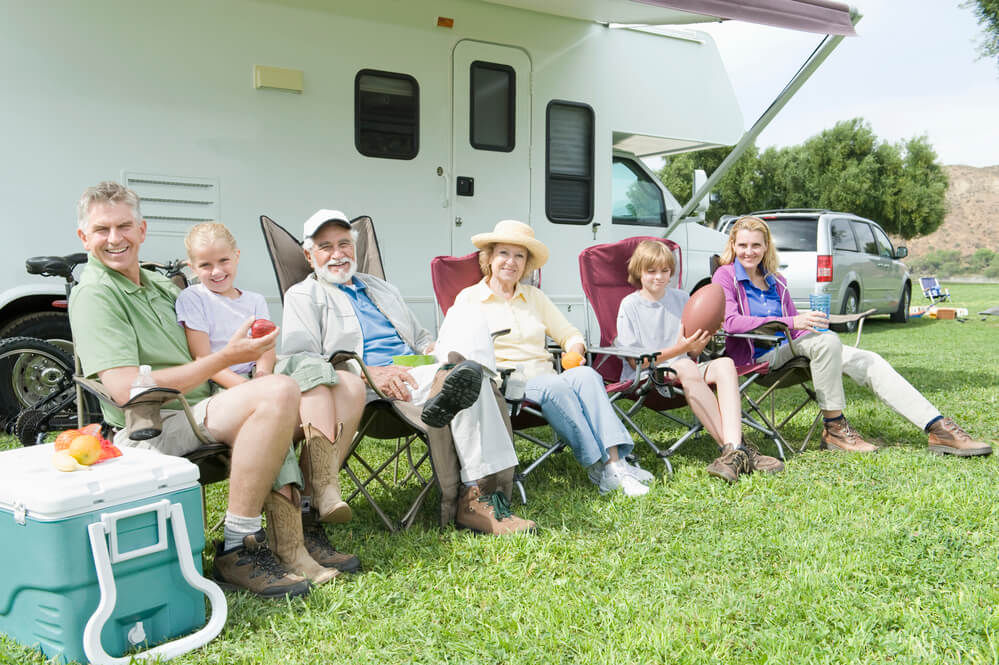 All of our reviews are based on exhaustive research, industry experience and whenever possible, hands-on testing. When you make a purchase using one of our chosen links we'll earn a small percentage of the proceeds. This supports the site and keeps Jeffsetter running. You can read more here. 
It's the annual family camping trip, but this time, Grandpa wants to come too. 
And oh wait, your aunts and uncles got wind of it and are planning to bring the cousins. 
Your pop-up trailer meant for three is looking a little small now, isn't it? 
If you're looking for an upgrade or perhaps shopping for an RV for the first time, one huge question to have answered is: how many people can fit in an RV, anyway? 
Smaller RVs (usually between 10 and 20 feet) can typically sleep 4 to 5 adults while mid-sized RVs (between 20 and 30 feet) can sleep around 7 adults. Finally, with the larger Class A RVs (around 30-50 feet) you can expect to have 12 or more people sleep comfortably. 
What Size Rig Is Best? 
An obvious answer to this question is this: the bigger the RV, the more people it can hold.
But there are still many different options depending on the layout inside the rig, length of the rig, and type. I've compiled a list of RV options, starting with the largest and moving down to the smallest.
Of course every RV is different, and if you're willing to renovate the interior or sacrifice some comfortability, chances are you can squeeze one or two more people inside. But for the sake of this article (and the sake of your sanity!) let's go ahead and break down RV options based on the manufacturer's average suggested amount of people sleeping inside.
Class As, Fifth-Wheels, and Travel Trailers (30-50 Feet)
If you're looking to fit the extended family in one rig, look no further than Class As and longer towable trailers. Most Class As can house up to twelve (a mix of children and adults), but 8-10 might be a more comfortable fit, depending on how much you like who you're traveling with.
With the invention of slide-outs, drop-down bunk beds, and just having more ample floor space, a Class A motorhome may be the right option for you. It is an all-in-one option that most all of your passengers can safely travel in, so if you're just looking to rent, you won't have to worry about owning a truck capable of towing, and some Class As are outfitted with more than one bathroom! Not everyone will have their own queen sized bed, but there should be ample space for your family and friends. 
Fifth-wheel towable rigs are some of the largest RVs you'll find on the road. Some are larger than 45 feet and usually contain many slide-outs, separate rooms, and house-like amenities. You'll need a truck capable of towing something so large as well as extra vehicles to bring your passengers along (riding in a fifth-wheel while it's in motion is illegal in most states).
But 30-50 foot fifth-wheels are some of the most luxurious rigs you will find out there! Your party of 12 will no doubt fit and fit comfortably with room to spare depending on the layout, and you'll be able to enjoy many amenities that are impossible in a smaller rig.
Travel trailers are very similar to fifth-wheels and can house up to ten people on the upper end, but travel trailers are usually built no longer than 40 feet. There are still slide-outs and drop-down bunk options along with multiple bathrooms. There will be little difference when looking at fifth-wheels and travel trailers except for their hitches, so make sure you find the right rig to suit your needs other than the amount of people it can sleep.
Class Cs and Medium Towable Rigs (20-30 Feet)
Just like Class As, Class C RVs are a great self-contained option for any family. No need to tow; just hop in and buckle up! They are easier to drive than Class As based on their smaller frame, and can usually house up to 7 guests comfortably. Chances are there will only be one bathroom inside along with many unique sleeping arrangements and a smaller cabin, but Class Cs are a great option for a lot of folks, especially when you consider their ease of driving!
Fifth-wheels and travel trailers can also be found in a range of 20-30 feet and usually weigh around 5,200 to 5,800 pounds. If you're looking at 20-footers, chances are you will only be able to fit a family of 4-5 inside, while you'll be able to fit closer to 7 if you feel comfortable towing up to 30 feet. There will most likely be only one bathroom, multiple slide-outs, and be prepared to sleep on a drop-down bunk. But towing something smaller in length can bring you more peace of mind on the road!
Class Bs and Small Towable Rigs (10-20 Feet)
If it's just you and your partner or your family is quite comfortable with each other, a small rig might be best for you.
Class B RVs are unique in that they are normally no larger than the average van but still equipped with above average amenities. Often these road vans will have a small slide-out or a raised roof height to accommodate more passengers, but your maximum sleeping capacity will most likely be no more than three. They are the easiest of all RVs to drive, and are perfect for weekend getaways, making them one of the most popular RV options on the road!
Fifth-wheel trailers are not usually built smaller than 25 feet, so if you're looking at a small towable rig, a travel trailer will be right for you. I own a 19-foot vintage trailer that was said to sleep 4-5. Being a full-timer and having a trailer that needed renovation, I find that number quite generous.
But if you're just camping for a weekend and aren't spending too much time inside the trailer, a smaller rig may be just the ticket for you!  Most travel trailers less than 20 feet in length should comfortably fit 3-5, depending on layout and comfortability between your guest. The newer the trailer, the more perks they'll have, including the usual slide-outs and drop-bunks. However, going under 19 feet is a risk when it comes to a bathroom; most models can't fit one, so that may be a deal breaker for some of your guests!
Fitting Your Family in an RV
Depending on what you're looking for, the amount of people sleeping inside, and your budget, you should be able to find a rig that perfectly matches your needs!
Sleeping in an RV is always a unique situation, but if you're looking for the amenities you're used to at home, there's a rig for you. Don't be afraid to say how many guests you expect to sleep on average when shopping around, and make sure you feel comfortable driving whatever size rig you decide on! With all the options out there, chances are you'll find one that's just right.