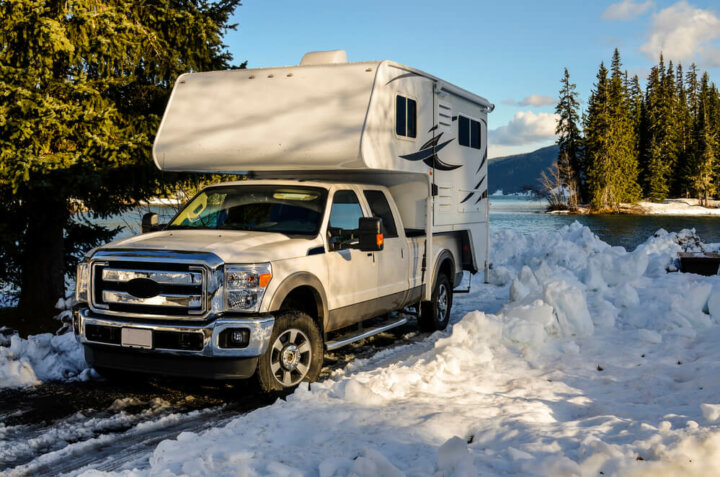 All of our reviews are based on exhaustive research, industry experience and whenever possible, hands-on testing. When you make a purchase using one of our chosen links we'll get a small percentage of the proceeds. This supports the site and keeps Jeffsetter running. You can read more here.
Choosing a truck camper to mount onto your pickup can be tricky, as camper shells are usually not universal. Using a bed that's bigger than your truck camper can be done, but it might be better to match the measurements of your camper and bed.
If using a smaller camper is your only option, then you might be wondering if you can put a 6ft truck camper on an 8ft bed.
Putting a 6ft truck camper on an 8ft bed can be a cheaper option if you already own a pickup with an 8ft bed, and it can offer additional storage. However, using a smaller camper might not look as great and it might be harder to drive as the weight won't be equally distributed.
Putting a smaller camper on a larger bed is an option, but it's worth exploring this option in more detail as there may be a few things you need to do differently compared to using a truck camper that fits the pickup bed perfectly.
So, let's get started!
Can You Put a 6ft Truck Camper on an 8ft Bed?
Usually, before someone chooses their truck camper they make sure to match it with the pickup truck they already own, to make sure it's the correct size and it matches the weight capacity of the driving vehicle.
But you don't necessarily have to pick a truck camper that matches the dimensions of the truck's bed. If you already have a pickup truck with an 8ft bed, but you want a smaller camper then you could mount a 6ft truck camper onto your 8ft bed.
That being said, it's important to consider what you'll do with the additional space you will be left with. To help even out the weight of the camper, it can be useful to strap down heavy items in the additional space to help create a better and likely safer driving experience.
What Are the Advantages of Putting a 6ft Truck Camper on an 8ft Bed?
Although it's usually wise to keep the size of a truck camper relative to the bed you're putting it on, there are a couple of advantages to doing things differently.

Let's see what those advantages are!
1. Additional Storage
Using a smaller truck camper on a larger bed means there's an extra 2ft of space, and for anyone that has lived or traveled in small campers, 2ft can make a lot of difference!
Building an external storage space can be useful for items you don't necessarily want inside your truck camper, such as adventure gear, hiking equipment, and muddy boots.
Creating additional storage can also help keep the weight of the camper more evenly distributed as this is one of the biggest concerns when using a truck camper that's considerably smaller than the bed you're putting it on.
2. Cheaper
If you already have an 8ft bed and are set on having a 6ft truck camper as your adventure rig, it's cheaper to try and make it work than having to fork out for a new pickup with a larger bed. Truck campers can be expensive, so using a pickup truck that you already have is a great way to save money.
What Are the Disadvantages of Putting a 6ft Truck Camper on an 8ft Bed?
Putting a 6ft truck camper on an 8ft bed is possible but can make things a little complicated. To give you the full picture, let's explore some of the downsides of this method so you can make a well-rounded decision about whether to go ahead and mount your camper to your bed.
1. Aesthetics
When you see a truck camper on a pickup, they are usually sleek with a perfect or near-perfect fit. It's uncommon to see a truck camper that's a lot bigger or smaller than the bed it's on as it's not the safest or most aesthetically pleasing option.
If you're worried about what your 6ft truck camper may look like on an 8ft bed, it could be a good idea to create an external storage area that coordinates well with both your camper and pickup truck. That way you have a useful addition to your setup that has great function and looks pretty darn good too.
2. Harder to Drive
Using a smaller truck camper on a larger bed can be difficult when driving as the weight may not be spread equally across the whole truck, which can lead to the rig feeling unsteady when on the move.
If a truck isn't correctly matched with the bed it's on, problems can arise with steering and handling as truck campers are usually manufactured to fit on the correct size bed and not one that's bigger or smaller.
To avoid safety issues and a potentially poor driving experience, it's worth correctly matching up your truck camper and pickup. Truck campers are compact but heavy and over time a camper that's ill-fitting can lead to issues with tires, brakes, and even the suspension of the pickup.
These problems can cause expensive repairs further down the line, so it might be worth searching around for a truck camper than can fit pretty much perfectly onto your 8ft bed and save yourself any hassle in the future.
3. Centre of Gravity
Depending on the weight of the truck camper and where it's placed on the pickup, the center of gravity may be too far behind the rear axle. This could eventually cause problems with the pickup itself as the weight isn't evenly distributed on the bed.
If you are limited to only putting a 6ft truck camper on an 8ft bed, it may be worth using the extra space for heavier belongings that can help balance everything out.
It's also important to note extra measures may have to be put in place to prevent the truck camper from sliding around when you're driving out on the road. Using a truck camper on a correct size bed is an easier option as everything will align, meaning peace of mind when you're off exploring new locations and dream destinations.
How Do You Mount a Truck Camper Onto a Pickup Truck?
Fitting a truck camper onto a pickup can be nerve-wracking, especially if it's smaller than your pickup's bed and it's your first time! However, using the correct method and having plenty of patience, you can successfully mount a truck camper to a pickup in just a few simple steps.
Step 1: Raise the Truck Camper
Before you can go ahead and get your truck camper onto the back of your pickup, you'll have to first lift the truck camper up around 6 inches above the bed. My advice for this step is to raise the camper slowly and steadily to avoid any jolting that could make the camper unbalanced.
Start with the front of the camper and then go ahead and raise the back to avoid any poor weight distribution that could cause the camper to lean forward and tip over.
Step 2: Reverse the Pickup Truck
You'll then need to reverse your pickup underneath the raised truck camper, making sure the camper is high enough. The truck needs to be reversed as centrally as possible for optimal alignment.
Make sure the truck camper fully clears the bumper and tail lights of the truck as if not, damage can be caused when you're on the move.
Step 3: Fit the Wiring
It's best to connect any wiring at this stage in the process as it can be difficult to fit wiring later on when the pickup has been fully backed up and the truck camper has been mounted. When the wiring has been connected, you can continue reversing your pickup.
Step 4: Lower the Truck Camper
Once you have reversed the pickup underneath the truck camper and everything is aligned and in place, you can lower the camper down. As always, patience is important and so it's best to do this step slowly and controlled to avoid the camper becoming unaligned.
Drop the back of the truck camper down first before proceeding with the front end, as this will help prevent the camper from tipping.
Step 5: Secure the Camper to the Pickup
The final step of the process is to make sure the truck camper won't move around when you're out on the road. To stop this happening, tie-downs and turnbuckles can be used which fix the camper securely to the pickup truck.
It's crucial to remember not to create too much tension when strapping the camper down as this can damage the tie-downs and put the camper in a vulnerable position on the back of the pickup. Read the instructions for the turnbuckles to find out the recommended tension needed to secure your camper down.
Like most things in life, doing something for the first time can be a bit scary! If you've just got your hands on a truck camper and pickup and are getting ready to put the two together, the video below might be worth a watch.
As you can see, with the right equipment, mounting a truck camper onto a pickup can be done with little stress. If you take all the precautions and complete the process slowly, any problems should be limited and you'll have an awesome adventure rig in no time.
Plus you will have a better idea of what to do in case you need to remove the truck camper at some point!
Closing Thoughts
Putting a 6ft truck camper on an 8ft bed is possible, but can come with some problems when you're on the move. It might be a better option to take full advantage of having an 8ft bed and instead opt for a bigger truck camper that will both fit the bed right and be safer while you're traveling around.