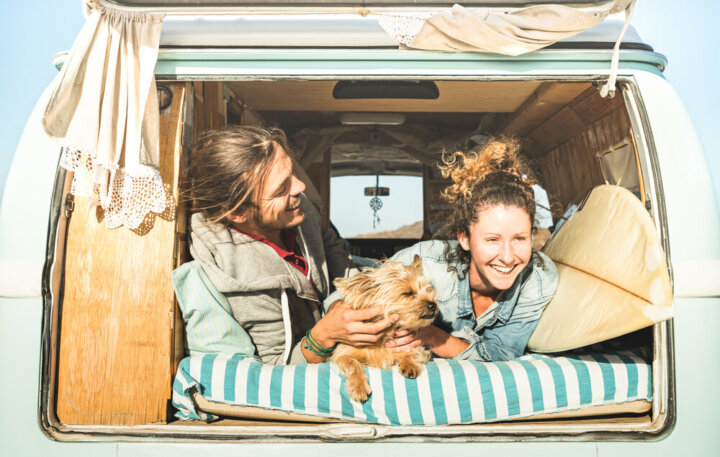 All of our reviews are based on exhaustive research, industry experience and whenever possible, hands-on testing. When you make a purchase using one of our chosen links we'll get a small percentage of the proceeds. This supports the site and keeps Jeffsetter running. You can read more here.
Camper shells are known by many different names; truck caps, truck toppers, camper shells, topper shells, etc. They all refer to the same general thing, a camper shell is something that goes over the bed of your truck and makes it more functional. They can add storage, add security for your cargo, and can be used for camping.
If you're in the market for a camper shell, the first question that might come to mind is:
How much do camper shells cost?
A new camper shell for your truck starts at around $1000 but can skyrocket well above $4000 depending on the type of shell, the material, and the brand you purchase. You can buy a used shell and save yourself some money, but buying a used shell can take up more of your money and effort.
Camper shells are a great purchase because they add so much versatility to your truck. It's hard to know how much you should expect to spend on one, so this article will detail exactly that and what factors or options will change the price point.
How Much Do Camper Shells Cost?
The price of a camper shell is going to depend on a lot of different factors and options, so it's hard to give an exact answer without knowing exactly what you are looking for. The type of shell you're looking for, the material of it, the brand or manufacturer, and if you buy new or used will all affect the overall price of your camper shell.
I get it, you want a ballpark figure that will at least give you an idea of how much to budget for a camper shell. That way when you call around for quotes you know what a fair price is so you won't end up overpaying for anything.
Generally, a new camper shell will start at the low end at around $1000, but it can easily more than double depending on the factors mentioned above. A used camper shell can save you some money, but it's important to ensure that you're buying a shell that will actually fit your truck. Camper shells don't tend to be universal, so you need to know your stuff before purchasing.
Used or new, camper shells aren't a small investment, but they are a worthwhile one. They add a lot of versatility to your truck, allowing for safe and dry storage as well as the option of camping out of your truck. Knowing what you want to use your camper shell for will really help you narrow down what kind you should purchase.
Why Are Camper Shells So Expensive?
Not all camper shells are expensive and depending on the type, the materials, and whether it's brand new or used you are going to see a different price tag.
So, let's take a closer look at different camper shells and why are some more expensive than others.
Types of Camper Shells
You should have a relatively good idea of why you want to purchase a camper shell since you are reading this article. This will impact the type of shell you will want to buy.
If you plan on using it only to transport tools, supplies, or anything in a secure and weatherproof manner, then a standard cap will do it for you. If you have larger cargo and want to be able to stand, you'll want a taller shell. If you plan to use your camper shell to actually camp, you might want something already lined or with a bit more wiggle room.
Walk-In or High-Rise Shell
If you want to stand up or at the very least crouch in your camper shell, you should look into walk-in or high-rise shells. A standard shell is going to match the height of the truck cab, and a walk-in or high-rise topper will offer a lot more height than that.
A high-rise shell is only a bit taller than your truck cab, so it's a good option if you want your truck to have a slightly lower profile but still allow for a bit more storage space and room to crouch.
A walk-in shell kind of tells you what it is, but these will usually be tall enough for you to walk into. Typically, they have a door that swings open at the tailgate and allows for a lot more freedom to move about and store taller cargo inside.
Lined Camper Shell
A lined camper shell is a great option if you plan to spend a lot of time actually camping in your truck. The lining will add extra insulation making the space both warmer and quieter.
Since this can add quite a bit of cost to your camper shell, it's important to note that you can always add your own insulation later. We explain how in this article. An already-lined camper shell can save you some time though and will add to your overall comfort. It's up to you if your time is worth more than the extra expense or not.
Commercial Truck Caps
A commercial truck cap is usually going to be best for businesses, as they offer the most security. They will usually come with heavier-duty aluminum or steel locks. They also give you the option to lock the toolboxes and drawers that you keep inside your truck bed.
These toppers might also have added storage features that you won't find in a standard topper.
Rack Systems
You might want to have the ability to mount items onto the roof of your truck topper. To make sure that this option is open to you, you will need to have a roof rack system that can be installed on the top of your camper shell.
If you like to take advantage of the outdoors while you are camping, this is a great option for you. These racks are perfect for storing things like kayaks or mountain bikes. For the more business or DIY-minded, it can store ladders and larger items as well.
Materials of Camper Shells
Camper shells are typically made of four different materials, though three of them are more commonly found than the fourth. The material the shell is made from doesn't only impact the price, but the weight of the topper and the overall look of it as well.
Aluminum
Aluminum is the most cost-effective option to pick for your camper shell. The most simple aluminum topper will be around that starting price point of $1000 that I threw out earlier in the article.
Camper shells made out of aluminum are usually not the most aesthetically pleasing options. They are normally white, so they aren't necessarily going to match your truck. They also can get dinged up and dented over time, so that can add to their unaesthetic look and it means they aren't quite as durable as some other options out there.
They are the most lightweight option for a camper shell, so if you are concerned with keeping your load weight down they are a great option. They also tend to offer great options for commercial camper shells with tons of storage features like locking toolboxes, shelving, and double doors.
Fiberglass
A fiberglass camper shell is going to be the most seamless look for your truck. They can typically get painted to match your truck exactly, so they look like they were always a part of your truck. A fiberglass topper is probably going to run you a bit less than double what you would pay for an aluminum one though.
Fiberglass is a more durable option than aluminum, but it's also heavier. Fiberglass camper shells are not typically designed for commercial use, so it can be hard to find one on the market with additional features. If you do like to camp in your camper shell, fiberglass can offer extra insulation for those chilly nights.
Composite
Plastic or composite camper shells are newer to the market than the more typical options like aluminum or fiberglass. Like aluminum, there is a lack of color choices with composite camper shells. They tend to cost more than an aluminum topper but less than a fiberglass one.
Composite shells do offer a compromise between aluminum and fiberglass. They have a lot of the same features as aluminum shells but offer a more seamless look like fiberglass ones.
Stainless Steel
There are hardly any stainless steel toppers on the market, but there is one brand that offers them, SmartCap. They are newer to the market, so they have not been as tested as our other options listed here. This doesn't mean they aren't as good but it also doesn't mean that they are.
These are the most expensive options out there, going for over $3000, but they should be the longest-lasting and most durable options because of the material.
They do offer some commercial options as well.
Used vs New Camper Shells
If you're on a tighter budget or just don't feel the need to splash out so much cash on a new camper shell, you might be curious about the pros and cons of buying a used one.
There are tons of great used options out there for your camper shell. You just need to be a bit careful to make sure that you are buying the correct one for your truck. Since camper shells are not usually universal, you have to ensure that the topper that you are looking at will fit on your camper.
You can find used camper shells at dealers but they are also listed on websites like Craigslist and Facebook Marketplace, so those can be good resources to check out as well.
As with buying anything used, there are risks involved that you don't need to worry about when buying new. The trade-off is that you usually get a much better price and can save a lot of money. If you do your due diligence then you should end up with a good deal and not an ill-fitting and badly dinged-up camper shell.
The video below is a great start to figuring out what kinds of questions you should ask when you're looking to purchase a used camper shell.
When you purchase a new camper shell, you might be spending a bit more, but you could also be paying for some peace of mind. A new shell will probably fit your truck more seamlessly and securely. It will also probably come with some kind of warranty just in case anything does happen to it.
You are also likely paying for the installation when you buy new. The installation can be a bit of a headache to do yourself, so if you don't plan on removing your truck cap until you sell your truck or even ever, you may want to pay someone else to do that part.
That being said, if you want your truck to be a bit more versatile and not always have the camper shell installed, then you might want the experience of seeing how the shell is installed. Seeing and doing the installation yourself will only make it easier to take off later.
There are plenty of reasons to purchase a new or a used camper shell and neither option is necessarily better than the other. It all comes down to what you're willing to do on your own, like the installation and a bit of extra research if you're buying used versus how much you're willing to pay for the ease of not having to do those things.
Well Known Camper Shell Manufacturers
There are a number of manufacturers that are well-known in the camper shell or truck topper industry. I won't use this article to recommend one brand over another, but I will give you an idea of what each one has to offer and a general idea of pricing if it's available.
Leer
Leer offers a considerable variety of camper shells, including standard, high-rise, walk-in, and commercial styles. They come in both aluminum and fiberglass.
They also have a great feature on their website called "Fit My Truck" which will help you find the best options out there for your truck. Shells start at about $2000 from Leer but can go up from there.
A.R.E.
A.R.E has a lot of options from covers, caps, commercial gear, and accessories in addition to their camper shells. They also have plenty of offers going on at any given time.
Unicover
Unicover offers a large selection of both fiberglass and aluminum camper shells. These will run you around $1000 to $1500.
SmartCap
As I mentioned before, SmartCap offers stainless steel camper shells. These start at $3495 and can run you over $4000 depending on the features you select and what truck you have.
There are tons of other brands out there, and the pricing will vary from brand to brand, but hopefully, you have a basic idea of how much a camper shell costs based on the brands we've selected.
Conclusion
Camper shells vary in cost depending on what you're looking for and willing to spend. A used shell will save you quite a bit of money but can add to your labor while a new shell will cost more but it might be less of a headache. The type of shell as well as its material and brand will dictate the price you end up paying for it.
Research will be key in narrowing down your search and finding the perfect camper shell at the perfect price for your needs.