Last updated on June 5th, 2023 at 11:41 am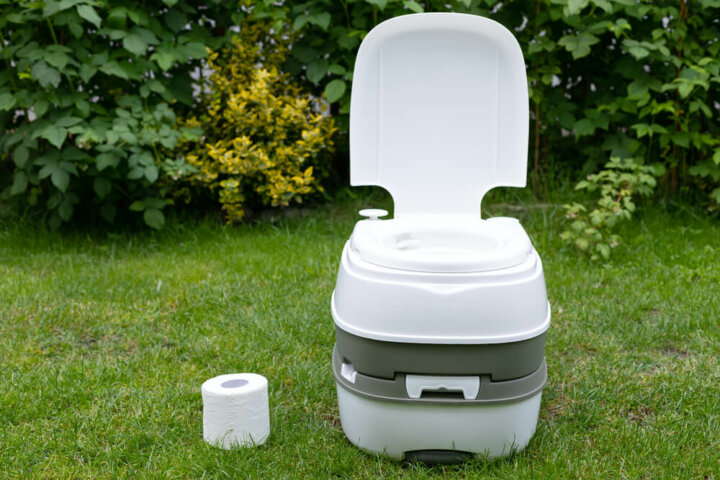 All of our reviews are based on exhaustive research, industry experience and whenever possible, hands-on testing. When you make a purchase using one of our chosen links we'll get a small percentage of the proceeds. This supports the site and keeps Jeffsetter running. You can read more here.
Cleaning an RV black tank is never a fun chore, especially since many use hands-on systems with hoses/trays. With an incinerator toilet, you can simply set those contents on fire!
But just the thought of setting anything on fire in a closed environment like an RV is bound to make most of us nervous which leads to the question:
Can you put an incinerator toilet in an RV?
An incinerator toilet is an efficient, waterless, self-contained option to use in the bathroom of your RV. They're safe, low maintenance, hygienic, and, surprisingly, don't stink up your RV. While incinerator toilets are expensive, they can make it possible for you to live off-grid longer because you won't have a black tank to dump.
If you've never heard of incinerator toilets before or you're curious to know how they work and whether they are a good fit for your RV lifestyle then keep on reading!
What is an Incinerator Toilet?
An incinerator toilet is a waterless toilet option that you can use in your bathroom while you're traveling in your RV. They are low maintenance and hygienic and they are especially great for those of you who want to live off the grid longer because there's no black tank that you have to regularly dump.
Instead of flushing your waste as you would with a regular RV toilet, the incinerator toilet lights your waste on fire. After around 4 uses, you start the incineration cycle with a simple push of a button. During this cycle, the toilet's incineration chamber heats up to as much as 1400°F to burn any toilet-related waste.
At the same time, it uses a series of blowers to send the smoke and fumes through an exhaust vent that contains an odor control unit, and then sends it out of your RV.
This vent system means that there are no unpleasant smells to deal with inside your home on wheels. After a cycle, all you are left with is about a tablespoon of sterile ash, which is much easier to handle than a black tank hose! Plus, ash is light, so it doesn't take up a lot of space in the RV.
The cycle lengths depend on the brand, model, how many uses between the incineration cycles, and which power source you choose to use. Typically, you can expect 45 minutes to 2 hours for electric toilets, and up to 4 hours for propane-powered toilets.
Incinerating toilets are a relatively new technology that was originally made as house toilet alternatives. They are becoming an increasingly popular choice for use in RVs for a multitude of reasons.
You can see in this video just how convenient having an incinerator in your RV is!
They allow for more freedom on the road, as you can extend your stay away from society. You don't have to look for a dump station, because you won't have a black tank anymore, and you can even add a secondary gray tank to your setup to extend time away for longer. You do have to use a sheet of wax paper for each use, which you can buy or make yourself.
How Do Incinerator Toilets Work in an RV?
These toilets can run on electricity, propane, or both depending on the model. Electric-powered toilets typically need to be emptied more often than propane toilets. They both only use power when they are actively burning, so they conserve energy.
Keep in mind, the bigger the toilet, the more energy intensive it tends to be so you typically want to get the smallest usable size for your situation.
Electricity Use
On the smaller end of these toilets, the electricity use can be as low as 20 W at 12 VDC during the incineration cycle. A toilet at this level can potentially be hooked up to a solar power system, which is great for boondocking and people who want to be as self-reliant as possible.
Models with higher energy requirements are not suited for solar-powered systems, so if that is your plan make sure you have the energy for it!
Some more energy-intensive models can use up to 1800 W on a 120-volt or more. These types of toilets often need a power grid for you to be plugged into power. This is not the best for people who don't want to be tied to one spot, so If you don't have the energy requirements for an electric toilet, propane toilets are another popular option.
Propane Use
It is not as common for incinerator toilets to be able to run off propane. Since these toilets were initially created for houses, they are still transitioning to a more RV-friendly setup.
Models that can use propane use a maximum of 6,700 BTUs per hour, which averages 0.15 pounds of propane per flush. Waiting for a few flushes before incinerating is a great way to save on propane. Depending on your setup, a propane toilet may be a better option if you do not have a ton of electricity at the ready.
Are Incinerator Toilets Safe to Use in an RV?
There are multiple safety features these toilets come with, so you won't be getting any unpleasant burns! The incineration stops immediately as soon as the lid is opened, which makes it safe to use during any part of the burning cycle. This means you won't have to worry about your toilet being out of commission for hours.
The burning itself is done in a separate, lower bowl that is always closed unless the toilet is in maintenance mode. Additionally, the toilet won't flush when any part of the toilet is open, which adds another layer of separation between you and the burn chamber.
Incinerator toilets are also pretty hygienic. They are completely hands-off until the waste has all been burned, at which point all you have to handle is a small amount of germ-free ash.
Can You Put an incinerator toilet in an RV?
Now that you know what incinerator toilets are and how they work you may be wondering if you could use one in your RV.
To help you make the right decision here's a list of pros and cons!
The Advantages of Putting an Incinerator Toilet in an RV
Since there are many advantages to owning an Incinerator Toilet, I think we should start with them!
Minimal Smell/Odors
Surprisingly, these toilets do not produce many smells. That's because the incineration is done in a controlled, smell-proof container, and the smoke/fumes are removed with an exhaust system, pushed through a scent-control unit, and then vented outside of your RV.
This does mean, however, you want to be aware of who is downwind of you! You do also have to watch out to make sure the trap door closes completely, otherwise when you start the cycle the fumes can leach into your RV.
Low Maintenance
After the initial setup, there isn't a lot of upkeep to track especially compared to a black tank or composting toilet.
There are also generally no unpleasant stains or smears to deal with because of the liners that you place before you do your business, which makes cleaning simple. You should simply unplug the toilet and just wipe down the seat and lid with a damp cloth like any other toilet.
Occasionally the burn residues should be cleaned from the inside surfaces as well. If there is a mess, it can be cleaned with water and a normal toilet cleanser. Some models even come with a self-cleaning spray nozzle, which is button activated.
The ashes are collected in a convenient catch dish. They should be discarded when it's about 1.5 inches deep/one cup high. With a full RV of 4+ people, it usually ends up needing to be thrown out once a day.
With one of these toilets, you no longer need any special or specific toilet paper. That means you don't have to buy it from expensive camping stores for that RV-specific, 1-ply paper anymore. Incinerator toilets will burn any toilet paper, so you can choose whichever one makes you the happiest.
Small Size
Another reason incinerating toilets are popular with RVers is because they are extremely compact and space-saving. This makes them functional and convenient to use in a small RV bathroom. A popular method to save even more space is to stow away the toilet when not in use.
They typically way between 60-90 pounds, depending on brand and model. The bigger the model, the more people it can accommodate, the less often you have to use power to burn waste, and you can go longer in between dumping the ash.
Great For Winter Travels
These toilets are great for people who like to travel in the winter. Since an incinerating toilet is completely waterless, you don't have to think about toilet water lines and your black tank freezing in cold environments.
In fact, you can use the incinerator toilet in any climate/temperature, so even when it gets below freezing your waste can be managed hassle-free.
The Disadvantages of Putting an Incinerator Toilet in an RV
As you can see there are multiple pros to having an incinerator toilet on board, however, there's one major con.
They Are Expensive
Incinerating toilets are gaining popularity, but the price can make some people think twice about taking the leap. They average about $2,000, depending on brand, model, and size. If you want to go off-grid, save water and time, or just plain don't want to deal with a black tank anymore, these can be a worthy investment.
How Do You Install an Incinerator Toilet in an RV?
The installation will be different depending on the brand and model, but they all follow the same general steps. You first want to decide where you want it, typically in the bathroom but it depends on your setup. The only caveat is they can not be installed in a wet bath because they have electrical parts that can not be doused in water regularly.
You also need to install an outlet ventilation pipe, which will direct the smoke and fumes outside of your RV. This does involve cutting a hole in your RV and sealing it properly, so have someone handy do it. Then the exhaust on the toilet is connected to the vent pipe.
The final step is to connect your toilet to the propane lines or outlet, depending on which power source your model uses. Don't forget to put the bowl liner dispenser somewhere convenient!
Final Thoughts
There are a lot of choices out there when it comes to a toilet for your RV. Incinerator toilets are a new and popular option. They can be somewhat power intensive, though you do get to choose if you want to use electricity or propane.
There are multiple safety features to ensure nobody gets burned, and on top of that, there are no unpleasant odors to deal with. The main reason people choose not to get them is because of the steeper price, but for many, it is worth the investment.
With an incinerator toilet, you can go much longer between dumpings because you no longer have a black tank to maintain. More so, incinerator toilets are compact, space-saving, and pretty straightforward to install, and best of all, they are one of the lowest maintenance toilet options out there.
You also get the added benefit of being able to brag about having the coolest bathroom out of all your friends!