Last updated on September 26th, 2023 at 05:52 am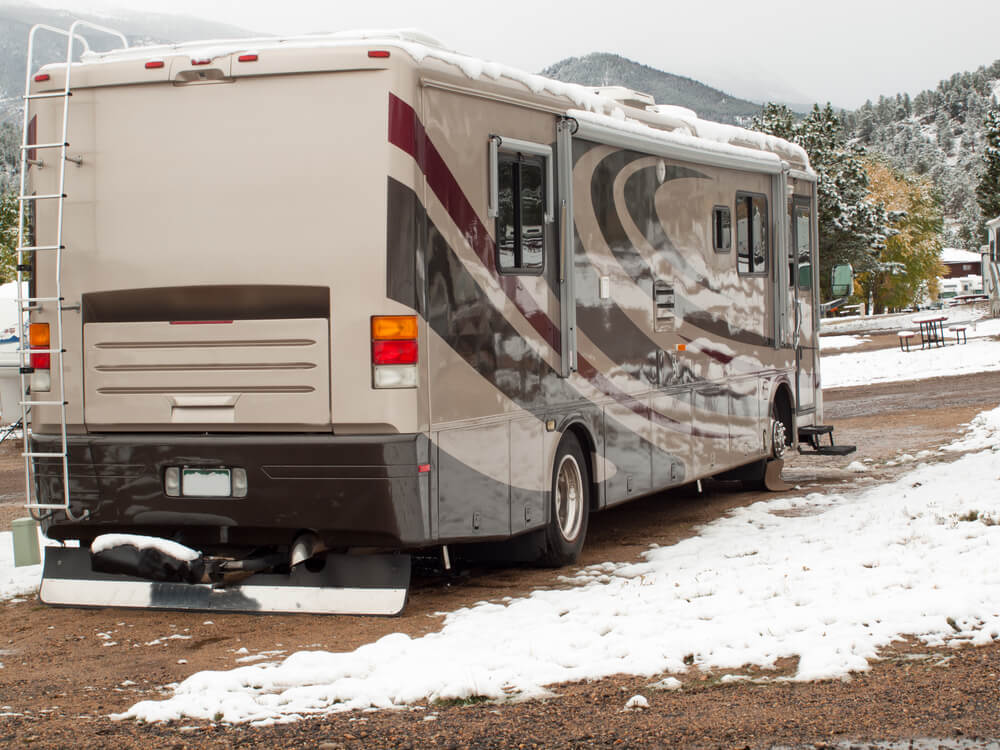 All of our reviews are based on exhaustive research, industry experience and whenever possible, hands-on testing. When you make a purchase using one of our chosen links we'll receive a small percentage of the proceeds. This supports the site and keeps Jeffsetter running. You can read more here.
Who wants to see their rig out of commission for months on end, covered in snow? Wouldn't it be amazing to experience the beautiful winter landscapes of all corners of North America, or tailgate for your favorite football team's entire season, no matter where they're playing?
Well, with the amazing floorplans and features of the Class A RVs available these days, it's becoming easier to stay out in an RV all year round!
We're going to look at the 6 best Class A RVs to keep you toasty warm and cozy no matter the climate! But not every rig is winter-ready and there are a few things you want to make sure you're looking for before you hit those open roads.
Why Choose A Class A RV?
Class A RVs, or diesel pushers, are often synonymous with "luxury," "high-end," and "top of the line" (although large travel trailers are definitely a luxury contender). It's easy to understand why as these massive rigs are what rockstars tour the country in! They have the largest floorplans, tons of power, and almost all the features you'd expect from a home.
They're ideal for long trips with multiple people and they're not called motor coaches without good reason! But all that luxury comes at a price. Class A RVs are the most expensive to purchase and keep running. It's a huge investment and they need a fair amount of upkeep.
This is especially true if you want to experience all seasons in your RV! So if winter RV-ing is a goal of yours and you're ready to invest in a Class A rig, you want to make sure you get the best value for your money.
What To Look For In A Winter-Ready Class A RV?
Be sure not to blindly trust an "arctic package" upgrade on any RV purchase which is something we've talked a lot about already. What's included in the package can vary greatly among manufacturers. There are a few vital considerations to make in order to have a successful and enjoyable winter RV experience.
High-Quality Insulation
It's incredibly difficult and expensive to upgrade insulation in an RV- especially when it comes to the underbelly. Most Arctic packages are going to include extra, high-quality insulation. Ask for the specifics of the materials used for insulation and their R-value, which is the measurement of the insulation's effectiveness.
Most high-quality RVs use fiberglass insulation as it has a high R-value, along with being lightweight, affordable, and easy to find in the store. Some RVs use plywood, which isn't ideal in wet environments, but does tend to hold up longer than fiberglass.
I'm personally a huge fan of Havelock's Wool, which has become increasingly popular over the last few years. Wool is a great DIY addition for all the nooks and crannies where cold air manages to creep in. So if you find yourself with a rig that has some cold spots, wool is perfect as it's water-resistant, easy to manipulate, and very affordable.
Plumbing, Piping, And Fluids
Make sure your piping and plumbing mechanisms are fully contained within your rig and don't skimp on potential upgrades for heating pads and insulated pipes if they're an option! Keeping your piping from freezing is one of the most important parts of a winter-ready rig.
Luckily, most Class A RVs have these features standard, but be sure to double-check! Ensuring your pipes and hoses are easily accessible is also important, as you may need to manually melt any frozen water or add additional insulation when you know you'll be dealing with a significant cold snap.
Double-Pane Windows
Double-pane windows are an absolute must in a winter-ready RV, especially a Class B RV, as they provide an extra layer of insulation. One of the best parts of RVs is the windows and natural light they provide, but it's also a double-edged sword when it comes to climate control inside an RV.
Ensuring you have heavy-duty window covers is also something to think about. Most RVs come with privacy covers, but they're not always designed for insulation. Luckily these types of features are optional upgrades or are easily purchased. In some cases, you'll want to just apply a heavy-duty RV cover to get through a tougher storm.
The same goes for RV doors. You'll want to make sure they are well-fitted and sealed when closed. Cold, drafty air can easily sneak in around the seams, so don't skimp on any weather stripping! Seals break down quickly and won't only allow cold air in, but also use more energy and power to keep a set temperature inside.
The cab of your rig is also a big source of heat escape. The large windshield can't be double-paned and is therefore going to allow a lot of cold air in. Make sure the privacy shield for your front window is heavy-duty, designed for insulation, and fits securely against the window.
6 Best Class A RVs For Winter
Now we've covered some of the basics, let's get into our 6 Best Class A rigs for winter living. Each one of these rigs are ideal choices for cooler climates, but they all have pros and cons which are wise to consider too.
Interior Height: 7′
MSRP: $485,543
Exterior Length: 40′ 11″
Exterior Height: 12′ 11″
The Entegra Reatta is one heck of a luxury rig! It's got all the finishes to make me feel like I'm living a life of opulence, and the power and quality needed for four-season traveling. RVing in winter doesn't have to be uncomfortable, and the Reatta performs just as well in sun and snow so everyone stays happy.
Driving the Reatta is so much more than just a way to get from location to location. Being behind the wheel is fun and exciting, with cluster navigation, media source selection, cruise control, rain-sensing wipers, and Bluetooth keeping me connected and safe on the wild open road!
Built on a Cummins 380HP turbocharged diesel engine, which many prefer over gasoline, the Reatta is built to take me anywhere and in any climate! This Class A RV is heavily insulated, with insulated front and rear caps, a single-piece fiberglass roof reinforced with plywood and Flexfoil insulation, and extra-insulated walls.
This helps keep the temperature inside the rig regulated, which means I don't have to worry about my partner or dog being freezing cold or boiling hot. The Reatta also features three 15,000 BTU AC units with heat pumps, and an Aqua-Hot 250D hydronic water and heating system. It's these extra features that have pushed this Entegra into our overall best Class A RV position for winter.
Pros:
Enhanced insulation throughout
Ideal for summer and winter travel
Luxurious interior
Cons:
Expensive
Slide-outs can be problematic in winter
Interior Height: 6′ 8″
MSRP: $379,419
Exterior Length: 35′ 9″
Exterior Height: 11′ 11″
Winnebago is synonymous with quality, especially when it comes to all-season rigs. Any of the Winnebago Class A RVs are going to be prepped and ready to take on any cold weather. However, I'm featuring the Winnebago Inspire because it's a mid-entry diesel pusher perfect for wheelchair accessibility.
Built on a 340HP Freightliner XCS chassis, this rig is powerful! It has two 13,500 BTU air conditioners, one with a heat pump; and a 35,000 BTU furnace. The 6,000-watt generator and four deep-cycle batteries will keep me warm and secure inside, no matter the outdoor weather! The Inspire also has an on-demand water pump, a TruLevel holding tank monitoring system, and heated holding tank compartments so my wastewater won't freeze when temperatures fall.
The water system has a winterization package and multiple sensor systems which I love as I like to know exactly what's happening with my fluid tanks. This is a huge benefit in cold weather as I'm able to trust I always know what's going on in my rig, meaning I'm far less likely to experience any problems.
Purchasing an RV and expecting to encounter no problems when out on the road is wishful thinking. It would be amazing if RVs didn't require maintenance or servicing, but just like any other vehicle, it's important to take proper care of the Inspire. Winnebago have a 3-year/100,000-mile warranty for all of their diesel-pusher rigs, but this doesn't mean you can skip on winterization or camper security!
This warranty sounds like a dream, but repairs can take significant time, and not every single feature of each RV is covered by Winnebago. I like to make sure I've read all of the fine print before going ahead with any big purchase, and I recommend doing so for the Winnebago Inspire too!
Pros:
Wide galley and fold-down counters for maximum space
Winter-specific features
Built on a powerful chassis
Cons:
Slide-out isn't ideal for winter weather
Only 1 floorplan
MSRP: $241,676
Exterior Length: 35′ 4″
Exterior Height: 12′ 7″
Class A rigs are called diesel pushers because they traditionally have always had diesel engines as diesel tends to do better at powering these heavy RVs. But the engineering of RVs gets better and better every year, and finding a powerful gas Class A RV isn't impossible, that's why I've added the Coachmen Encore to our list!
The Coachmen Encore is a great option not only for a gas engine but also for its affordability without compromising on features. This rig has a Ford F53 7.3L V8 chassis, which is a lot of power for this reasonably sized Class A rig! The Encore has two 15,000 BTU AC units with heat pumps, a 5.5 kW gas generator, a 30,000 BTU furnace, and a 100W solar panel, which can be upgraded to 300 W.
It's a little disappointing that more solar power doesn't come standard for a rig of this size and price. Having adequate power is vital, especially for camping in winter when the sun may be sparse. However, 300W is a far better number and a worthwhile investment I would bring to the Encore. I find the abundance of both internal and external storage a game-changer, as for one, everything can have a permanent home!
There's also an outdoor accessible kitchen area, though I might be a little concerned about keeping it secure and protected during winter trips. However, the duality of this rig is awesome and makes it great for all-season camping. Not to mention the choice of four full body paint color sections to bring added personality and make the exterior even more attractive!
Pros:
Gas option
Plenty of storage
Cozy fireplace
Cons:
Undercarriage insulation could be improved
Only 100W standard solar
Interior Height: 6′ 9″
MSRP: $564,340
Exterior Length: 43′ 9″
Exterior Height: 13'1″
The Newmar Dutch Star is the definition of luxury, and its price reflects that! This is by far the most expensive rig on this list, but it's worth considering for bigger budgets that want luxury features and the ability to individualize a rig. Newmar offers three lengths of Dutch Star models, and 10 different floorplans, several of which include multiple bathrooms!
Having enough space in an RV for the entire family is a gateway to a happy vacation. However, when the winter weather begins, I find I'm staying safe and warm inside my rig a lot more! Newmar have created a spacious rig that's perfect come rain or shine, as there's ample space to spread out and get comfortable, even when it's stormy outside.
The Dutch Star is built on the STAR Foundation 450HP Cummins brand diesel chassis and is fitted with a cargo liner, 5/8″ floor decking, 5/8″ bead foam, and galvanized sheeting to keep the chassis stable and ensure a smooth ride. It also helps to insulate the entire bottom of the rig, which makes it great for winter weather. This Newmar is a fine example of attention to detail, and it's equipped with plenty of features I need to stay comfortable over the winter months.
Not only does the Dutch Star have great insulation from the roof to the floor, but it also has double-pane windows throughout, two 15M Penguin heat pump air conditioners, optional electric radiant heated floors, an 8.0 Kw generator, six 6-Volt batteries, and a 100W solar panel. This isn't enough solar for long periods of boondocking or off-gridding, so I would opt for the additional four 100W roof panels.
Pros:
Luxurious both inside and out
Spacious shower and wardrobe closet
Range of lengths and floorplans
Cons:
Several slide-outs which may cause issues in winter weather
Sizeable and difficult to drive
Interior Height: 7′
MSRP: $258,450
Exterior Length: 37′ 2″
Exterior Height: 12′ 11″
Though the Thor Motor Coach Challenger isn't the cheapest rig on this list, it definitely packs the most into its economical pricing. Built on a 350HP, 7.3L Triton V8 gas engine chassis, this is a rig I know will take me out into the wilderness when I hear nature calling. The Challenger has 3 different floor plans to fit every RVer's individual needs, and with trusty block foam insulation, it's suitable for adventuring through any climate. Even if I'm in the Southwest in July or New England in February!
Along with sturdy insulation throughout this big rig, the frameless dual pane windows, electric fireplace, water bypass system, and enclosed and heated holding tanks, all work together to make this a fantastic Class A RV for winter. I appreciate how much thought Thor Motor Coach has also given to the exterior of this RV, although not all are well-suited to winter weather conditions.
Pros:
Efficient and functional floorplans
Two bathrooms
Powerful engine
Cons:
Winter features can be improved
Lack of solar
Interior Height: 6′ 9″
MSRP: $608,268
Exterior Length: 45′
Exterior Height: 13′ 3″
The Tiffin Motorhomes Allegro Bus is an advanced, modern rig, fit for even RVing pros. I still find advancements in RV technology mind-blowing, and the Tiffin Allegro Bus has plenty of high-tech features! Built on a Power Glide chassis, the Allegro boasts an OnGuard ACTIVE package, an advanced braking system, adaptive cruise control, and an app that connects my phone to the RV!
This gives me complete control over settings so I can adjust the Allegro however I need to, whenever I need to. There's an integrated Spyder Multiplex system to add even more high-tech ability, and the interior is just as stunning. Handcrafted cabinetry comes standard which is a pleasure since so much seems extra nowadays.
I love the sleekness of the Allegro Bus, but Tiffin have also managed to make this Class A homely and welcoming. The kitchen is ideal for making all of my favorite goodies, and the extensive countertop space and storage areas mean I'm not strapped for areas to utilize during cooking. Having enough interior space to enjoy in the summer and winter is essential, and this is a rig I would love to spend plenty of seasons in!
This big rig has slide-outs to help enhance the interior even more, but these aren't optimal in winter conditions. When operating slides in winter, I'm also wary of components freezing or not working, and to be honest, these are the worries I'd rather not have on vacation! However, with the correct maintenance and precautions, the Allegro Bus is a showstopper, even in the snow!
Pros:
Variety of floorplans
Double bathroom options
Modern aesthetic
Winter-ready features
Cons:
Might be too advanced for some RVers
Substantially taller than other Class As
Class A RV Winter Considerations
I hope you found a rig you love on this list! There are so many impressive Class A RVs available with impressive features, but remember, no rig is perfect and that's especially true for winter camping! I recommend budgeting for some modifications even after manufacturer upgrades. These are things such as taking the time to winterize thoroughly, cleaning the rig, adding holding tank insulation, and more!
It's impossible to complete modifications that require any major remodeling at home, so make sure you get what you want from the rig you're looking to buy. If you're looking to take your Class A out on a winter adventure, pay special attention to the body insulation and enclosed underbelly. It's possible to add additional underbelly insulation, and if you're heading to cold climates, this is something worth thinking about.
You'll also need to think about covers and other accessories like insulated and hose heating pads which are a must in my eyes! Frozen pipes can cause hours, if not days of clean-up and fixing, and having to constantly drain your water lines for fear of freezing means potentially being without water for extended periods of time.
Closing Thoughts
Class A RVs are the ultimate luxury, spacious vehicle, but not all of these campers are fit to cope with the harness winter weather brings! Camping in winter is a magical experience, but it's a lot more comfortable in a vehicle with winter-ready features and capability.
Hopefully in our list of the best Class A RVs for winter, you've found a rig that's caught your eye, so you can get out into the mountains this winter season!