Last updated on June 5th, 2023 at 11:44 am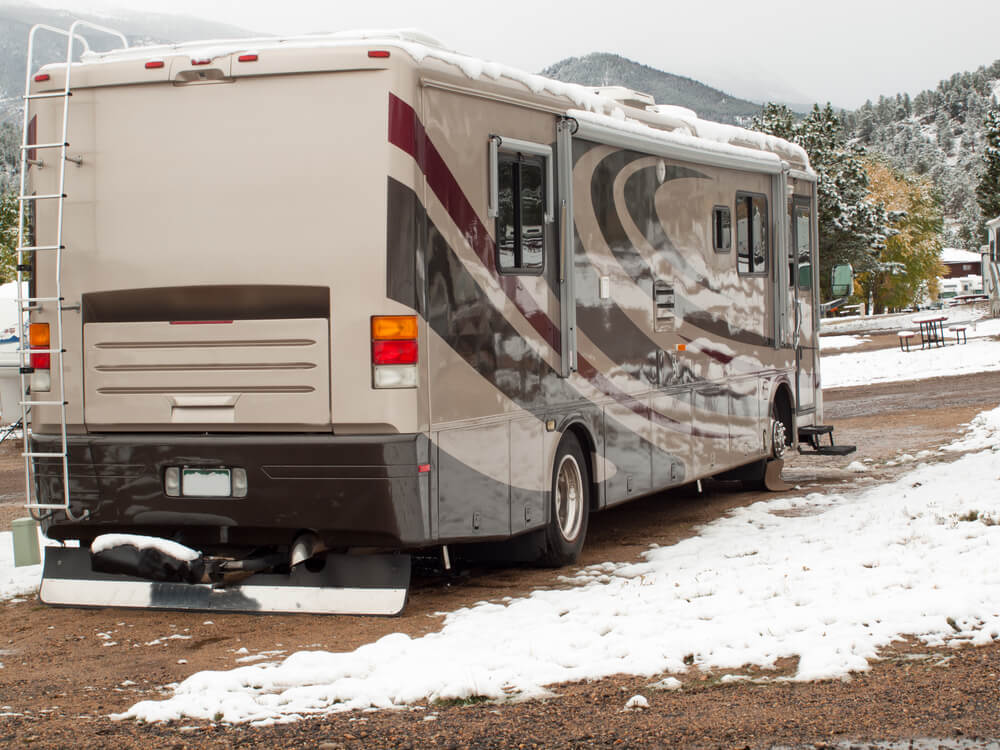 All of our reviews are based on exhaustive research, industry experience and whenever possible, hands-on testing. When you make a purchase using one of our chosen links we'll a small percentage of the proceeds. This supports the site and keeps Jeffsetter running. You can read more here.
Who wants to see their rig out of commission for months on end, covered in snow? Wouldn't it be amazing to experience the beautiful winter landscapes of all the corners of North America, or tailgate for your favorite football team's entire season, no matter where they're playing? Well, with the amazing floorplans and features of the Class A RVs available these days, it's becoming easier and easier to stay out in your RV all year round!
We're going to look at the five best Class A RVs to keep you toasty warm and cozy no matter the climate! But not every rig is winter-ready and there are a few things you want to make sure you're looking for before you hit those open roads.
Why a Class A RV?
Class A RVs, or diesel pushers, are often synonymous with "luxury," "high-end," and "top of the line" (although large travel trailers are definitely a luxury contender). It's easy to understand why- these massive rigs are what rockstars tour the country in! They have the largest floorplans, tons of power, and almost all the features you'd expect from a home. They're ideal for long trips with multiple people and they're not called motor coaches without good reason!
But all that luxury comes at a price! Class A RVs are the most expensive to purchase and keep running. It's a huge investment and they need a fair amount of upkeep, especially if you are wanting to experience all seasons in your RV! So if winter RV-ing is a goal of yours and you're ready to invest in a Class A rig, you want to make sure you get the best value for your money!
What to Look For in a Winter-Ready Class A RV?
Be sure not to blindly trust an "arctic package" upgrade on any RV purchase which is something we've talked a lot about already. What's included in the package can vary greatly among manufacturers. The first and most important component of having a good winter RV experience is:
High-Quality Insulation
This is where we do need to rely on the existing features of the RV. It's incredibly difficult and expensive to upgrade insulation in an RV- especially when it comes to the underbelly. Most arctic packages are going to include extra, high-quality insulation. Ask for the specifics of the materials used for insulation and their R-value, which is the measurement of the effectiveness of the insulation.
Most high-quality RVs use fiberglass insulation as it has a high R-value, is lightweight, affordable, and easy to get. Some RVs use plywood, which is not going to be great in wet environments, but it does tend to hold up for longer than fiberglass. I'm personally a huge fan of Havelock's Wool, which has become more popular over the years. Wool can also be a great DIY addition for all the nooks and crannies cold air starts creeping in. So if you find yourself with a rig that has some cold spots, wool is great as it's water-resistant, easy to manipulate, and very affordable.
Plumbing, Piping, and Fluids
Make sure that your piping and plumbing mechanisms are fully contained within your rig and don't skimp on potential upgrades for heating pads and insulated pipes if they're an option! Keeping your piping from freezing is one of the most important parts of a winter-ready rig.
Luckily, most Class A RVs have these features standard, but be sure to double-check! Ensuring your pipes and hoses are easily accessible is also important, as you may need to manually melt any frozen water or add additional insulation when you know you will be dealing with a significant cold snap.
Double-Pane Windows
Double-pane windows are an absolute must in a winter-ready RV (especially a Class B RV) as they will provide an extra layer of insulation.
One of the best parts of RVs are their windows and the natural light they provide, but it's also a double-edged sword when it comes to climate control inside your RV. Also ensuring you have heavy-duty window covers is important. Most RVs come with privacy covers, but they are not always designed for insulation. Luckily these types of features are optional upgrades or are easily purchased.
In some cases, you'll want to just apply a heavy-duty RV cover to get through a tougher storm.
Same goes for your RV doors. You'll want to make sure that they are well-fitted and sealed when closed. Cold, drafty air can easily sneak in around the seams. Don't skimp on the weather stripping around your doors, windows, and seams! They break down quickly and will not only allow cold air in, but use more of your energy and power to keep a set temperature inside.
The cab of your rig is also a big source of heat escape. The large windshield can't be double-paned and is therefore going to allow a lot of cold air in. Make sure the privacy shield for your front window is heavy-duty, designed for insulation, and fits securely against the window.
Now that we've covered some of the basics, let's get into the best Class A Rigs for Winter Living!
Five Best Class A RVs for Winter

Interior Height: 7′
MSRP: $378,736
Exterior Length: 37'10"
Exterior Height: 12'11"
The Reatta is very fancy! It's got all the finishes to make you feel like you're living a life of luxury, but then has the power and quality to make it the best overall Class A RV for winter living!
Built on a Cummins 380HP turbocharged diesel engine (which many prefer over gasoline) the Reatta is built to take you anywhere in any climate! The Reatta is heavily insulated, with insulated front and rear caps, a single-piece fiberglass roof reinforced with plywood and Flexfoil insulation, and extra-insulated walls.
The Reatta also features three, 15,000 BTU a/c units with heat pumps AND an Aqua-Hot 250D hydronic water and heating system.
[youtube https://www.youtube.com/watch?v=5kxsTOpAA6A]
Did I mention the heated floor? Yes, it had electric radiant floor heating throughout the entire rig! There's also a 5,000 BTU LED fireplace that's meant to actually produce heat!
What I love: This rig will actually keep you warm! I love the additional insulation throughout, the fireplace, and as someone with chronically cold feet- the heated floor makes me giddy!
What I don't like: The Reatta has tons of luxury features, including two slide-outs. I'm always wary of slide-outs, especially in cold weather, as there's also an increased risk of cold drafts coming through the seams.

Interior Height: 6'8″
MSRP: $379,419
Exterior Length: 35'9″
Exterior Height: 11'11"
Winnebago is synonymous with quality, especially when it comes to all-season rigs. Any of the Winnebago Class A RVs are going to be prepped and ready to take on any cold weather but why I'm featuring the Inspire is because it's a mid-entry diesel pusher perfect for wheelchair accessibility.
Built on 340-hp Freightliner XCS chassis, this rig is powerful! It has 2, 13,500 BTU air conditioners, one with a heat pump; and 35,000 BTU furnace. The 6,000-watt generator and 4 deep-cycle batteries will keep you warm and secure inside, no matter the outdoor weather!
The Inspire has an on-demand water pump, a TruLevel holding tank monitoring system, and a heated holding tank compartment. The water system has a winterization package and multiple sensor systems to ensure you are always aware of what's going on with your fluid tanks. This is a great feature in cold weather, as you can trust that you always know what's going on in your rig.
What I love: The wider galley and fold-down counters allow for a wheelchair or accessibility devise to easily feel comfortable while inside, and I think that it's about time manufacturers started making more inclusive rigs!
What I don't like: To allow for the extra accessibility space, the Inspire includes a slide-out, which can be challenging to manage in cold weather. Slide-outs can create extra seams and entry points for cold air to enter and warm air to escape. Luckily Winnebago doesn't skimp on quality, so this might not be as much of a concern in the Inspire as it might be in other manufacturers.

MSRP: $213,425
Exterior Length: 35'4″
Exterior Height: 12'7″
Class A rigs are called diesel pushers because they have traditionally always had diesel engines as diesel tends to do better at powering these heavy RVs. But the engineering of RVs gets better and better every year, and finding a powerful gas Class A RV isn't impossible! And honestly, diesel is a bit of a hassle when dealing with cold weather. Diesel fuel starts to gel at freezing temperatures and therefore requires a little more maintenance and management. So there's definitely an advantage to a gas Class A rig.
The Coachmen Encore is a great option not only for a gas engine but also for its affordability without compromising on features. The 325SS has a Ford F53 7.3L V8 Chassis, which is a lot of power for this reasonably sized Class A rig! The Encore has two 15,000 BTU a/c units with heat pumps, a 5.5 kW gas generator, a 30,000 BTU furnace, and a 100W solar panel, which can be upgraded to 300-watts.
The Encore also has tons of storage inside and out and includes an outdoor accessible kitchen area. I might be a little concerned about keeping that secure and protected during winter trips, but the duality of this rig is nice! Making it great for all-season camping!
What I love: I like having the gas option of the Encore and particularly love the bedroom of the Pursuit, the storage/headboard design is definitely home-like, and I also like that the bed is centered as opposed to directly under a drafty window. Also, I love that the Encore has a fireplace directly below the tv and in front of the recliner seats for those long winter nights when you're stuck inside!
What I don't like: I think the Encore could have better undercarriage insulation. Areas of the generator and propane tank are exposed to the ground, but the piping and hoses are insulated and have heating pads.

Interior Height: 6'9″
MSRP: $490,506
Exterior Length: 37'11"
Exterior Height: 13'1″
The Newmar Dutch Star is the definition of luxury, and its price reflects that! This is by far the most-expensive rig on this list, but it's worth looking at if you are wanting luxury features and the ability to individualize your rig! Newmar offers 3 different length Dutch Star models, and 11 different floor plans, several of which include multiple bathrooms!
For this review, we will be focusing on the 37′ Dutch Stars, as I can't even imagine what it would be like to drive a 43′ diesel pusher!
The Dutch Star is built on their STAR Foundation 450 HP Cummins brand diesel chassis. Then it's fitted with a cargo liner, 5/8″ floor decking, 5/8″ bead foam, and galvanized sheeting to keep the chassis stable and ensure a smooth ride. It also helps to insulate the entire bottom of the rig, which makes it great for winter weather.
Not only does the Dutch Star have great insulation from the roof to the floor, but it also has double-pane windows throughout, two 15M Penguin heat pump air conditioners, optional electric radiant heated floors, an 8.0 Kw generator, six 6-Volt batteries, and a 10-watt solar panel. You can also upgrade to have 4,100-watt solar roof panels.
What I love: Truly, the Dutch Star is luxurious! I particularly love the spacious shower and large wardrobe closet in the rear of the rig and that's one of many reasons why this RV also made our list of the best Class A RVs in 2022.
What I don't like: Like others on this list, the Dutch Star has several slide-outs, which is always concerning in cold weather. Also, this rig is so large that yes, it will keep you warm and comfortable no matter the weather, but it will take a huge amount of energy to do so.

Interior Height: 7′
MSRP: $268,950
Exterior Length: 37'2″
Exterior Height: 12'11"
Though the Thor Motor Coach Challenger isn't the cheapest rig on this list, it definitely packs the most into it's economical pricing. Built on a 350 HP, 7.3L Triton V8 gas engine chassis, the Challenger has three different floor plans to fit your individual needs and keep you comfortable whether you're in the Southwest in July or New England in February!
The Challenger has block foam insulation throughout, frameless dual pane windows, an electric fireplace, a water heater bypass system, and enclosed and heated holding tanks!
The 5500 gas generator, four house batteries, and 100 watt solar panel will work hard to keep you warm and allow some off-grid camping!
What I love: Thor Motor Coach always has smart, efficient floorplans in their reliable rigs and the Challenger is a good representation of that. Oh! Did I mention the Challenger has TWO bathrooms??
What I don't like: the insulation and winter-ready features of this rig are decent and will serve you well, but they aren't most impressive on this list. There'd probably be a few DIY modifications needed. But the foundation and build of this rig is reliable, and with the affordable price, that modifications wouldn't be too out-of-reach.
A Few Reminders
I hope you found a rig you love on this list! There are so many impressive Class A RVs available with so many amazing features! But remember, no rig is going to be perfect and that's especially true for winter camping. I would recommend budgetting in some modifications even after all the manufacturer upgrades.
But there are some modifications you can't do without major remodeling of your rig, so those are the things that you want to make sure come standard when you buy! Particularly rig body insulation and an enclosed underbelly. You can add additional insulation to your underbelly, we talked about the importance of this insulation here, but be sure there's going to be a secure area to add that extra insulation!
You'll also need to think about covers and other accessories like insulated and hose heating pads which are also going to be a must! Frozen pipes can cause hours, if not days of clean-up and fixing, and having to constantly drain your water lines for fear of freezing means you're without water for extended periods of time as well.
Luckily everything else can be added, adjusted, or changed as you go! And isn't that part of the fun about RV-ing, learning from all the new experiences?