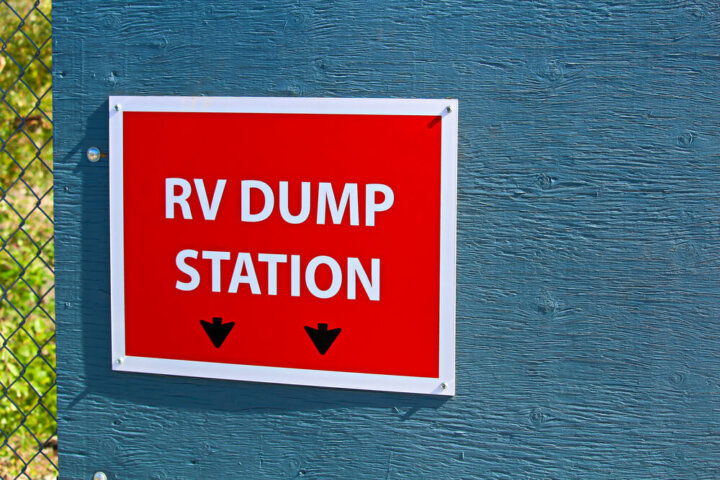 All of our reviews are based on exhaustive research, industry experience and whenever possible, hands-on testing. When you make a purchase using one of our chosen links we'll get a small percentage of the proceeds. This supports the site and keeps Jeffsetter running. You can read more here.
It can be tricky knowing just how often you should dump your RV black tank, especially when you're wild camping or boondocking without the option of an RV dump station.
More so, since allowing your black waste to build up for too long can lead to problems such as a blocked black water vent, but emptying it when it's not very full can also cause issues.
So, how often should you dump a black tank?
The maximum time you should go without emptying your RV black tank is a week, but ideally, it's best to dump your black tank every 3-4 days. The amount of time between dumps can vary depending on how many people are using the toilet, the amount of water used during flushes, and toilet paper use.
If you're new to RVing, you likely won't have much of an idea about how often you'll need to empty your tanks, that's why aside from answering the main question we will also discuss how long a black tank usually lasts, and how long you can leave it without emptying it.

Plus we will talk about the possible reasons your black tank keeps filling up so quickly!
How Often Should You Dump a Black Tank?
Generally speaking, you should dump your RV black tank every 3-4 days, as this allows the solids and liquids to mix together, preventing any solid waste from being left behind in your tank.
This is a good duration of time as it also means the contents aren't in the tank long enough to start creating bad smells.
There are a few factors that can influence how often your black tank needs to be emptied, that may mean you need to dump less, or you can leave the tank for a few more days.
1. Number of People in the RV
When there is only one person in an RV using all of the facilities, things tend to go a lot longer before needing to be emptied as they take more time to get filled sufficiently.
If you're traveling solo in your RV, you may be able to leave your black tank for over a week before emptying it.
When traveling in my camper, I like to take advantage of driving breaks and use public restrooms when possible to avoid filling up my black waste tank.
This is a useful tip if you are planning on wild camping or boondocking and want to avoid dump station visits as much as possible. We all know how frustrating it can be when you need to interrupt your travels to dump black and gray waste!
2. Amount of Water Used During Flushes
It's common for RVers, especially in the early days of RVlife to use a bit too much water during flushing. This can speed up the filling of your black waste and uses far more water than necessary.
Holding the flush down for a few seconds should lead to a sufficient amount of water being released, but there's no shame in using a bit more if you have to!
3. Toilet Paper
Toilet paper is great when used correctly, but if it's overused in an RV toilet, it can lead to a blocked black water vent that will need to be cleaned out thoroughly.
Using RV-specific biodegradable toilet paper can limit the risk of blockages, and trying to limit the amount of paper you use in general can help too.
It's important to remember not to flush any items such as wipes or sanitary products as these can cause blockages.
Tampons shouldn't be flushed down an RV toilet as along with clogs, they can create unpleasant odors that may be noticeable from other rooms in your RV.
How Long Can You Leave Black Water in an RV?
When you're out on the open road or heading into the heart of nature, you may be wondering how long you can leave the black water in your RV before you have to empty it.
You can leave the black water in your tank for as long as you want to, however, it's worth noting that the longer waste stays in the tank, the smellier it will become and these smells can enter the main living space of the RV if things get bad enough.
Emptying your black tank once a week and giving it a thorough clean every 3-4 weeks will keep smells to a minimum and stop any solid residue from building up on the bottom of the tank.
There isn't any benefit to leaving waste in your black tank for long periods of time, so it's best to stay on top of emptying your tanks and keeping them clean.
Although things can be busy when you return home from an RV vacation, it's good to get into the habit of giving your black tank a thorough clean so it's fresh and ready to go for your next adventure.
This also means no odors will accumulate while the RV isn't being used and your black tank will remain in great condition.
The video below gives some helpful pieces of advice along with tips and tricks for cleaning and maintaining the black water tank on your RV.

Dealing with jobs such as black water tank maintenance may not be the most pleasurable, but it means you'll have a better experience when you're out on the road and the RV is smelling fresh and clean.
You don't need to give your tank a thorough clean-out every single time you visit the dump station, but it's wise to give it some attention at least once a month.
Not every part of RV living is full of sunshine and rainbows, but putting up with the mundane things like maintaining your waste tanks correctly will lower your stress levels and make the good times even better.
How Long Will a Black Water Tank Last?
The length of time an RV black water tank will last depends on the size of the tank and how often components such as the toilet are used in the RV. Generally, a black water tank will last 3-4 days if the RV is being used by two people.
If you are traveling as a family or have friends staying in your RV with you, your black water tank will fill up far quicker and need emptying more often.
When you visit the dump station, having a thorough clean out of the black tank if you haven't done so in a while is a good idea as solids can harden over time and become a nightmare to get rid of.
Although it's vital to empty your RV black tank regularly, emptying it too often isn't the best idea and can cause problems too.
On campsites it may be tempting to connect up to sewerage, however, this means urine will drain straight out of your black tank, but solids won't, so they can build up and create what's known as a waste pyramid which as the name suggests, isn't the nicest to have to deal with.
Why Does My RV Black Tank Fill up so Quickly?
When your RV's black water tank is continuously filling up too quickly, it can be frustrating as you'll have to visit the dump station frequently, likely disrupting your travel plans.
There are a few different reasons why a black tank might be filling up too fast, and once you identify the cause of your particular problem, you'll be one step closer to resolving it.
1. Using Too Much Water
When you flush the toilet in your RV, you don't need to push down on the pedal for a long time to get rid of what's in the bowl. It can be tempting to hold down the flush for a while, but this is unnecessary and uses more water than needed.
For any marks that may be left behind, it can be useful to use a spray bottle filled with water to clean off any marks in the toilet bowl. This avoids water overuse during flushing and will help prevent your black tank from filling up so quickly.
2. Solids Build-Up
If you begin to notice your black tank seemingly filling up faster and faster with each black water dump you do, the problem may be a build-up of solids.
This can happen when there aren't enough liquids in the tank to help break down the solid waste, meaning it gets stuck and creates a pyramid pile of waste.
Even though this sounds like a big problem, all you need to do is break up the solid waste so it can get flushed through the tank and out of the system easier.
To prevent this problem from happening again in the future, be sure to let your tank build up a bit with a mixture of both solids and liquids before dumping your RV's black water tank.
3. Toilet Paper Blockage
Using an excessive amount of toilet paper can cause blockages as the paper can get stuck and be hard to remove from your black tank.
Standard toilet paper may be more likely to cause blockages compared to RV-specific paper, so it may be worth switching out your toilet paper and seeing if things improve.
Although it may not appeal to all RVers, keeping a separate waste bin for toilet paper can help avoid the possibility of a toilet paper blockage completely. This paper can then be disposed of when you're next in an area with waste facilities.
4. Multiple Sinks Draining Into Black Tank
RV plumbing can vary between different models, and sometimes there may be water draining in from a sink or even the shower.
This can cause your black water tank to fill up very quickly, as every time the sink or shower is used, it will drain into the tank.
If this is the cause of your black tank filling too quickly, it may be possible to change around the plumbing in your RV, but it's best to contact the professionals if RV plumbing is not something you have tackled before.
5. Flushing Wipes and Sanitary Products
When using wipes and sanitary products, it may seem convenient to just flush them down the toilet in your RV, however, they can create blockages and clogs in your system that can make your tank fill up fast and have a bad odor.
Keeping a small bin near the toilet for items such as these is a good idea, and will help avoid any potential blockages in the future. It's also worth noting that using biodegradable or compostable products can help keep clogs at bay too.
6. Incorrect Black Tank Gauge Reading
Gauges to indicate how full your black is can be useful when they work correctly, but it's not uncommon for gauges to be inaccurate and give false readings for the level of your black tank, encouraging you to empty it before you need to.
If you're skeptical about the information your black tank gauge is giving you, it may be useful to look underneath your RV with a flashlight and see if you can check the level yourself.
Noting down on a calendar every time you empty your tank can help get you into a routine of how often your tank needs to be emptied.
Closing Thoughts
How often you need to dump your black tank will be personal to you and your RV life from day to day.
If you are traveling alone, you may be able to limit black tank dumps to once a week or even longer if you are cautious of how much water you use per flush along with limiting the amount of toilet paper.
Generally, a couple traveling in an RV, using all the facilities on board as normal, will need to dump their black tank every 3-4 days.
Using public restrooms where possible and keeping a spray bottle handy by the toilet for removing marks can help a huge amount when trying to reduce the number of trips needed to the dump station.
Most importantly, once you get into a steady routine of RV life, you'll work out when you need to dump waste and fill it up with potable water too.