In an interview with Hawaii Business Magazine, China Oceanwide discusses Ko Olina projects and gives us a glimpse of its strategy for the West Oahu resort.
It's been nearly a year since we last heard an update regarding the upcoming Atlantis Resort Ko Olina.  However, the project's developer, China Oceanwide, had an executive sit down with the Hawaii Business Magazine.  And while there wasn't a lot of new information given in the interview, a few interesting tidbits were discussed.
What is China Oceanwide
Per the Hawaii Business Magazine, China Oceanwide is a private investment company founded in Shandong Province, China.  The company has almost 100 subsidiaries, employing 10,000 employees in a wide variety of industries, including banking, insurance, energy, media, tech, and real estate.  And one of the company's newest subsidiaries is, of course, Oceanwide Hawaii.
Oceanwide Hawaii is headquartered in downtown Honolulu and will employ a local workforce.  And while, yes, the parent company is based in China, Oceanwide Hawaii sounds like it'll operate fairly independently.  Company VP, Wilbert Yao, says it is essential to understand the local culture, people, and guests.  And while the company likes to keep a low profile, they also recognize the importance of developing local connections.  They intend to be an open, integral part of the community.  Of course, this means that they'll also prioritize having open, two-way communication with the community.  The intent is to keep the community informed but also to learn more about Hawaii and its people.
Ko Olina Projects
Thus far, all we know about the company's projects is that there will be three hotels in Ko Olina.  The first of these hotels, Atlantis Ko Olina, will be by far the largest.  And as previously reported, Atlantis will be built on a 26-acre plot located next to Disney's Aulani.  Like other Atlantis resorts around the world, the Ko Olina location will be a very water-centric property.  However, unlike other properties, the Ko Olina location will have a distinctly Hawaiian flair.  And that's because Oceanwide has chosen to deliberately use Hawaii-based architects and designers on this project, with an emphasis on creating a resort with a modern design that also incorporates Hawaiian cultural elements.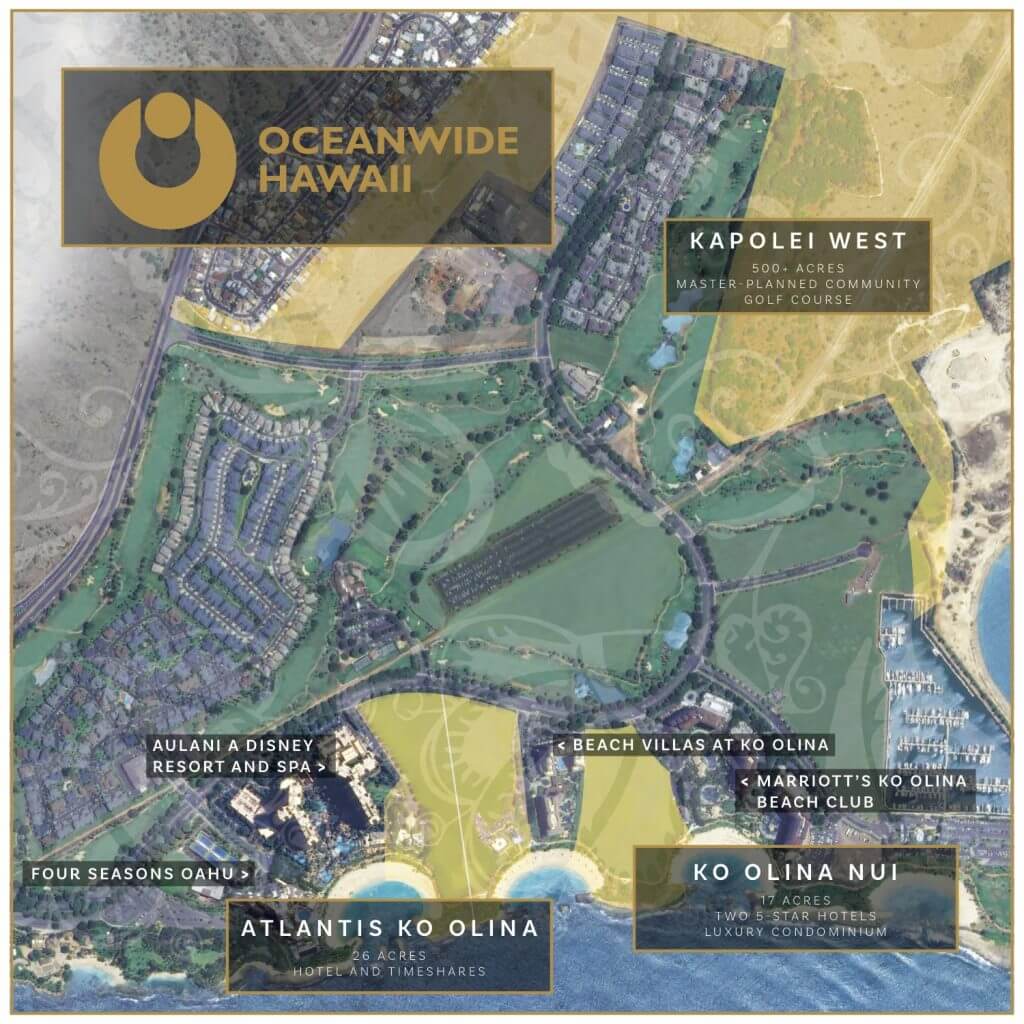 While a 1,324 unit resort would seem like enough, we know that Oceanwide plans to develop two additional resorts (and a condo tower) in Ko Olina too.  And those resorts will go on what will be the last remaining vacant, oceanfront lot in Ko Olina.  But that's all we know at this point.  Oceanwide, for its part, says these two resorts will be quieter and more exclusive than Atlantis.  Brands, however, are yet to be determined.  Though, I'm sure we can eliminate Four Seasons from the list of brands under consideration. ?
China Oceanwide Discusses Ko Olina Projects, Final Thoughts
Much remains to be seen regarding China Oceanwide's presence in Hawaii.  But if the company remains true to what it says in their Hawaii Business Magazine interview, I think we can expect great things from them.  We won't know for sure until things get underway, but I believe there's reason to be optimistic.  Afterall, not all Chinese companies are out to simply make a quick profit.  Take a look at the phenomenal job Geely did with Volvo.  And if China Oceanwide can pull of something similar with real estate in Hawaii, the future is bright.