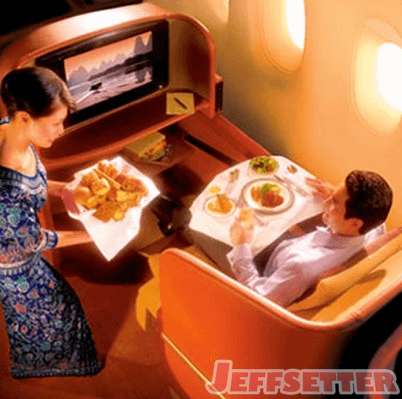 Last week we talked about domestic airlines in the United States, so this week I thought we would focus on international long haul travel. If there is one thing I learned from talking with other frequent travelers in person, it's that everyone has a different idea of how they like to approach an international flight. Some people want to travel the world in the cheapest way possible and don't care about seats. Others only seem to fly when they have the opportunity to enjoy a 7 course meal in the sky with a lie-flat seat.
I expect that due tot he varying travel styles we all have that this poll will see a lot of diversity in the results. I also suspect that some people will have a hard time choosing just one answer.
Enjoy voting everyone!
Note: You by popular request, I have modified the poll so that you can vote for up to 5 factors when filling out this poll. 
Last week's question had 62 votes and I was a little surprised at the results.  Early in the week, the results were heavily skewed toward Delta airlines, which I attributed to the majority of my base readers being located in Minnesota (this includes friends and family members from MN, where Delta is a major hub).
As the week went on, Southwest Airlines pulled into the mix and was neck and neck with Delta. Finally, when I checked the poll results today, Southwest was at the top of the list with 23 votes.
Why did Southwest win? Because my readers like Southwest the most of course! It could be that many of my new readers are visiting the site after reading my interview with Daraius late in the week. This makes sense because Million Mile Secrets is a big fan of Southwest airlines.  Or maybe it is something else? Sound off in the comments if you have any intel to share!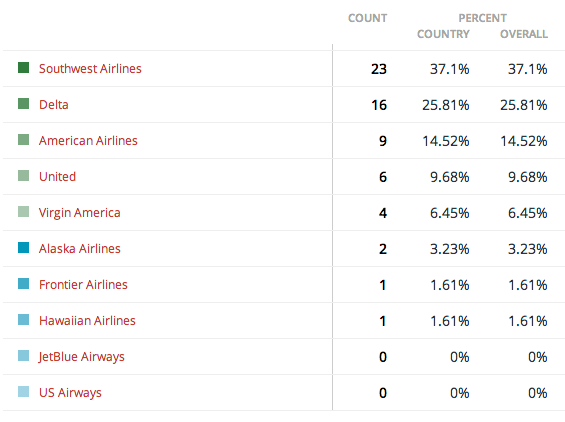 As I expected, the majority of votes came from the US. This is because most of my readers are located in the US and the question was designed specifically for US readers.

Within the US, Minnesota and Texas were tied with 9 votes each. California had 8 votes and then other states had 5 or less votes.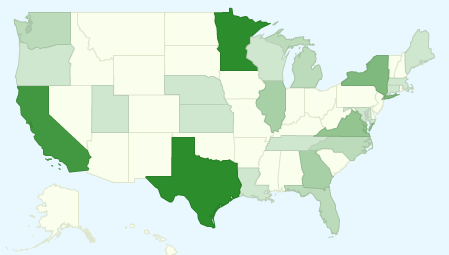 Here are the top states receiving votes:

The most interesting takeaway I see from looking at the state map is that Delta got more votes than just people in Minnesota. Perhaps things aren't as biased toward my home state as I thought?
It turns out that only 5 of Delta's 16 votes came from my home state.

I'm also surprised to see United and American not doing as well as Delta. I read so often about people flying Star Alliance and Oneworld alliance vs. Skyteam that I figured it would be heavily biased toward the airlines in those alliances.