Last updated on May 4th, 2023 at 02:33 pm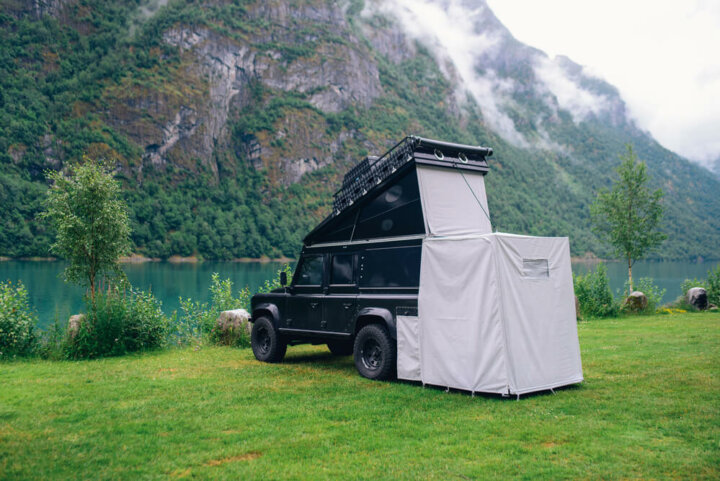 All of our reviews are based on exhaustive research, industry experience and whenever possible, hands-on testing. When you make a purchase using one of our chosen links we'll get a small percentage of the proceeds. This supports the site and keeps Jeffsetter running. You can read more here.
Camper shells are a great addition to a truck bed and can offer many benefits such as increased space and added security. When looking to purchase a camper shell, you might be wondering how it will affect your truck's fuel efficiency.
So, do camper shells improve gas mileage?
Camper shells do not improve gas mileage, instead, they lower fuel efficiency as the overall weight of the truck is increased. The additional weight of a camper shell means your truck will have to work harder and use more fuel to get you where you want to go.
Let's take a look at the reasons why camper shells aren't great for gas mileage, along with some advantages and disadvantages so you can make up your mind about whether to add one to your truck or not.
Do Camper Shells Improve Gas Mileage?
Unfortunately, camper shells do not improve your MPG but instead might make it a little worse. Generally speaking, the heavier a vehicle is, the slower it will move. This also means more effort is required to get you to your destination.
However it isn't all doom and gloom when it comes to adding a camper shell to your truck bed. They also have plenty of benefits, so it's worth weighing up the pros and cons before you make your mind up.
Advantages of Camper Shells
A camper shell might tick the box if you're looking to maximize your truck and tailor it more to your daily needs. With a range of benefits, it's not surprising they are so popular, and with winter right around the corner, now might be a good time to consider one!
1. Additional Space
One of the biggest benefits of camper shells is the additional weatherproof and lockable space they create. As camper shells cover the complete bed of a truck, they offer ideal protection from the harshest weather conditions. If you regularly use your truck for transporting things around, you now have the security of locking it all away whenever you need to.
If you're looking to adventure out in your truck and sleep under the stars, it's worth insulating your camper shell to keep you warm and cozy. Adding insulation will increase the R-value and help regulate the temperature inside the camper shell, making it the ideal space to relax.
2. Durable
Camper shells are usually made from either fiberglass or aluminum, although they are also sometimes made out of plywood too. It's these materials that make camper shells strong enough to handle rainy and windy conditions. This durability makes them an ideal option for anyone looking to use the space for storing essential tools and equipment.
Fiberglass is a strong material that creates the ideal camper shell as it can be shaped perfectly to fit on the back of your truck. The shell can also be painted and decals added to make it seamlessly match the rest of your truck.
3. Removable Option
Some camper shells are semi-permanent and can be removed if you need to change your truck back to a flatbed again. Removing a camper shell is an easy process and it will be ready for you when it's time to have some additional space in your truck again.
If you're like me, one week you'll need the flexibility of a flatbed to haul things from place to place, but the following week you might need an enclosed, secure space to lock things away whilst out on the road. A removable camper shell provides the best of both worlds, although make sure you bring some friends around to help lift it off the back of the truck!
4. Weatherproof
Camper shells provide the perfect protection from the rain, but the shell also provides coverage from the sun's rays too. There's nothing worse than trying to keep food and drinks fresh and cold when the sun is scorching down. The ability to keep things cooler over the summer period is an impressive and useful benefit of camper shells.
This is a video exploring some of the benefits of adding a camper shell to your pickup truck. If you're not sure what type of camper shell to choose, this video breaks down different options, highlighting the pros and cons of both.
Camper shells can be pretty much tailored to what you need, whether that's a shell with windows and roof rack rails or simply an enclosed, secure space.
If you're hoping to camp out in a range of weather conditions, it's worth knowing how to stay warm and comfortable in your camper shell along with keeping it ventilated too. This means you can get the most out of your camper shell, regardless of the weather outside!
Disadvantages of Camper Shells
As previously mentioned, camper shells do have a few drawbacks, so it's right to look at the full picture and decide if this is the best option for you.
1. Additional Weight
The additional weight of a camper shell on your truck is probably the biggest downside. Along with decreasing your fuel efficiency, the added weight means more wear and tear is put on your truck. To help combat this, be sure to maintain your truck well to keep it in the best shape.
2. Reduced Overall Payload
The addition of a camper shell reduces the overall payload of the truck, meaning you are a bit more limited with what you can carry on board. This depends on the type of camper shell you're considering as different brands and styles weigh differently.
If you're concerned with reducing the overall payload of your truck but still want a camper shell, take a look at lightweight ones that won't eat into your payload as much.
3. Expensive
Camper shells aren't cheap, so it's important to consider whether adding one to your truck is worth it! If you use your truck in all four seasons, a camper shell might be an investment that could make your life a bit easier, especially on rainy days.
Do Truck Toppers Affect Gas Mileage?
There's a bit of debate about whether truck toppers affect gas mileage. Similar to camper shells, the impact on your truck's fuel efficiency depends on the weight and aerodynamics of the topper.
Generally speaking, truck toppers affect gas mileage negatively as they increase the weight of the truck, which in turn, decreases fuel efficiency. As truck toppers can increase the overall weight of the truck substantially, the fuel consumption also goes up, and therefore fuel efficiency goes down.
However, the impact of this can vary wildly and will depend on the size of the truck and the size of the camper shell. If you're maxing things out with a large shell on your giant F-350 then you're definitely going to notice a drop in fuel efficiency. But if you're driving something smaller and already more fuel efficient like a Tacoma then you're going to see a lot less of an impact with an appropriatly size camper shell.
In short, camper shells will impact gas mileage but to what degree will vary quite a bit.
What are the Advantages of Truck Toppers?
Truck toppers can be the perfect addition if you're looking for a fully enclosed space to keep you and your belongings safe – and dry! With many different styles of truck toppers available, you can find the one that benefits you the most.
1. Weather Resistant
Flatbed trucks are useful for so many things, but when the weather turns, it can be a nightmare trying to keep things dry. Truck toppers are weatherproof and so are a great option if you need tools and equipment stored in the back, protected from the elements.
2. Camper Potential
Trucks already have great camping potential, but with the addition of a truck topper, you can have a fully secure, enclosed space to sleep. The addition of an enclosed space is also useful for trade workers who need to keep their tools and equipment dry and safe.
If your goal is to turn your truck into a camping space, it's worth knowing how to keep the space warm over winter and cool over summer to get the most out of your rig.
3. Improved Security
Truck toppers offer an added layer of security as they keep your belongings locked away and out of sight. This takes the stress away from leaving your truck unattended and gives you peace of mind that your valuables are safe inside.
If you need a little more inspiration to picture the things you can do with a truck topper, this video shows the transformation of a basic second-hand truck topper into a stunning little camper.
With some imagination and hard work, a truck topper can provide the ultimate home away from home space that can take you on camping adventures far and wide.
What are the Disadvantages of Truck Toppers?
There are some disadvantages with truck toppers, and although they have many benefits, it's important to consider their flaws too.
1. Limited Space
Although truck toppers increase the enclosed space of your truck, they take away the flexibility of having no roof over the flatbed. This means transporting particularly long or tall items is suddenly a bit more difficult.
It may be worth investing in a removable truck topper if you think you may still need to use the truck as an open flatbed from time to time. These allow you to remove the topper and as long as you store it correctly, it'll be ready for use again next time.
2. Storage Space Needed
If you have a removable truck topper, you need quite a large storage space to keep it dry and protected from the elements. This can prove difficult for those who have limited storage options, so it might be worth looking at other options if this is the case.
Do Tonneau Covers Improve Gas Mileage?
A tonneau cover is a great alternative to both camper shells and truck toppers as they are far lighter, meaning less wear and tear on your truck and less impact on your MPG. As tonneau covers are usually made from lightweight materials such as fiberglass, PVC, or canvas, they can take far less of a toll on your fuel efficiency.
Unlike camper shells, tonneau covers can increase the aerodynamics of the truck as they create a smooth surface over the truck bed. Similar to camper shells and truck toppers, there is a big debate about whether tonneau covers improve gas mileage or not.
As many different factors such as speed and weight come into play when looking at vehicle drag and fuel efficiency, it's hard to give a definitive answer. If the main reason you are looking at buying a tonneau cover is to improve your MPG, you might be a little disappointed in the results.
However, if you're looking for a flexible space that has less impact than camper shells, a tonneau cover might fit the bill for your truck!
Closing Thoughts
Camper shells may not improve gas mileage, but they can enhance a truck, transforming it into a larger, sheltered space for whatever you need. If you're on a budget, it may be worth researching second-hand shells and doing some DIY to create the perfect setup for you.
If you are looking for the most fuel-efficient option for your truck, a camper shell or truck topper may not be the answer. However, if you want additional space to lock away tools or get some shut-eye, camper shells are an option worth considering.