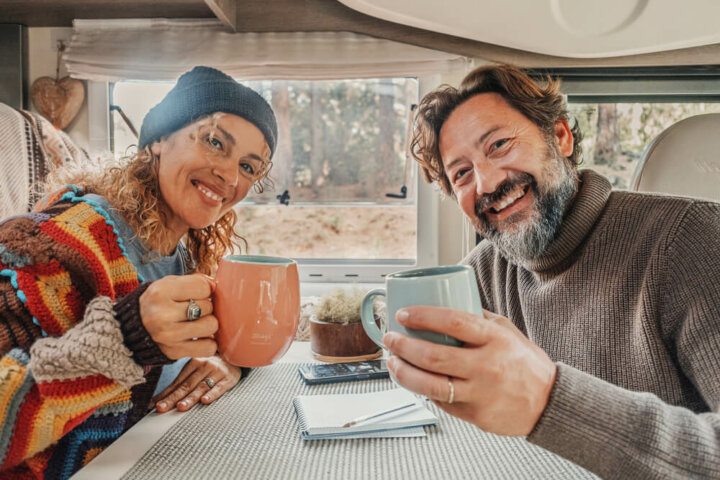 All of our reviews are based on exhaustive research, industry experience and whenever possible, hands-on testing. When you make a purchase using one of our chosen links we'll get a small percentage of the proceeds. This supports the site and keeps Jeffsetter running. You can read more here.
At first glance, keeping yourself warm inside of your camper shell may not seem like such a difficult task. After all, it's a small space, so how cold can it get, and won't your body heat be enough?
Depending on where you are, it can get very cold inside of your camper shell and body heat alone won't be enough to keep you safely warm.
How to stay warm in a camper shell?
A combination of utilizing a heater, making sure that you are well dressed for the weather, and insulating your camper shell will help keep yourself, safe, warm and comfortable when traveling during the colder seasons. Remember to also ventilate your camper shell, stay hydrated with hot drinks and take a camping buddy with you.
Below we explore all the ways you can keep warm in your camper shell from simple solutions to more in-depth projects, as well as some extra tips and tricks that will help keep you even cozier.
How To Stay Warm In A Camper Shell?
Being able to stay warm and cozy in your motorhome during your fall and winter travels shouldn't be a gamble; with the right planning, it doesn't have to be.
So, let's take a look at your options!
1. Use Different Types of Heaters
You should almost definitely invest in some kind of heater for your camper shell. There are plenty of other ways to add warmth, but none that will keep you as warm in the truly cold months as a heater. We'll go through the different types of heaters you might come across and their pros and cons.
Diesel Heaters
Diesel heaters are a great option to explore. They are fairly simple to use and not overly large, so they won't take up too much space in your already small camper shell.
They produce dry heat, so they aren't adding moisture or condensation to the truck camper which is ideal. You want to avoid adding moisture into your camper shell for a few reasons. One is to avoid mold and mildew growth, and another is that you'll find it far more difficult to keep warm if you're also damp.
You might need to make some modifications to your diesel heater if you do decide to go down this route. The video below shows one camper's method of modifying and installing a diesel heater.
Electric Space Heater
Electric space heaters are awesome, but they do require electricity which you might not have access to when you're camping. If you know you're going to a campsite where electricity is available, that's great.
However, if you still would like to use an electric heater you might want to consider using another source of electricity like a generator.
On a low setting, a generator will work well with an electric heater, but if it's really cold the low setting might not warm you up enough. Turning the electric heater up might use quite a bit more energy and drain your generator quite quickly.
If space is a concern, electric heaters can be quite small, but generators are a bit bulkier so keep that in mind when making your decision.
Propane Space Heater
A propane heater is probably the most common solution you'll find for heating your camper shell. They are a great choice and heat your space up quickly and efficiently. These can heat up your camper shell in well under an hour and can be turned on and off as needed when things start to cool off again.
There are a few safety concerns to keep in mind when using a propane heater though. The fumes the produce can be toxic and you don't want to breathe them in for too long. It can result in carbon monoxide poisoning. Most propane heaters will come with their own protection systems so they will automatically shut off when low oxygen is detected.
I would recommend going the extra step and adding a carbon monoxide detector and a smoke alarm to the interior of your camper shell. They run on batteries and will keep you safe regardless of the heater you select.
Ventilation is a requirement when using a propane heater. It will allow the air to flow so hopefully there won't be an accumulation of those toxic fumes.
Propane will also create extra moisture in the air, so if you're battling cold winter nights, you might want to consider something that produces drier heat to avoid the extra dampness.
Auxiliary Heater
This is an option to consider, but likely not the best option for anyone who is posted up camping for the night or the weekend. These heaters work while the engine is running, but can add a lot of extra warmth to your truck bed when it's cold outside.
As I said, they only work while the engine is running, so it's probably not an ideal option, but maybe a great choice if you're at a tailgate party and don't mind wasting a bit of gas to get warm it could work for you.
2. Keeping Warm with Layers & Blankets
Layering your clothes and your blankets is an easy way to keep yourself warmer inside of your camper shell.
Winter Clothes
You'll want to make sure you're wearing the proper types of clothing and the right number of layers to keep warm. The best part about dressing in layers is that it makes it really easy to adjust your outfit throughout the day as it gets warmer and cooler.
You'll want to make sure you are dressed in a solid base layer of thermals including good socks and a warm hat. Consider gloves if necessary. Keep bundled up when in your camper shell and your sleeping bag to ensure a warm night's sleep.
Picking a Good Sleeping Bag
You'll want to invest some money into a good winter sleeping bag. Depending on the type of camping you plan to do and how cold it gets in your area, you might be looking at spending a few hundred on a decent winter sleeping bag. If you are in more mild climates, you can probably get away with a three-season sleeping bag.
Sleeping bags will list their temperature ratings, types of insulation, and water resistance on their websites when you're looking to purchase.
When looking for a cold climate sleeping bag, the temperature rating will have two numbers, your comfort rating, and your lower limit rating.
The comfort rating is going to give you a temperature that is still comfortable for the user to sleep in if you tend to sleep colder. If you are a warmer sleeper, the lower limit will tell you what temperature you'll be comfortable sleeping in. Typically women's sleeping bags will have the comfort rating, and men's will have the lower limit rating.
You should also consider down versus synthetic insulation inside of your sleeping bag. Down is typically the superior option when it comes to warmth, but it is more expensive and isn't as water-resistant as synthetic fill is.
I would recommend looking for one that will sinch around your face to keep as much heat inside as possible, and one with a zipper that you can open from the inside and outside of the sleeping bag.
Ultimately, select the one that will work best for where you plan on traveling. Keep in mind that you can also have a couple of different setups for different seasons of travel.
Electric Blankets & Heating Pads
In addition to regular blankets, you can also use electric blankets or heating pads. Unlike an electric space heater, these products don't use too much energy and work easily with a battery box.
I would recommend looking for a 12-volt power blanket or heating pad. You can tuck these into your sleeping bag about half an hour before you plan on going to sleep. Once you're ready for bed you can plug the blanket or pad and your sleeping bag will be toasty warm for the whole night.
3. Insulate Your Camper
For all of these efforts to keep warm to really matter, you'll want to start by making sure that your camper shell is insulated.
Insulation will help trap the heat inside of the camper shell and keep you warmer for much longer. Without this added step, everything else will have to be working overtime to keep you warm.
We detail how to insulate your camper shell in this article.
In addition to insulating your camper shell, you'll want to have added protection for your windows. You can use Reflectix and velcro to create added insulation that doubles as a privacy screen.
In addition, you can also use heavy curtains on your windows to keep cold air out. Keep in mind that you may need to have a window cracked open for proper ventilation depending on the heater you've chosen.
Carpeting the floor will also keep the space warmer since most truck beds are going to be cold metal or plastic. It won't add a ton of insulation, but it's an extra layer between you and the cold.
Other Tips & Tricks
There are plenty of additional ways to keep yourself warm inside of your camper shell. These won't do the job on their own, but you should consider adding them to your rotation.
Sleep on a Platform
You'll want to build a platform so that you're not sleeping right on the bed of your truck. Raising where you put your mattress, sleeping pad or sleeping bag gives you more separation from the cold truck bed and ground beneath it. It also creates more space that the cold air has to travel through keeping your sleeping arrangement a lot warmer.
This video is a quick tutorial on how to build a platform for your camper shell, and as a bonus, it's modular so you don't have to keep it in there all the time.
Ventilate Your Camper Shell
I've mentioned adding ventilation a few times in this article but mostly in relation to using a propane heater. Even when not using a propane heater, you should consider using some kind of ventilation.
It sounds counterintuitive to leave a window open when it's cold to help you stay warm, but hear me out. Condensation is going to build up inside of your camper shell, even just your breath is going to add to it. That condensation means you might end up waking up damp in the morning. When you're damp it is infinitely harder to get warm.
Adding ventilation by even just opening up a window will help the condensation from building up to keep you nice and dry. You can take it a step further and install a small vent fan into your camper shell if you want to.
Find a Travel Buddy
Two may not always be better than one, but two will always be warmer than one. Body heat alone won't keep you warm, but it can certainly help. Just make sure whoever you bring along with you is someone you don't mind cuddling with.
Traveling with Pets
If you would rather travel without another human with you, consider a pet instead. Your pet is going to add to your warmth quite a bit, especially if you can get them to curl up in your sleeping bag with you.
That being said, the comfort of your pet is important too. Like the electric blankets I mentioned earlier, you can get a 12-volt heated dog bed. There are also some rechargeable ones on the market as well. These usually have a timer feature so your pup won't get too warm while laying on one.
Hot Drinks & Hot Water
Keep hot drinks and hot water readily available at all times while camping in the cold. There are plenty of isolated mugs and cups don't the market that keep drinks hot for hours. Prep a few of these bottles and store them in your camper shell.
Staying hydrated will actually help keep you warmer in the cold. It is possible to get dehydrated even in cold, but you might not notice your thirst as much as you would in the heat.
Additionally, you can fill a water bottle up with hot water and tuck it into the foot of your sleeping bag for added warmth.
Conclusion
All of these tips and tricks should keep you more than warm enough in your camper shell. A few well-chosen purchases and some more involved projects will make all the difference in the comfort of your camper shell.
Hopefully, this article will have opened up a whole new world of travel for you by making your camper shell cold climate friendly.