The first few days of our stay at The Surfjack saw fairly heavy fare from places like Marugame and Bo's Kitchen. So, one day, I decided to change things up by giving Dukes Lane poke bowls a try. But, man, I was in for a major surprise!
Dukes Lane is an upscale food-centric space on the ground floor of the Hyatt Centric Waikiki Beach. Owned by the ABC Store, Dukes Lane offers sundries, coffee, boba, gelato, a bakery, quick service spots, and their upscale dining concept, Basalt. We've been here numerous times before, but, to my knowledge, their poke bar is a newer addition. By the way, this isn't a new section of the complex; instead, it's an additional menu being offered at Spitfire. Oh, and that menu has a ton of options, so I suggest mulling it over before you visit.
Dukes Lane Poke Bowls
If you haven't looked at the linked menu, there's much to consider when ordering Dukes Lane poke bowls. First, you must choose your base of white/brown rice or mixed greens. Second, you select your poke – 1 choice for regular (1/4 lb) and 2 for large (1/2). Next, you pick your toppings – this is the only item that has no limit. On step four, you can select one premium topping, though you can add more for a fee. Finally, you get to pick a sauce, though I passed on this.
For her poke bowl, Mrs. Island Miler went with Oyster Sauce Ahi & Spicy Ahi over white rice with bubu arare, green onion, furikake, avocado, and unagi sauce. I didn't try either of her selections, though Mrs. Island Miler was very satisfied with her choices.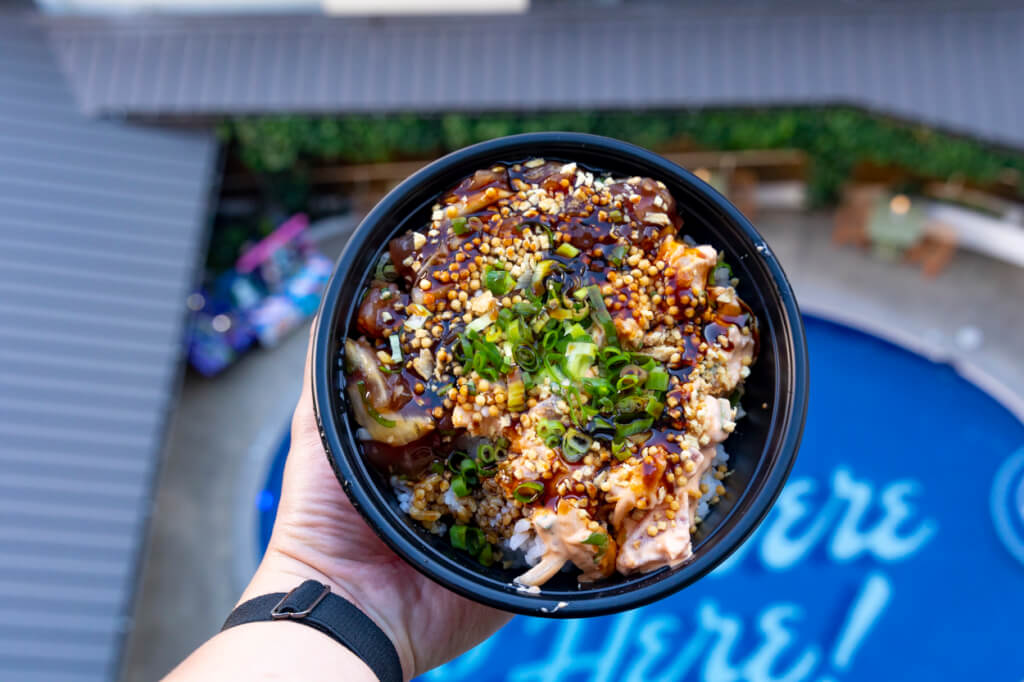 For my bowl, I went with the Shoyu Ahi & Hawaiian Ahi over white rice with furikake, bubu arare, and green onion. I love Hawaiian-style (traditional) poke, though it MUST include inamona, which it does at Dukes Lane. And, honestly, their Hawaiian Ahi is pretty good! It's just too bad I couldn't really taste it because my tastebuds were annihilated by the intense spiciness of the Shoyu Ahi! I gave Mrs. Island Miler some, and she concurred that it was a bit spicy for her, which means I shouldn't be eating it. In fact, this was FAR spicier than Poke by the Pound's version! I guess I'm just cursed with stealth spicy poke nowadays.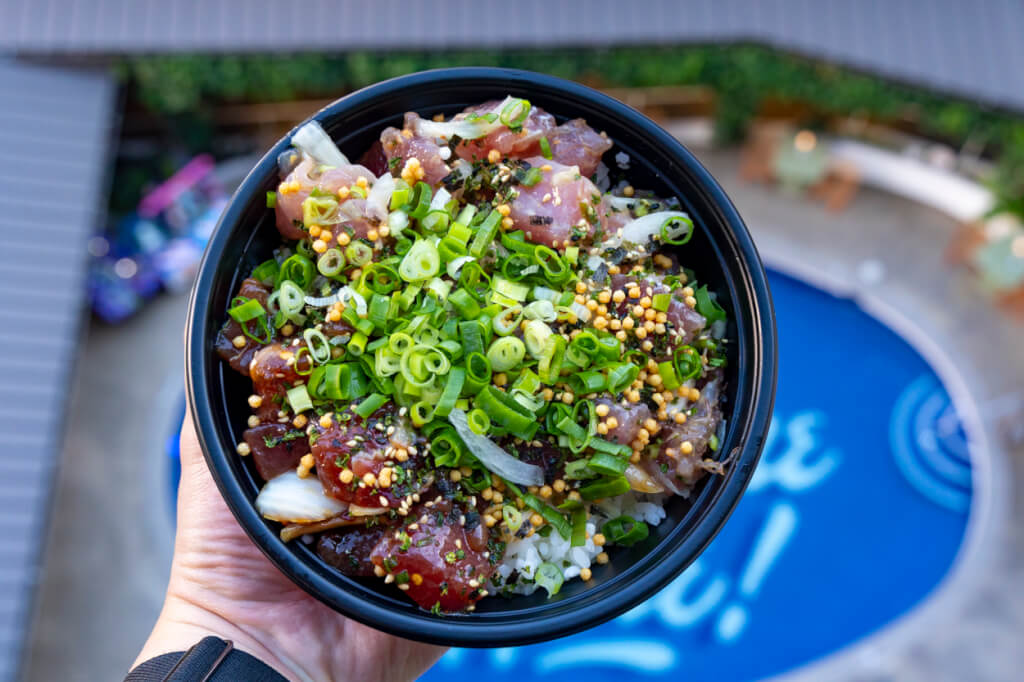 Final Thoughts
Aside from my tongue nearly melting off, we were both pleasantly surprised by the Dukes Lane poke bowls. At about $16 each, they aren't cheap. However, the serving sizes are quite generous, and the fish is fresh! It's very likely that we'd return again in the future, though I'm going to stay the hell away from the Shoyu Ahi. Luckily, there are quite a few other varieties to try.