Korean SkyPass has long offered the best value when redeeming points or miles for travel to and from Hawaii.  But since transferring points to SkyPass won't be an option come August 25, it's time to re-think our Hawaii award travel strategy.  And so this is what earning Hawaiian award flights post-SkyPass will be like.
As you'll recall from my post last month, the Chase Trio was the best strategy for earning Hawaiian Air award travel.  And that's thanks to Korean's generous award chart and the tremendous earning power of the Chase Trio.  For example, with that combination, based on my calculations, the average person could earn about three Hawaiian Air award flights per year based solely on credit card spend.
But earlier this week, we learned that transferring to SkyPass would no longer be an option.  So let's look at how to earn award flights on Hawaiian Air going forward.  And, again, this post is for award travel on Hawaiian Air only; I'll make another post for other options later.
Earning Points
On the earnings side of things, nothing is changing.  As a result, I'm not going to go over all my calculations again.  Instead, you can check out the full details at my previous post.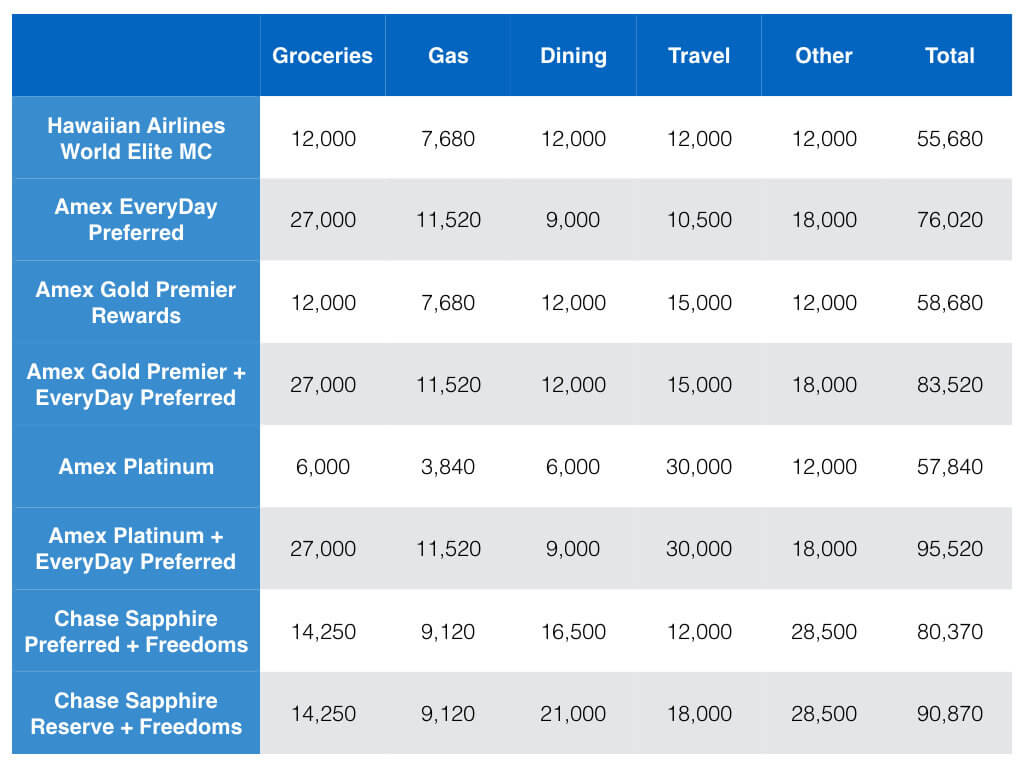 Again, the highest earning potential comes from the Amex Platinum plus fully maximized EveryDay Preferred combo.  And the second highest earning combo is the Chase Trio, which is the Sapphire Reserve and the two Freedom cards.
Redeeming Points
With Korean SkyPass leaving, there's only one other Ultimate Rewards transfer partner that offer Hawaiian award flights is Virgin Atlantic.  And, as you might imagine, their award chart isn't as generous as Korean Air's.

The above chart represents round-trip awards.  And, if you're familiar with the HawaiianMiles award chart, you'll notice that the pricing is identical.  However, the Chase Trio, both Reserve or Preferred, earn more points per year than the Hawaiian Airlines World Elite Mastercard.  So this is still a better way to go.  That being said, I'm not sure what availability using this route is like, as I don't personally have a Flying Club account.
Since the Flying Club chart is identical to Hawaiian's own, though, your best combo for earning award flights on Hawaiian Air is now to have both the Amex Platinum and EveryDay Preferred.  This combo allows for the highest earning potential but also carries the highest combination of annual fees.  After all, the Amex Platinum carries a $550 annual fee (personal), and the EveryDay Preferred is another $100.  While with the Chase Trio (Reserve) you pay $450 in annual fees.  Of course, travel credits, etc. reduce the net annual fee, but the Amex combo is always going to be higher.
Want Lower Award Redemptions?
If you're willing to move your flying away from Hawaiian Air, then you can still reap some great award rates.  These will be trickier to book, though, and you won't be able to get direct flights between Hawaii and certain North America destinations like Vegas.  But, if you're willing to fly Alaska instead, you'll be able to recreate some of the value Korean SkyPass provided.  Award flights booked that route can go for as little as 23,000 miles in economy.
That, my friends, is a whole different strategy, though, so I'll be covering that in a future post.
Earning Hawaiian Award Flights Post-SkyPass, Final Thoughts
The loss of Korean SkyPass for Ultimate Rewards is a gut-wrenching one.  And, in the case of earning award flights on Hawaiian Airlines, the loss has completely changed the game.  What hasn't changed, though, is that the Hawaiian Airlines World Elite Mastercard still provides the poorest earning potential.