This past April I took my first trip ever to Las Vegas.  And naturally, we flew Hawaiian Airlines HNL-LAS to get there.
When traveling to Vegas, Hawaiian Airlines is the default option for most Hawaii residents.  Hawaiian, after all, is one of only three airlines that offers a direct flight between Hawaii and Sin City.  Further, Hawaiian is the only full-service airline on the route.  The other two airlines with direct flights between Hawaii and Vegas are Allegiant and Omni Air (charter operator for Vacations Hawaii).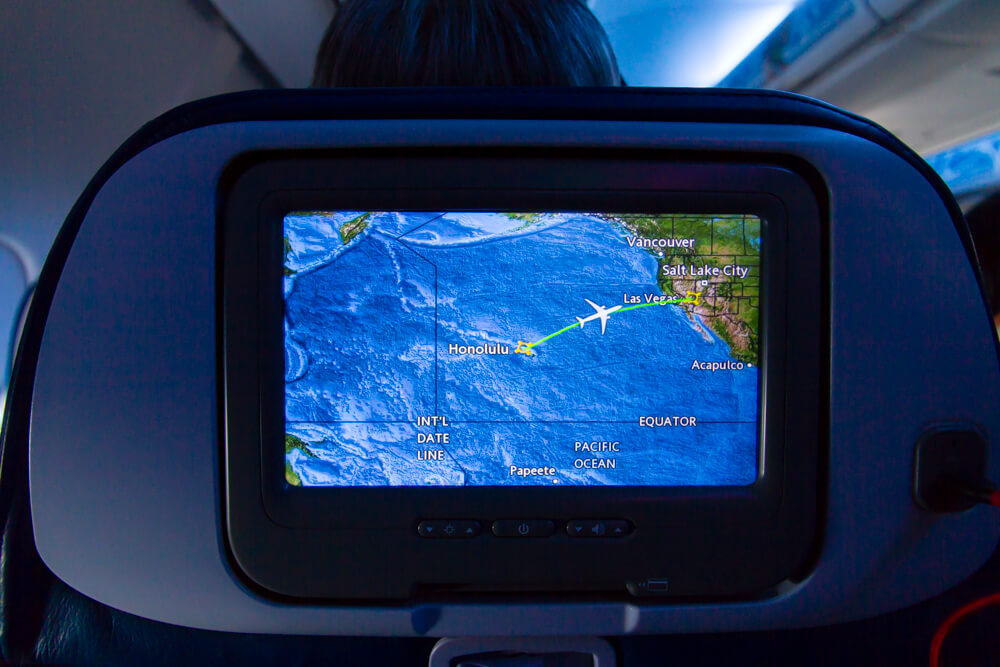 Why I Chose Hawaiian
Las Vegas is an extremely popular destination for Hawaii residents.  Demand on the route is very high, and competition is fairly low.  As a result, prices on this route are often very high on Hawaiian Air.  For references, tickets for Mrs. Island Miler and I cost me about $740/person.  And thats with my $100 annual HawaiianMiles World Elite MasterCard discount certificate.  At the same time, you could purchase roundtrip tickets between Honolulu and Tokyo Haneda on Hawaiian Airlines for around $520.
Initially I had wanted to fly Alaska to take advantage of my companion certificate.  But convenience was more important on this trip thanks to time limitations.  Plus, we wanted to stick with Mrs. Island Miler's parents, so Hawaiian it was!
Check-In
The day of departure, our flight was scheduled to depart at 7:50 am.  We arrived at the airport just prior to 6:00 am.  To make things easier, we used Hawaiian Air's valet check-in service.  Here, you simply drive your car up to Hawaiian's valet desk near the commuter terminal at the Daniel K. Inouye International Airport.  Once parked, you simply unload your bags, give the agent your information, have your bag tags printed, and go on your way.  Boarding passes are also re-printed at this time, but I had checked in the night before via Hawaiian's archaic mobile app and downloaded an e-boardingpass to my Apple Wallet.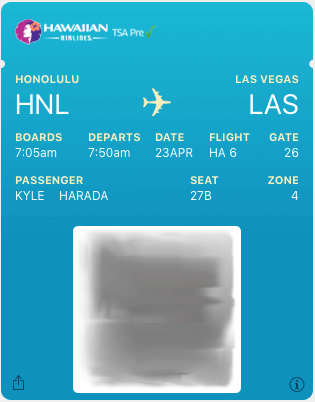 That morning they were having computer issues, so what should have taken maybe 5 – 10 minutes ended up taking somewhere between  20 – 30 minutes.  Thankfully we were able to find parking pretty quickly after this and the security lines were too bad.  That being said, when I went through the TSA check point, an airport porter went ahead of me and set off the detectors.  They let him go right through and forced me to go through additional screening instead.  I found this to be very, um, wrong?  But it is the TSA…
Terminal
Our flight, HA6, was scheduled to depart from Gate 26, which is in the Ewa Concourse.  The terminal is located in between the larger Central Concourse and the Inter-Island Terminal.  So it's a little far from Hawaiian's check-in lobby and security check point, but is far closer than the terminal we flew out of to Portland.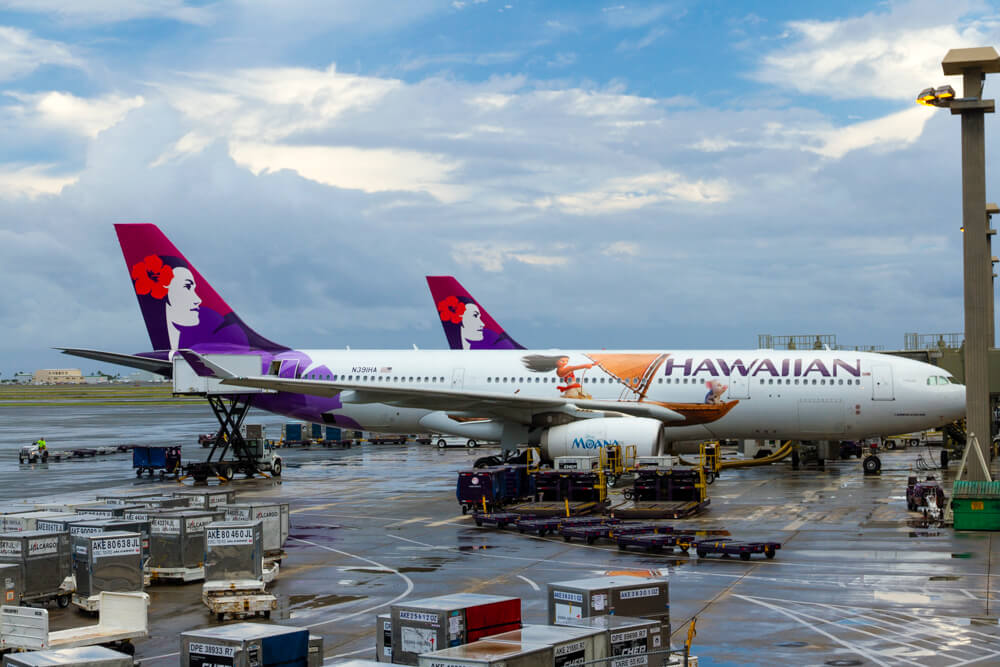 On our way to the terminal, we caught a glimpse of the aircraft that we'd be flying out.  We lucked out and got N391HA, which at the time, was one of 3 special liveried aircraft for Disney's Moana.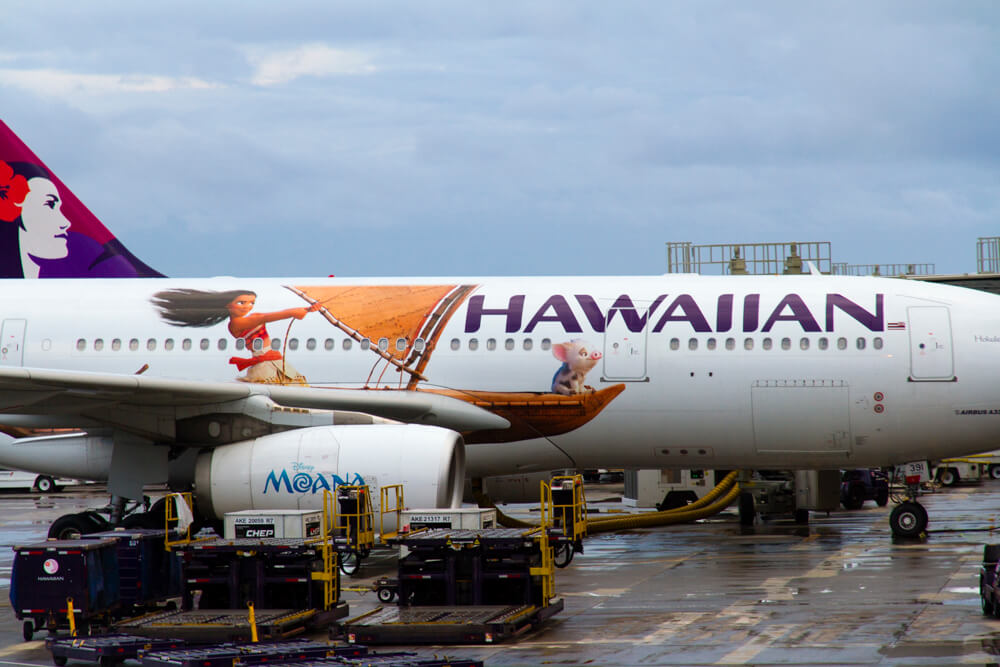 The terminal itself, though, is nothing special.  In fact, much of the terminal is under renovation, so its more cramped than usual and had few amenities.  There is a Starbucks kiosk in the terminal, but man was the line long.  I stood in line for over 30 minutes, and only got back to the gate area about 5 minutes prior to boarding.
Boarding
Boarding for our flight was scheduled at 7:05 am.  And unlike my previous flights on Hawaiian, boarding commenced right on time.  For this flight we flew in standard economy and ended up in boarding zone 4 (the second to the last zone).  Hawaiian has no priority boarding privileges attached to its credit card like some other airlines do.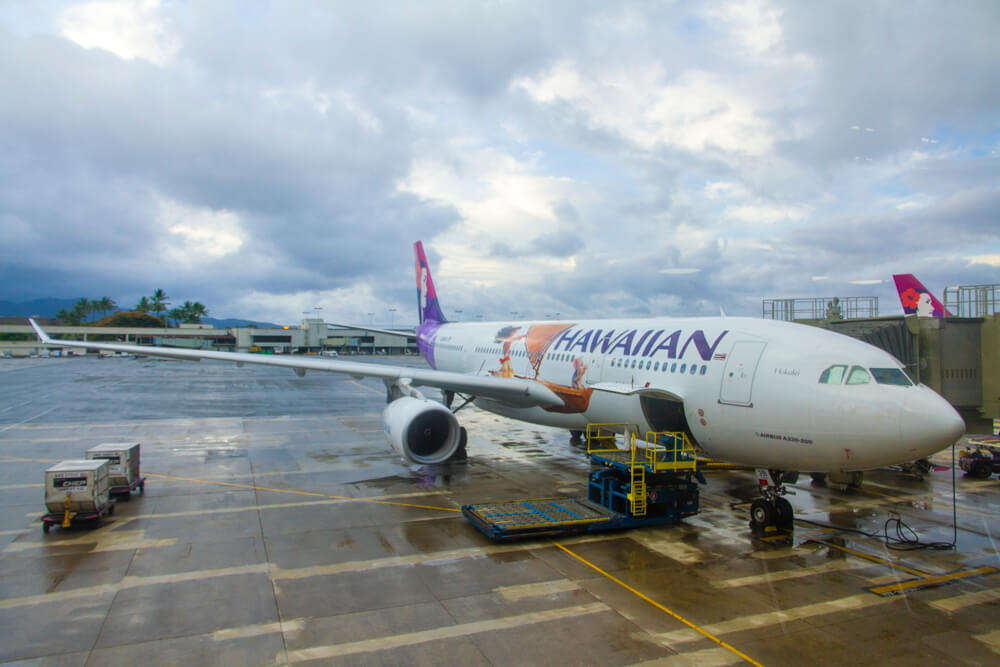 Boarding took over 30 minutes to complete and the doors closed at 7:38 am.
Seats
Nothing has changed much since my previous flights on Hawaiian a year and a half ago.  The seats were still the same slimline design, with the same IFE system, and same 31 inches of pitch.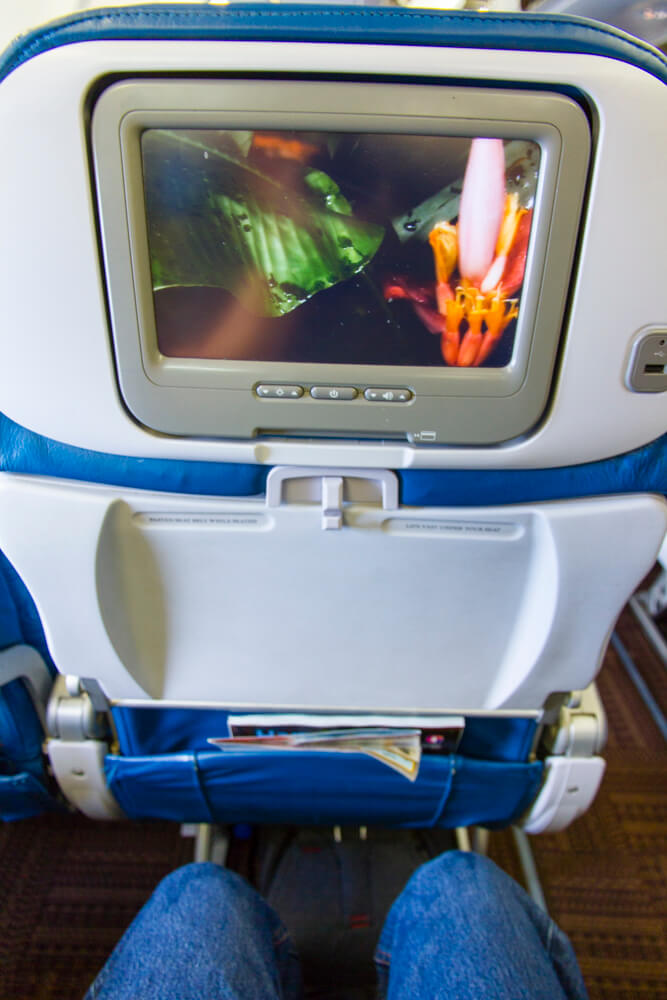 The biggest difference, of course, was the decals that adorned all the overhead bins, which featured tattoo designs and characters from Disney's Moana.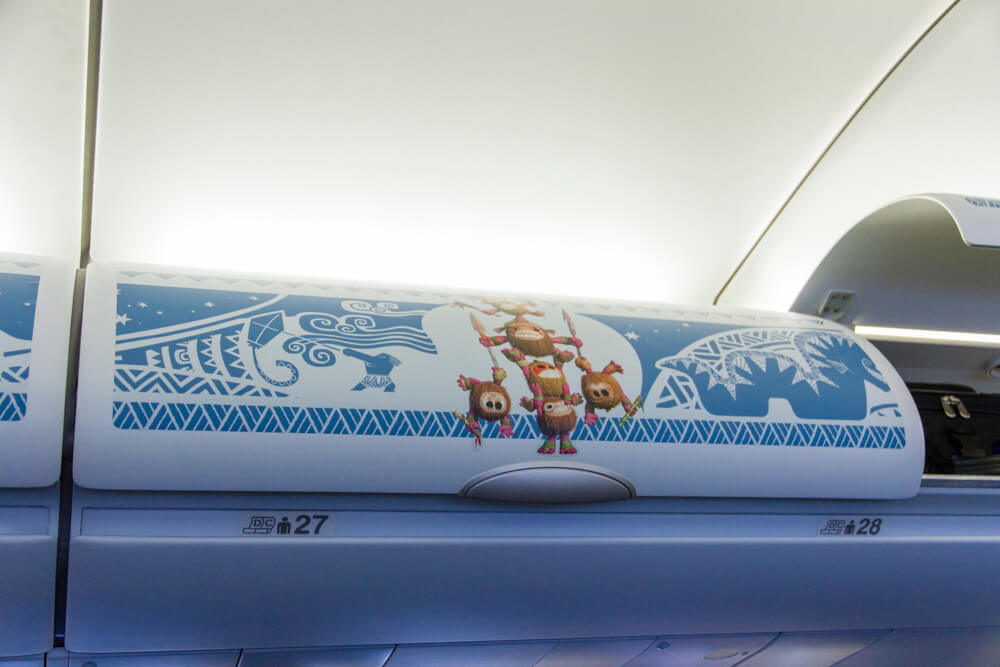 HA6 HNL-LAS
At 7:52 am, we began our pushback, just 2 minutes behind schedule.  We actually could have left on-time, but cargo loading delays set us back by a little.  The captain quoted our overall flight time of 5 hours and 30 minutes, for an on-time arrival in Las Vegas at about 4:37 pm.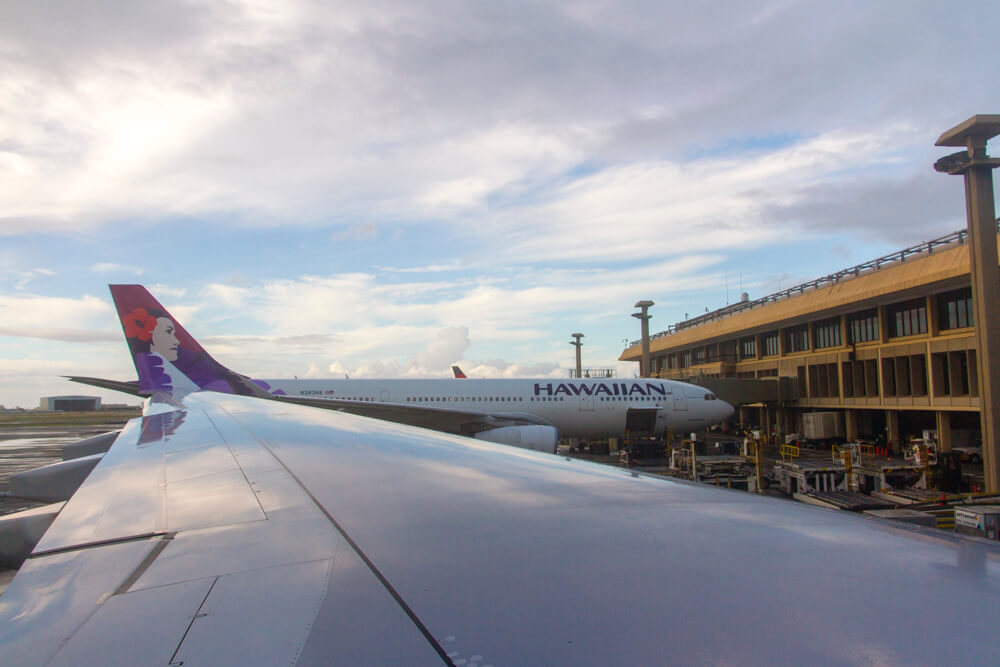 It was a busy morning that morning at HNL, and the taxi out to runway 8R, the Reef Runway, took us about 13 minutes.  This included some hold times, as we were #2 for departure behind a Jetstar 787.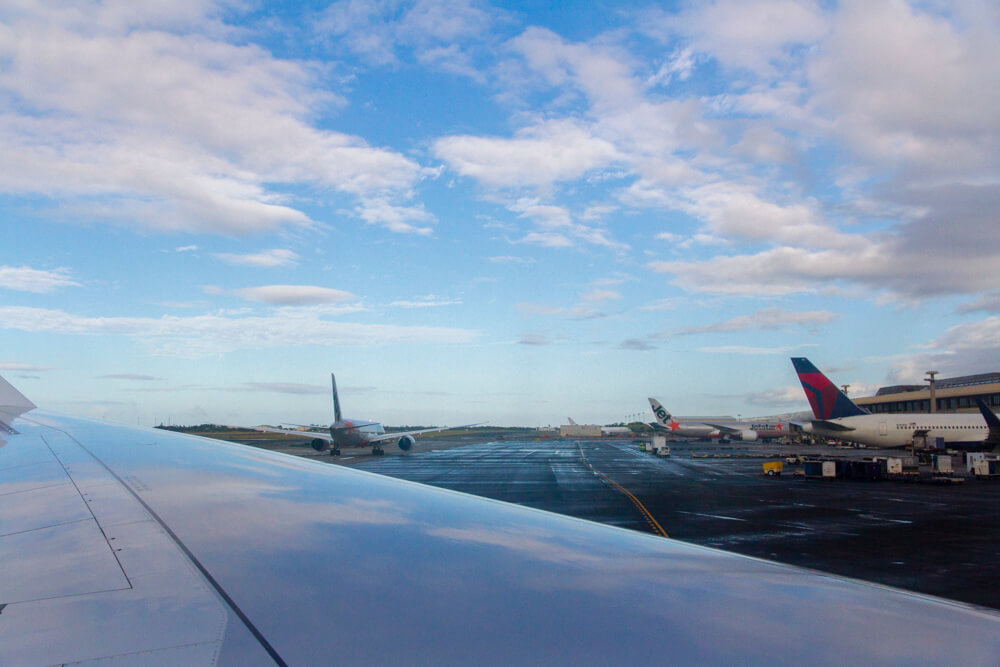 Then at 8:08 am, the co-pilot (this was a proving flight) eased on the throttle and had us on our way.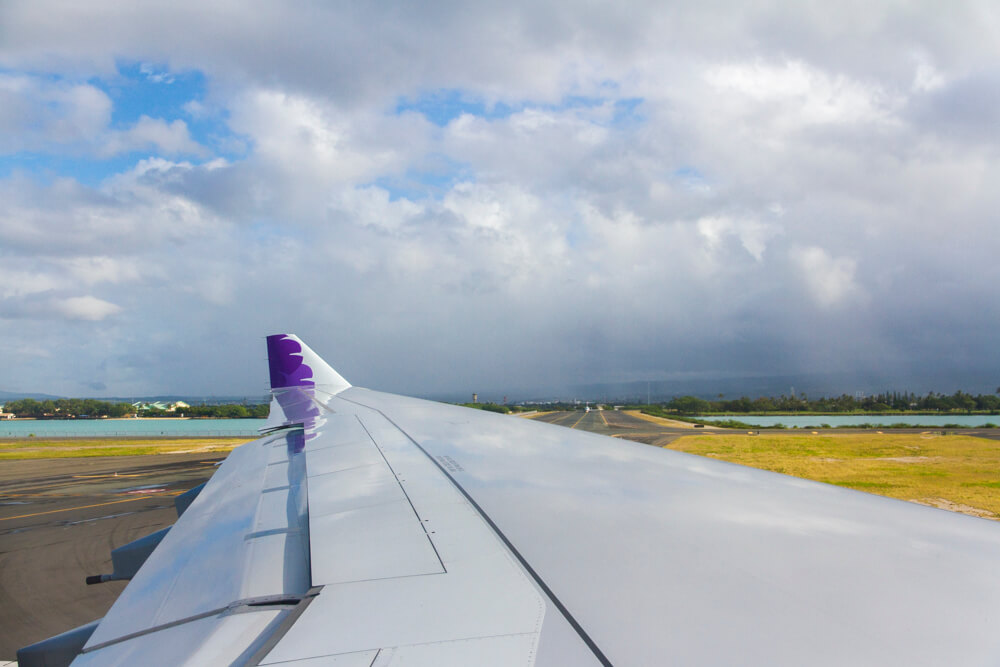 Despite the rain earlier that morning, the clouds began to clear and we had some pretty good views of Oahu on our climb out.  In fact, in the pictures below you can see Diamond Head, Hanauma Bay, Koko Head,  Makapu'u Point, Mañana Island, and Kaohikaipu Island.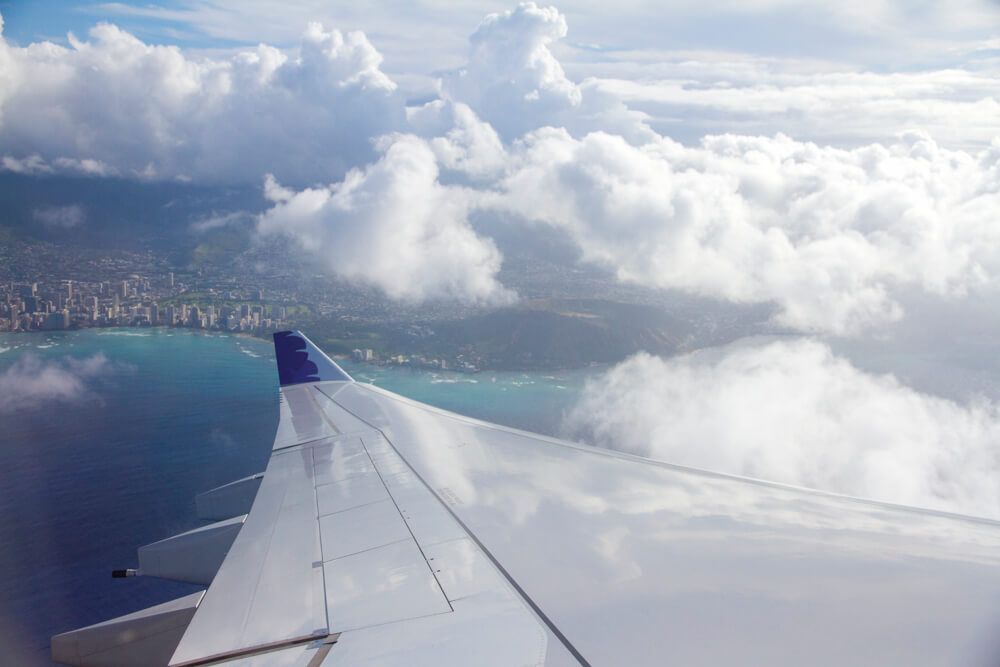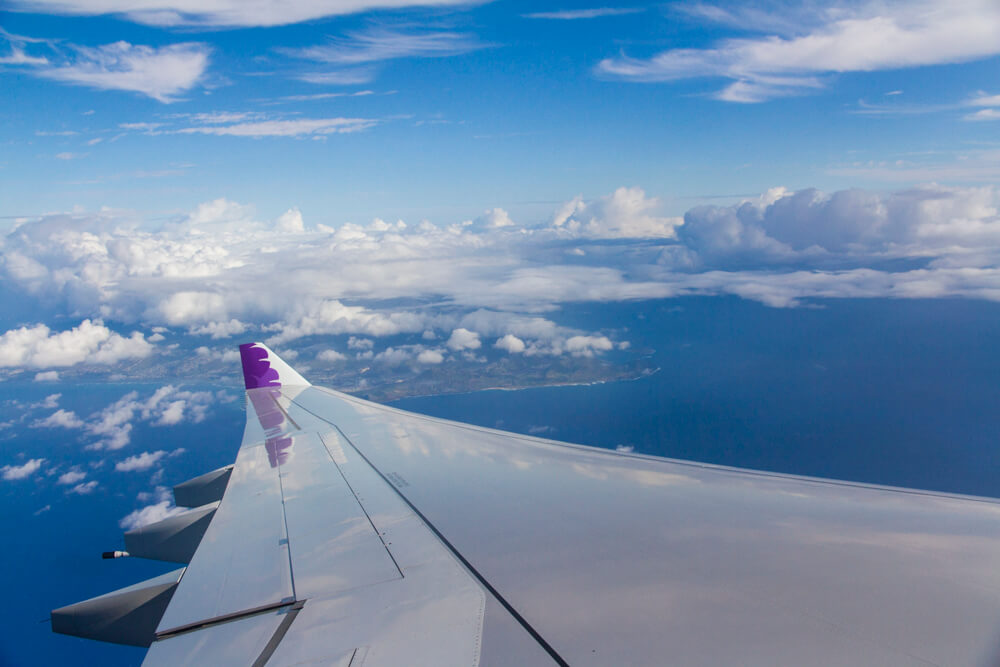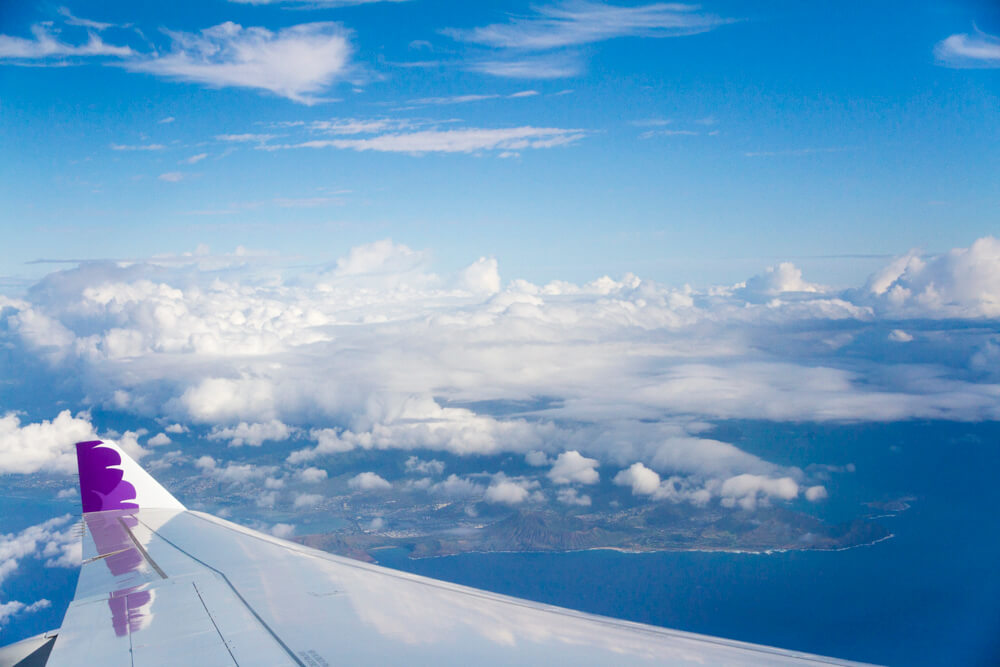 The flight was very full, but fairly quiet and non-eventful.  There was some light chop on the way out, but nothing bothersome.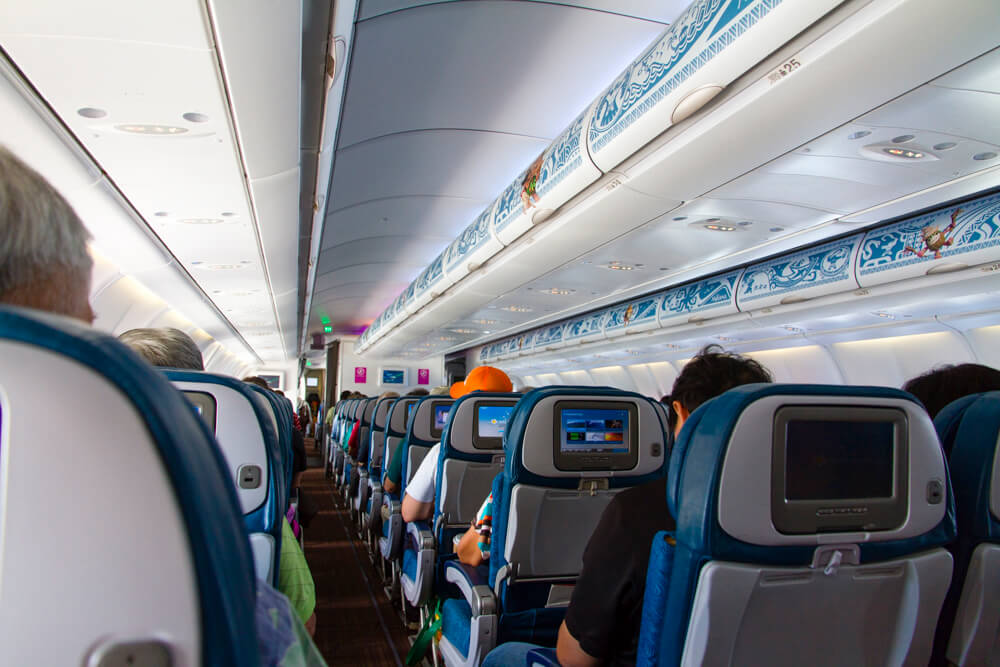 Unlike many other domestic, mainline carriers, Hawaiian still charges for ANY access to its in-flight entertainment system beyond promotional videos and the flight map.  So, it was I once again relied on my makeshift IFE system.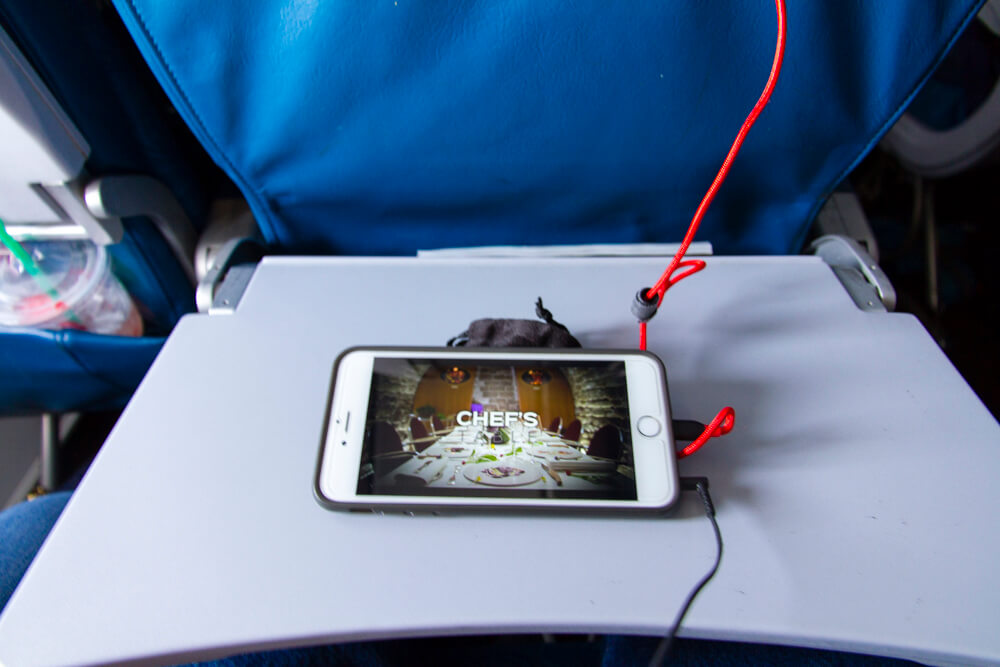 I did also notice, however, that throughout this flight, the flight attendants made quite a few more credit card announcements than normal.  And its worth noting that if you apply during the flight, the 35,000 HawaiianMile signup bonus turns into 50,000 HawaiianMiles.
Catering and Service
Once we passed 10,000 feet, the flight attendants sprung into action with their first service, which was for-purchase items.  Probably an hour later the complimentary meal service began, which on this flight was breakfast.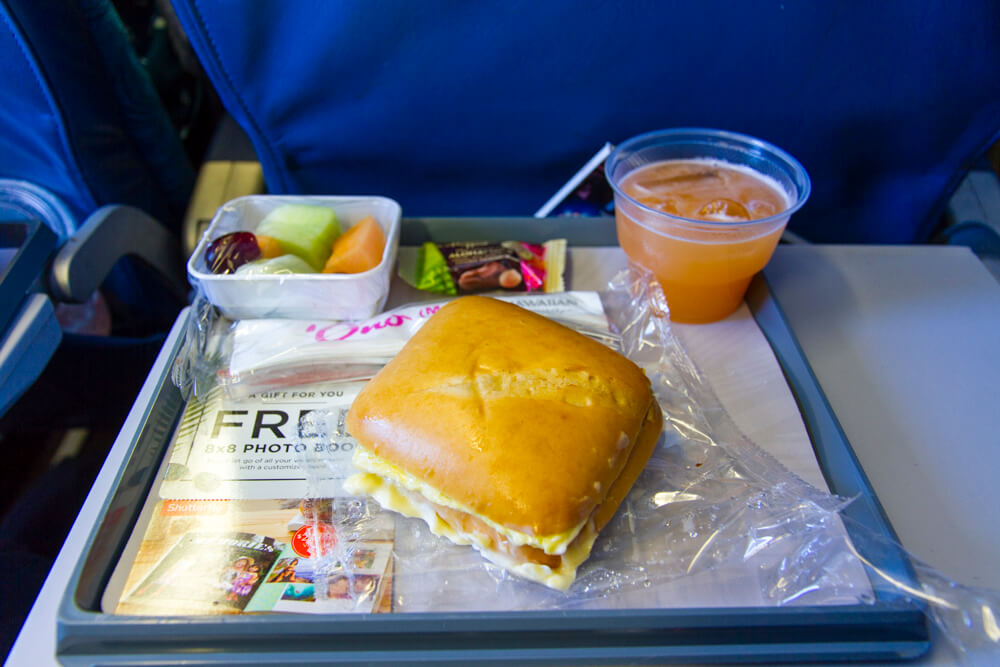 On the menu that day was a breakfast sandwich (egg and cheese) with some fruit and Hawaiian Host chocolate covered macadamia nuts.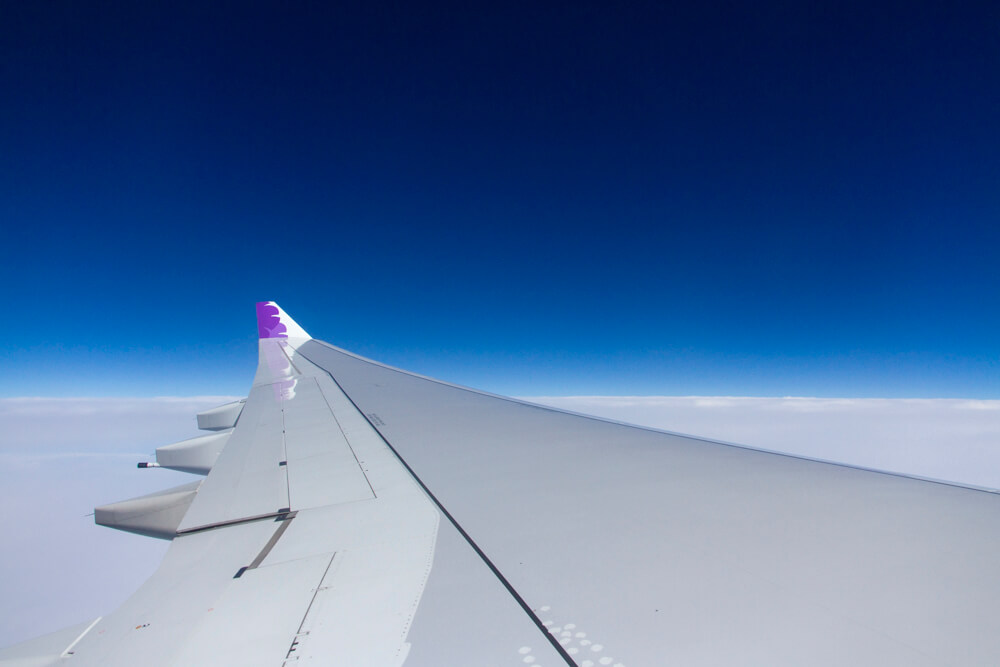 Like I said, the flight was fairly uneventful, and before I knew it, we were already 90 minutes out from Las Vegas.  At this point the flight attendants began their final service, which was the pre-arrival snack.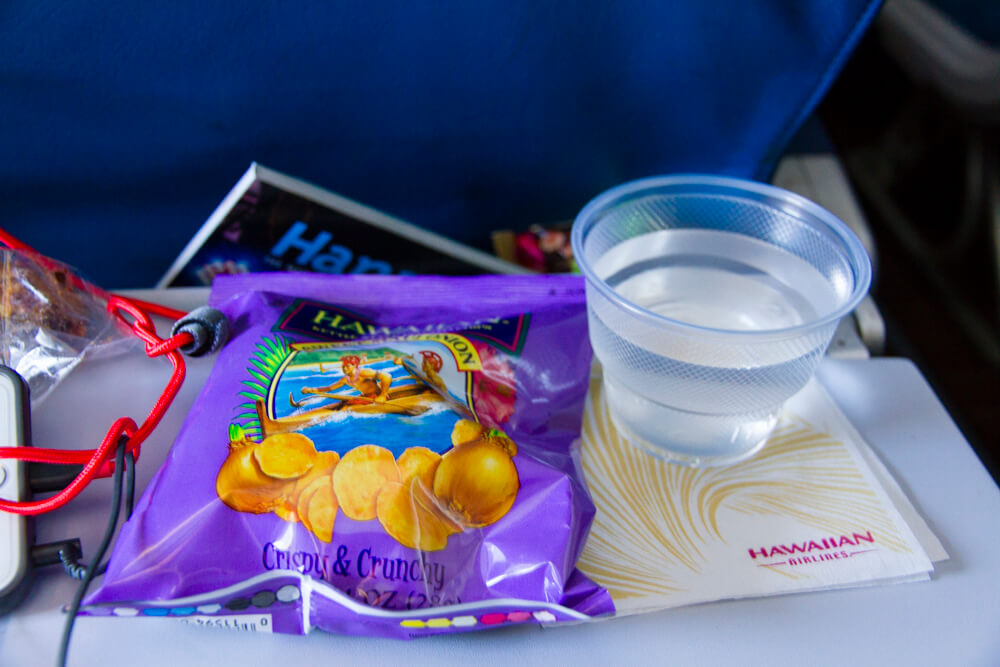 On this flight the snack was a bit more substantial than normal.  Instead of the standard Pau Hana Snack Mix, Maui Onion chips were offered with your choice of beverage.  The chips, while good, give you really bad onion breath, so I shoved it in my bag, and downed my water.
While the catering was fairly standard, chips aside, I did notice one other fairly large difference.  Compared to my other recent flights on Hawaiian, the flight crew on this flight were far friendlier.  We were always served with a smile and a sense of care, which was a stark contrast to our flight from SEA-HNL.  Plus, the flight crew were more proactive on this flight.  Much like on our previous Alaska flights, the crew on this flight would walk through the cabin periodically with water.
Arrival
The approach into Vegas is pretty nice.  We had great views of the Sierra Nevada Mountains on the way in.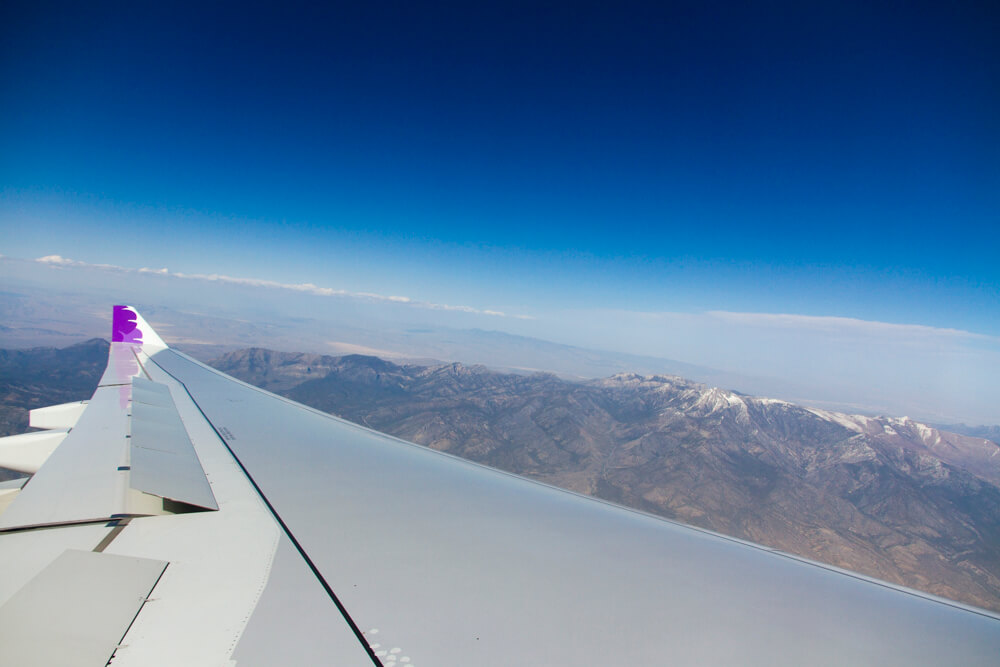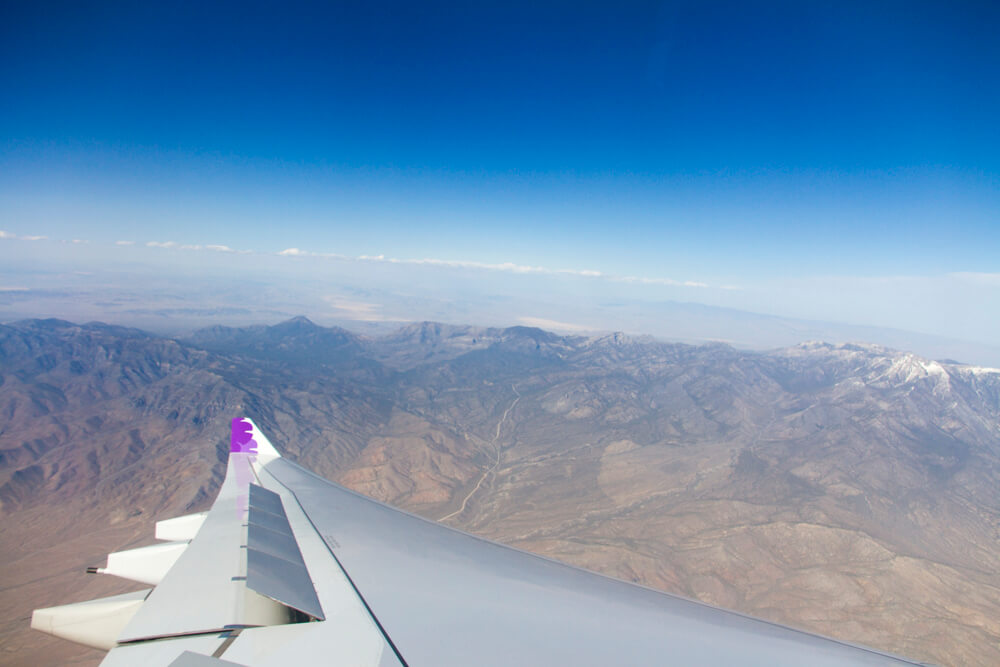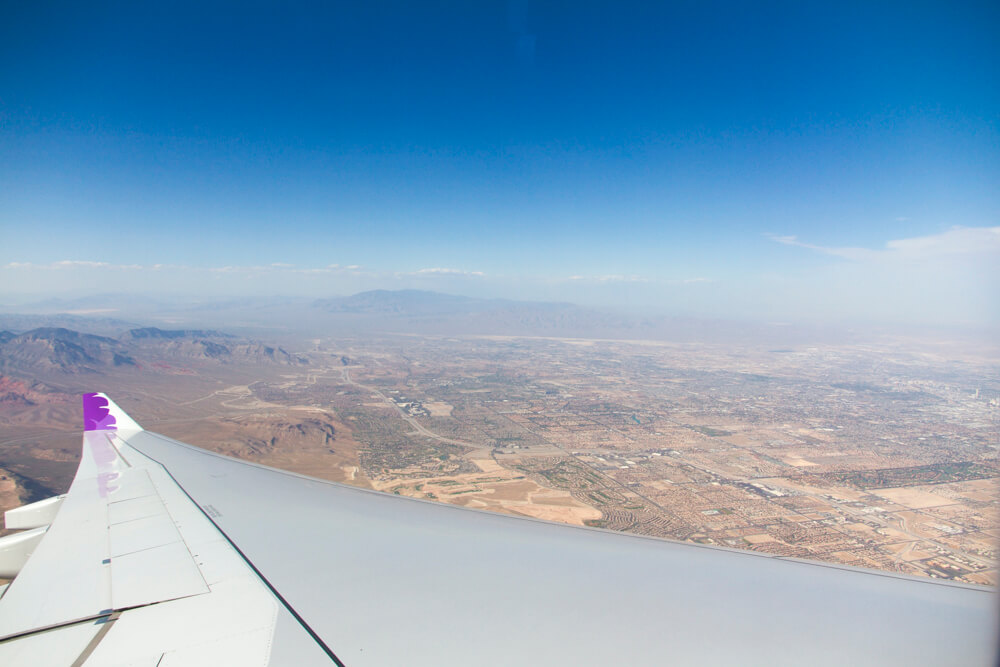 There was some considerable chop on the way down, though, which made snapping the above pictures pretty difficult.  But finally, at 4:38 pm we touched down.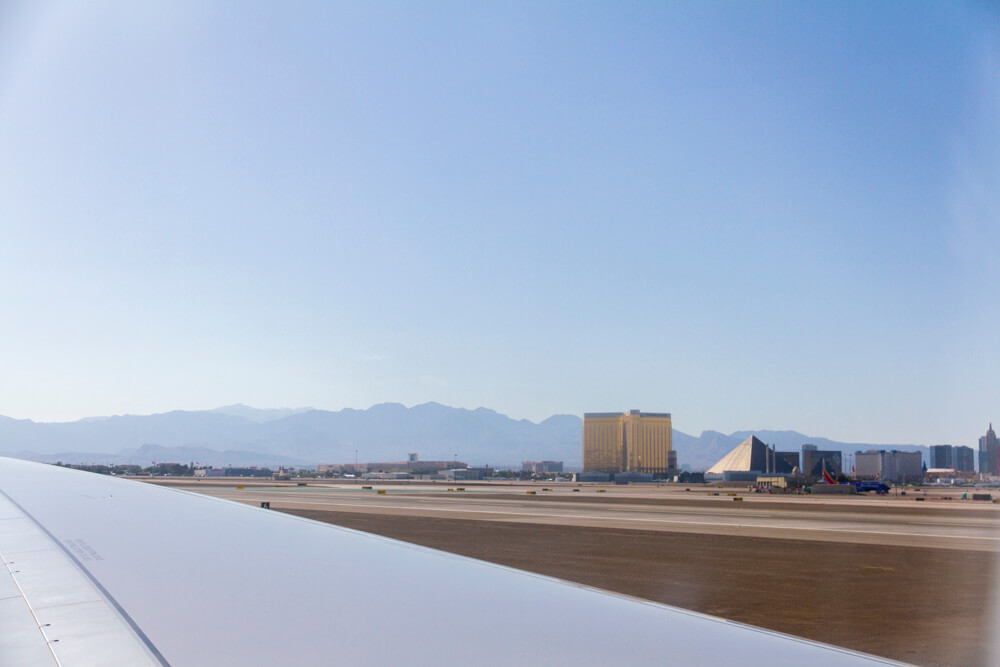 The fun, however, wasn't over yet.  As it turns out, our flight that morning was the retirement flight for our Captain.  So upon arrival in LAS, our aircraft received a water cannon salute.
First time I've ever experienced this!  It was pretty cool, though the views from up front and outside the aircraft are probably far better ?.  Then, after taxiing for a few more minutes, we finally pulled into our gate at 4:42 pm.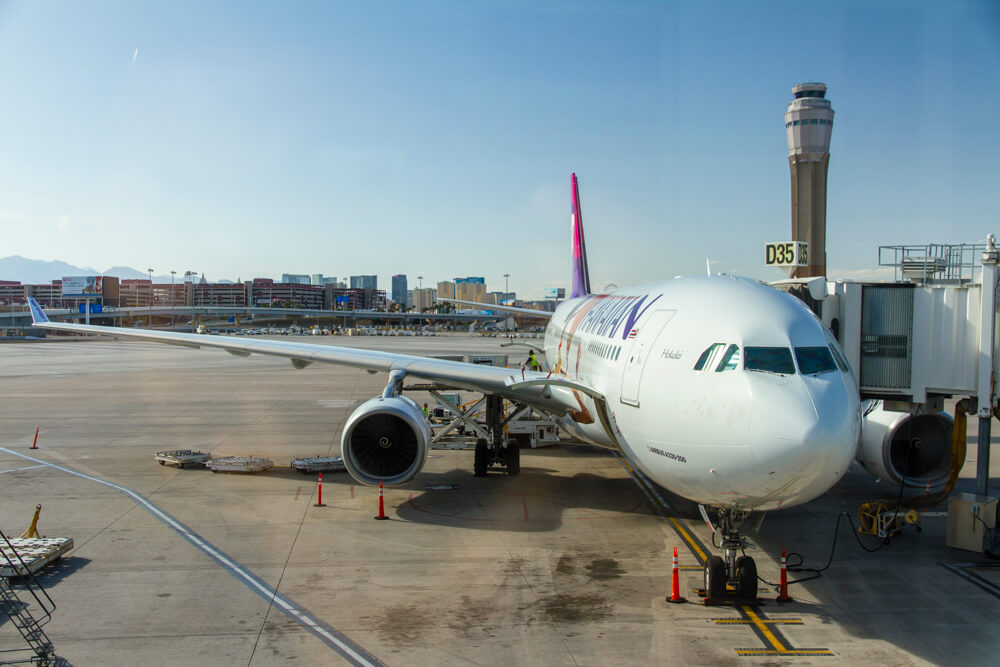 Hawaiian Airlines HNL-LAS Final Thoughts
Our Hawaiian Airlines HNL-LAS flight was by far the best I've had to date.  We more or less departed on-time and our flight crew was not only friendly, but proactive too.  It was very nice to see this side of Hawaiian, the one I'm assuming those that gush about them have experienced.  Add to that the fact that this was a retirement flight, and this flight was a really great experience.