At the beginning of our PNW Adventure, we flew Hawaiian Airlines HNL-PDX, which was an afternoon departure with late night arrival.  For our return trip home we flew Hawaiian Airlines SEA-HNL, which was an early morning departure with a midday arrival.  This meant an EARLY start to our day and a pre-dawn Uber ride from our hotel out to SEA.
Hawaiians ground staff at SEA are A LOT friendlier and far more helpful than those you'll find in Hawaii.  But, they also seem to follow a separate set of rules.  Flying out of SEA, Hawaiian not only imposes a 50lb weight limit on checked bags, but also a 25lb weight limit on carryon items.  I failed at both and tried to move stuff to my wife's checked and carryon bags.  Eventually the guy let us off with a warning, but I found that whole experience a little odd.  Since when was SEA in Europe?  ?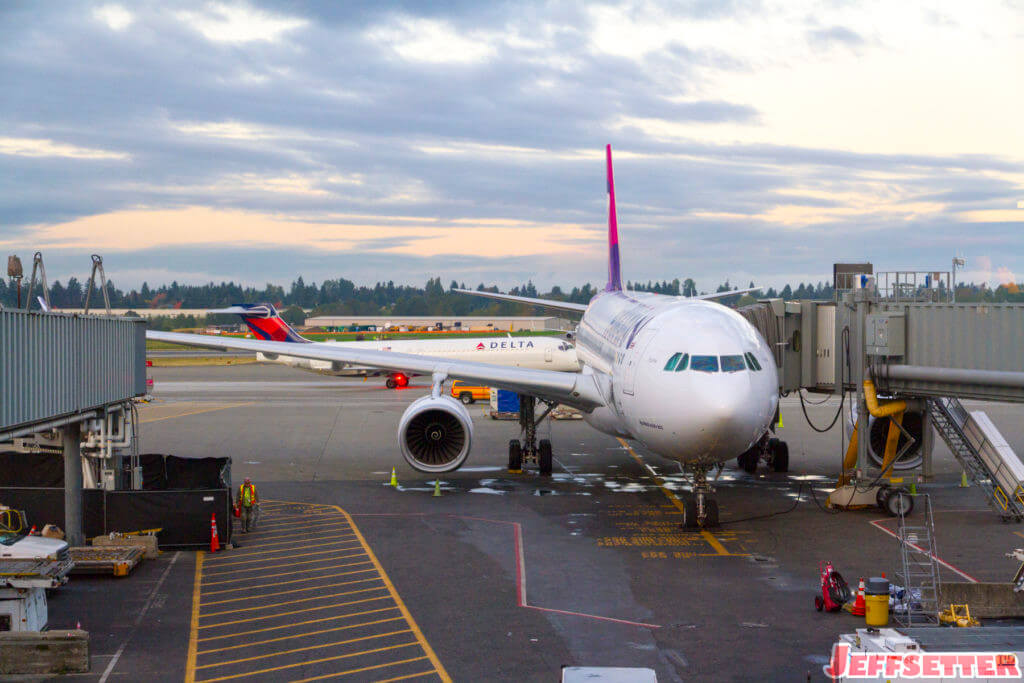 At SEA, Hawaiian uses remote South Satellite terminal, aka, Terminal S.  This means you'll need to head underground and take the tram between the terminals.  S is one of the last stops on the loop, which doesn't take long, but you'll still need to give yourself ample time to reach your gate before the door closes.  For our flight, our aircraft was parked at gate S5.  From what I saw during our wait, this terminal is primarily used by military charters, Delta, and some overseas airlines like Emirates.  It's got great views of the other terminals, some taxiways and a runway, so it is a great place to spot!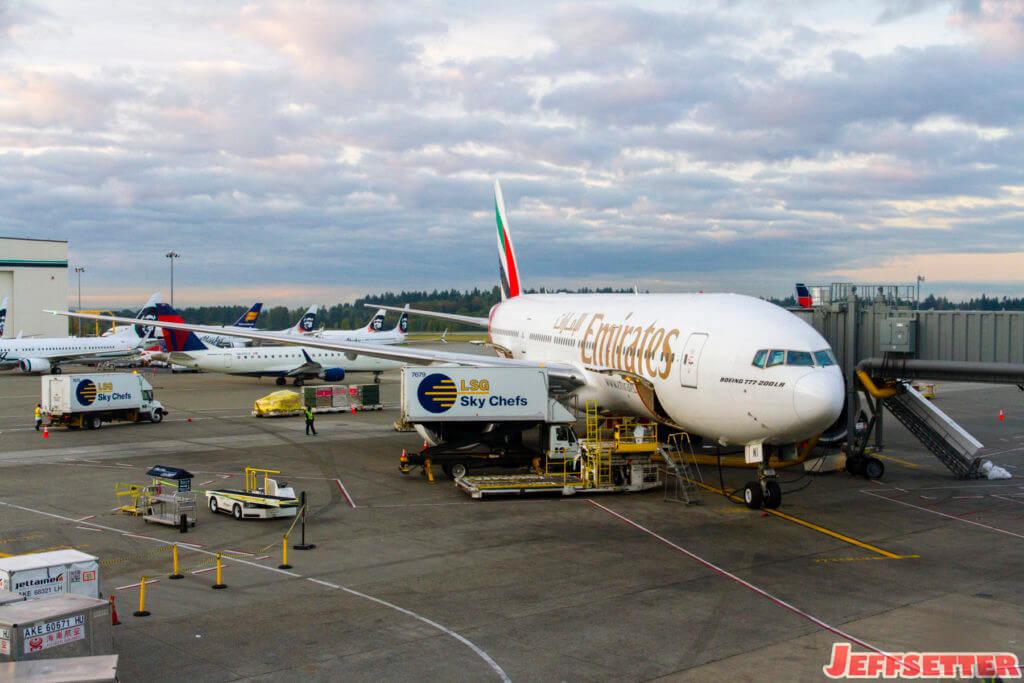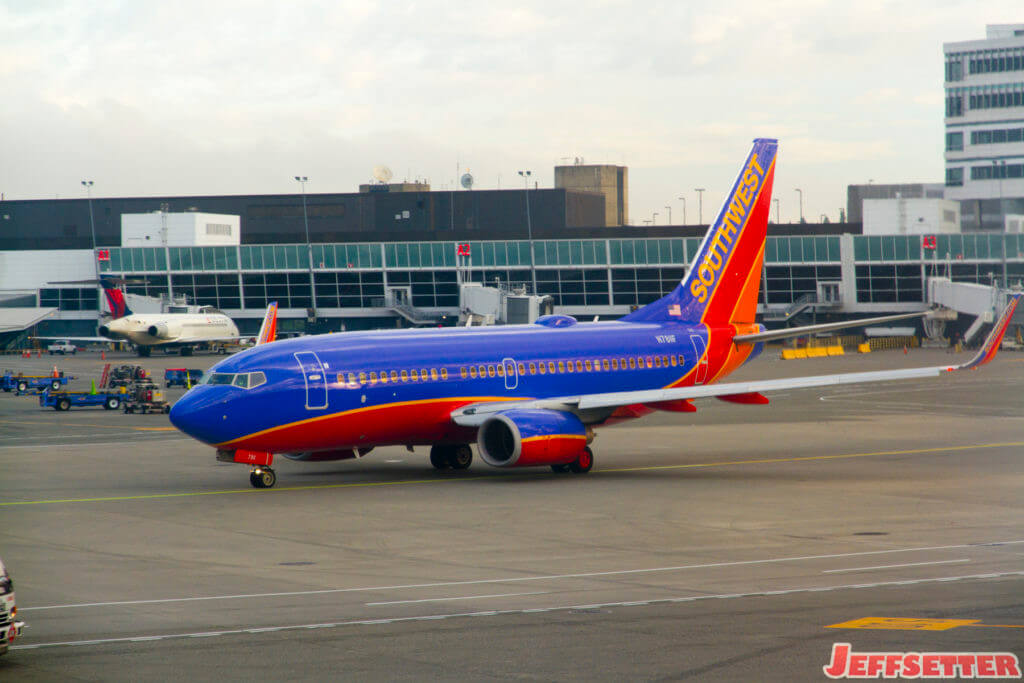 Amenities at the South Satellite aren't great, so if you do want to shop around and/or grab a bite to eat, do so in the main concourse before heading over.
Unlike out outbound flight, our flight home commenced boarding on-time. But prior to boarding, the gate agent would come on the PA every few minutes telling passengers to use the size checker for their carryon.  Those that failed would be gate checked of course.  I didn't do this and hand no problem boarding with my Crew 9 spinner.  Boarding was rather quick and efficient despite our flight being full, and we (shockingly) pushed back on-time.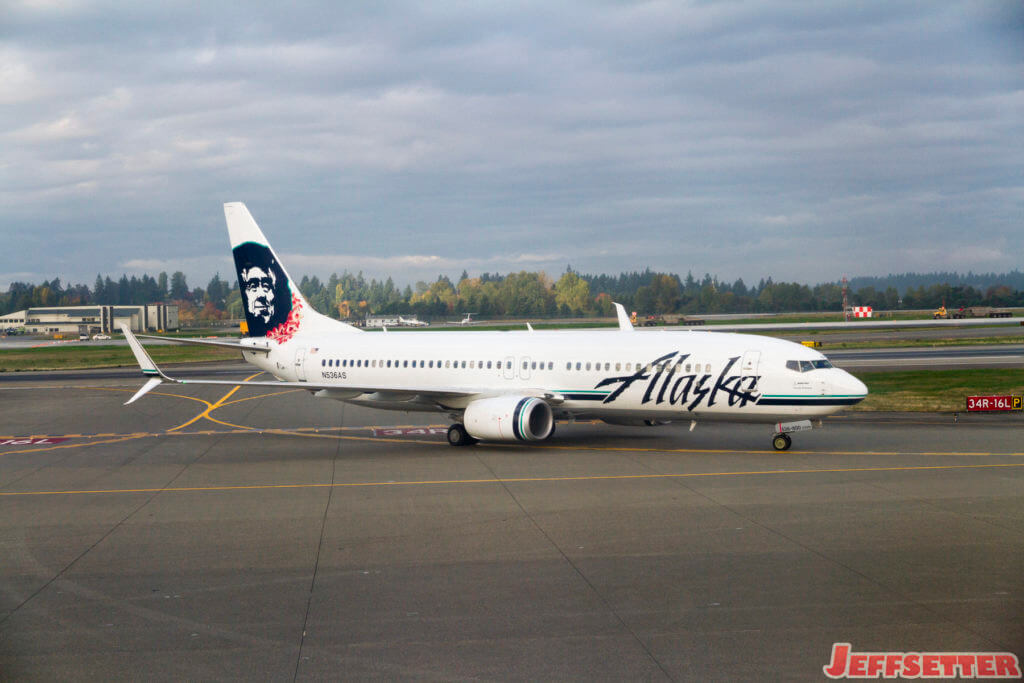 After a QUICK taxi to the runway, we were airborne.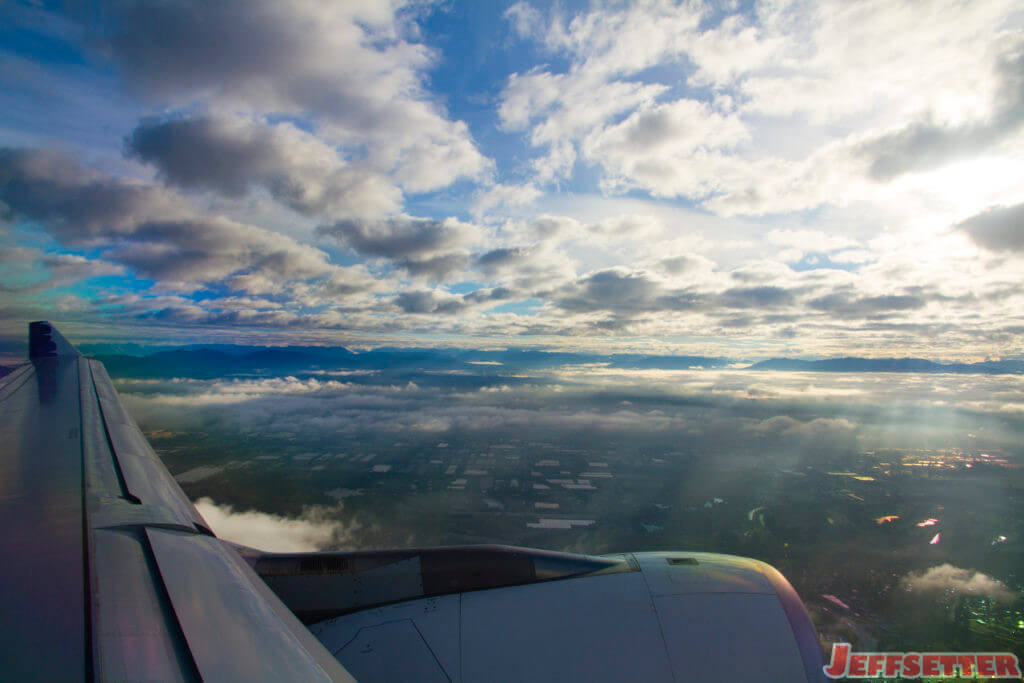 The views out the window were great, but the windows were quite dirty and combined with the glare, it made taking pictures a little tricky.  Once we leveled off at our initial cruising altitude the meal service commenced.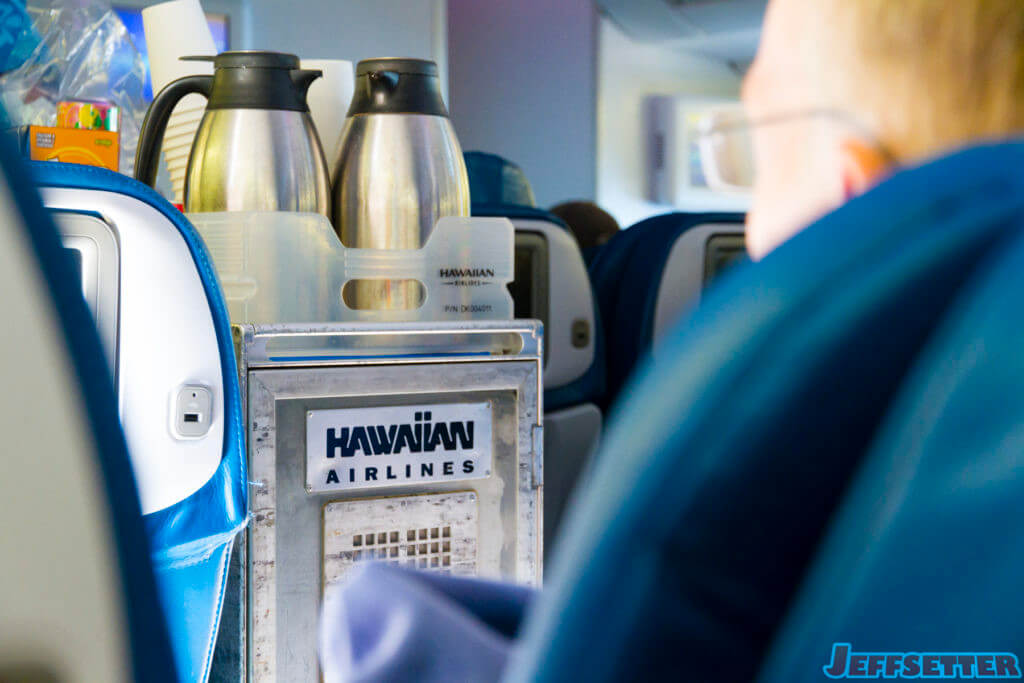 Check out that old cart!  The flight attendant working our aisle was something else man.  He didn't ask if you wanted the meal, he simply assumed you would and shoved it front of you.  Like our outbound flight there are no choices, but hey at least Hawaiian provides a complimentary meal.  The flight attendant did ask us for our beverage selection at least.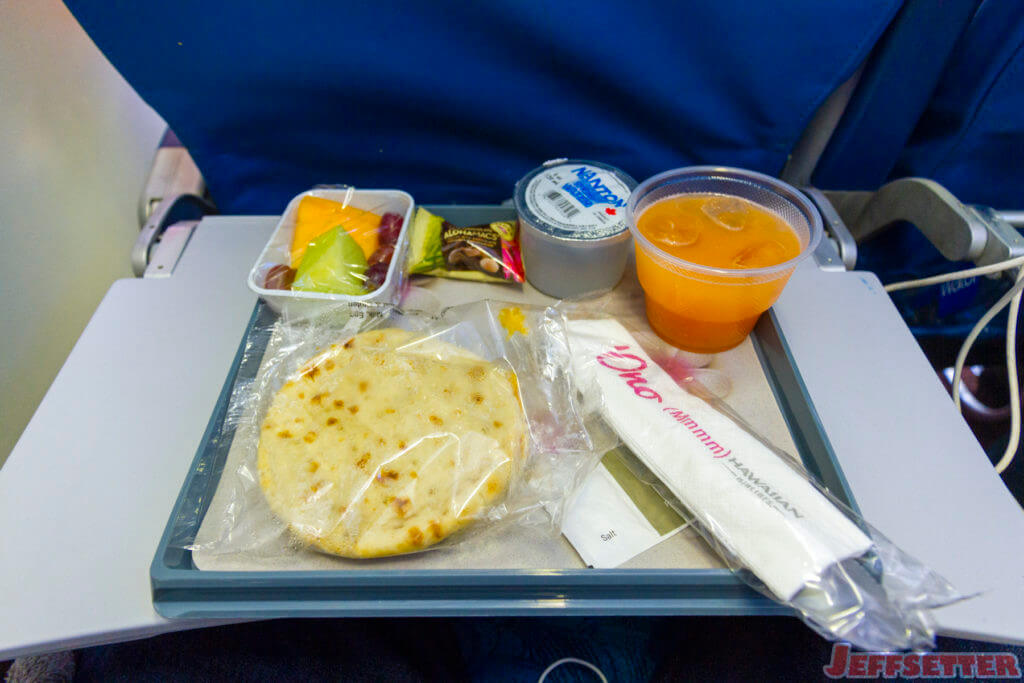 Being a morning flight the meal was breakfast.  It was a simple breakfast sandwich, so fruit, water, and a chocolate covered macadamia nut.  I chose some guava juice to go with my meal.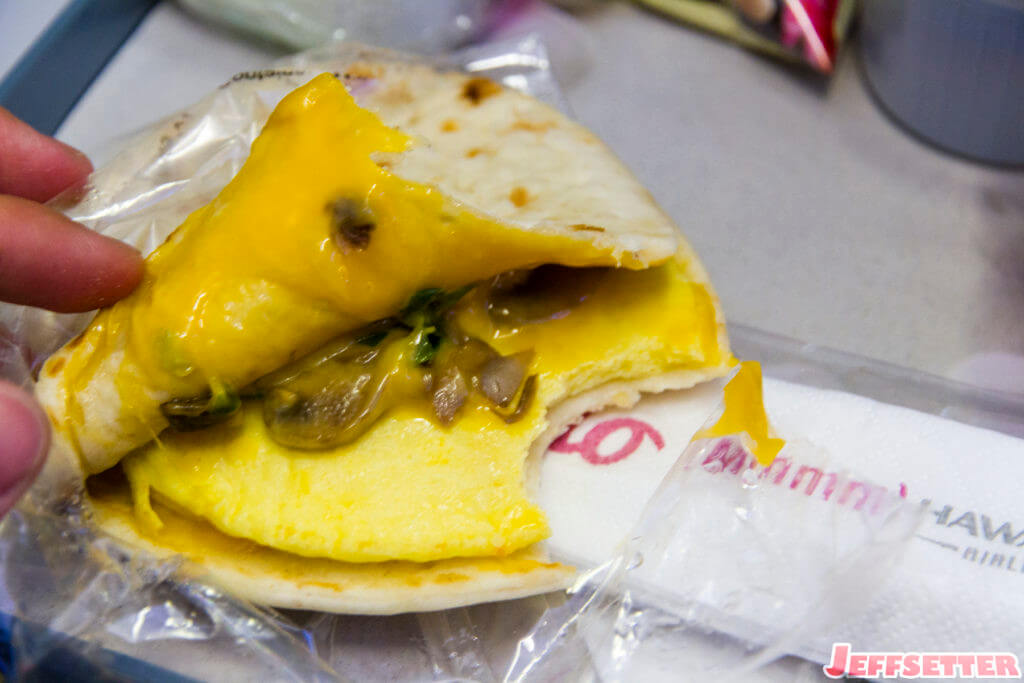 The sandwich was simply two pieces of flatbread with cheese, an egg disk, sautéed mushrooms, and green onion in-between.  I know it doesn't look all that appetizing, but it was actually pretty tasty!  And it wasn't even greasy or dry… Bravo Hawaiian!  But, uh, could I have two next time?
After breakfast, with nothing to do, I watched a few episodes of The Americans I had downloaded to my phone with Amazon Prime Streaming.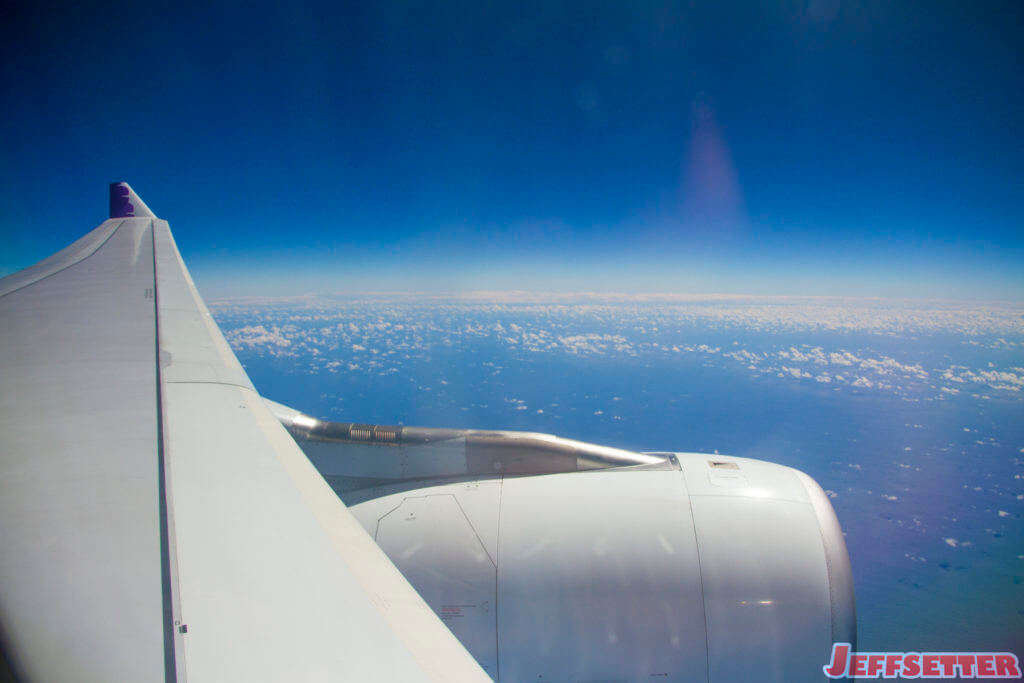 Outside it was a beautiful day, and while I love staring our the window, it was so bright and so much eat was radiating from the window, that I decided to keep the shade down most of the time.  But keep an eye on the flight map, as you'll want to look out the window as you near Hawaii.  Oh and sit on the left side of the aircraft (facing forward) to and from Hawaii, as you'll often get some great views.  Yes, those sitting on the right may see Diamond Head as you loop around Oahu, or if the wind is coming from the South/Southeast, will have the only view, but on normal days the left side gets you views of Haleakala, Mauna Loa and Mauna Kea, and later Ko Olina, Wes Oahu, Pearl Harbor, Hickam AFB, and HNL.