WOW! The other day, news broke that Hilton Grand Vacations is acquiring Diamond Resorts! This acquisition will undoubtedly have global implications. But, looking closer to home, the acquisition adds a few properties to Hilton Grand Vacations' presence in Hawaii too.
In an all-stock transaction worth about $1.4 billion, Hilton Grand Vacations (HGV) is acquiring Diamond Resorts International. Las Vegas-based Diamond Resorts International is currently the largest independent timeshare operator in the world. At the time of the announcement, Diamond had 92 properties across 18 countries and nearly 400,000 resort owners. They're so large, in fact, that they eclipse Hilton Grand Vacation's 62 locations across four countries with over 325,5000 owners, and even Marriott Vacation Club's 70 locations and 400,000 owners.
As you can see, the acquisition, which is expected to close this summer, will instantly grow HGV's portfolio by nearly 150%. In Hawaii, the change will add three more properties on three different islands to HGV's portfolio.
Hilton Grand Vacations in Hawaii Today
At present, HGV has just seven properties in Hawaii. All of these properties are concentrated on Oahu (4) and the Big Island (3). Their first Maui property – the Maui Bay Villas in Kihei – is slated for opening in the third quarter of this year. A fifth Oahu location slated for the old King's Village location in Waikiki – Ka Haku by HGV – has been put on indefinite hold. Those upcoming properties aside, HGV's Hawaii portfolio currently includes:
Grand Waikikian – Hilton Hawaiian Village
Hilton Grand Vacation at Hilton Hawaiian Village
Hokulani Waikiki – Beachwalk
The Grand Islander – Hilton Hawaiian Village
Kohala Suites – Waikoloa Resort
Kings' Land – Waikoloa Resort
Ocean Tower – Hilton Waikoloa Village
Diamond Resorts Hawaii
At present, Diamond Resort International's Hawaii properties include: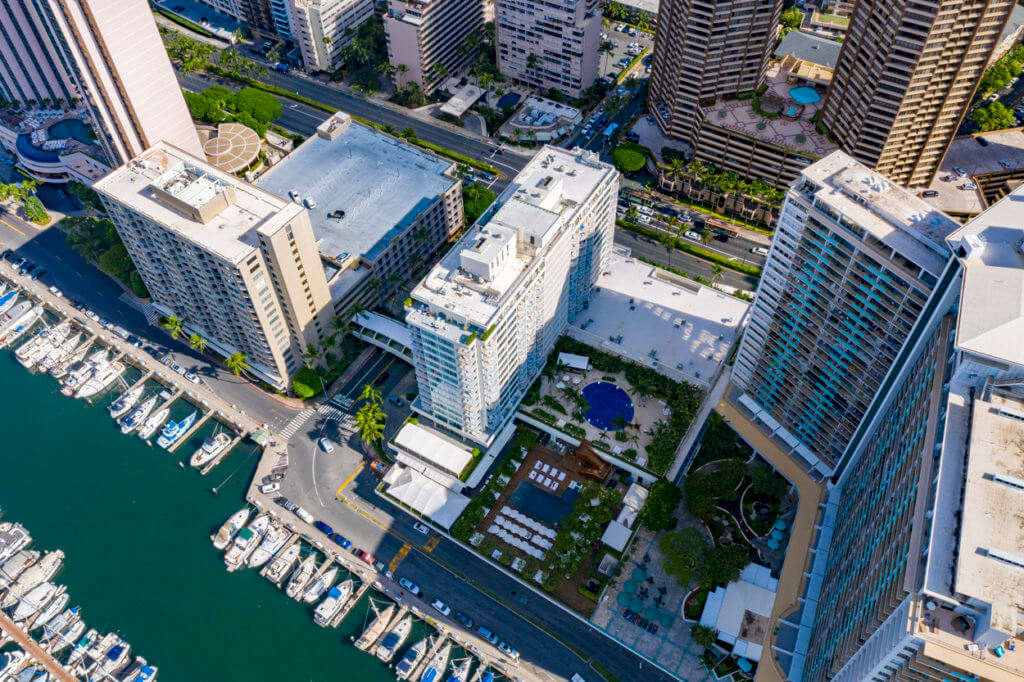 Now, the Pacific Business News reports that Diamond Resorts has 16 properties in Hawaii. But, the reality is the majority of the properties PBN lists are affiliates. Affiliate properties are ones that Diamond Resort owners can access but are not owned by the company. These affiliate properties, which are not subject to this sale, include:
Oahu

Aston Waikiki Beach
Royal Kuhio
The Imperial Hawaii Resort

Maui

Kahala Falls Resort
Royal Lahaina Resort
Valley Isle

Molokai
Big Island

Royal Kona Resort
RVC at Kona Reef
Sea Mountain in Punaluu
Sea Village, Kailua-Kona

Kauai

Grand Pacific at Hanalei Bay
Grand Pacific at Makai Club
Kapaa Shore
Lawai Beach Resort
Either way, the large majority of these affiliate properties have seen better days. If you think Hawaii's name-brand hotels are dated, you haven't seen anything! Go check out photos of the Royal Kuhio – I'll wait. It looks like the property hasn't changed in 30 years, right? That's a strong contrast to the Point at Poipu and the Modern Honolulu, which are much fresher. The Kaanapali Beach Club, on the other hand, has very outdated decor. What's more, the property isn't really even in Kaanapali – it's in Honokowai. Heck, the Kaanapali Beach Club is closer to Kapalua Airport (1.7 miles) than it is to Kaanapali Beach (2.9 miles).
Hilton Grand Vacations Acquiring Diamond Resorts, Final Thoughts
Diamond Resorts being acquired by Hilton Grand Vacations is exciting news. At a minimum, it'll give us more options for earning and redeeming Hilton Honors points. It's just a little ironic that The Modern Honolulu, which was once the Waikiki Edition, will soon become a Hilton Grand Vacation Club. What's more, HGV will soon have two properties on Maui and a property on Kauai. The only question I have is how they'll deal with properties that don't meet their brand standards?