Last week the State of Hawaii Department of Transportation announced a major Honolulu International Airport Expansion initiative.
The Daniel K. Inouye International Airport, formerly known as the Honolulu International Airport is in the midst of a major modernization program.  This seemingly decades-long project has thus far resulted in new parking facilities, a new people mover, and a new hanger for Hawaiian Airlines.  Ultimately, though, the project will include HNL's first-ever CONRAC, new facilities for Aloha Air Cargo, a new employee parking lot, relocation of the commuter air terminal, and a new Mauka Concourse for Hawaiian Airlines.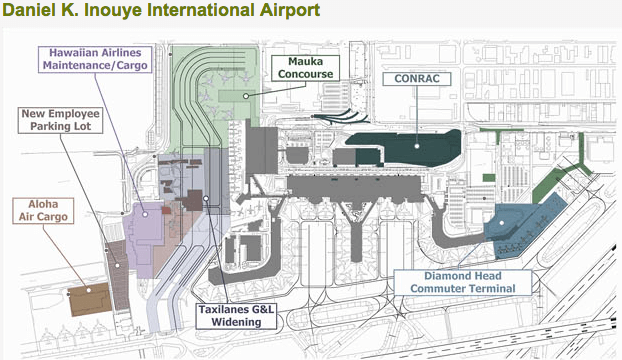 However, last week, the State of Hawaii announced a change to these plans.  Rather than develop a new commuter air terminal next to the existing Diamond Head Concourse, this aging concourse will undergo an expansion instead.
Expansion Plans
With Mokulele Air being the only remaining commuter airline, the State thought it unwise to invest in a new terminal.  This is especially true as activity at HNL continues to grow at a rapid pace.  In fact, there are not enough gates to allow all carriers to expand as they please.  Especially as competition at Honolulu ramps up between Alaska, American, Delta, Hawaiian, Southwest, and United.  So, to remedy the issue, the Department of Transportation announced a $1.1 billion project to build a new Diamond Head Concourse.
The new terminal will replace the existing, 50-year-old building.  It'll also up the number of wide-body gates from the current seven to 12 to 14.  And, in the future, the terminal may accommodate up to 21 gates.  It'll also include a new Customs Facility with a capacity to process 4,000 passengers per hour.
It isn't clear if the existing terminal will be torn down or simply expanded upon yet.  However, construction won't begin for another five years.  During this time, the employee parking lot and Wiki-Wiki Shuttle base yard will be relocated to make way for the larger terminal.  The entire project will take at least 10 years to complete.  However, State Officials say the establishment of a private airport authority could speed the process.
Honolulu International Airport Expansion, Final Thoughts
I think this expansion project is a fantastic idea and one that's long overdue.  However, I do think 10 years is much too long, especially since we need additional space now.  And the lack of a commuter terminal, in my opinion, could make it more difficult for a new inter-island competitor to establish itself.  But, at the very least, I hope the Diamond Head Concourse project will at least pave the way for better organization at HNL.  It would be nice, after all, to have better co-location.