The Laylow Waikiki opened last May, and since it was a hotel I was following closely, I ended up staying there soon after opening.  But much can change in the first year of a hotel's operations.  As a result, I thought it prudent to do a The Laylow Waikiki – one year later review.
As you may recall from my previous review, I loved The Laylow the first time I stayed there.  Service was excellent, the property unique, and I even got proactively upgraded to a suite.  But since then, things have changed.  For one, the property now charges a Destination Fee because, you know, they aren't a resort and can't charge a resort fee.  This is an important distinction, by the way, that will be relevant later on in this review.  And if you're guessing that things didn't go so well by the tone of this review so far, you'd be right.  So let's get to it.
Check-In
My last stay at The Laylow began the day before Marriott's loyalty program integration on Friday, August 17.  And, for some reason, I couldn't check-in online or via the mobile app.  So, I decided to head over to The Laylow early to check-in and then meet Mrs. Island Miler for lunch.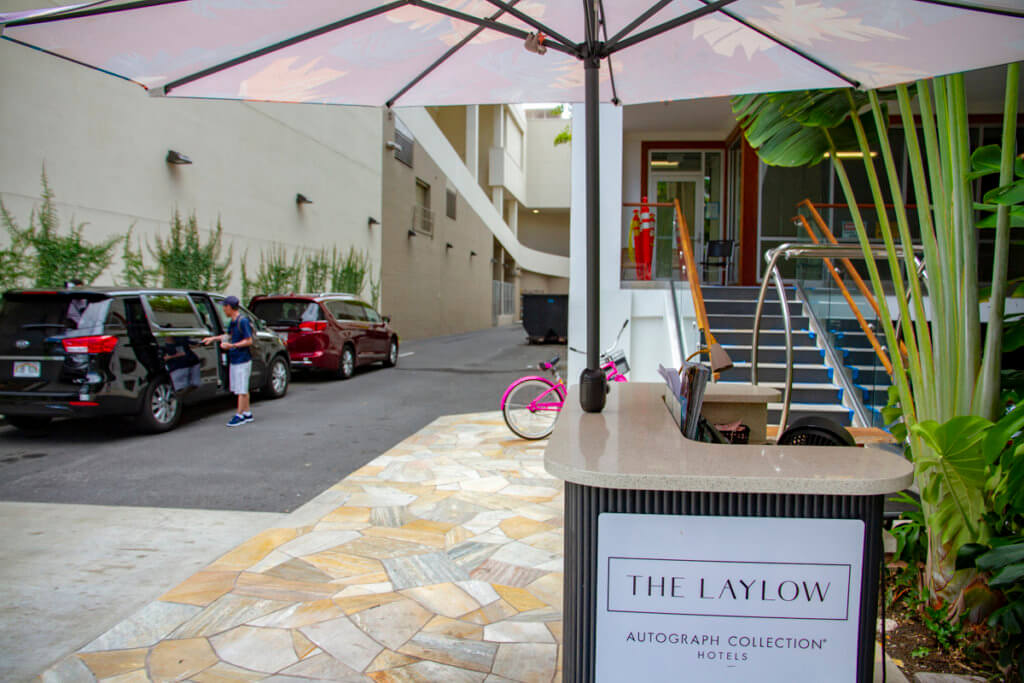 When I arrived, the line at the valet stand wasn't too bad, so I only had to wait a few minutes for my car to be taken.  And then when I got up to the lobby, there was a short queue at the front desk.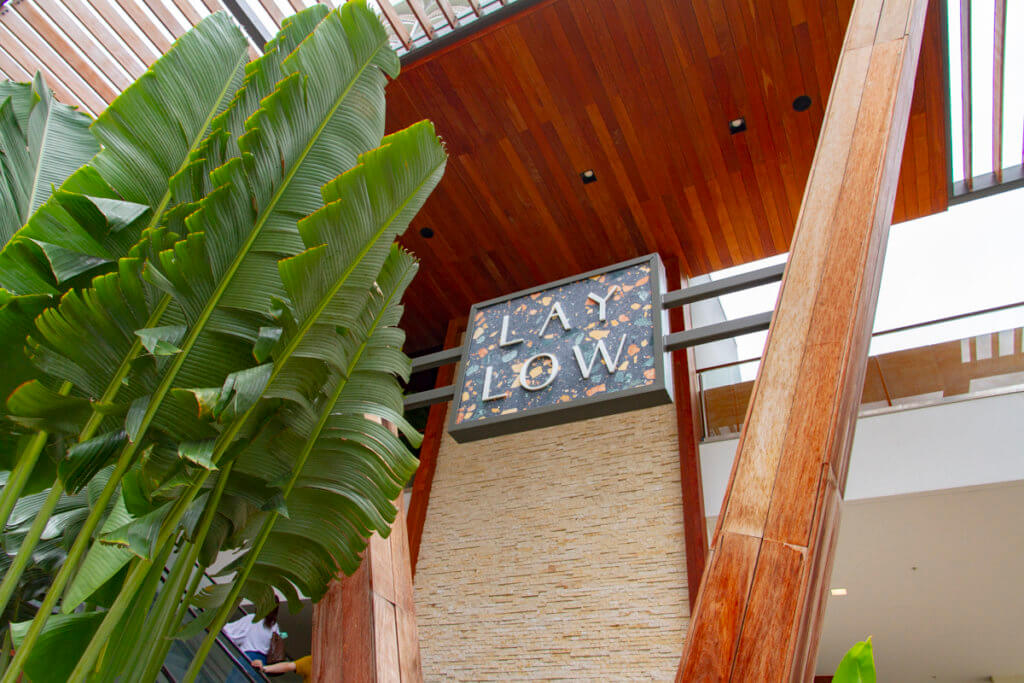 Once I went through all the usual check-in procedures, I was informed my room wasn't ready yet.  And that's fine with me; I got five hours before the usual 4:00 pm check-in time.  But, they promised to call me when my room became available, so I took a walk around the area.  After an hour or so I decided to retrieve my car and meet up with Mrs. Island Miler for our lunch date.
Check-In, Again
After lunch, I waited, and waited, and waited.  But, I never got a call from the property.  In fact, I only found out that my room was ready when I called in around 5:00 pm to find out what's going on.  Unfortunately, traffic heading into Waikiki at that time was atrocious, so we ended up hanging out around downtown Honolulu until our dinner at Yamada Chikara.
By the time we got back to the property, it was already past 9:00 pm.  The associate at the front desk at the time apologized for the lack of communication, re-checked my credentials, and informed me I had been upgraded to a Concierge Level room.  And while that's a nice gesture, this really doesn't mean much to me.  After all, none of the rooms here have much of a view and I have access to the Concierge Level as a Gold Elite anyway.
Speaking of my status, The Laylow does have special key cards for elite members.  And they're pretty cool!  Gold members receive a metallic gold card that integrates The Laylow's signature motif.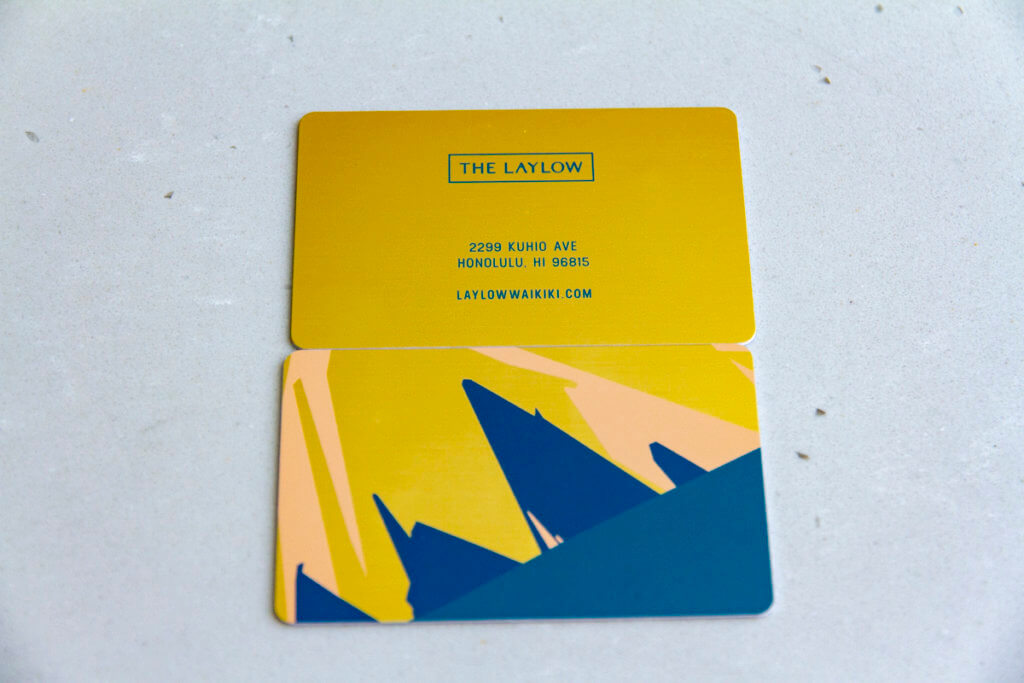 The Room
As I mentioned earlier, I was "upgraded" to a Concierge Level room on the top floor of the hotel.  So, essentially, I was assigned a standard king room.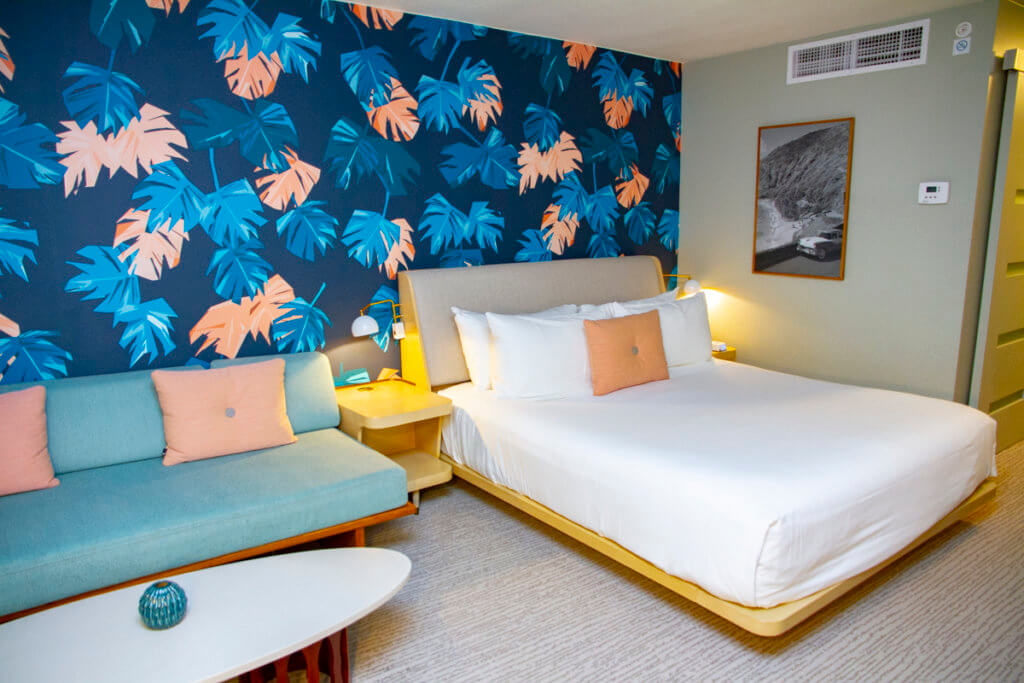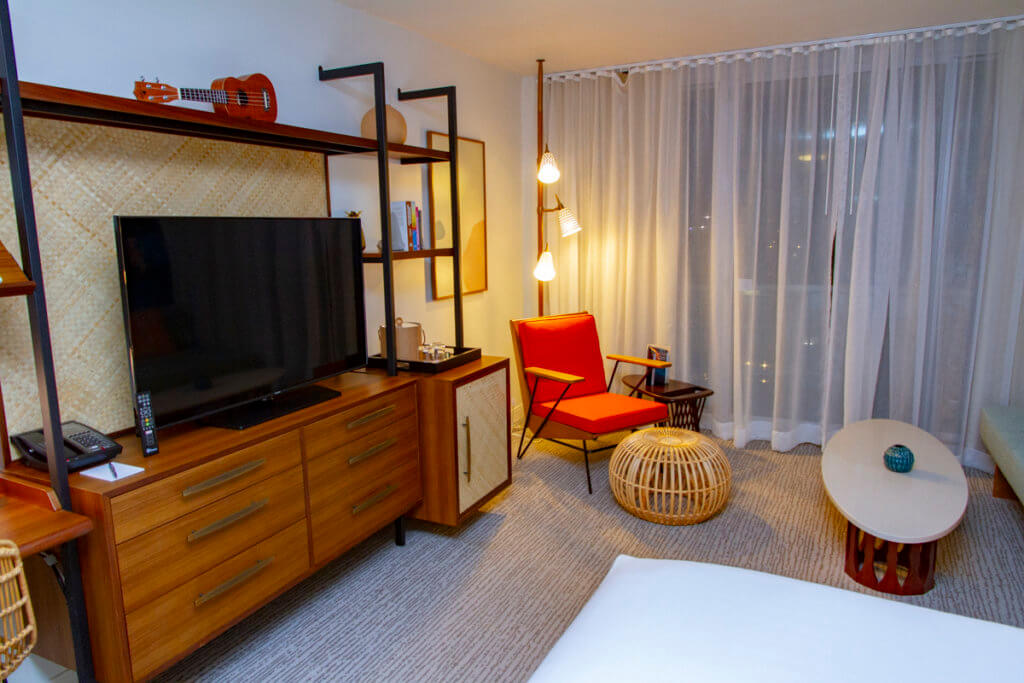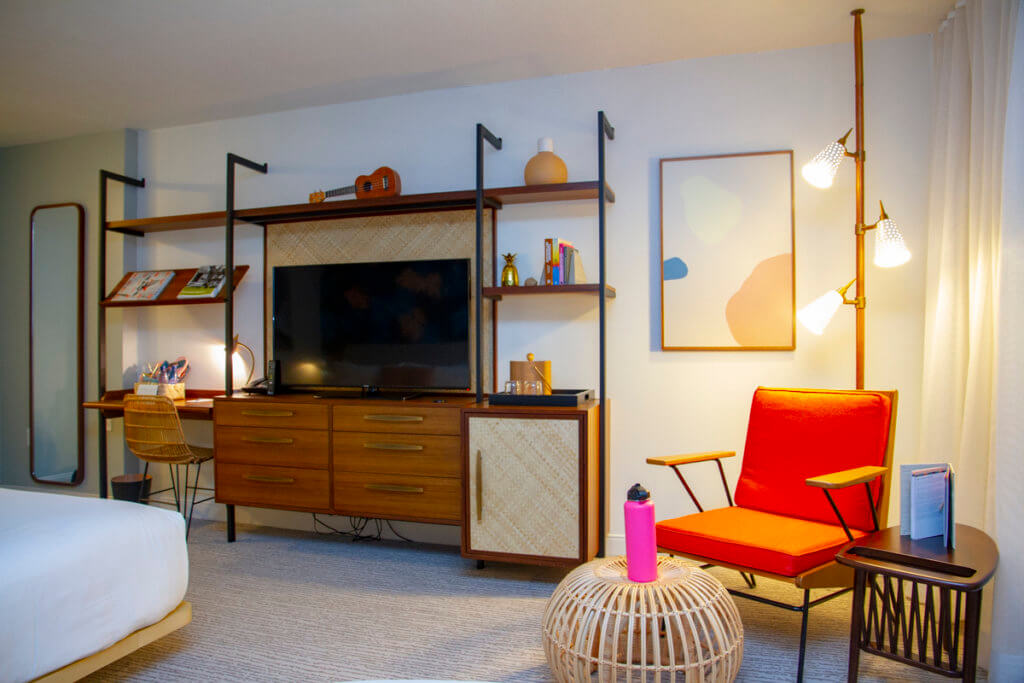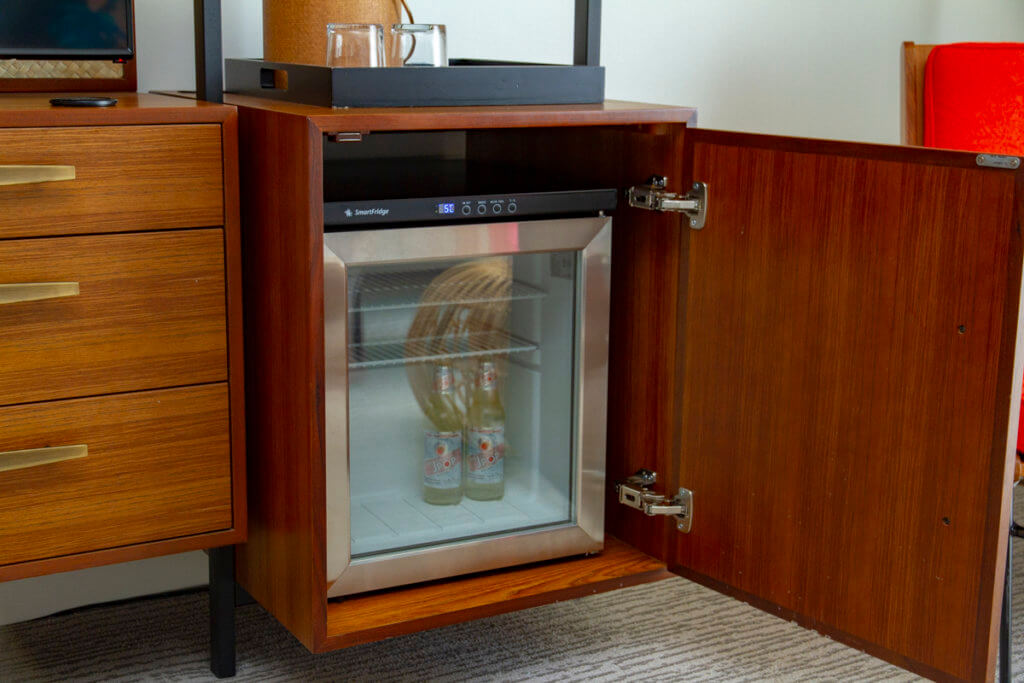 As you can see, this room isn't much different from the suite I previously stayed in.  I mean, the room is smaller and doesn't have a wrap around balcony, but the extra space in the suite wasn't exactly all that useful anyway.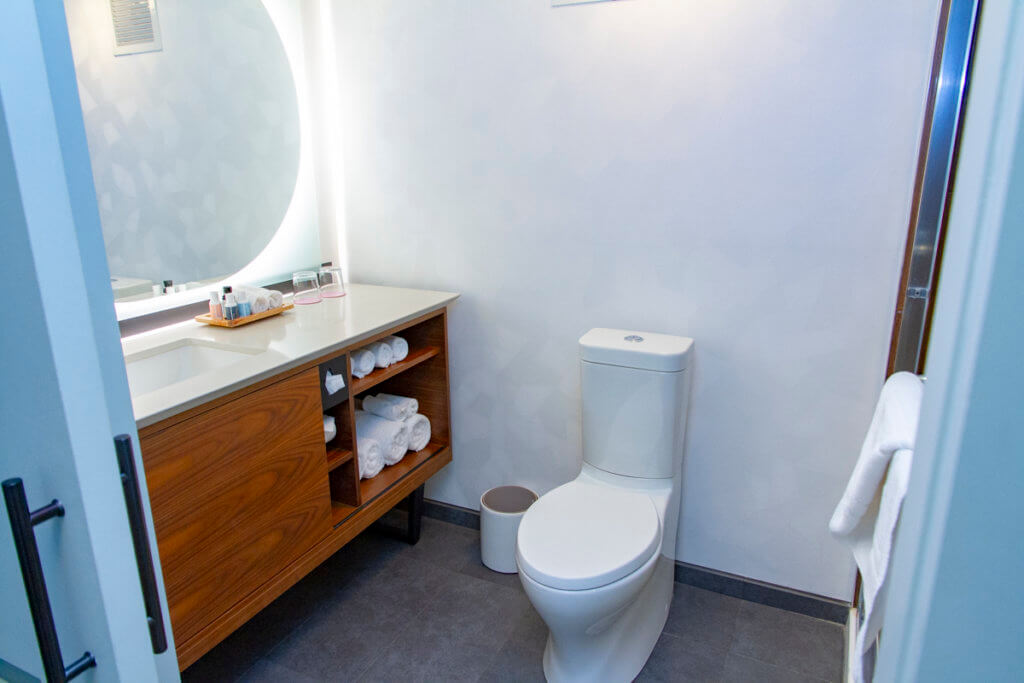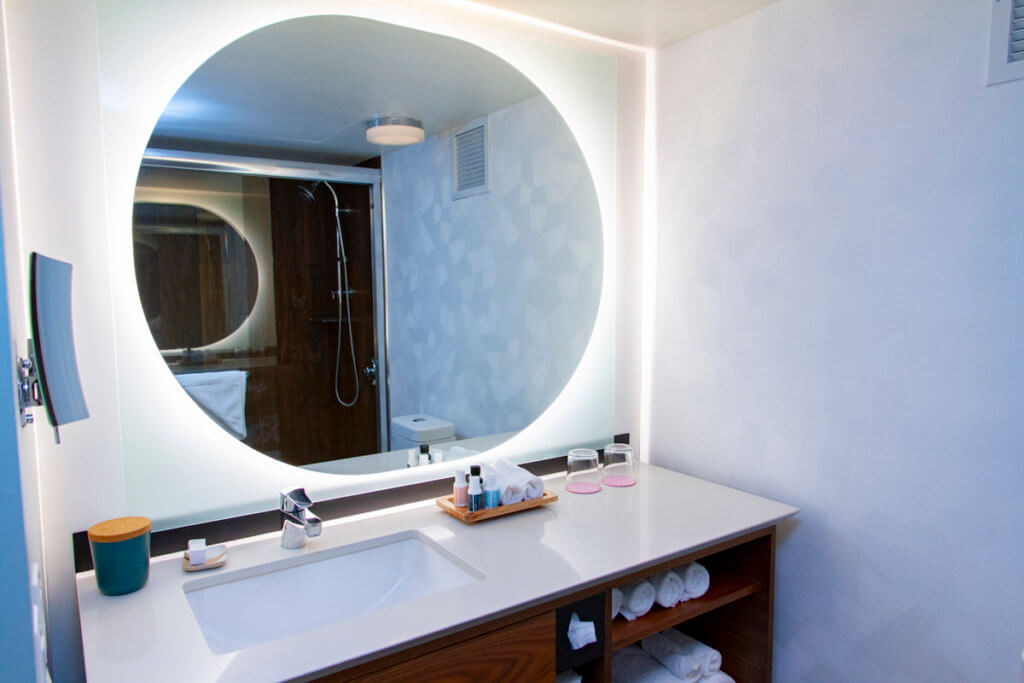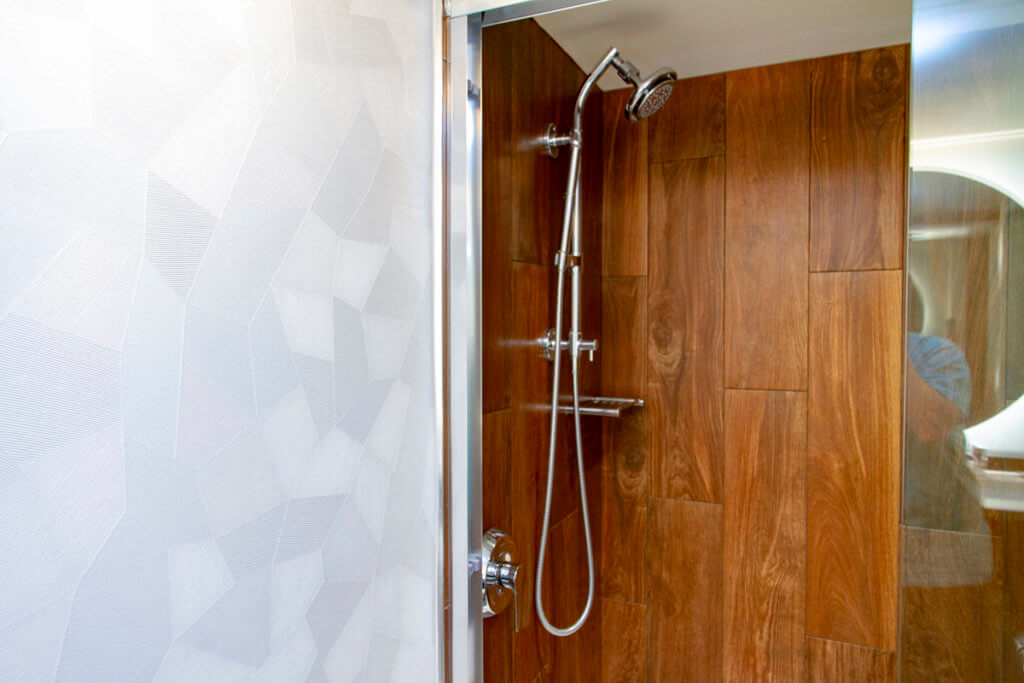 The bathroom too was identical to my last stay as well.
View
Like I said, there really aren't any views from The Laylow.  It's a 16-story building on Kuhio Ave.  If you want ocean views, this isn't the property for you.  Our room on the top floor has the closest you'll get to an ocean view from here.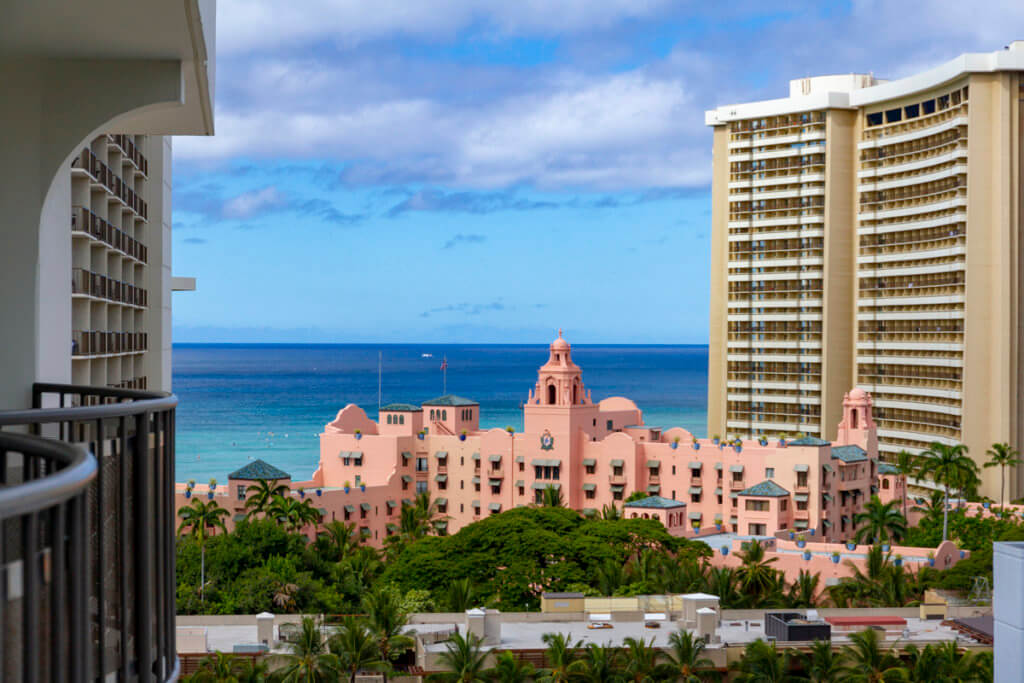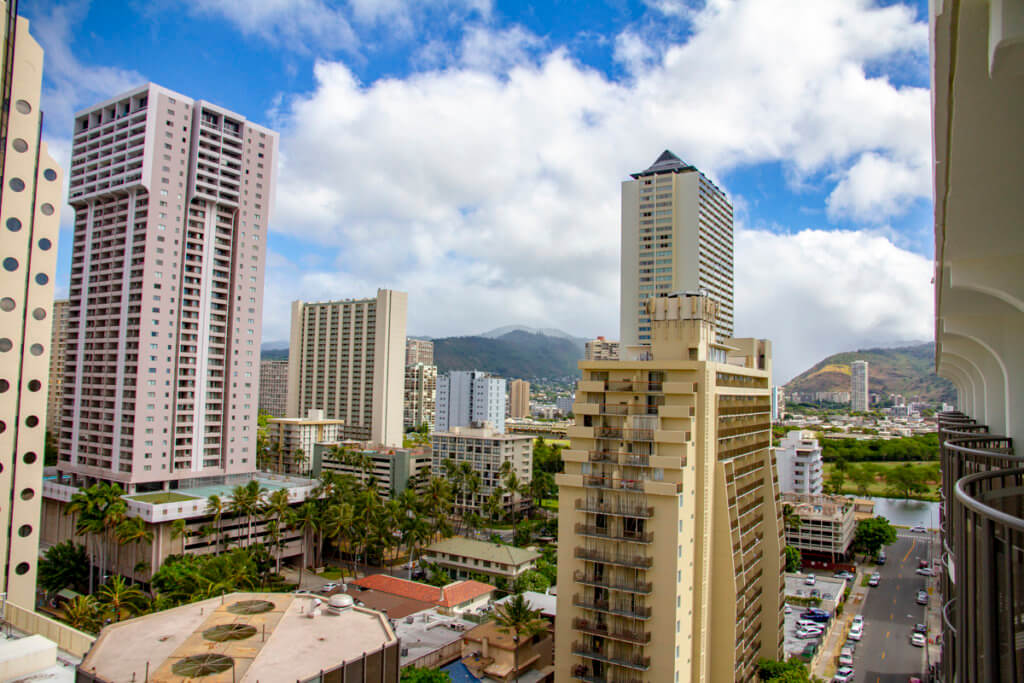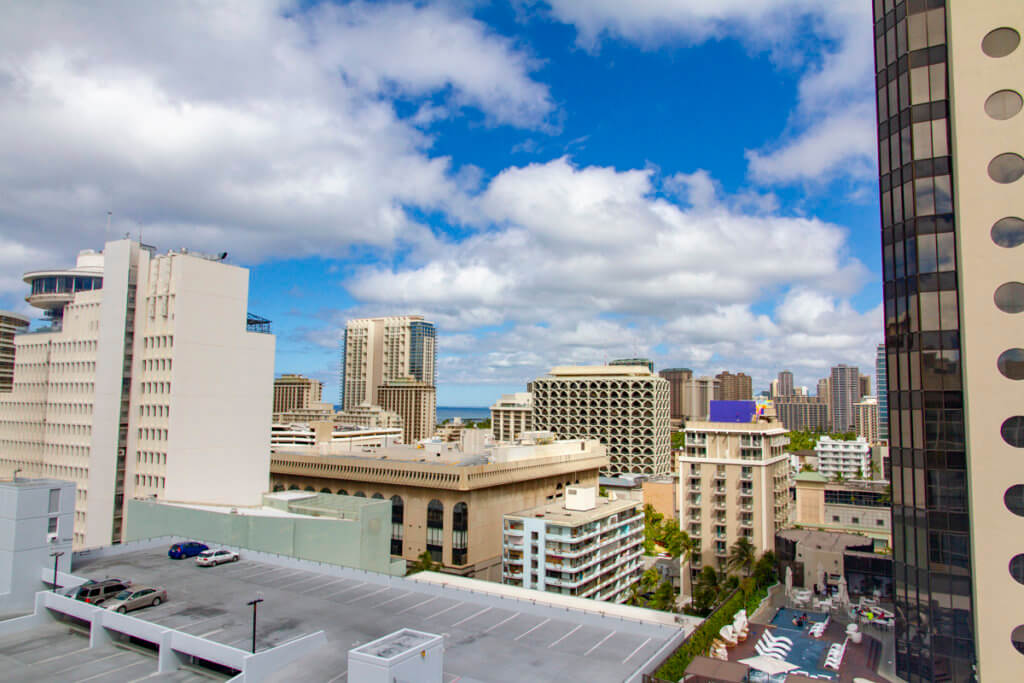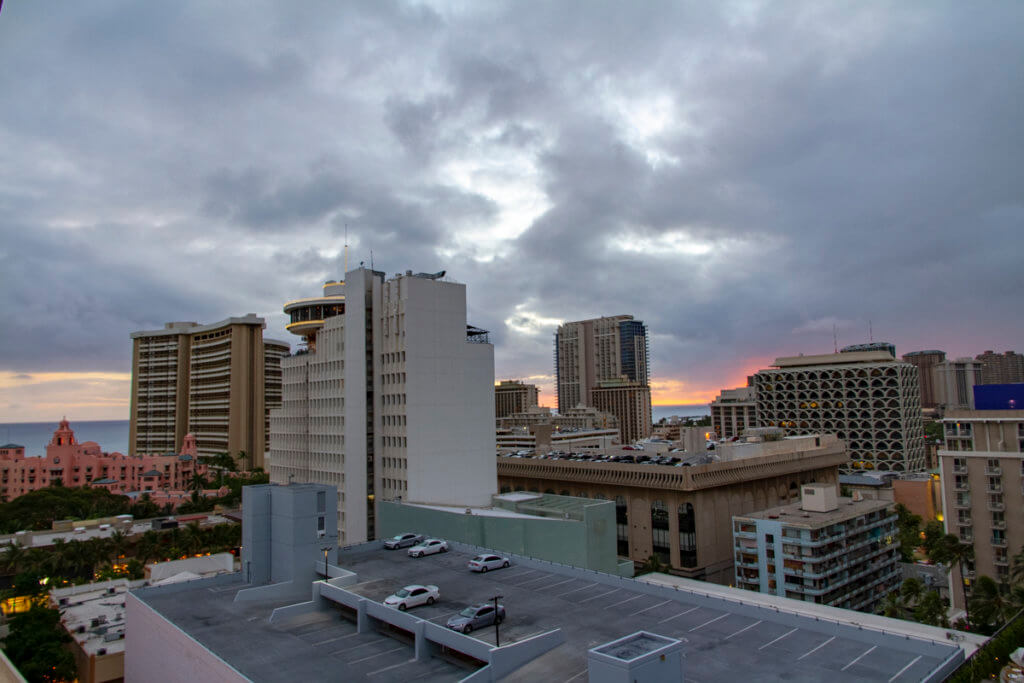 Amenities
Our room, unsurprisingly, had the same amenities as our last stay too.  The bespoke toiletries are still there same, and there are still robes, an iron, an ironing board, and a safe in the closet too.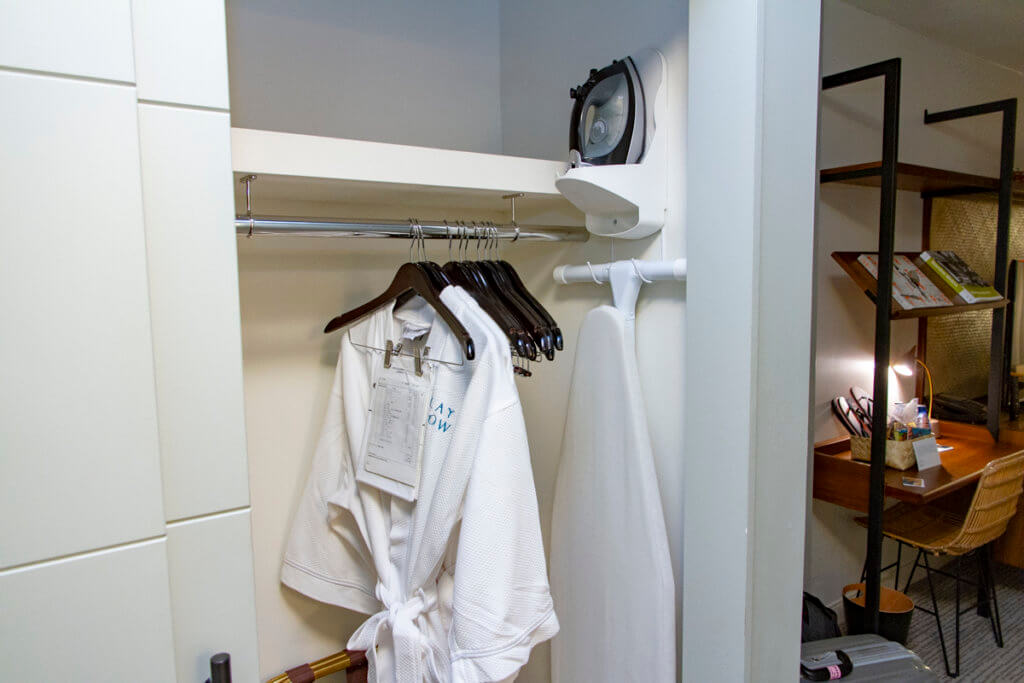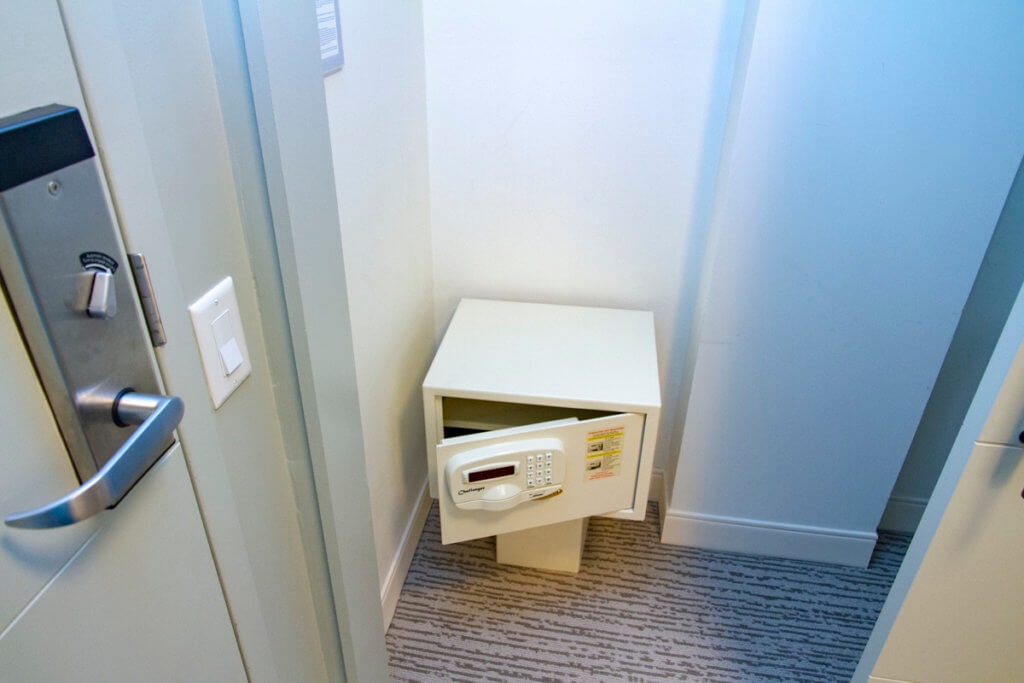 And, there's still a little radio alarm clock with USB power in addition to the outlets built into the nightstand, as well as a nice, branded stationary set.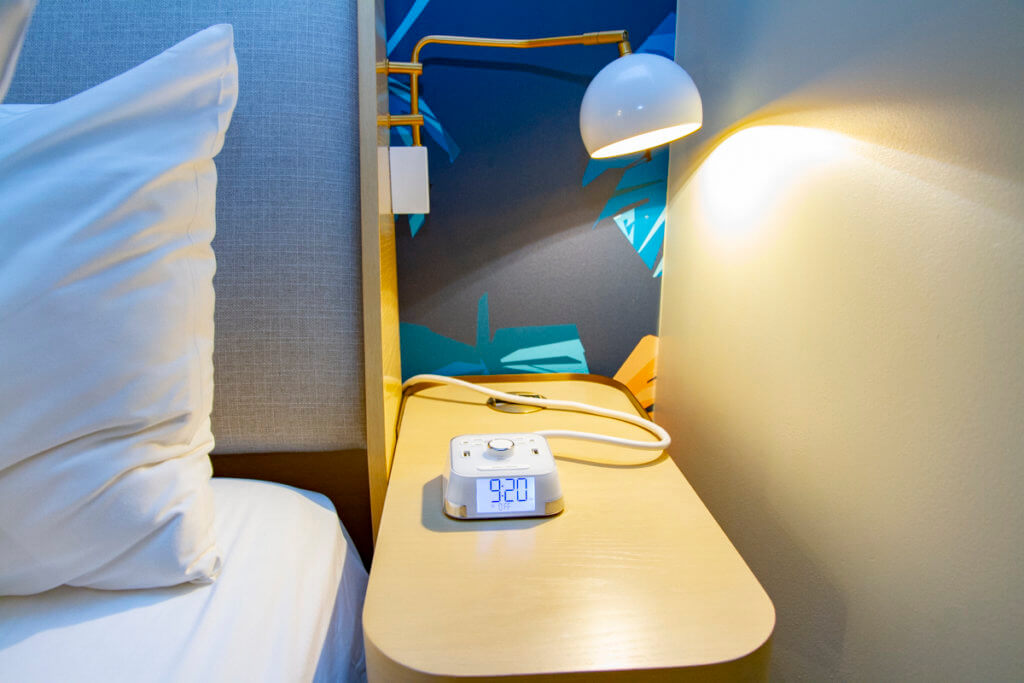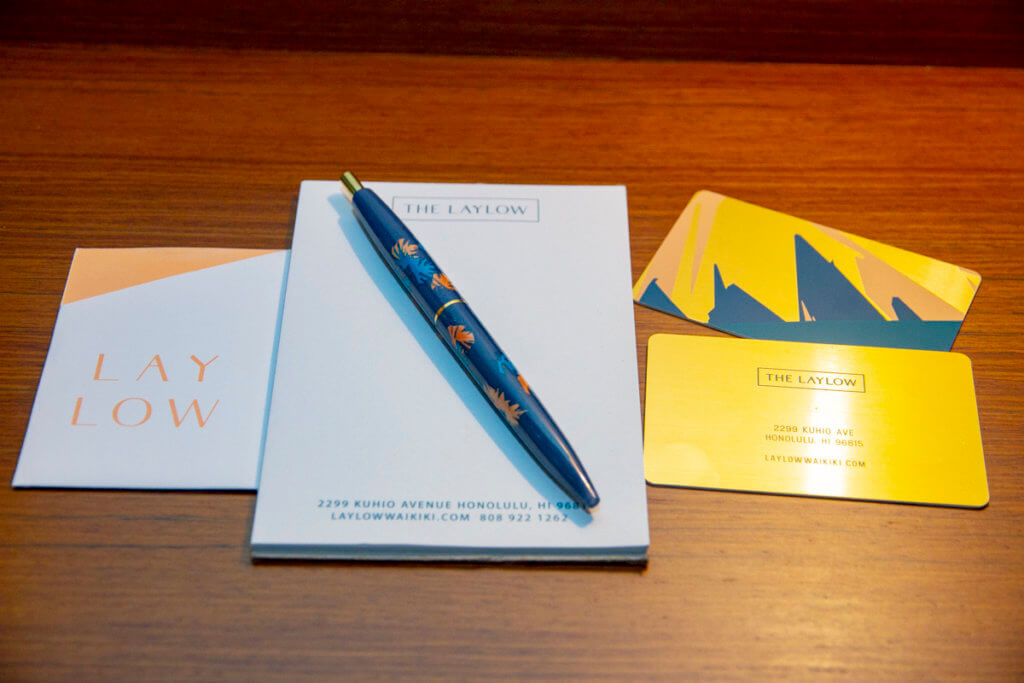 What I was surprised to see still on offer, however, is the welcome gift basket, though its contents were a little different from last time.  But, I did like the inclusion of bottles of water this time rather than the (good and locally-made) bottles of soda.  The rubber duckie, though, didn't make sense, as the rooms don't have a tub.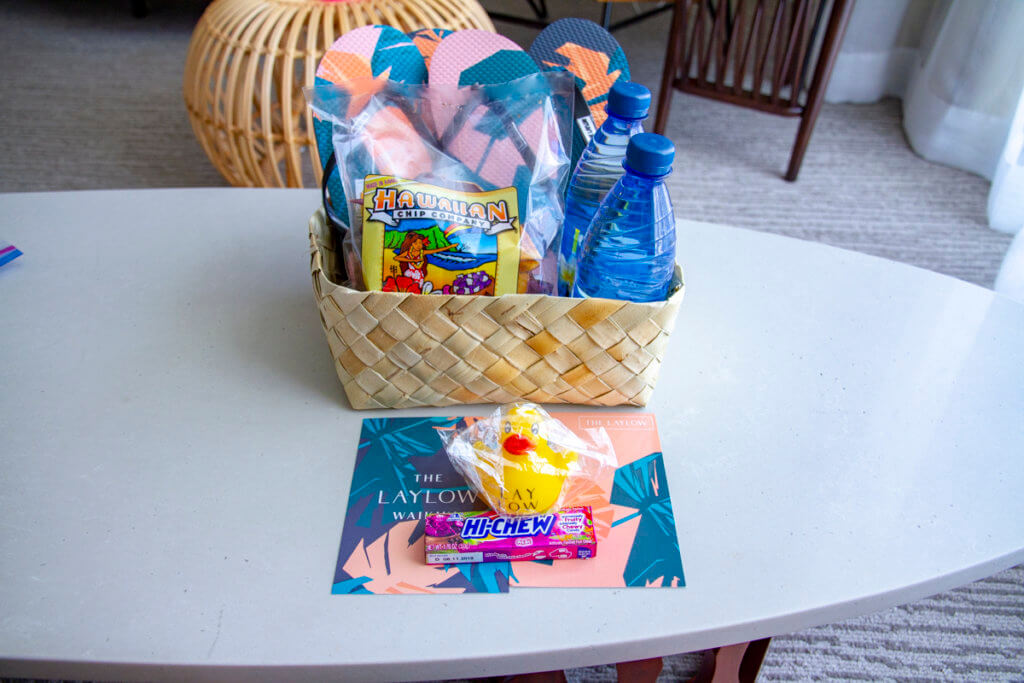 What wasn't good was the WiFi.  I tested the connection speed when we checked in and midday the following day, and both times the connection speed topped out around 4.80 Mbps.  That's an unacceptable speed, especially for such a new property.
Oh, and remember that Destination Fee?  It's $29/night!  And the amenities included with it are the above welcome basket, nightly entertainment at the restaurant, ukulele lessons, and free shave ice.  That's a WEAK fee.  The contents of that basket are probably worth less than $20 and live entertainment at the restaurant are for restaurant patrons, many of which aren't hotel guests.  And that free shave ice?  If I remember correctly, it's only available between 12:00 pm and 1:00 pm, the time when visiting guests are likely to be off-property.
Concierge "Lounge"
During my first stay, I discovered that The Laylow doesn't have a proper Concierge Lounge.  In fact, all the "lounge" is is a self-serve bar on the 15th and 16th floors of the hotel.  There you'll find coffee and juice in the morning, with water on-tap available all day.  Breakfasts here include a pastry and whole fruit, while snacks are whole fruit and some other shelf-stable item.  During our stay, this included Japanese Arare and Wasabi Iso Peanuts.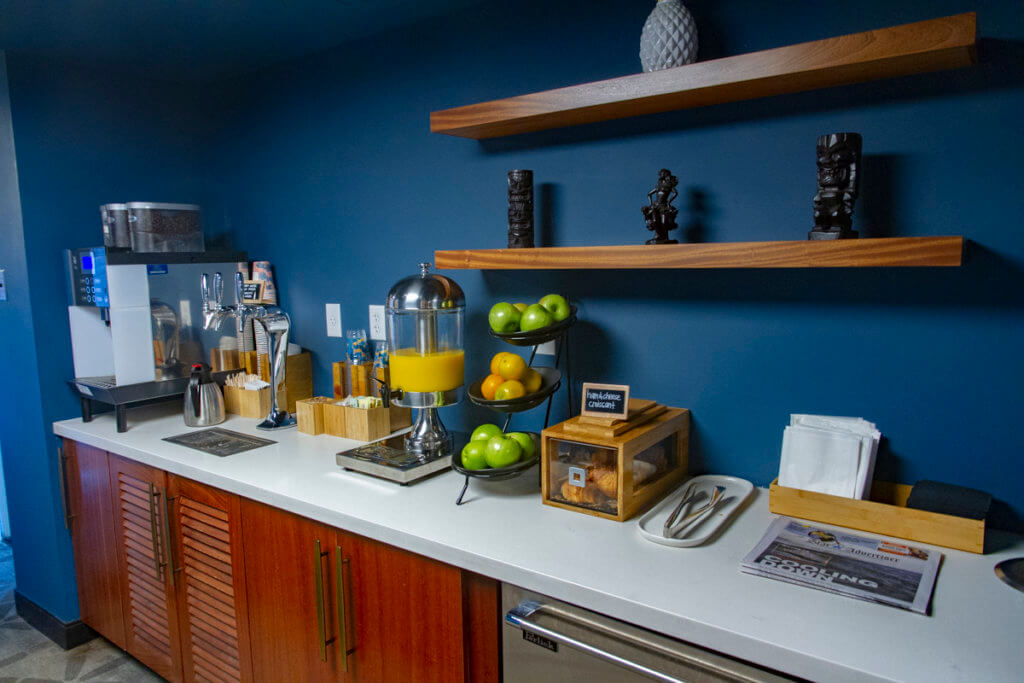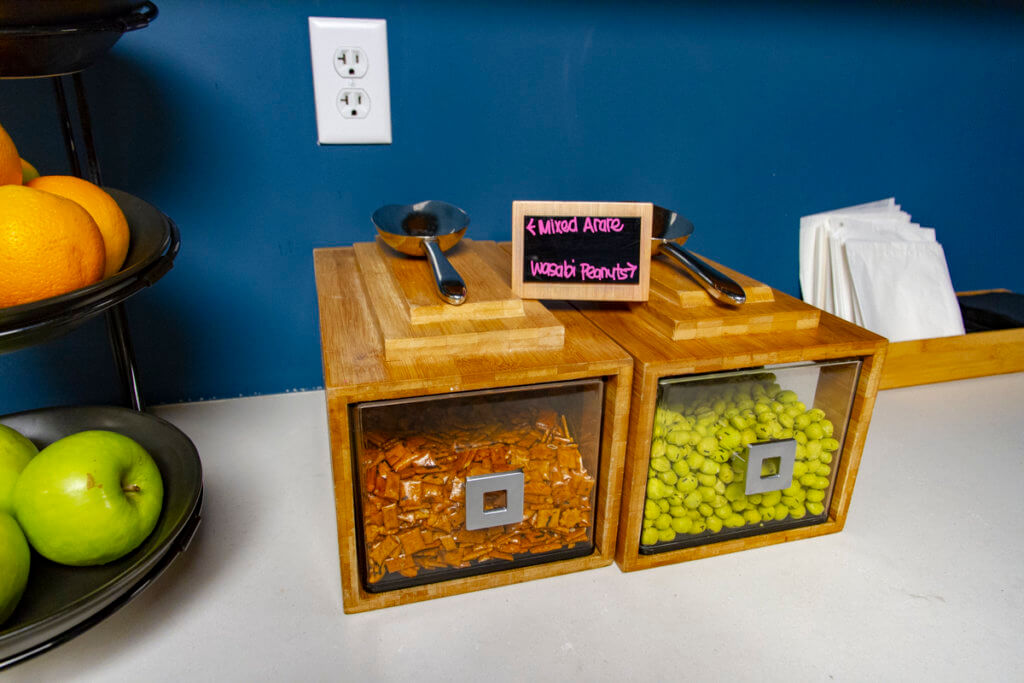 How this property continues to get away with this sorry excuse for a Concierge Lounge is beyond me.  But just be aware, if you're expecting lounge access as a Marriott Rewards Elite member when staying here, there is no lounge.  And don't expect to get a satisfying, free breakfast out of the setup either.
Check Out
The night before we checked out from our two-night stay, I stopped by the front desk to request late check out.  Guaranteed 4 pm Late Check Out is a published benefit for pre-integration Gold and post-integration Platinum members, by the way, which is what I am.  And, as I stated earlier, The Laylow is not a resort property, nor is it a conference property, so they're not exempt from this benefit.  But, they decided to only half-heartedly fulfill my request anyway by granting me a 1-hour extension.  I had to be out by 4 pm.  So much for a guaranteed elite benefit!
And so, the next morning I went to check out at noon.  The associates were pleasant, as always, but it's a good thing I reviewed my folio before leaving the front desk.  I had an F&B credit as part of my locals' rate, and it hadn't been applied to my balance.  It happens, so always remember to double-check your folio.  And after that was cleared up, we got our car from the valet, which was quick and effortless, and headed back home.
The Laylow Waikiki – One Year Later, Final Thoughts
I know I've done a lot of complaining in this post, but this stay did not meet my expectations whatsoever.  Yes, the property is still nice, the associates are pleasant, and the restaurant excellent (more on that in a future post), but that's it.  There's A LOT of wear and tear for what's essentially still a new property.  What's more, I feel a bit ripped off.  Not only did I lose the use of the room because they failed to inform me my room was ready, but they also didn't honor my elite benefit.  Plus, there's that nasty Destination Fee that really isn't justified and the fact that the Concierge Level is a complete joke, and The Laylow isn't a property I can recommend.
But, The Hideout, The Laylow's signature restaurant, is still one of my favorite places to eat in Waikiki.  So come here for the excellent brunch or the good eats at lunch and dinner.  It's worth it!  And only stay here if it's cheaper than any of Marriott's other properties in the area.  Though, I wouldn't recommend the Princess Kaiulani… How that property is still a Sheraton, I do not know.  And stay away from the Courtyard Waikiki; that property sucks too.