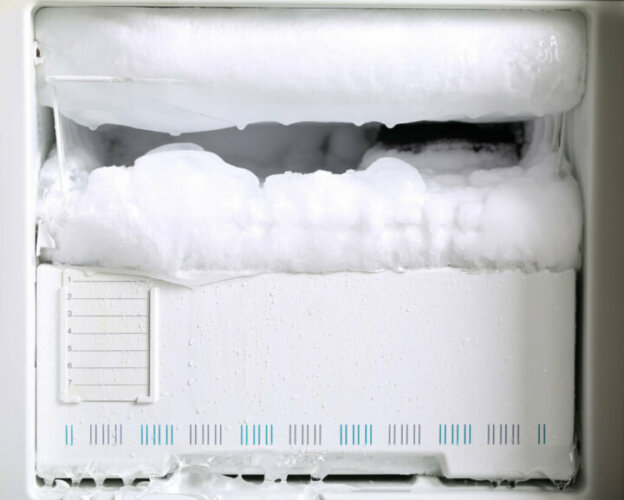 All of our reviews are based on exhaustive research, industry experience and whenever possible, hands-on testing. When you make a purchase using one of our chosen links we'll get a small percentage of the proceeds. This supports the site and keeps Jeffsetter running. You can read more here.
Your RV's refrigerator/freezer unit is one of the most important appliances in your rig. It can be a pretty complicated one to get used to though.
It can seamlessly transition from being powered by gas/propane to being powered by electricity, and temperature management can be a hassle at times.
Your RV's freezer can respond differently to various weather conditions and knowing what to do in those situations is crucial. Especially in the heat where keeping your RV freezer cold is super important.
So, how can you make your RV freezer colder?
Making your freezer as cold as it can be is all about allowing it to do its job to the best of its ability. Making sure it's not overstocked, never leaving the door open, and ensuring the door is sealed are some of the things you can do.
Before we look at all the possible steps that will help keep your RV freezer cold it's important to understand how it works so let's explore all of that in this article.
How Does An RV Freezer Work?
Your RV refrigerator and freezer work by exploiting a complex chemical reaction between ammonia, hydrogen, and water. Ammonia is heated, either by propane gas or electricity depending on the power system, and the subsequent evaporation that later occurs creates a cooling effect.
When ammonia is heated, it is heated all the way until it reaches its boiling point. The immensely hot ammonia enters an area of the fridge and freezer known as the separator. There, the ammonia is separated from the water that is held inside and is later evaporated. As the ammonia evaporates, the hot gas rises and enters the condenser where it cools and reverts to a liquid form, although it is no longer boiling.
The newly cooled liquid ammonia enters the evaporator and mixes with hydrogen gas and evaporates again. This second evaporation then manages to remove heat from the fridge and freezer itself as the ammonia itself had been cooled earlier. This process is repeated endlessly and is responsible for creating the cooling effect in your RV's fridge and freezer.
Understanding this process is crucial in having that needed context and knowledge in the event something goes wrong with your freezer. After all, it's nearly impossible to troubleshoot from a place of ignorance.
Now that you know what makes your freezer cold, let's discuss what you need to do to keep this process working the way it should.
How To Keep Your RV Freezer Cold?
Keeping your RV's freezer cold is the most important step in making it colder overall. Chances are, the reason your freezer is not as cold as you want it to be is due to something keeping it from being as cold as possible.
Monitoring The Temperature
The first thing you'll want to do is monitor the temperature of your rig's freezer. This is especially important before any traveling. Ideally, your freezer should be around 0 degrees Fahrenheit or -18 degrees Celcius.
Using a thermometer, you can monitor these numbers all the time and have an exact idea of what's going on temperature-wise with your freezer.
If you haven't used your RV in a while, it is important to allow both your fridge and freezer to adequately cool before beginning your trip. A good 24 hours is usually more than enough, but giving it this time will ensure you don't face any temperature problems when on the road or when camping.
Keeping The Freezer Door Closed
This might seem fairly inconsequential or even obvious, but it is super important. Everyone knows that if you just leave your freezer door open all the time this will utterly ruin the temperature regulation within, but even leaving it open for a little bit can have a similar effect.
Especially if you're camping in an area that gets really hot outside, opening the freezer door to aimlessly "browse" the contents within can quickly affect how cold it gets. Every time you open the freezer, the cold air inside becomes displaced by the warmer air outside, causing the freezer to work harder to make up for this.
Being aware of this, and being careful to not keep the freezer door open for any longer than necessary is a small change that can help your freezer in the future.
Keeping The Freezer Door Sealed
The doors on your rig's freezer have seals that ensure that even when closed, outside air can't displace the cold air inside. However, these seals can become worn out over time and this can be quite subtle.
The last thing on anyone's mind is the small door seals on their freezer, but if these no longer do their job, it can really impact how cold your freezer can get. Imagine keeping your freezer door cracked open 24/7 letting warm air inside, that's essentially what happens if the door is no longer sealed.
Checking on those door seals every now and then and resealing them when necessary is super important.
Keeping Your RV Level
Keeping your RV level is important for several reasons, but an often overlooked one is where your freezer is concerned.
On an uneven surface, the processes within the freezer responsible for keeping it cold can be hindered. The various gasses and water inside can become pooled over to one side, drastically reducing the effectiveness of the entire cooling process.
By leveling your RV, your freezer can instantly be restored to its full cooling capacity.
Avoid Putting Hot Foods in The Freezer
It can be tempting at times to put hot foods in the freezer to keep them fresh for later, and while there is nothing wrong with this, you should allow the food to cool off first before putting it in the freezer.
This is because putting something hot into your freezer does the same thing as keeping the door open too long. It brings in warm or hot air and displaces the cold air inside. Putting anything hot in a cold space will naturally raise the temperature and the same applies to your freezer.
Avoid Overstocking The Freezer
RV freezers are usually fairly small, especially when compared to house freezers. It can be hard to adjust accordingly to this and bring along fewer frozen food items, however, it is important to do so, and overstocking the freezer is never a good idea. Even if it seems like you can pull it off and get away with it, it should be avoided.
Once the freezer has been overstocked, it blocks off proper circulation and will prevent many items inside from being kept frozen or even cold in general. Various vents get completely covered when the freezer is overstocked, and without this circulation, not only will the freezer become warmer, but much of the food inside is at risk of spoiling.
Defrosting The Freezer
This may seem counter-intuitive but defrosting the freezer is an essential part of maintaining it. If your freezer is working as it should and is consistently producing those cold temperatures, it will naturally result in ice building up over time.
This becomes an issue when that ice begins to cover vents and affects circulation, or builds up near the door and breaks down the sealant. When ice becomes prevalent, defrosting your freezer becomes very important.
This can be done by removing all food items and turning off the freezer until the excess ice melts away.
As you can see here this process can take some time, that's why alternatively if it's just some ice having clumped up in certain areas, you can pick away at it with a variety of tools while leaving your freezer as it is.
Removing anything hindering your freezer from performing the way it should is perhaps the most important part of both keeping it cold and making it colder. Now that you know what can keep your freezer from being as cold as it can be, let's explore some ways you can make it even colder than before.
How To Make Your RV Freezer Even Colder?
Making your rig's freezer even colder than normal is both about dealing with all of the aforementioned things that may be holding it back, and also by making the freezer's job even easier.
Increasing Circulation
One of the best ways to make your freezer's job easier is to increase the circulation within. This goes beyond making sure you don't overstock it or that you defrost it. Increasing circulation is possible by installing an extra refrigerator fan inside your freezer.
This increases circulation by adding another method of circulation, making it easier for your freezer to produce cold air and spread it throughout the space. Adding another fan will also make it so that the cool-down time for your freezer becomes drastically reduced.
This is great for trips where you may not have a chance to set aside a full 24 hours to allow your freezer to cool down completely beforehand.
Keeping Your Freezer in The Shade
When camping, positioning your RV so that the side with the freezer is situated under some shade is a great way to allow your freezer to become even colder.
This is especially helpful in hot weather, as the shade will lower the overall temperature of the freezer, allowing it to become colder as it is both performing its own temperature regulation while receiving support from the shade.
If shade is not available, extending your rig's awning if it is on the same side as your freezer is another great way to achieve the same effect.
Closing Thoughts
Your RV's freezer is a fascinating piece of equipment, so much so that it can be a fairly complicated one to fully grasp.
Luckily, maintaining it and increasing its efficiency doesn't have to be nearly as difficult. With just a few changes and additions, your RV's freezer can be running better and cooler than ever before.