All of our reviews are based on exhaustive research, industry experience and whenever possible, hands-on testing. When you make a purchase using one of our chosen links we'll a small percentage of the proceeds. This supports the site and keeps Jeffsetter running. You can read more here.
If you're looking for some of the best travel trailers for full time living, you're in the right place. Take it from me, a full timer living in a 19 foot vintage travel trailer with my partner and dog!
While you may not want to live in a travel trailer as small as mine, there's no reason you can't live full time in an RV. Many people do it, whether you're a young freelancer, retired camping enthusiast, or want to get involved in your local parks system.
Let's learn about everything you need to know about full time RV living before we dive into some of the best rigs out there for your lifestyle change. But if you want to skip ahead and just which travel trailers make the list, you can use the table of contents below or check out the video.
The 8 Best Travel Trailers to Live In
Ready to check out some of the 8 best travel trailers to live in full time? Here are my top picks for rigs that suit your traveling lifestyle best.
With so many Jayco models on the market, you'll no doubt find multiple options that are perfect for full time living. However, the Jayco Eagle ends up being a stand out for its luxurious touches, large living areas, and dedication to quality hardware.
While the Eagle only has four available floor plans, all roughly 40 feet in length, all of these options lend well to full time living. They have a variety of differences, including optional theatre seating, half bathrooms, washer dryer prep, and large kitchen islands.
Speaking of the kitchen, the Eagle has a lot to offer. It has the option of a 21 cubic inch residential fridge, a full range and oven combo, and a kitchen island with a double sink so that you can prepare food and do the dishes without it being a hassle.
Each one of these floor plans has an electric fireplace and entertainment system so that you can relax and feel at home. The finishings are modern and clean, with a homey and residential vibe.
You can upgrade to an optional king bed in the master suite while still having room for guests elsewhere in the rig. You'll also have two ducted AC units to keep you and your entire rig cool. This travel trailer is also built to withstand all four seasons and any number of weather scenarios, including lightning.
This rig feels like the perfect option for those of you looking to live in it full time as well as invite friends to stay with you. You'll have ample storage space, both inside and out, and multiple sleeping arrangements so your guests can take your pick.
Jayco rigs are known for being long-lasting, with Amish-built wooden cabinetry, heavy duty steel framing, and moisture resistant walls and insulation. Jayco also offers a comprehensive warranty option, both for the frame or structure, and the rest of your new home.
Hoping to boondock in your travel trailer while also living in it full time? Check out Northwood's Arctic Fox North Fork travel trailer. Built for all seasons (including cold weather)and multiple terrain scenarios, this travel trailer is ready to follow you wherever you want to go.
With seven floor plans ranging from 22 feet to 35 feet, you'll no doubt find an Arctic Fox model that works best for you. Some of them include incredibly spacious kitchen countertops, large walkaround beds, and more.
This rig was built with boondocking in mind. It is rated for four season use, has all terrain tires, a large fresh water tank over 50 gallons, and a solar panel- all standard features. Plus, you can get many optional features to truly make your rig sing; let's look at those now.
If your rig is long enough, you can get a second air conditioning unit as well as more solar panels. Another optional feature is an outdoor BBQ grill and backup camera. A router is also available non-standard, and you can also get tank heaters installed before you hit the road.
The interior of this particular RV is finished like a residential home, complete with dark wood cabinetry and carpeting in the bedroom areas. You can install a fireplace as another non-standard feature, and your entertainment center is never far away.
The kitchen is where this rig really comes to life. Whether you plan on boondocking or not, this kitchen is built for full time living. You can expect solid kitchen countertops throughout, a lovely double sink, a full range and oven combo, and an optional residential fridge.
While not too many boondocking features come standard, you can truly make this rig exactly what you want, at any size you want. It has a lot to offer, including a comprehensive warranty program for all new travel trailers. Check this one out if you are planning on unplugging while on the road!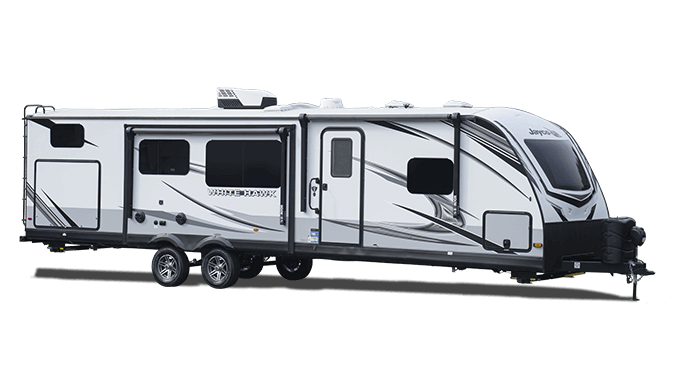 Boasted as a travel trailer that is made to bring you more comfort and connection while on the road, the Jayco White Hawk is an awesome choice for the recently retired or senior age couple looking to live life in an RV.
Ranging in length from 30 feet to just under 37 feet, the White Hawk is available in 11 unique and stylish floor plans. Many floor plans offer an abundance of comfortable seating arrangements and personal touches, such as theatre seating and pull out sofas or bunk beds.
You can expect this Jayco to be built solidly, with Azdel walls and a lightweight but strong frame. This particular rig can handle all four seasons as well, with additional fiberglass insulation and complete underbelly heating for cold months.
There's an optional second air conditioner that you can install to continue your comfortability, and some floor plans have an electric fireplace and entertainment system so that you can get more of a traditional residential home feel.
For the more adventurous older couple, there's an outdoor shower and the option to go off grid with solar mounting capabilities. The interior offers an abundance of comfort, with adjustable dinette seating as well as accommodating walk-around queen beds.
While this rig doesn't seem to offer a washer or dryer prep option, you can still get this rig with a 50 amp service to maximize your electricity needs. Plus, this rig has a luxurious kitchen area, complete with multiple prep spaces, a full range and oven, and some layouts even have a kitchen island.
For accessibility and ease, this travel trailer can be built out with a self-leveling system and built in stabilizers. You can also expect this rig to come backed by Jayco's comprehensive and industry-leading warranty just in case you experience any issues while on the road.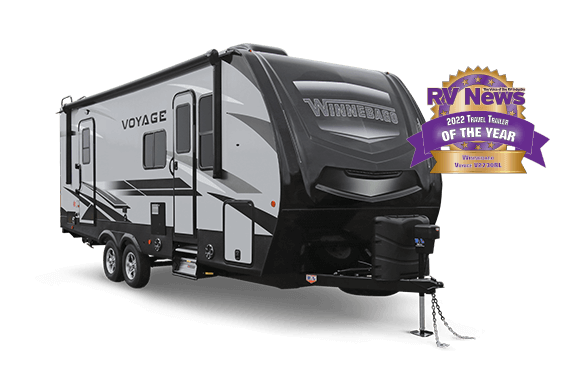 Winner of the 2022 best travel trailer of the year from RV News, the Winnebago Voyage is perfect for the full time and adventurous couple. This rig has a lot to offer its customers, and you'll no doubt see why it made our list soon enough.
With six floor plans ranging from 29 feet to 37 feet, you'll no doubt find a length of travel trailer that you feel comfortable towing. Some of the floor plans include bunkhouse sleeping arrangements that can sleep up to 8, perfect for the young family on the road.
Winnebago packs a lot of RV onto a lightweight frame. Many options include theatre seating, washer and dryer prep, queen walk-around beds with the option to upgrade to a king, and ample storage, both inside and out.
Not only does this rig have a lot to offer young couples looking to spread out. It has a lovely RV kitchen. Some floor plans have a kitchen island and a large range oven combination, and you have the option to have a larger residential sized fridge installed.
The Voyage also has a lot to offer in terms of small touches. It has outdoor speakers perfect for entertaining, a roof ladder for maintenance, fireplaces, and optional RV stabilizing technology. Even the newest couple to RVing can figure out how to level their rig!
The Voyage allows the young freelancing couple internet access as well, with a rooftop antenna with WiFi prep. You can also go off grid, with two rooftop solar panels as standard features, as well as excellent off road capabilities and an additional accessory hitch.
Overall, you can get a lot out of the Voyage, especially if you are a young couple looking to hit the road. Though Winnebago doesn't have a lot of interior design options and many of these features don't come standard, the price point is fair for a great number of young full timers.
Let me be the first one to tell you that a Living Vehicle brand of travel trailer doesn't come cheap. In fact, it may end up costing you the same amount as a small single family home! However, a lot comes at a high price, and you may never go back to traditional living after one of these trailers.
Any model of the Living Vehicle is completely modular, self-sufficient, and technologically advanced. These rigs are built for the off-grid tech couple, the full time RVer working from their home on wheels. There's so much to drool over when it comes to this aluminum beauty.
Living Vehicle boasts that they built this travel trailer to feel like home, and they certainly accomplished this. With luxury finishes and design that will wow you, this rig won't feel like an RV, from bedroom, bathroom, and beyond.
This rig is designed to work off-grid and can run the air conditioning all day and night using real time solar panel energy. It has electric vehicle charging available as well, making it an innovative work of art.
This rig is amazing and lauded for its versatile living spaces. It has multiple modular rooms, including a bedroom that converts to a mobile office and laundry room, an extendable kitchen deck with movable kitchen island so that you can cook outdoors, and more.
These units are designed for off-roading as well as four season living. Plus, it has ample technology to keep you connected, with Bluetooth and WiFi accessories all coming standard. Everything comes standard with this rig, and it should, considering the price!
This isn't even anything that Living Vehicle has to offer. However, the price point makes this travel trailer unrealistic to a great many full timers. If you can afford to spend this much on your next home on wheels, then look no further.
I see Grand Design rigs often while I camp host, and the Reflection has to be a favorite of many campers. If you're looking for a standout kitchen to cook fantastic meals in your home on wheels, then check this travel trailer out.
With only three floor plans and ranging from 34 feet to 38 feet in length, you may be wondering why there aren't more options. However, the Reflection is well appointed with just about any floor plan so you won't feel left out by the lack of choice.
All of these travel trailer floor plans feature stunning kitchens, outfitted in modern black and gray finishes. Most of the kitchens include islands, and otherwise they have ample counter space so that you won't feel like you're missing out on a residential kitchen.
But the stunning interior features don't end with the kitchen. You'll no doubt enjoy the theatre seating and sofa, electric fireplace inserts, kitchen pantry storage, living room hutch storage, and washer dryer prep in the master bedroom.
You can have an optional king bed installed, a second awning as an option, as well as dual pane windows for four season camping. There are countless optional features that you can add on after your final purchase. Let's talk about some of those now.
There's a four season package that equips your rig for just about any temperature and weather scenario. You can also have an optional solar package installed as well, allowing your rig to get electricity and power from renewable energy.
If you're looking for a rig that fits guests as well, there's a bunkhouse floorplan to sleep the whole family. You can expect a comprehensive warranty through Grand Design, as they value their customers greatly. All in all, this is a great rig for the full time chef.
Forest River is a star in the RV world, with a wide variety of popular RV models under their name brand. The Rockwood Signature is no exception, with seven floor plans and countless features available to you, both standard and optional.
The seven floor plans range in length from 29 feet to 36 feet, making it one of the smaller travel trailers on this list. Having a more compact RV with laundry available is a rare find, and it may be something that you are looking for as a full timer.
All of the layouts on the Rockwood signature are fairly unique, with king beds as options and multiple seating and sleeping arrangements possible. You can also spread out in the open floor plans with deluxe chef kitchens and more.
Some models include electric fireplaces, some have master bedroom televisions, some have kitchens with ample countertops and storage solutions. The exterior and interior storage available on these rigs is fantastic for full timing as well.
You can choose from many optional features, including a second AC unit, an extendable outdoor storage deck, a washer and dryer, and complete solar installation on the roof. This rig can be boondock ready with a few additional features.
This rig also has an outdoor kitchen ready to be used and WiFi prep so that you can stay connected while you are on the road. With wardrobe space and optional pantry storage, you can rest assured that there will be space for just about everything you need!
Forest River builds durable and long lasting rigs with fair warranty plans as well. This RV brand also has a wonderful owner's club and customer service is a priority for this company. You can reach out to them at any time if you experience issues while on the road in your Rockwood Signature.
While the Flying Cloud isn't going to be Airstream's largest model, it does boast many storage solutions that you wouldn't expect out of this aluminum egg. From nose to rear bumper, you can drive your new home around in both style and comfort.
The Flying Cloud comes in 13 floor plans ranging from 23 feet all the way to 30 feet. It's going to feel a bit more compact than a lot of other RVs on this list, but that doesn't mean that this travel trailer should be left behind as a full time rig. Far from it!
Airstream does everything in style, with light wood cabinetry and stainless steel finishes to match the exterior of your rig. There is storage hidden everywhere- in every nook and cranny, your kitchen pantry, underbed storage, and exterior storage compartments.
The convenience doesn't stop there. This rig has a few select floor plans with an innovative exterior hatch opening so that you can extend your indoor living outside. This can be a huge perk to those of you living full time that want to experience the great outdoors every single chance you get.
The kitchen is well-appointed with a full range and oven combination, along with stainless steel sink and kitchen island in select floor plans. You can easily sleep multiple people in your Airstream with convertible furniture or a twin bed sleeping option.
One floor plan even leaves space for a dedicated office environment so that you can have your work from home life inside of your travel trailer. The Flying Cloud also has a backup camera and solar prep standard so that you can enjoy some high tech features that usually come optional.
While the price may be a bit high and the size may be a bit small for some full timers, Airstream has so much to offer in terms of the longevity of their rigs and the owner perks that come along with their warranties and member clubs. You may want to choose an Airstream because of the lifestyle over the extra length!
Why Live in a Travel Trailer Full Time?
There may be many reasons why you might want to live full time in a travel trailer. Some of those reasons include:
Lower cost of living overall

You want to experience some freedom and travel

Tiny home living interests you

You're an outdoor enthusiast

You want to volunteer or dedicate a portion of your life to nature

Retirement means you are ready for a change

Meet new people while on the road
I changed my life when I decided to live full-time in a travel trailer. My partner and I fixed up a vintage rig and we decided to travel the nation as state park hosts. Volunteering brings me joy, and it may bring you a similar joy.
No matter your reasons, living full-time in a travel trailer means that there's a lot for you to consider. Let's take a look at some of those considerations now.
What to Consider in a Travel Trailer for Full Time Living
From adequate storage space to the ability to do your own laundry, here are some of the top things for you to consider if you plan on living in a travel trailer.
Storage Space
No matter how long you spend in your RV, storage space is always at a premium. If you plan on full timing, you may consider your storage space a top priority. This is usually because you will be bringing far more clothes, items, and food along with you on your journey.
Some full timers enjoy finding RVs with wardrobes and large closets so that they have plenty of interior storage. Some RVs or travel trailers may even have pantries in the kitchen, leading to ample food storage for your full time needs.
RVs always have a decent amount of exterior storage, though this is most useful for outdoor gear or things that you don't need each and every day. The location of your storage space is key to living peacefully in an RV full time.
Length of Camper
The overall length of your camper matters for many reasons. One of those reasons is that the longer the rig, the more space you will have. This is true for both your living areas and your overall storage.
However, the longer the rig, the less likely you are to fit into every single campground or RV park that you come across. Some travel trailers, especially fifth wheels, can reach nearly 50 feet in length, which may be too long for many locales.
Choosing a shorter travel trailer may mean less interior living, but it could maximize your outdoor adventures. However, if you don't plan on traveling very much or are comfortable camping in very specific locations, then having more space may feel right for you.
WiFi Capabilities
If you are hitting the road as a full time RVer because you are a freelancer working from home, you will need to keep an eye out for travel trailers with WiFi capabilities. This is becoming a more and more common feature in modern RVs, but you should always make sure internet access is an option.
You may not be very concerned about internet access if you don't work from home or don't plan on using the internet beyond checking the occasional email. However, it may be beneficial to have WiFi onboard while you travel for streaming and internet entertainment.
Keep in mind that your WiFi may not work every single place that you camp; often, cell signals and remoteness play a huge part in this. Having a router will only do so much for you if there's no internet access to be found in the middle of nowhere!
Kitchen Amenities
While grilling on your outdoor RV grill is an option during warmer months, you will want to pay special attention to your travel trailer's kitchen should you plan on living in it full time. Let me tell you why.
Your RV's kitchen will no doubt become a central part of your life as a full timer, and you will not have the same amount of space and appliance capabilities as you would in a normal home. This is especially true if you are living in an RV with only 30 amps of electricity.
Many common household appliances need more amps than you might think, and counterspace will be at a premium. You should pay special attention to what you can fit in your travel trailer kitchen, and how many amps your favorite appliance needs in order to operate.
Travel trailers may also not have a full stove and oven for you to cook with. I went in search of an RV kitchen with a full range and oven combination, along with a kitchen sink with two compartments. Trust me when I say this was a necessity for me!
Fridge space should also be something that you consider. You may keep an eye out for RVs with residential sized fridges as opposed to a more compact fridge size. If you are living full time in your rig, you should want ample space in your kitchen!
Bathroom Amenities
Your RV bathroom is almost as important as your RV kitchen. You will need to decide if you want a wet bath or dry bath– most full timers want the option of a dry bath so that the toilet can still be accessed while someone is showering.
Most travel trailer bathrooms are pretty cut and dry. Some may have ample room to have two guests walking around in it; most will not. The main thing for you to consider in an RV bathroom? How large your hot water tank is.
Hot water will be at a premium in your RV, unless you have a tankless water heater installed. You will not likely have enough hot water for a very long shower, and you won't be able to shower and do dishes at the same time on a tank water heater.
You may also be on the lookout for a travel trailer with a bathtub, or maybe even a travel trailer with two bathrooms for your large family or for guests. No matter your needs, there's a rig out there for you- it just may take some customizing to get it.
Additional Bedrooms
Speaking of guests, you may want to find an RV with another bedroom or multiple sleeping areas so that you can comfortably invite guests to stay over. Travel trailers are built with large groups in mind, and you may want to leave the option open for friends and relatives to stay with you.
Many of these sleeping options involve convertible furniture of some kind, especially if you are considering a toy hauler. Having a master bedroom is key to your comfortability as a couple, but having a pull out sofa may also be something you'd like to prioritize!
Living Space
Given that you will be living full time in your travel trailer, your main living area should be something you think on for some time. Would you like theatre seating in your slide out? How about an electric fireplace or Bluetooth soundbar?
The options are truly endless when it comes to customizing your main living room or living space. However, only you know what you want and what you can afford. Many prime living area customizations are add-ons, or non-standard features, so be prepared for these, budget-wise.
It may be helpful for you to tour your desired RV make and model before deciding on your final purchase. Getting a feel for the living space and layout is important before you dive right into full time living.
Weight of Rig
Travel trailers need to be weighed often, mainly to take care of your tow vehicle. You never want to tow more than your tow vehicle can handle, but this is easier said than done for many full timers packing their rigs to the brim.
This is why you should know the weight of your rig, how much weight your rig can handle, and how much weight your tow vehicle can safely transport down the road. While you may want to bring everything with you when you hit the road, keep in mind that sometimes, less is more.
Tank Sizes
There are many tanks onboard your RV, including fresh water, black water, and likely a gray water tank. All of these tanks matter even more when you are a full timer- if you plan on being disconnected from water and sewer lines, you'll likely want a much larger tank than your average weekend warrior.
This is a good thing to keep an eye on, as no full timer wants to be constantly refilling their fresh water tank or emptying their waste tanks. Saving a trip to the dump station can be a big deal if you are already emptying your tank weekly as a full timer!
Budget
While living in a travel trailer can be a much lower investment than living in a traditional home, your budget should still be a consideration when shopping for an RV. Between the cost of your tow vehicle, rig, and any additional extras, you may end up spending more than you think.
However, given that this RV may be your full time home for many years, it's wise of you to invest and be prepared for just about any opportunity. Some potentially wise investments include a second air conditioner, tank heaters for cold seasons, and a back up camera.
Appliance Options and Laundry
Finally, a huge consideration for many full timers is their appliance access and options for laundry services on board their rig. Many travel trailers and fifth wheels offer stackable washer-dryer units, making your full time living easier.
However, you will need to make sure that your desired travel trailer layout supports these sorts of appliances. You may also want to ensure that your rig has an oven, microwave, or other appliance that may make your life easier.
Good Brands of Travel Trailers to Live In
Curious what some of the best travel trailer brands have to offer for full time living? While all travel trailer brands have something to offer, you may be looking for something special. Learn more about some of my top RV manufacturers now! You can also take a closer look at even more amazing travel trailer brands here.
Grand Design
Grand Design is a popular choice of rig for many full timers, as their fifth wheels offer ample space for full time living. They also furnish their rigs with many comforts of home, including cozy seating, appliance options, and fireplaces.
Jayco
One of the most popular RV brands on the market today, Jayco has many different models and layouts that are beneficial for full time living. They also build their rigs to last, leading to more peace of mind for just about any RVer.
Airstream
Nothing beats the classic look of aluminum Airstream travel trailers, and I know many full timers who swear by them. While they may be on the higher end of some budgets, Airstream travel trailers offer full timers many storage solutions and comfortability not found in other brands.
Forest River
Forest River offers a wide variety of well-appointed travel trailers, many of them smaller than the average rig. However, they all have ample storage solutions, innovative layouts, and sleeping arrangements for the entire family.
Living Vehicle
If budget is no issue and you are looking to live full time in your travel trailer for the foreseeable future, I encourage you to check out Living Vehicle. They offer literal homes on wheels, with convertible office space and total off grid capabilities. This rig is perfect for freelancing!
Final Thoughts
Living in a travel trailer full time was once a no-go. However, with the advances in RV technology and the many homey upgrades found in some of these trailer brands, you can expect to enjoy living in your travel trailer for years to come!