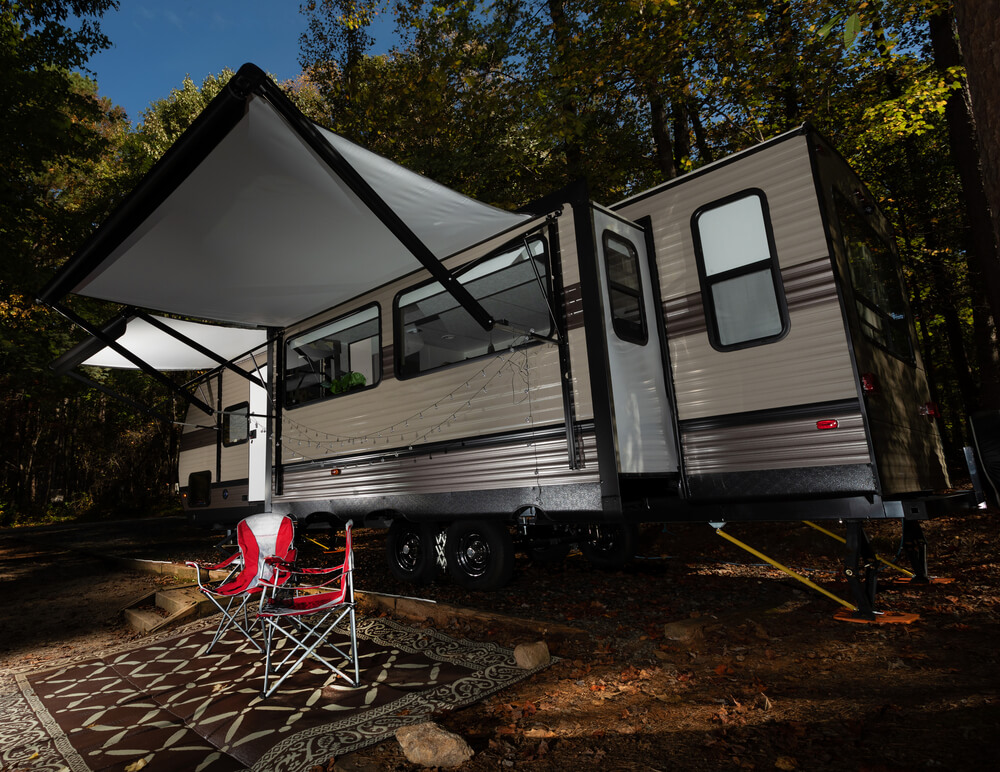 All of our reviews are based on exhaustive research, industry experience and whenever possible, hands-on testing. When you make a purchase using one of our chosen links we'll a small percentage of the proceeds. This supports the site and keeps Jeffsetter running. You can read more here.
Your RV's awning completes the outdoor setup. If you have ever passed by different rigs and seen their picnic tables set up under the large umbrella like cloth extending from the roof; then you know how important awnings are for outdoor comfort.
Awnings might seem like a simple addition to your RV, but it can be surprising how often you'll find yourself using them. Even though they can seem like extra, they're not just for luxury RVs and just about any RV can benefit from the addition of an awning. As such, they can be susceptible to deterioration and damage quickly, not to mention that they are fairly fragile. After all, have you seen one flapping about in the wind?
Chances are you'll have to replace the fabric of your awning a few times if you use it frequently. However, knowing your awnings proper measurements is crucial before you go out and purchase new fabric or a protective cover.
So, how do you measure your RV's awning?
Luckily, it's very simple! Avoid measuring the awning's fabric itself as this won't give you the complete dimensions of the awning's frame. Instead, using a tape measure for accuracy, measure the distance from the center of one awning arm to the center of the other.
Getting the correct measurements is super important for properly maintaining your awning. Especially when the time comes to replace the fabric.
Measuring the Awning for Fabric Replacement
Let's say you've measured the distance between your rig's two awning arms, and it comes out to 10 feet. It might seem right to then go out and purchase an awning fabric of the same length but that is a mistake. The reason that the proper method of measuring the awning is by determining the length between the arms and not the fabric length is because the arms determine the space the fabric will occupy.
It's important to then buy awning fabric that is around 10 inches to a full foot shorter than the distance between the arms. Otherwise, if the fabric is too long, it will get caught in the awning's end caps as you extend it out, causing tearing and potentially even more damage.
Most awning fabrics on the market are at the 8 feet mark as that is standard for most rigs. For rigs that don't fit this measurement, custom fabrics are made that are compatible with a 10–15-foot awning frame. Incorrectly measuring the difference between your awnings arm length and that of the fabric is how many travelers end up with custom fabrics that just are not made for their rig.
What makes this even worse is that since they are custom made, these fabrics are often non-refundable, so not only is it a total waste of time and money, but very soon the fabric will be damaged during use and it will have to be replaced, costing more time and money.
In the event that this mistake is made, and the awning's fabric is torn, it's important to know the best ways to go about replacing it.
Options for Awning Fabric Replacement
The first option is to have one installed for you. This is without a doubt the most expensive option, as you'll have to both purchase new fabric and pay for it to be installed. The price of awning fabrics depends on the size with most ranging between $200 and $500. Fabrics designed for extra-large setups tend to cost even more.
Then comes the cost of labor. Installation prices vary even more than fabric prices, with $500 being around the low end and up to $1000 being the high end. All of this depends on the size of the fabric being installed, location, hours and so forth.
So, how can you avoid this hassle?
Well, the second option in replacing the awning's fabric is doing it yourself. This option is obviously cheaper than the first, but it's important to be prepared going in. The cost of labor isn't high for no reason, those guys know what they are doing. If you want to install it yourself, you must do your research. Whether through the internet or by consulting people around you who may have experience in that area, extensive research will save you more time and money later down the road, and even prevent injury.
That's right, installing the awning fabric can lead to injury when done incorrectly. For example, the risk of awning collapse greatly increases if you fail to secure the awning's frame down before removing the canopy or parts of the frame. A great way to avoid this is research yes, but another is by installing it with others around you.
Even just having one other person can make the process less difficult. There are a lot of different, large, mobile and potentially dangerous parts of an awning that come into play when both disassembling and assembling one. An extra helping hand can make securing the awning way easier, either by holding it or typing it down with zip ties. This alone already drastically reduces the risk of injury.
Plus, a helping hand will make time fly by when installing the fabric and let you enjoy the awning's shade way sooner.
Finally having your awning's fabric replaced, either by yourself or by others is wonderful, but keeping it in good condition is even better.
Let's look at some of the ways you can keep the fabric maintained.
Awning Fabric Maintenance
Properly maintaining your awnings fabric is crucial in ensuring you don't have to go through the replacement process again. An incorrect measurement can cause the fabric to tear when extending the awning out, but the same thing can happen if the fabric is rolled out when it is wet.
This is why protecting your awning from the elements is super important. Heavy rain can weaken the fabric and allow mold to grow when it is rolled up while wet. Additionally, leaving your awning extended during heavy winds or storms is a recipe for disaster. Remember, your awning is meant to provide shade not protection from the wind. Heavy gusts can quickly tear the fabric straight off the frame.
Avoiding these conditions is a big part of awning fabric maintenance, but so is cleaning it. It's impossible to completely avoid the elements when using your awning, so dirt and grime will build up on the fabric. To get rid of this, a quick fix is to routinely hose your awning down with light water pressure is all you need. The key is to let it completely dry after and not roll it back up while it is wet. The best way to clean your awning, however, is to use one of the many cleaners specifically designed for it.
How to Measure for RV Slide Out Awnings?
Rigs with traditional awnings come equipped with a fabric to protect it. Some rigs, however, have an awning that is attached to the RV's slides to protect them while also providing shade and all the benefits associated with regular awnings.
If you ever need to replace your rigs slide out awning, then knowing how to measure for one is very important as it is a different process from regular awnings. When measuring traditional awnings, the arms of the frame are your measuring points. For slide-out awnings, your reference point is the flange.
The flange, also sometimes called the T-molding or the trim, refers to the portion of the slide that extends off the frame's edge. It is the part that when it retracts into your RV, gives it that seamless transition into the rest of the wall.
To measure your slide-out awning, use a tape measure to record the distance from the edge of one flange to the other. It is super easy just like using the arms of an awning frame to measure for replacement fabric. Measuring from flange to flange will give you the dimensions you need in order to replace the awning for your slide.
Closing Thoughts
Being aware of how to properly measure your RV's awning might seem trivial, but as we have established it can save you from a ton of trouble in the future.
One simple adjustment is all it takes. Luckily the process of measuring the awning is very simple and easy. As long as you note the difference between the length between the arms and that of the fabric itself; you'll be well on your way to enjoying the comfort of your awning's shade however many times you want!