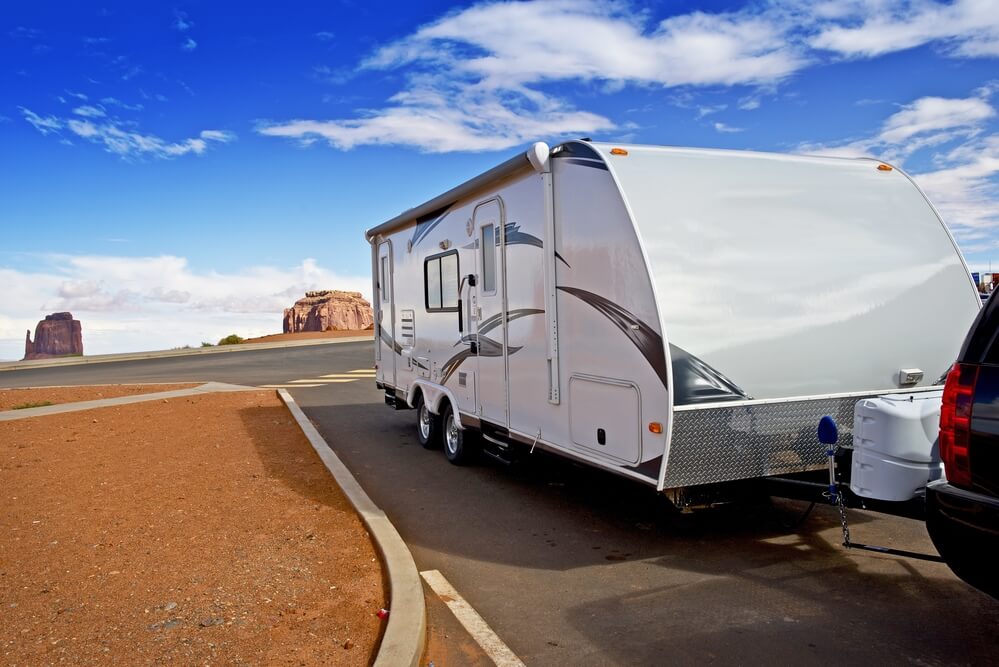 All of our reviews are based on exhaustive research, industry experience and whenever possible, hands-on testing. When you make a purchase using one of our chosen links we'll a small percentage of the proceeds. This supports the site and keeps Jeffsetter running. You can read more here.
There's nothing better than taking the RV out for a nice summer road trip or long camping session. However, you may not have an RV that is equipped to handle hot weather, or perhaps you are looking to purchase one.
If this is your first time shopping for an RV, you may not know what to look for in a travel trailer built for the summertime or other hot weather environment. While RVs are usually utilized during these warmer months, there's a lot for you to consider before making your final purchase.
In this article, we will take a look at some of the best travel trailers for hot weather, as well as things for you to look at while you shop, good brands of travel trailers, and more. Let's get started.
Only interested in seeing our top picks? Use the table of contents below to check out the full list: 
What to Consider in a Travel Trailer for Hot Weather
Like any major purchase, there is a lot for you to consider in a travel trailer for hot weather. Air conditioning is just the beginning! Curious to know what some of these considerations might be? Let's dive in! 
Sleeping Arrangements
Whether you are camping with your family of five or taking a solo trip in your brand new travel trailer, having adequate sleeping arrangements for hot weather is important. You don't want your RV sleeping area to get too crowded, especially in the dead of summer.
There are many different sleeping arrangements possible in an RV, but you may be surprised to know that some can be better than others. Your master bedroom may have its very own air conditioner, but not all sleeping arrangements will have such a luxury.
Sleeping on sticky leather sofas or cramped and unbreathable bunk beds is not everyone's idea of a good vacation. You should make sure everyone has a comfortable place to sleep, even if it means pitching a tent outside of your RV. 
Amount of Air Conditioners
Speaking of having your very own air conditioner in your master bedroom, the amount of AC units you have mounted to the roof of your RV matters when it comes to hot weather camping. 
Most RVs and travel trailers only have one unit, and this unit can vary in the amount of BTUs that it can offer you. You may want to keep an eye out for travel trailers with an additional air conditioner, especially if it is over 35 feet long. 
This is usually just a perk to help you keep the unit cool while you camp in hot weather. The longer the rig, the harder your air conditioner will work to keep the place cool, so having an additional AC is never a bad idea.
However, air conditioners are expensive, and installing two is only a good idea if you have a 50 amp RV service. Most air conditioners utilize a lot of your electricity, which is why some RVers purchase a generator built to power your AC. 
No matter your situation, having air conditioning on board if your travel trailer is always a good idea. Whether you install one yourself or take the time to build out your brand new travel trailer with one or even two AC units in mind, you will ensure safe and cool travels for all. 
Window Tint and Coverings
Something that may help combat the hot weather of the average summer time camping trip may be the tint on your windows, or the curtains that you purchase for your RV. Some RVs offer a darker tint on their windows to help keep your rig cool on the inside while it's hot outside.
Other travel trailers may come equipped with blinds and curtains built to block harsh UV rays and ultimately lower the temperature inside of your rig. Blackout curtains do a surprising amount when it comes to sunshine and hot weather.
You may also be able to have dual pane windows installed in your travel trailer or fifth wheel, depending on the manufacturer and your overall budget. Dual pane windows don't come cheap, but they can offer you additional protection from the heat. 
Ability to Boondock
No matter the weather that you plan on camping in, you should pay special attention to your travel trailer's ability to boondock, or otherwise go off the grid. This can be beneficial to many RVers, as dry camping is all the rage currently.
However, boondocking can get tricky in hot weather. You will need to make sure that you have adequate battery power for your air conditioning, ample water supplies, and enough protection from the elements, especially during extremely hot seasons. 
Some rigs are built with off-grid camping in mind. Some are not. You can always add additional accessories and features after the initial purchase price, but this will only raise the overall cost of your rig. Consider boondocking in the summertime very seriously. 
Durability of the Rig
If you plan on camping in hot weather with your RV often, you should make sure that it is a durable and well-built rig. UV rays can damage your RV in a very short amount of time, believe it or not.
Your rig's exterior can crack and warp in hot weather, your vinyl exterior can fade, and your tires can even get damaged when constantly exposed to sunlight. The last thing you want is to make a huge investment to enjoy your summer season, only to find that it harms your rig in the long run. 
Many RV manufacturers take the extreme weather situations in mind, both hot and cold. Be on the lookout while you shop for RV manufacturers that mention testing in extreme hot weather scenarios. 
Quality of Insulation
Your RV's insulation will play a huge part in your ability to stay cool in hot weather. This insulation can be found throughout your rig, in the walls, ceiling, and floors. Some RVs are simply built better than others, but there are a few things for you to keep an eye out for while you shop. 
Many RV manufacturers will boast that their rigs are capable of handling many different weather scenarios, and this is usually based on the quality of their insulation. You can always ask while shopping if a certain travel trailer is capable of performing well in high temperatures.
You can also assume that a cold weather trailer will likely perform well in hot weather as well. This is because of its added insulation. High quality insulation will keep you cool in the summertime and warm in the winter, simple as that!
Indoor/Outdoor Living Possibilities
If you are planning on camping in summer or other hot weather times of year, having the option for indoor and outdoor living is a perk. RVs understand this want, and are continually reinventing rigs for this purpose.
Some indoor outdoor living possibilities include an outdoor kitchen or RV BBQ grill, screen doors, or having the option to open the entire back half of your RV to let the outside in. You can always use your RV awning for this purpose as well. 
Layout
One of your top considerations when shopping for a travel trailer should be the overall layout and use of space in your RV. While it can be difficult to determine what layout you want or need without touring in person, you can get a fairly good idea from online resources. 
You should consider how many people you plan on traveling with on average first when it comes time to look at layouts of travel trailers. You may want a travel trailer with two bathrooms, a chef's kitchen, or simply a comfortable area where you can stay cool.
No matter what you're looking for, there is an RV layout for you. Some RVs are more unique than others, however, so keep this in mind while you shop around. 
Size of Camper
The size and length of your camper matters both for your ability to make reservations and camp, as well as the overall ability for your air conditioner to keep your camper cool. In extremely hot weather, your single AC unit may struggle to cool a 40 foot long RV.
Larger travel trailers are also more difficult to drive, and you may run into troubles when making reservations at various state or national parks. There are often length limits to RV parks, so this is something to keep in mind while you travel. 
However, you should make sure that you have ample space for everyone, especially during hot weather. Many families have a much nicer time in larger RVs, given that there is ample space for each family member to spread out and relax. 
The 8 Best Travel Trailers for Hot Weather
Ready to take a look at our top choices for some of the best travel trailers for hot weather? Grab your sunblock, your sunglasses, and let's check out some of these cool campers! 
I love an RV brand that has already thought of everything, and Jayco is no exception. This brand often takes our top spot, and for good reason. The Jay Feather Micro is an awesome choice for your summertime camping- let me tell you why.
First of all, this Jayco features both a rooftop AC unit as well as a wall mounted one. This particular air conditioner can only give you about 8000 BTUs as opposed to the more standard 12-15000, but it is an added bonus to the rooftop AC.
Having both of these units will keep you cool no matter where you choose to camp. When combined with Jayco's experienced building and insulation expertise, you no doubt have a rig built for even the hottest locations!
The Jayco Jay Feather Micro is a compact rig- if you're looking for a larger version, check out the Jay Feather on its own. However, the Micro is perfect for sleeping an average of 5 people, and it has 6 floor plans ranging from 13 feet to 23 feet.
These little rigs aren't just designed for each and every season- they're designed for every destination as well. With rugged off-road tires and raised axles, you can go off-grid and off the road in this travel trailer. Plus, it's lightweight so that you can tow it with just about any vehicle.
Solar prep, a backup camera, and a Bluetooth soundbar all come standard. You can enjoy the heat anywhere with an added outdoor shower as well. Plus, the insulation can't be beat on this rig, with the underbelly sealed for all four seasons.
Jayco offers some of the best warranties in the business as well so that you can travel with added peace of mind. The interior is nothing to scoff at either, finished in attractive gray and white color schemes. If you're traveling with just a few people, give this rig a look!
While Lance doesn't offer any rigs other than their truck camper shells and a few small travel trailers, their 2465 (largest model) is a beauty. It comes in just under 25 feet in length, making it a safe and versatile travel trailer- with two AC units!
Yes, this rig has two rooftop ACs, giving your ducted rig a combined BTU amount of 25000. This is enough to keep everyone cool, especially in a rig that's only 25 feet long with fantastic Lance insulation and building.
Speaking of building, Lance puts their exterior and interior walls through a great deal of testing. They build rigs that are weather and four-season resistant, making them rigs that last a lifetime. Using Azdel insulation from top to bottom, these travel trailers are made to keep you cool.
The largest Lance travel trailer floor plan offers a king bed as well as an open floor plan, with sectional seating and two slide outs. The kitchen is well-appointed, and you can sleep up to 5 people using the convertible dinette seating.
Some specialized optional equipment includes an electric fireplace, backup camera, solar panels, and a unique side mount kayak rack so that you can bring along all of your toys. And you can travel in style using any one of Lance's three unique interior designs.
This rig comes complete with two high-quality batteries, a Fantastic Fan roof vent, and frameless, tinted dual frame windows so that you can keep the sunlight from overheating your RV. Lance puts quality into their travel trailers, and it's obvious after looking at them.
While it can't sleep a huge group of people, Lance is a trailer made for four seasons, especially summer. With two ducted ACs and a whole lot of insulation to offer, plus fantastic exterior hardware and standard features, you'll want to keep this rig around for years to come.
We're starting off with a few small rigs this time around, but the No Boundaries by Forest River has to be mentioned, especially for those of you looking for quality insulation. This rig ranges from 12 feet to 25 feet and has so much to offer any RVer- but especially the explorers.
With twelve possible floor plans broken up into different series, the No Boundaries has a lot of standard features you can't find on every travel trailer. The exterior is a sturdy fiberglass, and it comes outfitted standard with a cold weather package, making it perfect for four season travel.
One of the best things about this rig is its options for the adventurous RVer. You can add on different racks for holding your recreational toys, such as kayaks and bikes. A few of the floor plans even have ramps, making them into lightweight toy haulers.
That's another perk about this rig: it can be towed by many four and six cylinder vehicles. That's a huge bonus for many people who RV, as some of the smallest cars can tackle this particular travel trailer!
Depending on the floor plan you choose, you'll have plenty of space for your toys. While the interior may not be the most inspired on the No Boundaries, you should be enjoying the great outdoors anyway, right?
The overall height of this compact rig makes it ideal for taking just about anywhere. And Forest River builds a quality RV with awesome warranties and owners clubs, making your purchase a sound one, just about any way you slice it.
There's also loads of storage onboard this tiny rig. Your storage goes even farther with additional recreational gear racks. Plus, one of these layouts also features bunk beds so that you and your kiddos can each have their own place to rest after a hot day in the sun.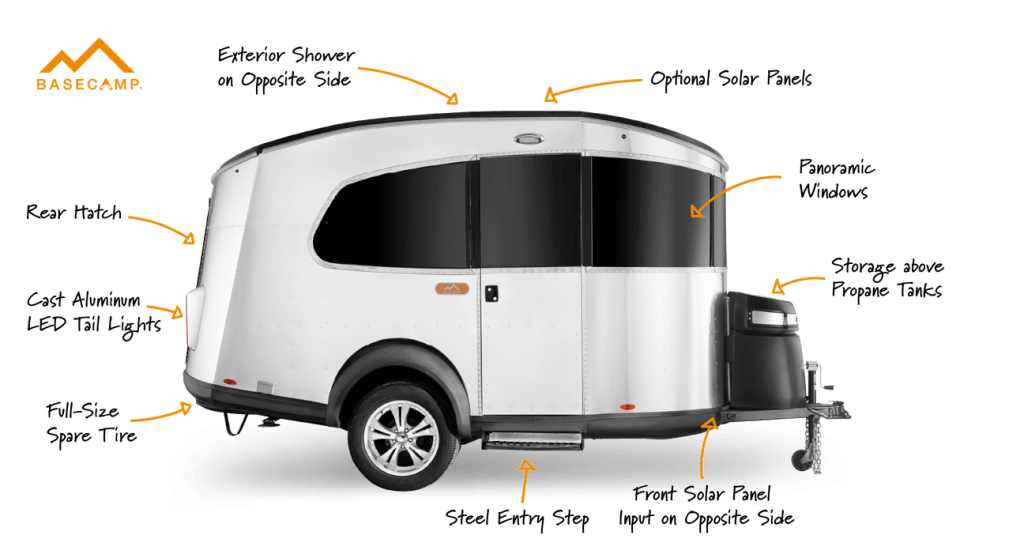 Yes, this is another small travel trailer, but have you taken a proper look at the Airstream Basecamp yet? Even though it's compact, this four-season beauty is the perfect travel trailer for those of you looking to hot weather camp in style.
I'm obsessed with this Airstream, as it is something totally new and different from the rest of their rigs. It features a unique aerodynamic shape with a large picture window along the front of it. While this makes your travel all about the views, you can also expect this window to be dual paned and UV protected too.
But the luxury doesn't stop there. You can get this rig in a 16 foot edition as well as on a 20 foot frame, affording you a few extra feet for more bodies and storage. However, this rig has thought up just about everything so that you can maximize your space.
It has a wet bath, convertible queen bed area, and chef's kitchen, all inside this unique space. The kitchen faces the large picture window so that you always have a view while you prepare meals. Plus, there's an outdoor shower if the wet bath happens to be occupied.
This travel trailer offers a unique rear hatch opening as well, perfect for loading your gear in and out. It slides effortlessly underneath the rear bed/dinette area so that you have storage while you sleep. And there's an efficient AC unit to keep you cold the whole time.
You can configure this Airstream just about any way you want, and you can have the peace of mind knowing this rig is well-insulated and raised up for adventures anywhere. It may not be in everyone's budget, and you may not be able to bring the whole family, but it's a great choice for those of you looking for something compact and stylish.
I'd love to say this is the last small travel trailer I have on this list, but there may be one more… The compact nature of some of these travel trailers is what makes them perfect for hot weather, and the Coachmen Catalina Expedition is no exception!
This rig only comes in three available floor plans, all of which are just under 22 feet in length. However, each one of these layouts has a whole lot to offer, especially for the adventurous boondocker in your life.
There are three floor plans, all with queen beds, and even one of these models is a compact bunkhouse. They have raised underbellies and off-road tires, and they come complete with a rugged suspension system. You can go anywhere that your tow vehicle wants to take you!
Plus, this rig comes complete with 40 amps of solar, all included in the purchase price. An inverter, outdoor shower, and more complete this off-grid rig for just about any young couple or small group of adventurers.
While the build on this rig begins with off-grid living in mind, it extends to four seasons as well. The fiberglass insulation ensures this RV can handle the elements, and the exterior awnings and sound system makes this travel trailer perfect for indoor and outdoor living.
Speaking of indoor outdoor living, this rig comes with a flip-down cargo rack that can hold up to 200 pounds, making it an extension of your rig. Plus, it has quality windows and window coverings and an efficient AC unit, keeping you cold no matter how hot it gets outside.
Coachmen has a fantastic warranty and owners club as well, and even more things are included standard that you won't normally see on many other travel trailers. If you are looking to get off-grid and have a lot of gear to bring, check out the Catalina Expedition.
Speaking of gear, if you're looking for a fantastic four-season toy hauler, you need to take a good look at this travel trailer from Forest River. The Wolf Pack Gold Series has a lot to offer you, including a heavy duty ramp, extended height and width, and, of course, multiple AC units.
This toy hauler can bring the whole family too! Available in five floor plans ranging from 29 feet to just shy of 38 feet, the Wolf Pack Gold Series has a lot of options. There's a residential sized fridge, an outdoor shower, and a quick recovery hot water heater, just to name a few.
You can get a powerful ducted air conditioning unit, along with attractive and light blocking shades in the living room. Plus, Forest River builds their rigs with all four seasons in mind, enclosing their tanks and underbellies in an insulated area.
The outdoor living is fantastic in this toy hauler too, with power awnings and Bluetooth exterior speakers. While the interior is fairly basic, you can get homey touches such as comfortable theater seating and farmhouse sinks in the kitchen.
One of these rigs is a bunkhouse as well, making it perfect for sleeping a large group of people. Even in a toy hauler format, you can bring along your ATVs and kayaks without sacrificing sleeping arrangements.
Plus, Forest River offers walk around queen beds and dry baths on this longer travel trailer, making it a larger option than many other choices on this list. You won't have to worry about crawling over anyone to reach the bathroom!
All in all, the Wolf Pack Gold Series is perfect for those of you looking to bring more people and more toys with you, all in a versatile and cool package. Whether you're planning on kayaking in the hot sun or simply want to stay inside and nap, this rig has a lot to offer
Most Compact Trailer For Hot Weather

:

Winnebago Hike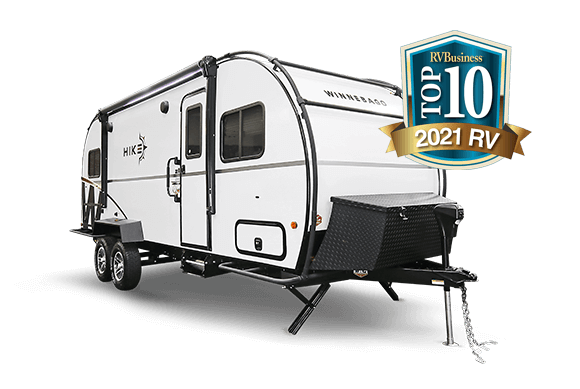 With five floor plans sleeping up to four people, we're back down to smaller travel trailers with the Winnebago Hike. However, this compact beauty is perfect for staying cool and traveling in style, all in a rig that's under 25 feet long.
Winnebago is changing the industry with every new travel trailer it makes, whether it be through structural breakthroughs or unique storage solutions. The Hike is no exception, as it can go off-road with ease using its offset tires and lifted structure.
The interior is nothing to scoff at either, with light wood cabinetry and classy gray carpeting. It features a bright living area and bedroom, with many windows that come complete with light blocking window treatments.
The exterior is unique in that it features bars and racks so that you can attach all of your toys and bring them with you. This all comes standard, and the Hike has a rugged exterior so that you can walk around on the roof and tend to the frame with no trouble.
This rig comes with radiant foil insulation and a low profile AC unit so that you can stay cool no matter the temperature outside. The Hike can also be outfitted with additional packages, such as an all weather package and an off-grid package, perfect for adventure.
There's also ample multi-use storage compartments so that you can bring just about anything along for the ride. With waterproof boxes on the exterior of your rig, you don't have to worry about things taking up too much space inside.
Winnebago offers a comprehensive warranty and an owners club, and even an app that tells you how you can best use the Hike to your advantage. It's a well-priced rig for all of the features that you get, and it's definitely worth considering!
It isn't a vacation unless your furry family members get to come too, at least, that's what I always say. And the Coachmen Northern Spirit says it too, with many pet-friendly features in mind for this rig. Let's check it out now.
With nine floor plans ranging from 29 to 37 feet in length, you can find a Northern Spirit floor plan or layout that suits your needs best. Some sleep as few as four people; other floor plans can sleep nearly ten using a unique bunkhouse model!
But this is about the pets: Coachmen has a few rigs that offer a unique pet station. This station has built in pet bowls, a leash clip both inside and along the exterior, and a pet bathing station on the outside of your rig so that you can clean your pup before heading inside for the night.
This travel trailer also wants you to be comfortable, using a dual ducted AC system that keeps you cool day and night. Plus, you can add a secondary air conditioner to the master bedroom suite after the fact.
This rig is packed with standard features that you normally wouldn't expect, including a solar panel system standard, a large residential fridge, an oven and three burner cooktop, and an interior Bluetooth sound system. The bunk beds even have privacy shades as well!
You can expect this rig to be built well, using Azdel and molded fiberglass exterior panels and insulation. There is a heated and enclosed underbelly as well, and exterior speakers so that you can seamlessly move inside and out.
This Coachmen travel trailer also offers you ample storage so that everyone can bring anything they want. As a division of Forest River, Coachmen offers its RVers a comprehensive warranty as well as an owners club so that you never feel alone while on the road.
Good Brands of Hot Weather Campers
Curious to know what brands of RVs make for good hot weather travel trailers? While all RVs are perfect for summer camping, some are better than others. Here are some of my top picks, both for the summertime and for the rest of the year! 
Jayco
Built from quality materials from top to bottom, Jayco is a well-regarded RV brand and has been since the beginning. With quality Azdel insulation, Jayco will keep you and your family cool in the summer and warm in the winter! 
Lance
Lance is a well-kept RVer secret, with many smaller size travel trailers capable of handling any type of weather. Their sturdy fiberglass exterior hides quality insulation, and Lance offers consumers many options for customization. 
Forest River
Forest River is an umbrella brand for many different RV names. However, this doesn't mean that they slack off when it comes time to build their rigs for hot weather. A Forest River travel trailer is ready for anything, especially camping in the heat of summer. 
Winnebago
Winnebago is one of the oldest RV names in the business, and they tend to err on the less expensive side for travel trailers. Being budget friendly is never a bad thing, and Winnebago understands what RVers are looking for after so many decades in business.
How to Cool Off in Your RV
Camping in an RV is a different experience in both hot and cold weather. You may be curious how you can cool off in your RV, with or without air conditioning. Here are some tips from a full timer who lives in their travel trailer without air conditioning! 
Have a Reliable AC Unit
While my 1976 Fleetwood Terry doesn't have this luxury, having a reliable air conditioning unit is the best way of camping in hot weather. Any new travel trailer nowadays will have at least one air conditioner in it, if not two.
However, you should take special care to maintain your AC units so that it works at an optimum level for the lifetime of your trailer. Replacing RV air conditioning units is expensive, and most replacements can be avoided with routine maintenance and care. 
It's also important to consider the amount of BTUs that your air conditioner can handle, as well as the size of your travel trailer. You don't want to overwork your AC unit, and you may consider installing a second one if you are worried this is the case. 
Take Cold Showers
What saves me the most during summertime and living without AC is a cold shower. We all know that the average RV hot water tank is not very large, so why not spend some time showering in cold water instead!? 
Taking cold showers or swimming in a cold lake or river can be one of your best bets to combat hot weather when camping in your travel trailer. Sometimes, cooling down in a body of water is all you can do. 
Install Light-Blocking Curtains
Blackout curtains or curtains specifically designed to block light can be another great addition to your travel trailer when camping in hot weather. Curtains can do a surprising amount of temperature regulation, especially in a small space like an RV.
You should consider curtains that have many reviews of customers using them to beat the heat, and you should keep your RV curtains drawn during the day to maintain a cool and relaxing interior. 
Update Your Insulation
As I've already mentioned, having quality insulation is key to keeping your RV cool in hot weather situations. Even brand new travel trailers may need updated insulation, or higher quality insulation installed before you bring the RV home.
Many RV manufacturers offer four season packages for their rigs, and this usually includes some level of additional insulation. If you are planning on camping in hot weather, this should definitely be something that you consider a necessary cost. 
Consider Fans
Besides a cold shower, the only thing that keeps me sane in my travel trailer during summertime is a powerful fan. 
You can purchase fans for your RV that both push fresh air in and suck old air out, which can be beneficial in many different scenarios. However, if you are camping in a location that never really cools off, a fan is not going to help you one bit. 
Get Outside
Given the fiberglass and metal construction of most RVs, sometimes the interior of your rig is much hotter than the outside world. Plus, aren't you camping to get outside and see the great outdoors?
Whether you plan on swimming in the local lake or simply want to take a hike, sometimes all you can do is get outside during hot weather. Your travel trailer will wait for you, and it may be a smart idea to let it cool off a bit before returning. 
Final Thoughts
Finding an RV that can handle hot weather isn't as difficult as you may think. However, it's important to make an informed purchase, especially for your own comfortability while you camp.  I hope you have enjoyed learning all about some of the best travel trailers for hot weather!